Search Results for Harley Davidson

…Harley Quinn is the protagonist of her own self titled series on DC Universe. You might recognize her voice actress, Kaley Cuoco, from The Big Bang Theory. After splitting up with the Joker, Harley forms her own league of villains, including King Shark, Clayface, Doctor Psycho, and Cy Borgman. The show follows her misadventures of taking down the Joker. Eventually, Harley develops a romantic relationship with Poison Ivy….

…both his snark and the way he handles Harley Quinn. He'd have to be. This Harley isn't your usual Harley. And when the lines between good guy and bad guy get blurred, things are bound to get interesting! Batman's costume in the show is pretty straightforward. He has a black cowl and a black cape that he wears over a grey body suit with the bat insignia on the chest. Because the insignia is a little different from most you can buy pre-made, you're…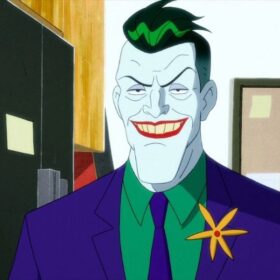 …his evil plans come to fruition….

…oman to the Joker and later gained her independence. When and how varies from comic run to comic run or show to show. But every time she finds her way to independence and the results are wild, a little dangerous, and always fun. Birds of Prey is the newest addition to Harley's canon exploits and it is set to be a wild ride. She fully embraces her own unique style in this film. That means a crazy combination of crushed velvet with caution tape and…

…Poor Dr. Harleen Quinzel, sometimes even psychiatrists break. After falling for The Joker and changing her name to Harley Quinn, the peppy sidekick became a loyal follower to the psychotic villain. When she's not swooning over the Joker, you can find Harley hanging with best gal pal Poison Ivy or coming up with some clever disguise….

…In Suicide Squad, Harley Quinn is the same crazed psychiatrist turned supervillain, but Margot Robbie's is different from the usual take on Harleen Quinzel. One that's less court jester and more of a deranged, bloodthirsty baseball player. To get the face makeup just right, follow this Harley Quinn makeup tutorial….

…In the MS Paint Adventures web comic Homestuck, Jade Harley is one of the main characters and the fourth kid to be introduced. The Witch of Space, her Associated Element is Earth, and her Associated Item is Uranium. This is Jade Harley's outfit when she ascends to god tier….

…DC Bombshells is an alternate reality where female superheroes guard the homefront during WWII. Modeled after the classic pinups of the 1940's, Harley Quinn is a bomber pilot….

…es Harley that the Joker is more in love with capturing Batman than with her. While she matches Harley's sassy and headstrong personality, she keeps a more level head and knows how to rein Harley in. Ivy was originally is engaged to Kite Man, but she admits her feelings for Harley at the end of the second season. She is voiced by Lake Bell….