Michael Myers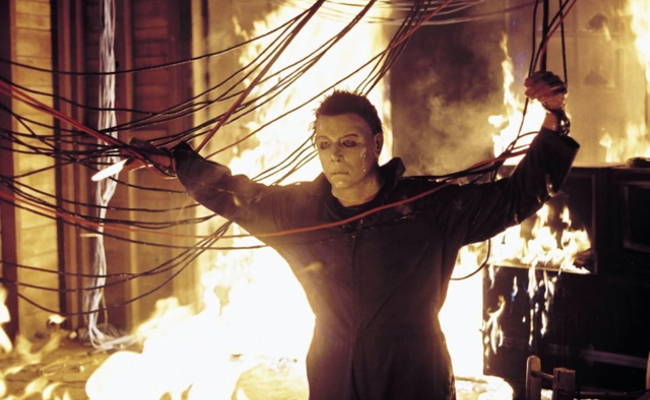 In the Halloween slasher films, Michael Myers is a masked killer on the loose, stalking his next teenage victim. Don't get him confused with Jason Voorhees or Mike Myers, he takes great offense when that happens.
Amy
Dr. Mario addict and wannabe weight-lifter.
Related Posts
Clarence "Buddy" Repperton (William Ostrander) is a character from the novel Christine by Stephen King, and the movie adaptation made by John Carpenter. Repperton is the leader of a a gang of bullies, and trashes titular car Christine after her owner got him kicked out of school.

Jason Voorhees is one of the most iconic figures in horror history, but people forget the first killer of the Friday the 13th series, his loving mother Pamela Voorhees. Seen appears in the first Friday the 13th as the true Camp Crystal Lake killer, acting out in wrath over her son being supposedly killed years before. With a variety of weapons to choose from, this makes an excellent mother/son costume couple.

Dr. Loomis is the nemesis of Michael Myers
in the Halloween franchise. Loomis was the doctor for Michael, and as a result, he understands him better than anyone else. He appears more than any character besides Michael, being in Halloween 1, 2, 4, 5, and 6. In all appearances, he is portrayed by Donald Pleasence. Malcolm McDowell portrayed him in the Rob Zombie remakes, but this guide focuses on his original appearance. If you want to do his Halloween 4 appearance, you will need facial scar make-up.

While Halloween III: Season of the Witch may be lacking Michael Myers, it's still a fantastic film perfect for the season. The horror in Halloween III comes from Silver Shamrock, a company which makes Halloween masks for children, secretly plotting using them to kill them all in a Satanic ritual on Halloween night. There are three masks featured, skeleton, pumpkin, and witch.

Happy Death Day is a 2017 horror film released by Blumhouse and is about a college student who must relive the day of her murder over and over again, in a loop that will end only when she discovers her killer's identity. The killer featured marks a distinct baby face, their real identity a mystery.

Tiffany Valentine, AKA Bride of Chucky, is Chucky's love interest from the Chucky movie series. She is played by Jennifer Tilly and becomes a doll after trying to fix the Chucky doll from Child's Play 3 with the hope of bringing her ex-boyfriend back to life. Pair this costume with her fierce makeup by following this Bride of Chucky makeup tutorial.
There are no comments yet, add one below.