Search Results for Alice in Wonderland

…Anne Hathaway brings the ethereal White Queen to life in Tim Burton's Alice in Wonderland movies. She is the polar opposite of her sister, the wicked Red Queen, preferring kindness over decapitation of those who annoy her. She favors the color white and a Victorianesque wardrobe, consistent with the era of Lewis Carroll and Alice's home world….

…Daydreams will get you everywhere or at least that's the case with curious Alice who finds herself in Wonderland after chasing a rabbit into a hole. Always polite and rarely rude, Alice sure does find herself in a predicament with a bevy of characters. All this excitement just has Alice longing to be home with her best friend and loyal cat, Dinah….

…Steamdress Alice is from Alice in Wonderland Madness Returns. The Steamdress is the first domain dress that's based on the steampunk and mechanical appearance of the Hatter's Domain. It features a neck-frill like collar, a Waspie waist cincher with a harness attached and leather, buckled fingerless gloves….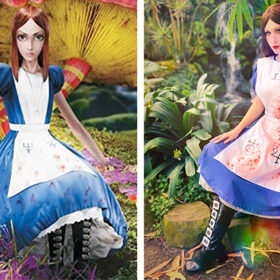 …2011, the second installment Madness Returns was released, in which we see Alice enter "Hysteria" mode. While in Hysteria, Alice is impermeable to attacks from opponents, however, she is only able to tap into this power when one rose of sanity hangs on the vine. In this tutorial, we will explore both the classic blue dress featured in both games, as well as the Hysteria dress seen in Madness Returns. And, if you're particularly eager to deal some…

The Mad Hatter is a supporting character in Alice In Wonderland. He appears in both Lewis Carroll's book and the Disney animated movie. In Tim Burton's adaptation, he is portrayed by Johnny Depp. He hosts a tea party with the March Hare. When Alice arrives at the tea party, he asks the riddle: "Why is a raven like a writing desk?" To this day, no one knows the true answer. He also likes to pull various objects out of his hat. His personality is s…

…Desperately seeking a way to prove her sanity, Alice travels back to Wonderland to find proof of its existence. Unfortunately for Alice, she ends up locked away in a sanitarium until she is saved by friends from Wonderland….

…Jafar, the evil sorcerer from Agrabah, has his own motives in Wonderland. Having taken Alice's one true love, Cyrus, captive, he is equally as evil as The Red Queen. Time will tell what Jafar's true motives are….

…When she's not chopping off heads or playing flamingo croquet, you'll find the Queen of Hearts chasing after Alice. This bad tempered, tyrant might benefit from spending some time with her subjects – perhaps a spot of tea at a tea party?…

…Not to be confused with The Queen of Hearts, The Red Queen is cool, collected, and ruthlessly evil. Together with Jafar, The Red Queen plots to keep Alice from her true love….

…ange with Gal Godot being cast as the Amazonion. 7. Alice in Wonderland ▲2 Alice in Wonderland (see costumes) gives a brief respite from the superhero domination. There's Tim Burton's 2010 film, and the Through the Looking Glass sequel slated for next year, but animated Alice is still the most memorable. 8. Daredevil new Daredevil (see costume) is the first new face on the list. The Netflix original series was so good that we can almost forgive Be…