Search Results for avengers

…Steve Rogers is best known as Captain America (Chris Evans), the first Avenger. But in Civil War, he breaks away from the rest of the team and takes a few allies with him. He spends much of the movie out of his uniform and in this casual but iconic look. A little hair gel keeps his hair in place while all the brown leather makes it clear he's nobody to mess with, even without his shield….

…Bruce Banner was once a reserved physicist who got caught in the blast of a gamma bomb. Now when he's angered, he turns into The Hulk. Though Banner often loses his cool, amazingly he never loses his pants when he transforms into his green alter ego. Unless you're already built like The Hulk, you may want to consider enhancing your muscles with a muscle suit….

In Captain America: The First Avenger, Steve Rogers (Chris Evans) receives an experimental serum, with the aid of Peggy Carter, to transform his frail body into the peak of human ability in order to contribute to the US's war effort. After a military mission, he's made to don this colorful costume and tour the country to raise war bonds. Put into a deep sleep for 70 years, it's not until he awakens to Nick Fury in present time that he puts away t…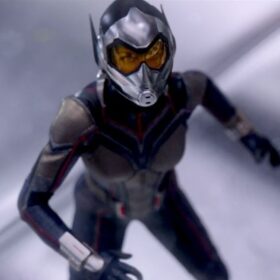 Wasp is a character in the Marvel universe. Her real name is Hope Van Dyne, daughter of Hank Pym and Janet Van Dyne. She has a strained relationship with her father, but when Scott Lang enters the picture, she must help them both. Hope is resourceful about the quantum realm as well as skilled in fighting techniques. These traits allow her to embody Wasp, and she teams up with Scott as Ant-Man in the second film. In addition to shrinking and growi…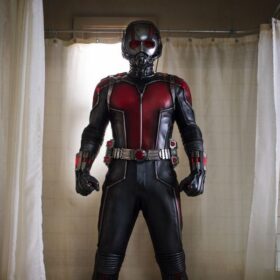 …Ant-Man, aka Scott Lang, is a character in the Marvel universe. Scott Lang starts out as a convict, but he ends up becoming a superhero who must save the world. With the mentoring and technology of Hank Pym, he becomes the new Ant-Man. His abilities include shrinking and growing, as well as communication with ants. Beloved and never-aging actor Paul Rudd portrays this role, bringing a lighthearted sense of humor….


…Bucky Barnes (Sebastian Stan) is Captain America's brother-in-arms until his plane explodes in Soviet airspace. The Russians rescue him, using the opportunity to program him to work for them as an assassin code-named the Winter Soldier. They also patch him up with a bionic arm, all the better for assassinating targets….

Marvel fans looking for fantastic costumes have their hands full with WandaVision on Disney+. Every episode brings a new era and new costumes. But the show's sixth episode gave fans the perfect group Halloween costume: the Maximoff family and their friends watching on the other side of the Hex's boundaries! Wanda Maximoff Her '80s mom outfit was cute and her hair was gorgeous! But her comic-inspired Halloween outfit really stole the show. Whichev…

Vision (played by Paul Bettany) died in the Battle of Wakanda. But that doesn't stop him from being a loving father and husband to Wanda in WandaVision. Most of the time, that is. When he starts to notice the strange truth of his world he seeks answers. And it takes him well beyond his limits, even as an Avenger. Before Vision finds true terror on Halloween, he dresses up with his family. His costume is a callback to Vision's original look in the…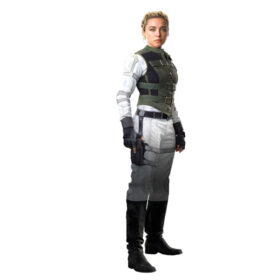 Florence Pugh is new to the MCU but she hit with a bang as Yelena Belova. Equal parts sassy spy and the younger sister left adrift after her family dissolved, Yelena is another heartbreaking reminder of the effects the Red Room can have. She wears several looks throughout "Black Widow" but the most iconic – and meaningful – is the white suit and green vest she wears during the film's climax. Black fingerless gloves, black boots, and a costume pis…