Search Results for marvel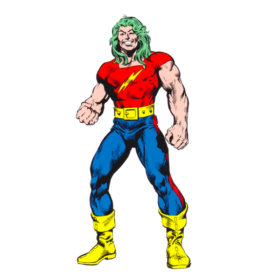 …Doc Samson is a character in the Marvel universe. His real name is Leonard Skivorski Jr, appearing primarily in The Incredible Hulk comics. He worked alongside Bruce Banner as a psychiatrist, and exposed himself to some of the gamma radiation that created the Hulk. As a result, he received superhuman strength and a muscular physique, as well as long green hair. Like his namesake, his power depended on the length of his hair….

…t? I'm invested." Dr. Darcy Lewis (Kat Dennings) is a character in the hit Marvel Disney+ series, WandaVision. She first appeared in Thor as a political science major. Upon landing an astrophysics internship with Jane Foster, she meets Thor and helps him back to Asgard. Darcy also appeared in Thor: Dark World, continuing to work with Jane to investigate portals in London. Now after completing her doctorate, Darcy finally returns. Given her headway…

…ities with a nasty set of side effects. This storyline is adapted from the Marvel Comics character Frank Simpson also known as Nuke. He is depicted as a foil to Captain America to such a degree that the two go up against each other more than once. The second time is in Captain America #14 (2013) when Cap defeats Nuke while uttering the poignant truth, "Patriotism taken too far is fanaticism". Portraying this contrast in the Netflix show is a littl…

…nto dangerous situations over and over again. Her need to see justice served nearly pushes her into the antagonist role more than a few times and causes a lot of tension with Jessica and the other people in Trish's life. But that's a fine line to walk when Jessica is just as reckless and Marvel's New York is a very dangerous place! The key to cosplaying as Trish is to tap into her style. She favors blazers and silk blouses. She pairs these with le…

…ter he escaped with the Tesseract in Avengers: Endgame. The new clip dropped last Thursday along with the "WandaVision," "Falcon and the Winter Soldier," and "What If?" trailers respectively. In addition, Marvel revealed the logos to more upcoming shows and movies. We know how quick cosplayers are to assemble the latest designs, so consider yourself taken care of with this costume guide….

She-Hulk is a superhero from the Marvel comics. By day, she's Jennifer Walters, a lawyer working in Los Angeles and cousin of Bruce Banner. When he visited Jennifer in town, agents of a crime boss named Nick Trask shot and wounded her. Realizing she was going to die, Bruce volunteered for the blood transfusion and committed her to a hospital. The agents returned to attack, but the sense of danger activated the gamma radiation in the blood. Jennif…

…ution TV series, but was welcomed into the comic book universe with the NYX comics, which explained her origin story in a grittier fashion than the children's cartoon before it. X-23 then entered the Marvel-Fox cinematic universe in the form of a young Mexican child in James Mangold's Logan, but her teenage/young adult persona from the comics can be just as fun to cosplay….

Baron Helmut Zemo is a classic Marvel villain. He was brought to life in Captain America: Civil War by Daniel Bruhl. And though his character is not quite so evil in the movie as in the comics, his impact is just as strong. After all, who can't relate to the desire to stop those we blame for our family's deaths? Zemo's costume in the movie is much simpler than in the comics. He wants to blend in and so he wears clothes that are easy to ignore. A…

Wonder Man – the alter-ego of Simon Williams – is a classic Marvel villain-turned-hero. After his family lost all its money to their biggest competitor, Stark Industries, he went after Tony Stark himself. Over time Williams learned the error of his ways and used the powers he had developed to aid the Avengers rather than fight them. Luckily you don't have to go through such a difficult transformation to cosplay this classic comic character! A bla…

…In the Marvel Universe, the cosmic entity Death embodies decay and destruction. The most familiar manifestation is as Mistress Death, a young woman in a dark hooded robe. Thanos falls madly in love with her and woos her by collecting as many souls as possible through the extinction of countless planets and species….