Search Results for snow white

…he petticoat helps the skirt achieve that classic princess shape. A red apple makes a cute accessory, but don't bite into it! Pair with this Snow White makeup tutorial for the perfect princess look….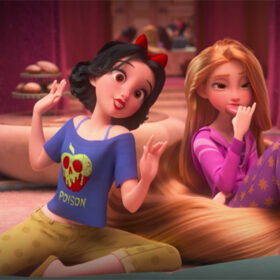 …In Wreck It Ralph 2: Ralph Breaks The Internet, Vanellope Von Schweetz encounters her fellow Disney princesses. Snow White (voiced by Pamela Ribon) wears pajamas for the slumber party with a blue "Poison" apple shirt and cuffed yellow jeans. Add red lipstick and you're set! You can find her classic dress here….

…In Once Upon a Time, Snow White (Ginnifer Goodwin) is sweet, noble, and has a heart of gold. Despite what the Evil Queen plots against, her kind heart and true love keep her strong and determined to do what's right….

…l fall into a deep sleep. Some comics and publicity material claim her real name is Queen Grimhilde, but it was never acknowledged in the Disney canon….

…smiles. His childish antics earn him nothing more than a bop on the head, as all the dwarves know he really is dopey! He climbs onto Sneezy's shoulders while wearing a long cloak to be tall enough to dance with Snow White, and together they dance to the Silly Song. Apply mascara to achieve his long lashes, and apply pink blush to your nose. Then sew or glue two yellow buttons down the front of the sweater….

…is working with her friends or her boyfriend Hawk SnowWhite – grandson of Snow White – she is always ready to help those in need and find a happy ending! Rose's clothes are very colorful. She wears a pink bow in her hair, a plum blazer, a pink plaid skirt, and pink slip-on shoes. Her white button up shirt matches her white leggings except for the plum colored bands around the bottom of the leggings. Finding her exact leggings is tough but you can…

…rs, but I do give my own twist to the gowns as you can see in the photo of Snow White. I also love to make original characters as well, mostly fantasy gowns." "My favorite material to work with it lace, I love everything lace, and sparkle. It's my trade mark to add a lot of sparkle to the gowns and make them super royal and extra. I mean every princess deserves some sparkle right!" Another photo of her workspace. Eeljke's favorite cosplay is her S…

…have loved to have seen her get a posthumous Oscar. And Colleen Atwood did Snow White and the Huntsman and her designs for the evil Queen were inspired — they were so unusual in their design and in the materials that were used. Talk about found objects again — the queen's costumes used motifs like bird skulls and beetle wings. What do you think about characters getting the Carbon Costume treatment? This is where I actually started — long before I…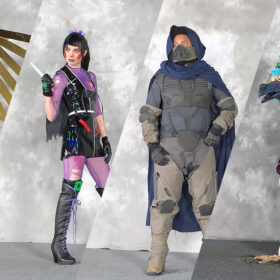 …n, showed impressive machining front to back. Winner of Best Original Design Award. Land ho! This Arkham Island cosplay by Joe Queen featured Batman and Robin as a pair of swashbucklers. This cosplay of Punchline, Joker's latest partner in crime, by Retro Snow White, gave us chills. This original group cosplay entitled Dancing with the Celestials, by Chad Edward Lee Evett and friends, was every bit about the characters as the costumes. Winner of t…

…aths down to a road that runs across the chest of the sweater. Then I used white pompoms and leftover foam to make snow men. Pipe cleaners made for some rather gaudy Christmas trees as well. And with that my little village was complete! As you'll see in the completed pictures at the end of the article, the village isn't exactly to scale. That is all part of the Ugly Christmas Sweater charm! Attach Some Mistletoe This part was my favorite part to m…