Andrew WK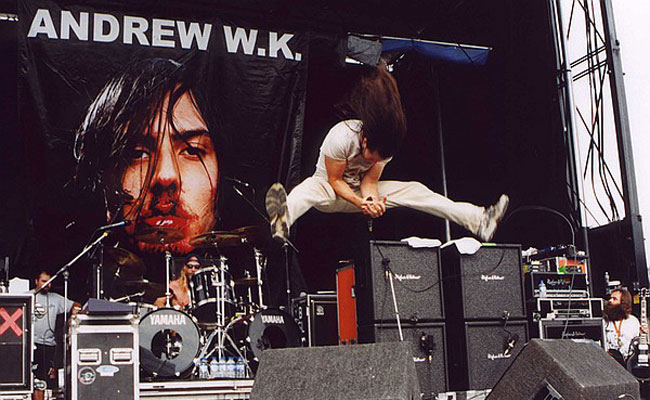 Andrew WK is a rock singer and songwriter known for his hit single Party Hard, and for partying hard. This outfit just needs one more thing — for you to wear the jeans seven months straight to build up that grime.
About the Author
Tom
On television, film, music, and all the rest.
Related Posts
Ghost is a Swedish rock band that was formed in Linköping, Sweden in 2006. The lead singer, Tobias Forge, is known for his various imaginative stage personas. One of his most iconic is Papa Emeritus II, the second of Ghost's supposed lead singers.

September 23, 2016

by

Tom

In the mockumentary This Is Spinal Tap, Nigel Tufnel (Christopher Guest) is the lead guitarist for the rock band Spinal Tap. He rocks louder than anyone else, owing to his custom amplifier that goes up to eleven.

In Bill & Ted's Excellent Adventure, William "Bill" Preston Esquire (Alex Winter) and Theodore "Ted" Logan (Keanu Reeves) are two metalhead slackers trying to write a history report when they encounter a traveler from the future who gives them access to a time travel machine.

Lemmy Kilmister is the frontman for the rock band Motörhead, known for such hits as Ace of Spades. Besides his gravelly voice, he's recognized for his mutton chops, prominent facial moles, and edgy sense of fashion.

Angus Young is the lead guitarist and songwriter for the Australian band AC/DC. Subverting all expectations for how a hard rock musician should dress, Angus performs in a schoolboy uniform replete with newsboy cap and necktie.

November 8, 2013

by

Jaime

Despite countless failed attempts at dating Butt-head still believes he's a stud when it comes to women. Like his best friend, Beavis, he keeps his look simple with a band shirt and shorts. This leaves him more time to think about girls and complain about things that suck.
There are no comments yet, add one below.