Howard Hughes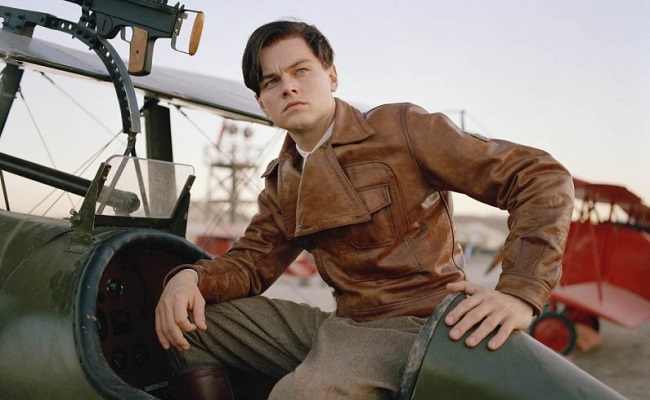 The film, The Aviator, is based on the real-life Howard Hughes (Leonardo DiCaprio), an aviation pioneer and Hollywood director who succumbed to his severe obsessive-compulsive disorder. The film chronicles his life from the 1920's to the 1940's, so his wardrobe is influenced by those time periods.
Ashley
Geek girl with a love of film, comic books, history, retro fashion, and her proverbial zoo of dogs, horses, and snakes.
Related Posts
In Once Upon a Time in Hollywood, Rick Dalton (Leonardo Dicaprio) who starred in the Western TV show Bounty Law in the 1960s, but now finds himself struggling to transition to feature films. Neighbors with Sharon Tate, he contemplates moving to Italy which has become a hotbed for low-budget Western movies.

The Aviator chronicles the career and downfall of Howard Hughes. For a brief period, he was dating Hollywood Starlet Katherine Hepburn (Cate Blanchett), who managed to ease the symptoms of his worsening obsessive-compulsive disorder. Still regarded as an important cultural icon and the epitome of the "modern woman" in the 20th century, Katherine Hepburn deviated from traditional gender roles by shunning marriage, dating younger men, playing sports, and wearing trousers before it was fashionable or acceptable to do so. The film takes place between the 1920's and the 1940's, but her fashion is comprised of over-sized menswear in bold colors and patterns.

In The Aviator, Howard Hughes has a brief flirtation with Thelma (Josie Maran), the cigarette girl in a supper club. Cigarette girls worked in speakeasies and clubs during the 1920's, offering cigarettes, cigars, or other novelties from a tray they carried around their neck. Similar to a cocktail waitress, this tipped position was given to young, attractive women who were typically dressed similar to saloon girls, flappers, or burlesque dancers. Due to their portrayal in film, cigarette girls became a staple and grew in popularity until the end of Prohibition, when they moved to public nightclubs. Thelma's outfit is similar to a belly dancer and can be achieved with similar clothing, though the belly dance skirt will need to be cut to the appropriate length. Cigarette trays are an expensive vintage item now, but they can be easily made with a shallow box and some ribbon.

In The Aviator, Noah Dietrich (John C. Reilly) is Howard Hughes' chief executive officer for his business empire. He served Hughes from 1925 to 1957, before they had a falling out over Dietrich's capital gains income. Though the portrayal is accurate in terms of style, personality, and mannerisms, one criticism is that the film downplayed his role in Hughes' success.

In The Aviator, Errol Flynn (Jude Law) is a 1930's actor known for his romantic swashbuckler and action roles. He was known for his charm, good looks, and off-screen scandals. He crossed paths with Howard Hughes many times during their respective careers.

In The Aviator, Jean Harlow (Gwen Stefani) was an actress and sex symbol in the 1930's. She got her start in film in Hell's Angels, directed by Howard Hughes. She was one of the biggest and most glamorous stars of the 1930's, known as the "Blonde Bombshell," "Platinum Blonde" and the "Laughing Vamp," though she tragically passed away at age 26.
There are no comments yet, add one below.