The Most Common Mistakes People Make with SFX Makeup and How to Fix Them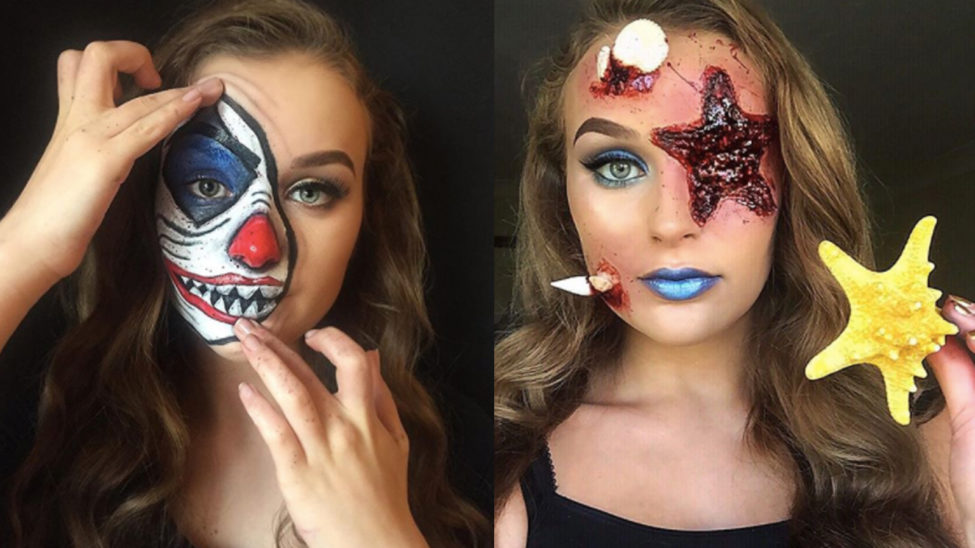 10 years ago, you probably never would've thought of attempting to DIY a gory Halloween makeup look, but times have changed. The beauty industry has been majorly growing, and with that, a gigantic community of YouTube bloggers have uploaded videos showing how to create a skull smile, an evil clown mask, or simply one bloody gash in your forehead.
But, as you've probably noticed firsthand, watching one YouTube tutorial doesn't make you an expert, and sometimes your fool-proof Halloween idea ends up being a major fail.
To help you plan ahead this year, we interviewed professional SFX makeup artists about the top mistakes people make when trying to do their own costume makeup. Take notes!
1. Using Bad (or Unsafe) products 
Chances are, you don't frequently buy costume makeup and SFX products, so you have no idea where to start. Well, Rhonda Causton, the owner and operator at Reel Twisted FX, can tell you where to stay away from.
One of the most common mistakes she sees is trying to make injuries using latex and cotton.
"You can never blend it well enough to look like actual skin," she says. "Use a skin safe silicone putty instead of latex, such as third degree silicone or sculpt it gel. It is simple to use, odorless, blends easily, easy to remove, nonirritating on the skin, and is available pre-colored in many different skin tones. It is more expensive than latex, but a little goes a long way!"
Another product she advises against is spirit gum.
"So many people are allergic to it, it smells, and it doesn't hold very well," she says."While still keeping within a budget, try using Pros-Aide adhesive instead. It is odorless and nonirritating to the skin."
Other products Rhonda says to avoid are Rigid Collodion, which is used to create scars but can actually burn your skin if left on for too long. Some products she recommends are Reel Creations, 3rd Degree silicone, green marble sealer, SmashBox eye and lip pencils,   skin illustrator pallets, and Ben Nye nose and scar wax.
Examples of costumes with face paint: Ursula, Roger Klotz, Marge Simpson
2. Mismatching Skin to Latex
Ruby Mitchell, the makeup artist behind the popular Instagram page @rubymediamakeup, says many people make a mistake that isn't exclusive to costume makeup: mismatching makeup to skin. In this case, mismatching latex to skin.
"A common mistake people make when starting SFX makeup is not color matching the wax/latex on the outside of the cut or wounds to their own skin color," she says, adding, "if you are having difficulty blending out scar wax, [try] adding some Vaseline to the wax or your fingers to help blend it in a lot quicker and easier."
Examples of costumes with prosthetics: Voldemort, Legolas, Freddy Krueger
3. Drowning Their Makeup in Blood
Another mistake Ruby consistently sees is people overloading their makeup with blood.
"Although blood does help bring the whole overall look together, applying too much blood can cover up different colors or texture you applied beforehand, which you will no longer be able to see," says Ruby.
If you find your fake blood all pooling together in certain spots, Ruby recommends adding a little bit of detergent, which can help the blood stay spread out.
There are no comments yet, add one below.
Stay connected. Don't miss out!
Get new costume guides in your inbox once a month.
And don't worry, we hate spam too! You can unsubscribe at any time.