Cosplay at Retro Con 2022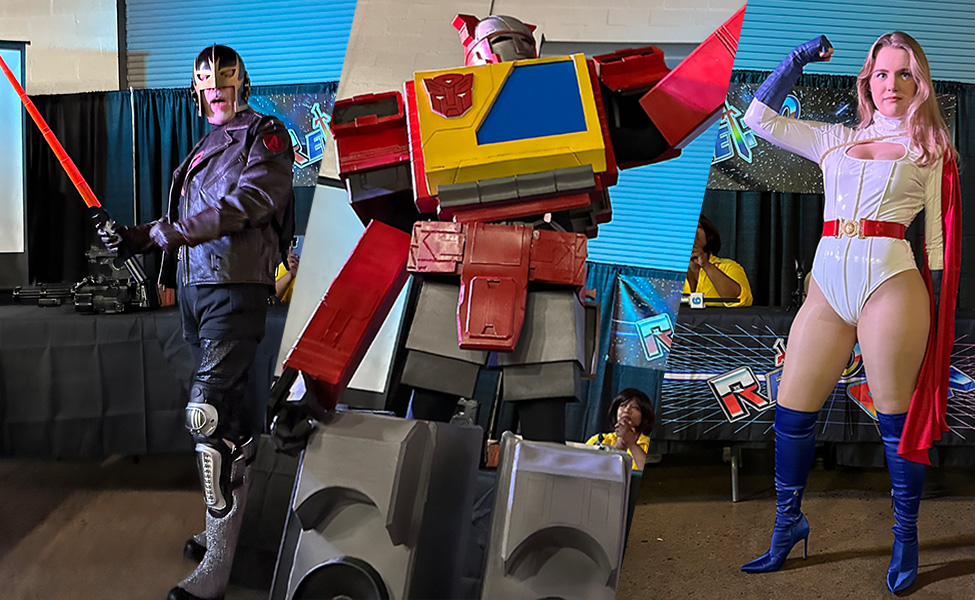 After a brief hiatus, Retro Con is back this weekend at the Greater Philadelphia Expo Center and celebrating its 10th anniversary. Along with memorabilia tables, arcade, panels, and special guests celebrating 80s and 90s pop culture like Transformers, Star Wars, GI Joe, Ghostbusters, and He-Man, Retro Con features a costume contest.
Keep scrolling to see all of many amazing costumes that were entered into Retro Con 2022's costume contest. If you recognize anyone below or spot yourself, let us know and we'll tag the cosplayer.
---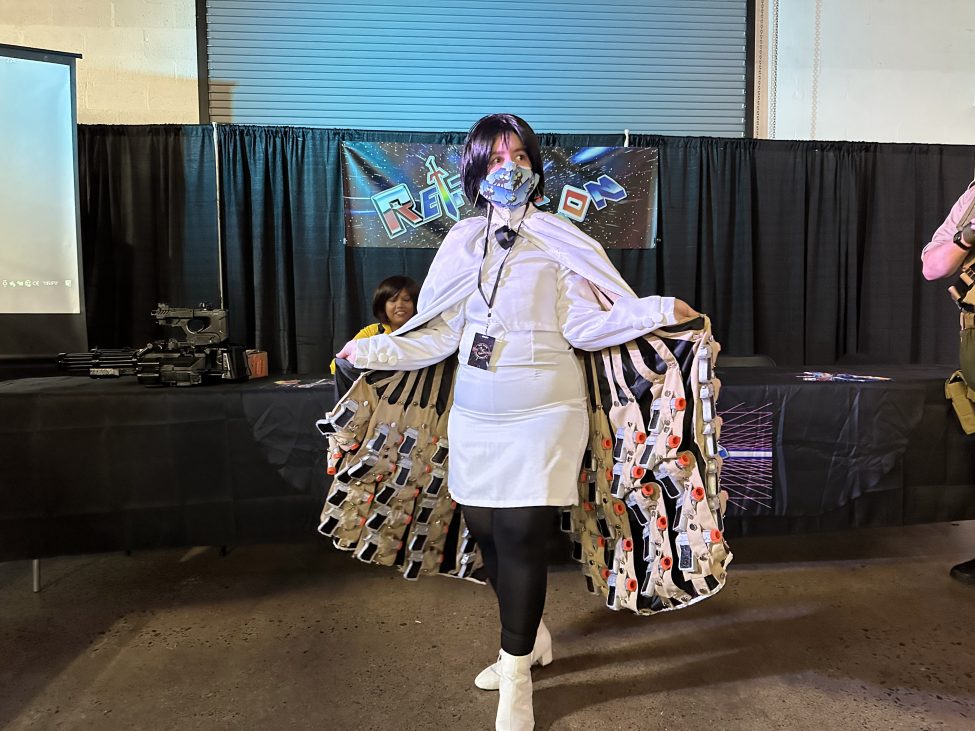 Meryl Stryfe from Trigun gives us a glimpse of the many derringers she's packing under her coat.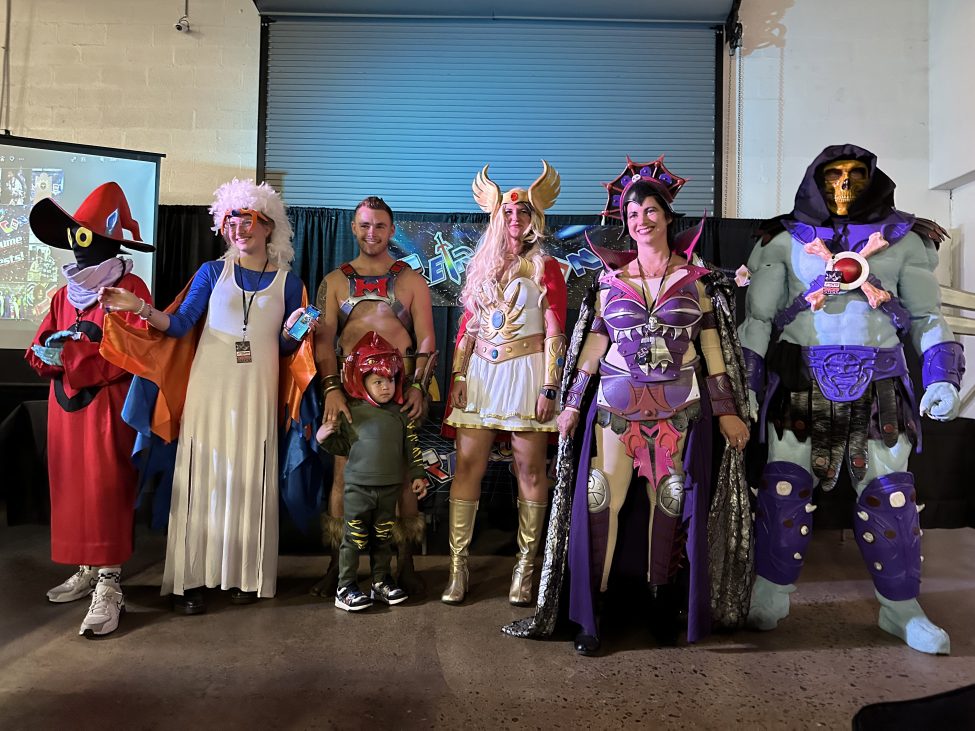 We've got the whole crew from Masters of the Universe, including He-Man (@nestechs), Skeletor, She-Ra and Orko to name a few.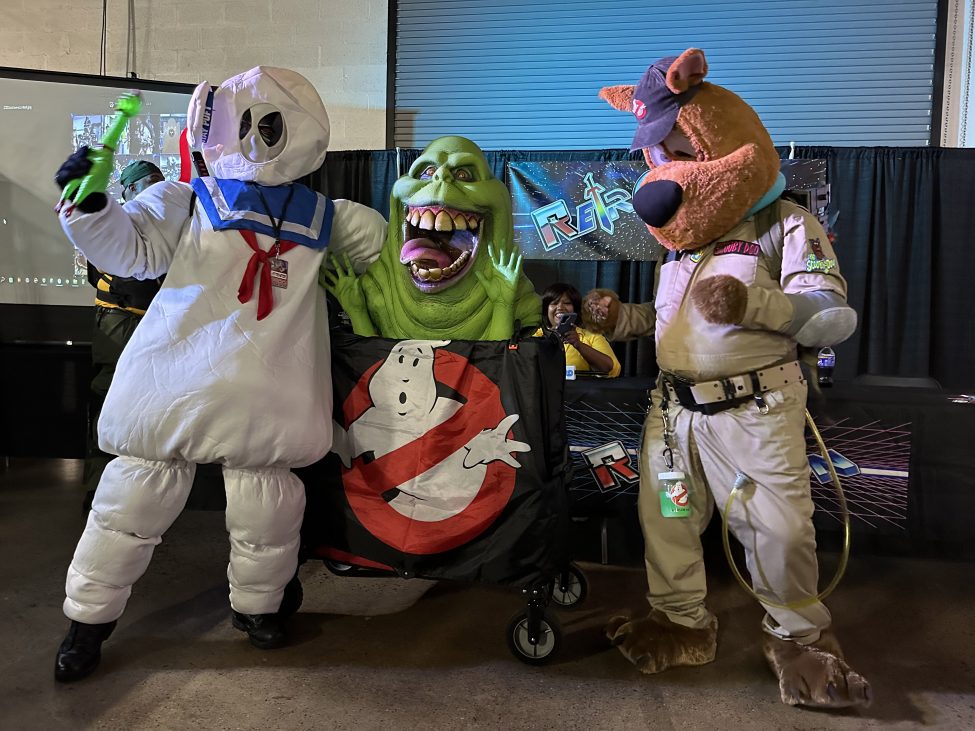 Have you seen a Deadpool x Ghostbuster or Scooby-Doo x Ghostbuster crossover before?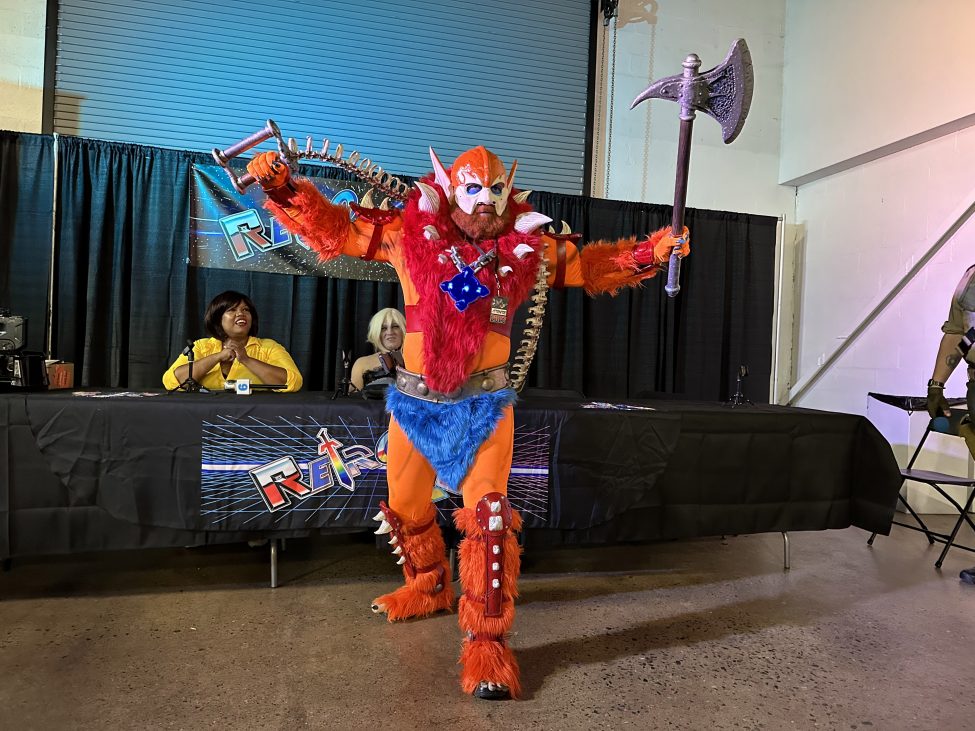 Another resident of Eternia and right-hand beast to Skeletor is Beast Man (@badaxxcosplay).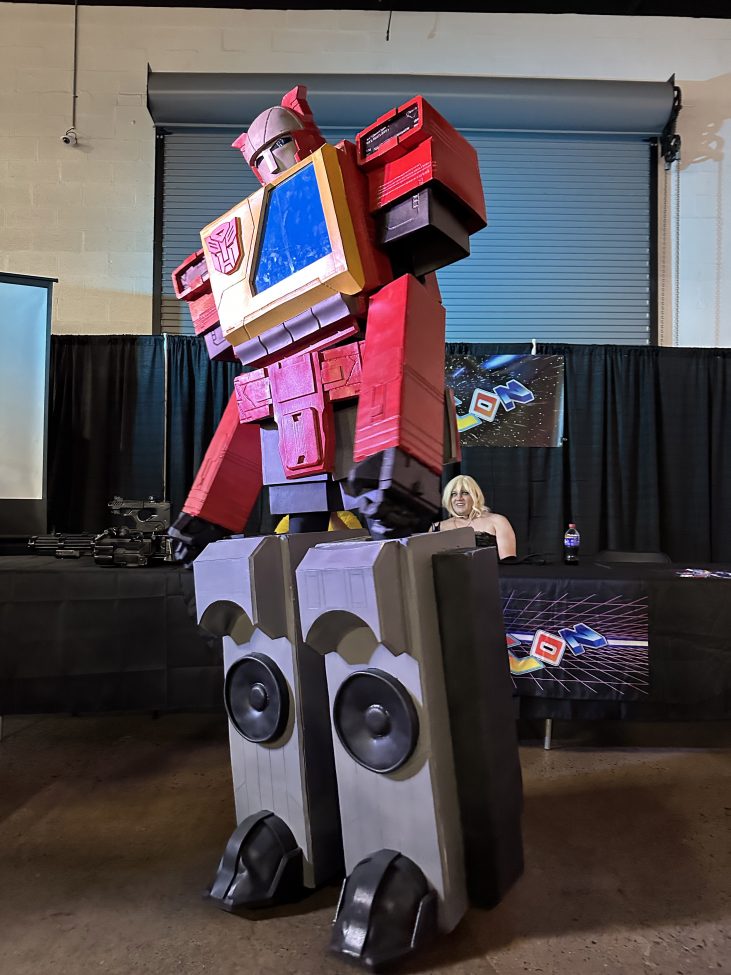 This towering Blaster cosplay from Transformers had to be seen to believed.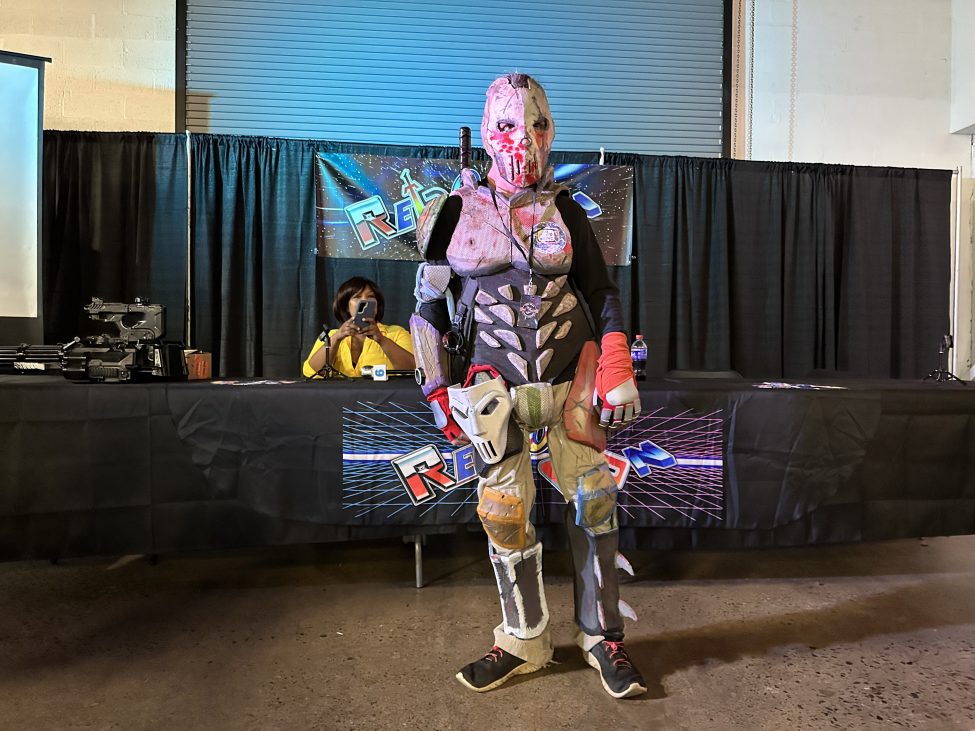 This version of Casey Jones appears in Rise of the Teenage Mutant Ninja Turtles.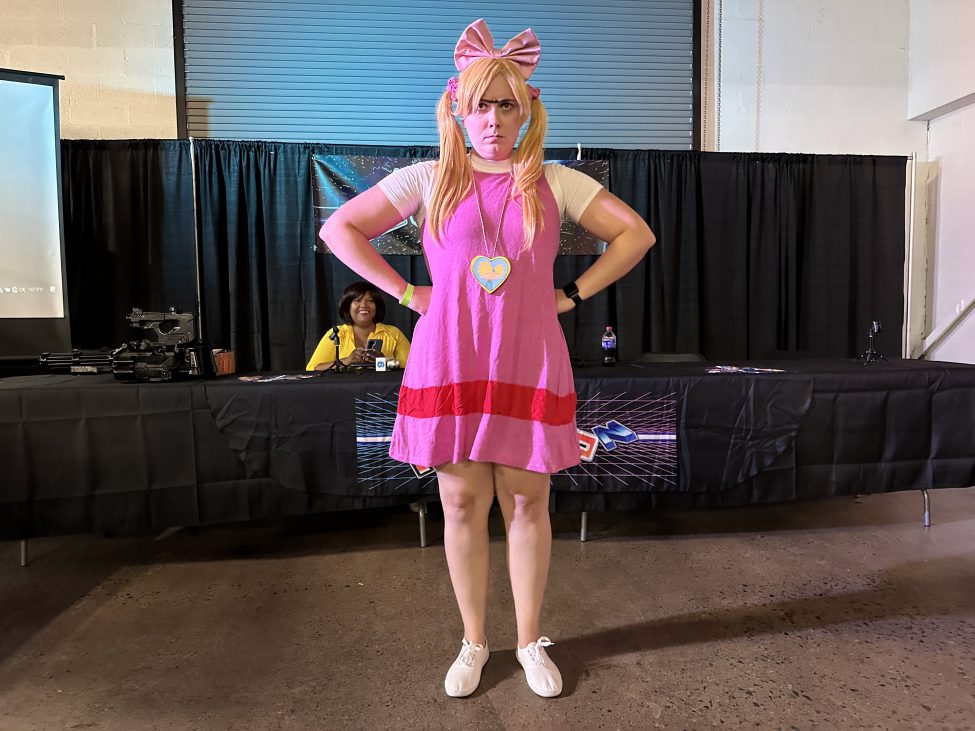 This Helga cosplayer from Hey Arnold! got the poses, and brow, down pat.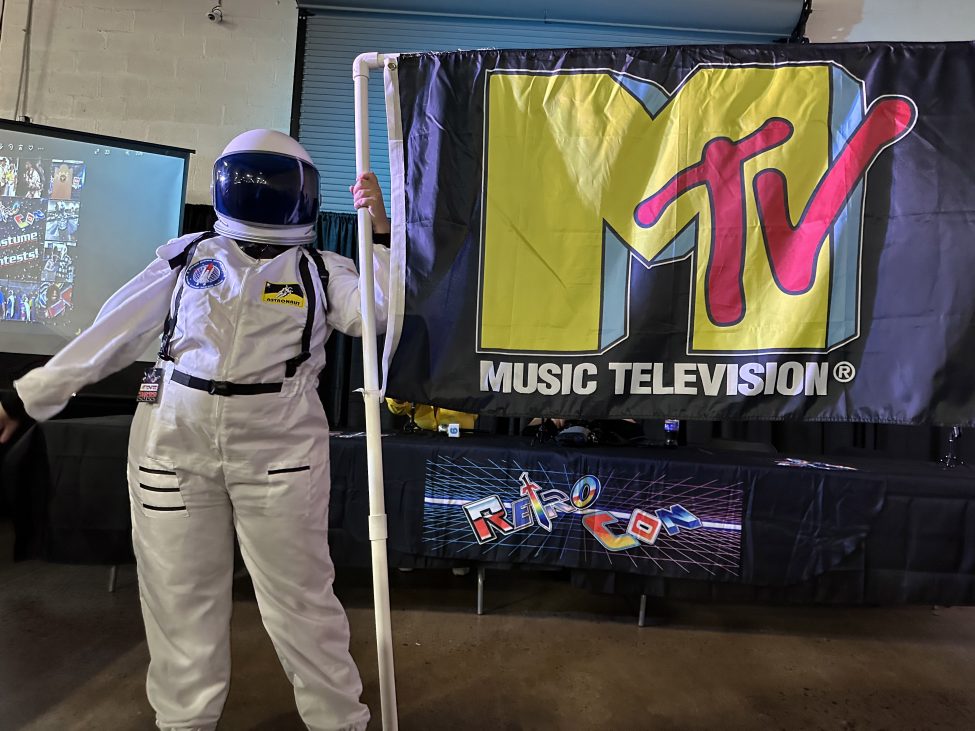 This iconic Moonman cosplay from MTV (Violet Twirls & GluDood / @jpeake84) is out of this world.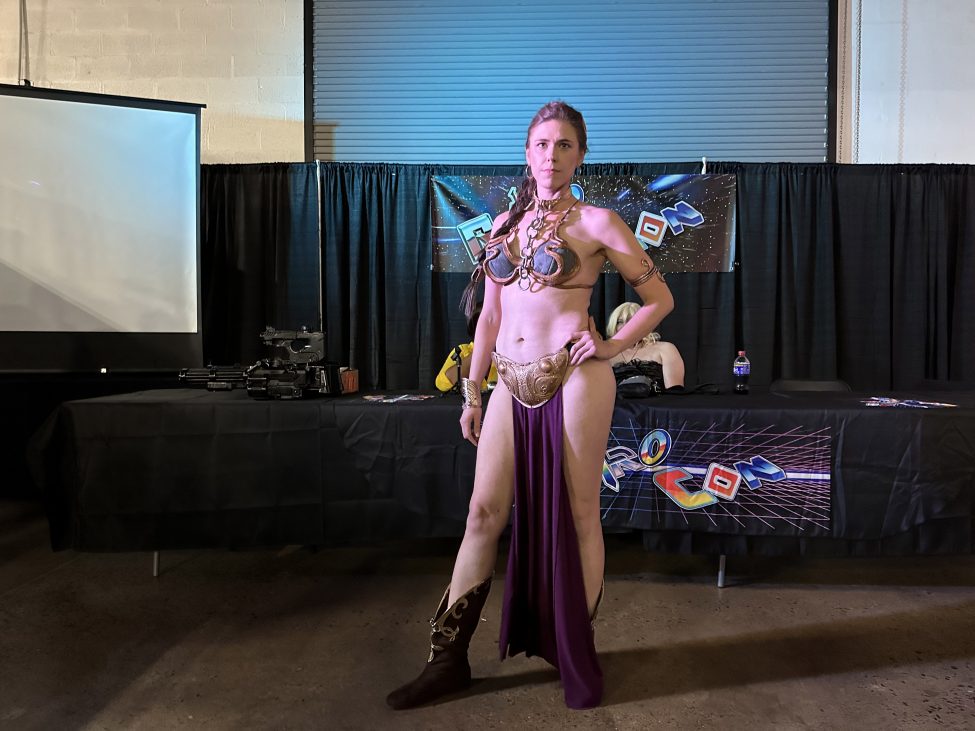 This Princess Leia cosplayer may have once been enslaved by Jabba the Hutt in Star Wars, but looks like a boss here.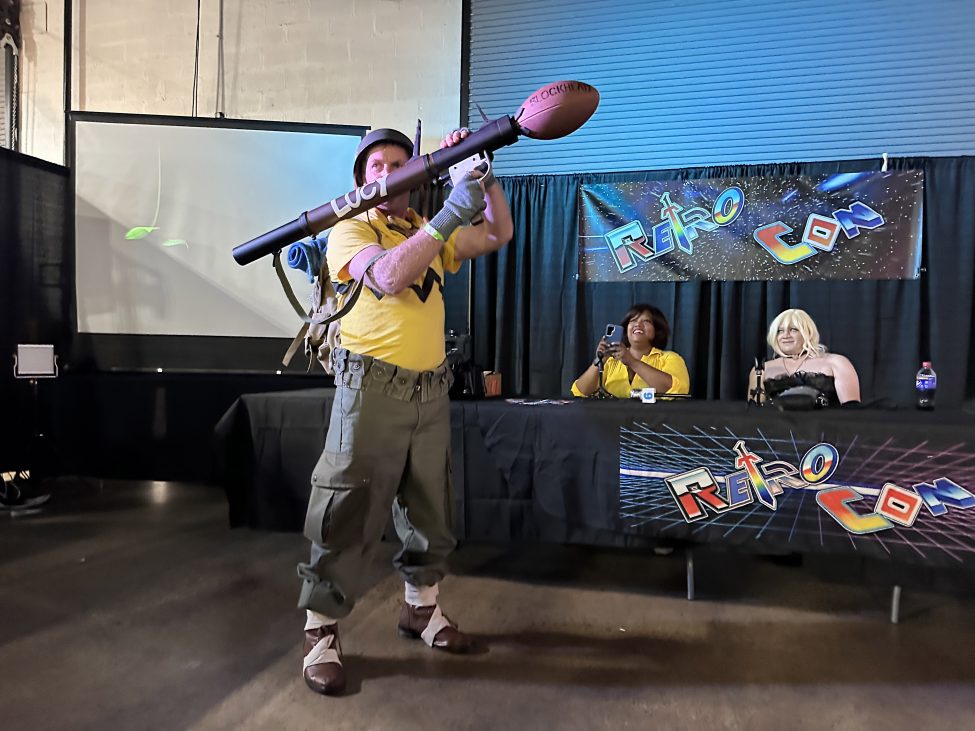 Charlie Brown from Peanuts looks prepared for the apocalypse. Got a kick out of the "Lucy" rocket launcher.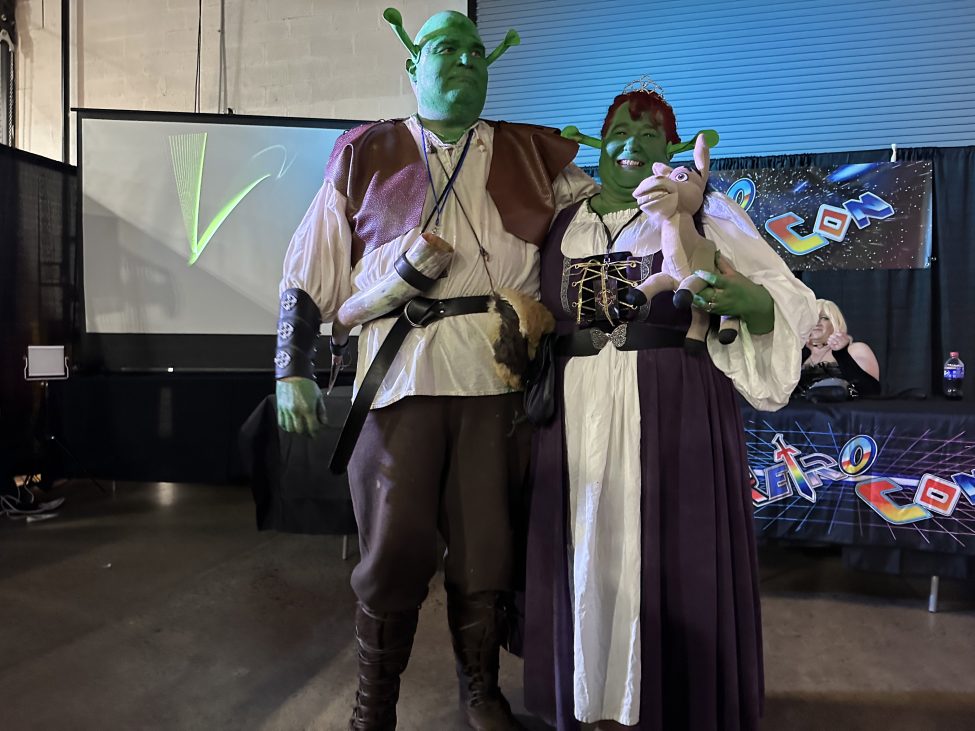 We were also in the presence of royalty, with Shrek and Fiona in attendance.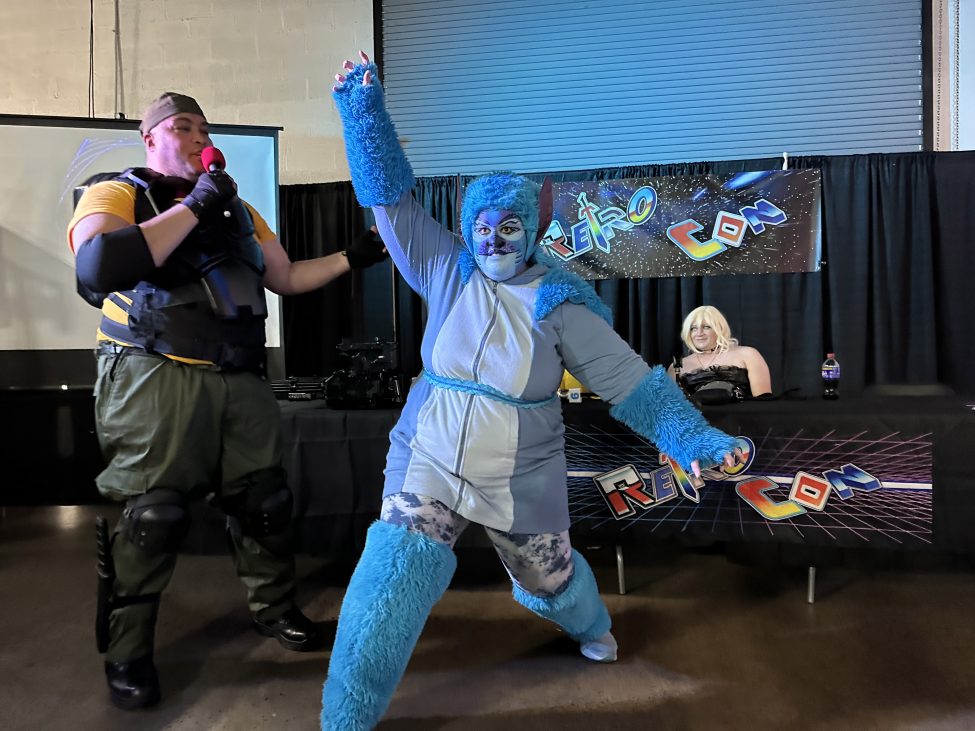 A wonderful interpretation of Stitch, of Lilo and Stitch, in humanoid form.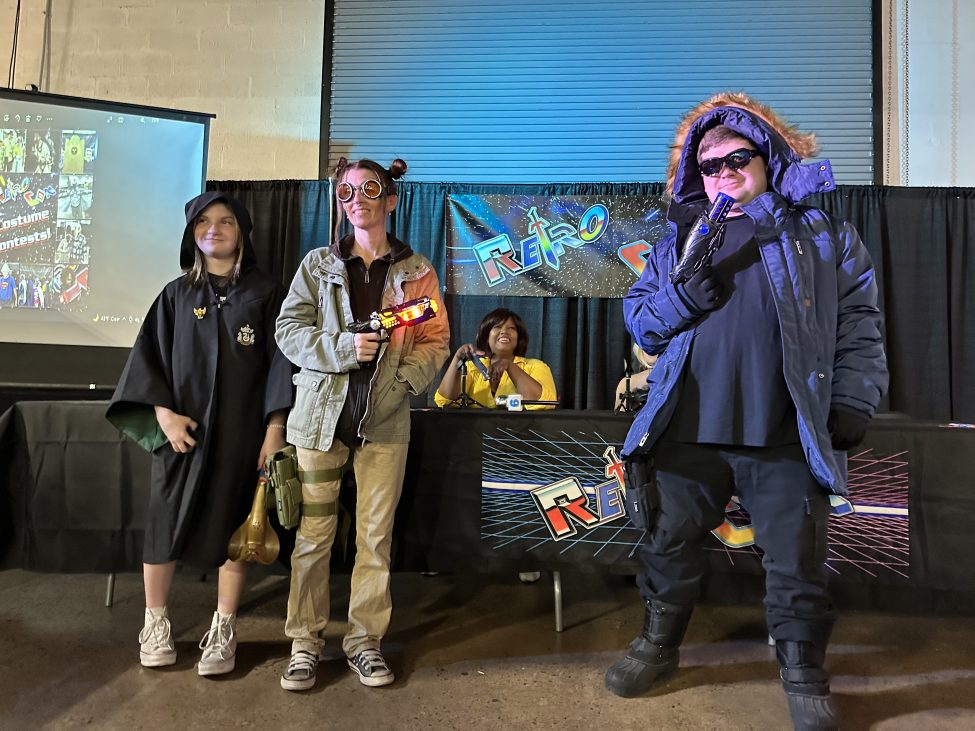 What kind of villainous super-team is this? Captain Cold and Heat Wave from Legends of Tomorrow join forces with Draco Malfoy from the Harry Potter series.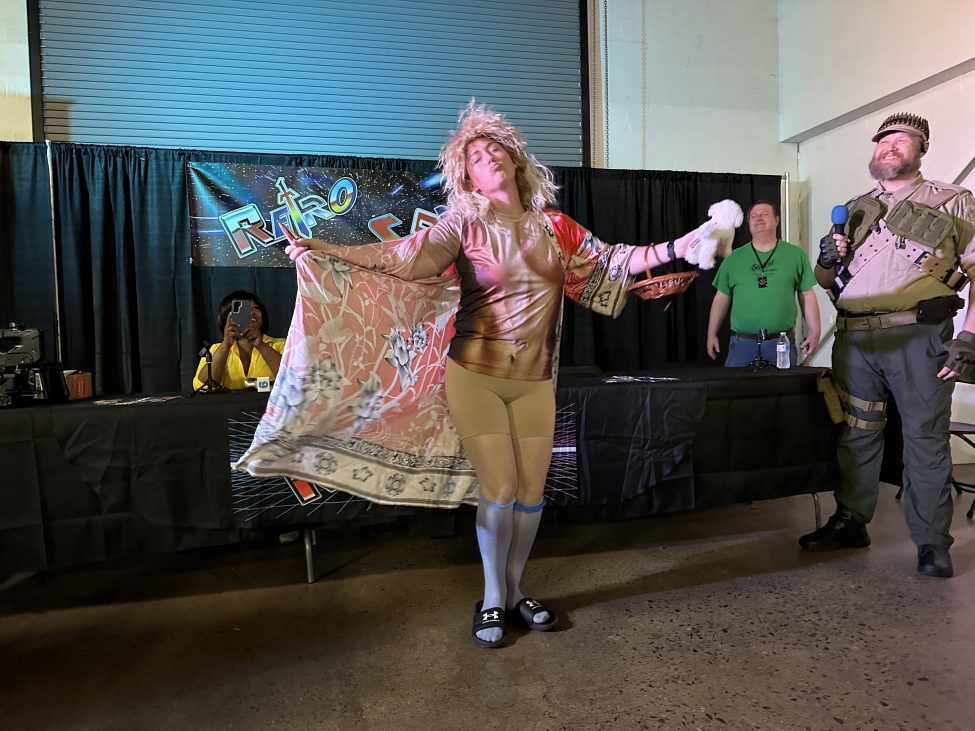 This Jame "Buffalo Bill" Gumb cosplay got all the details right from Silence of the Lambs, down to "the dance".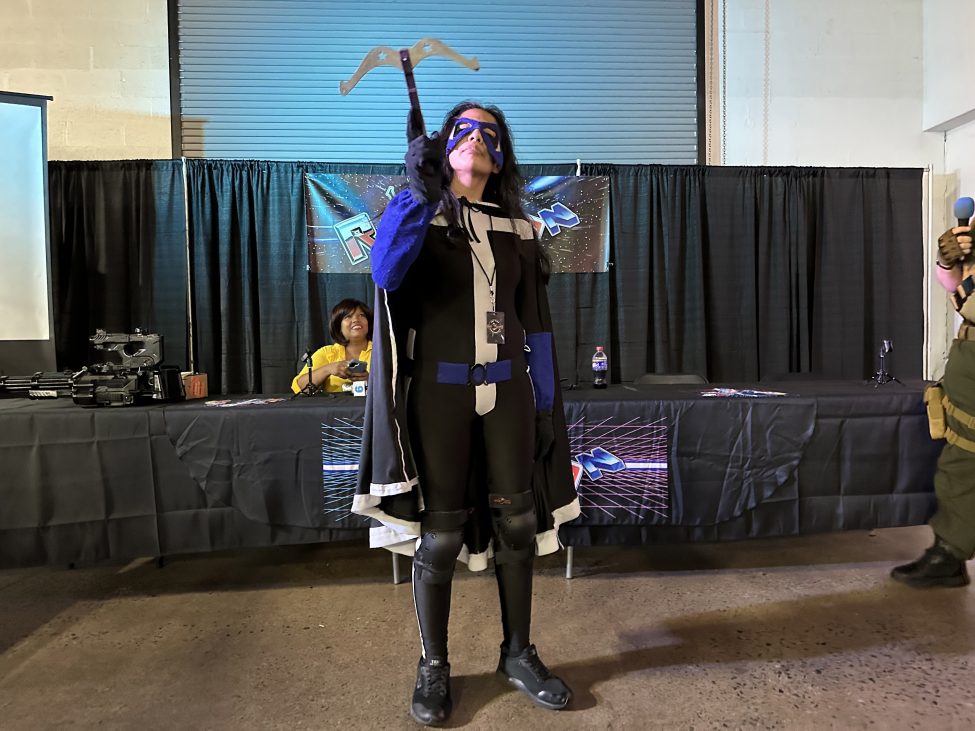 A classic take on Huntress from the Batman universe.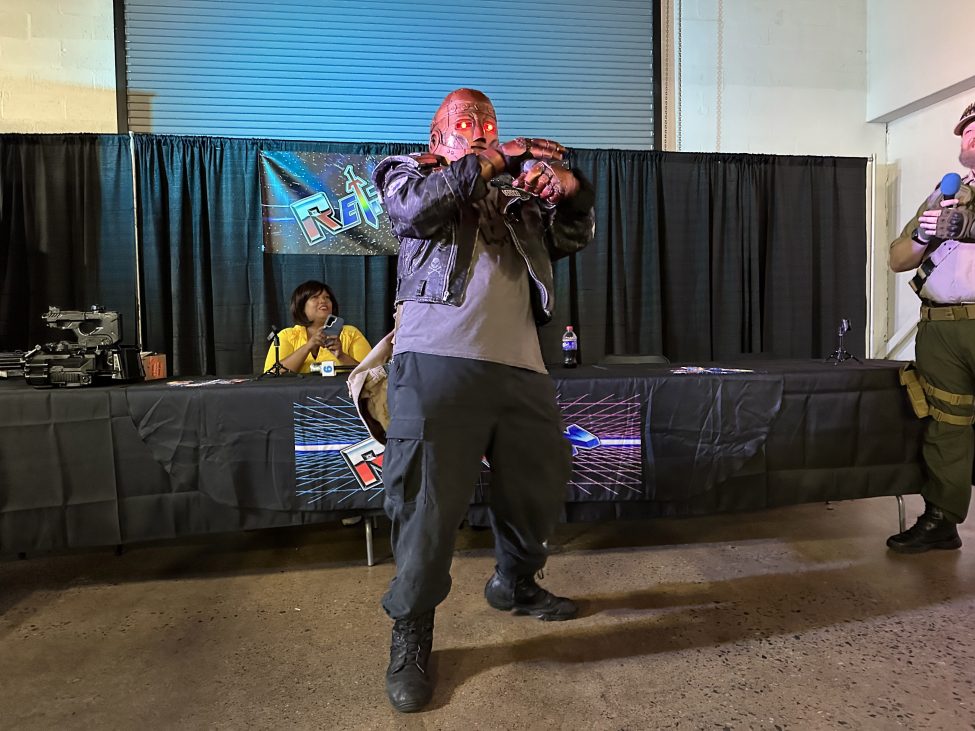 Robotman from Doom Patrol had a trick up their sleeve when it came to their cosplay performance.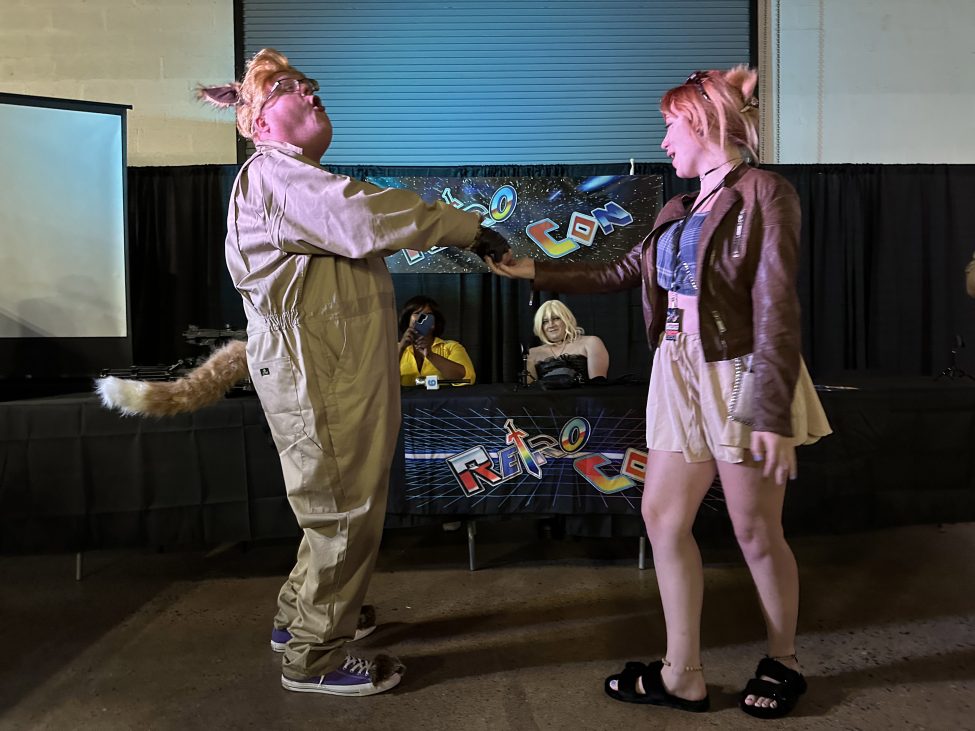 Lone Starr (Geneva) and Barf (Kurt Kleefeld) from Spaceballs are as inseparable as ever here at Retro Con.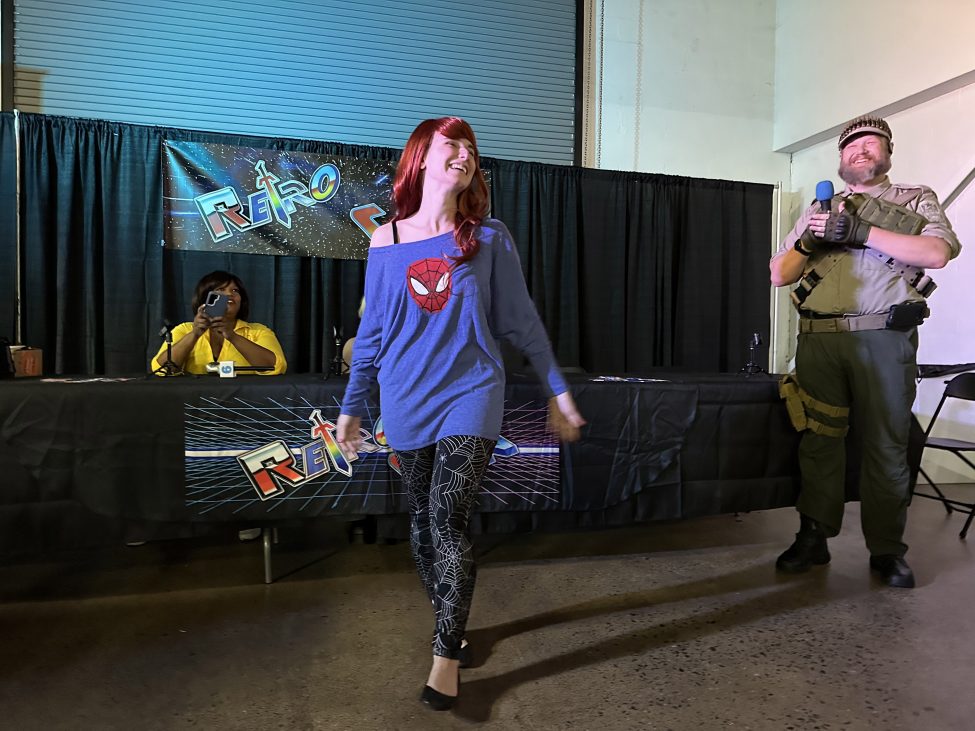 Mary Jane Watson is dressed for comfort with this outfit that still proclaims her love for Spider-Man.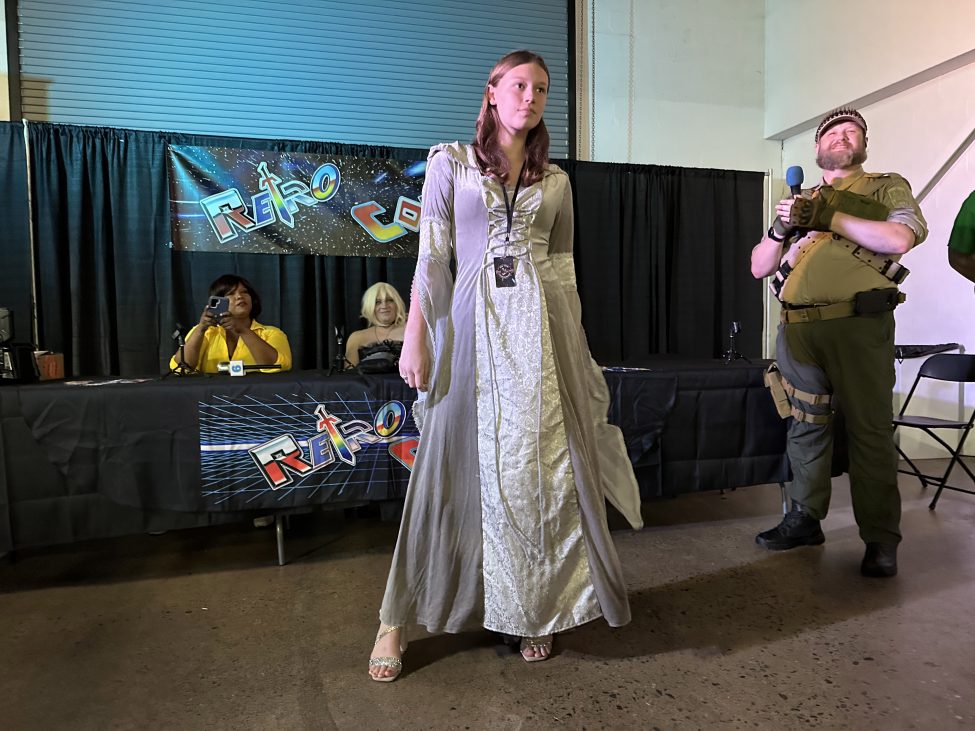 A Galadriel from Lord of the Rings cosplay is timely given she headlines the new series The Rings of Power.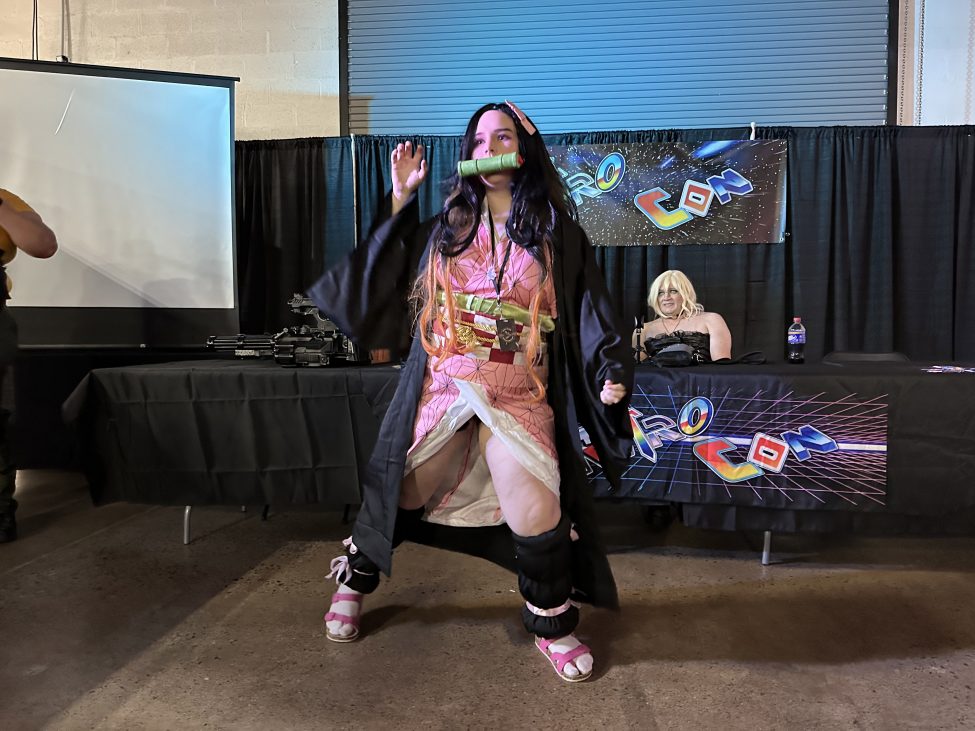 Not a single part of this Nezuko costume was out of place from Demon Slayer.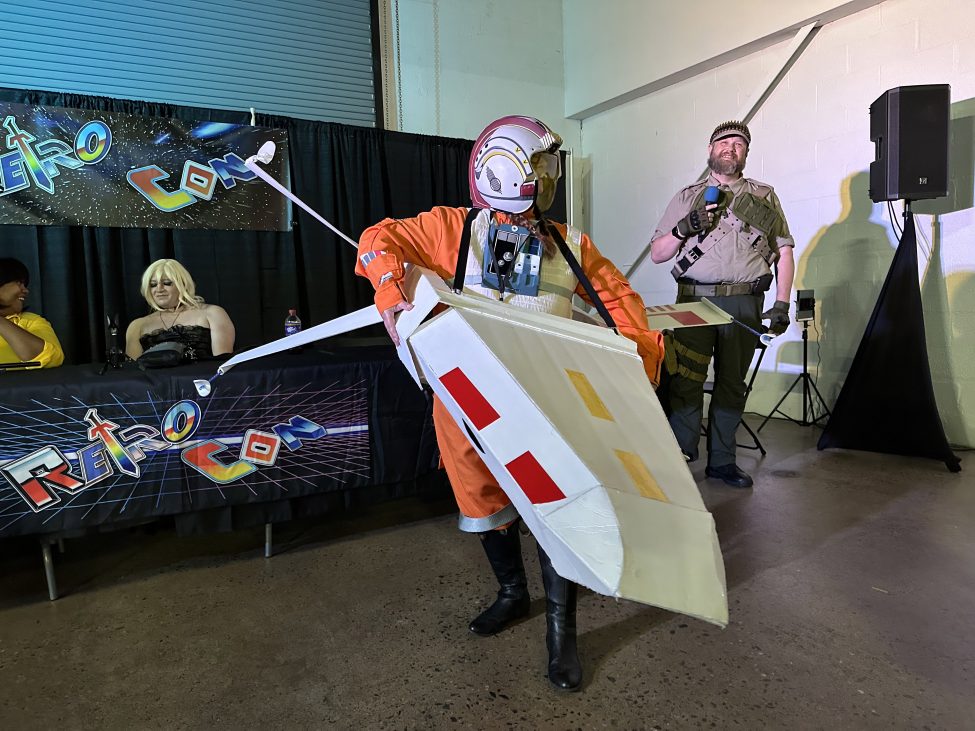 This X-Wing starfighter from Star Wars was most impressive. Not pictured: a cute little R2-D2 in the back.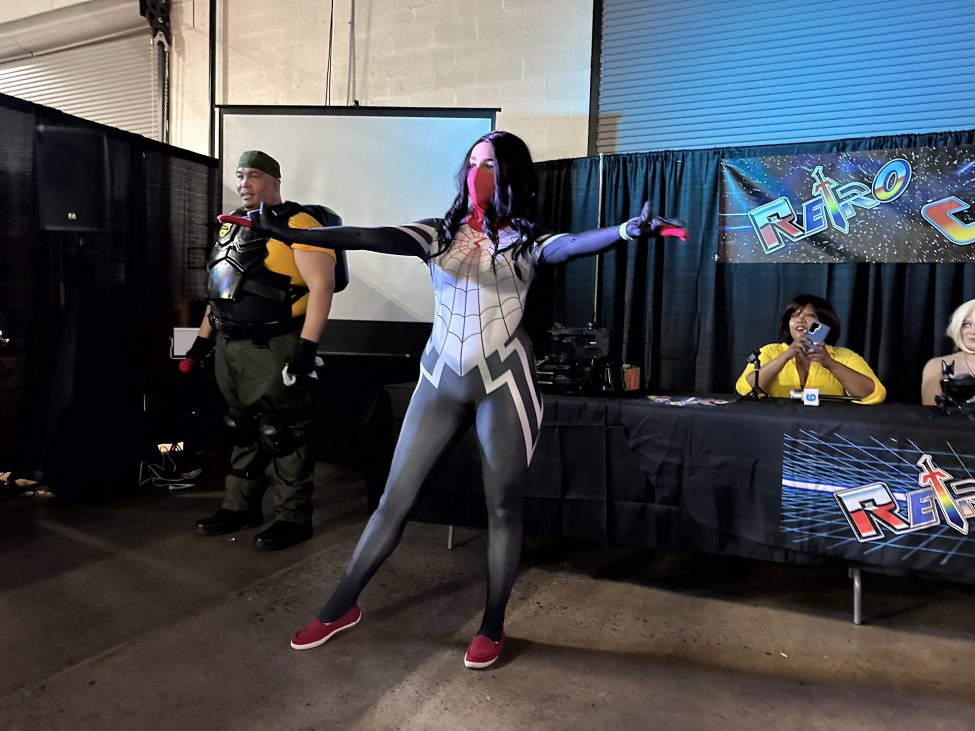 Here we see a Silk cosplay from Spider-Man in her natural habitat.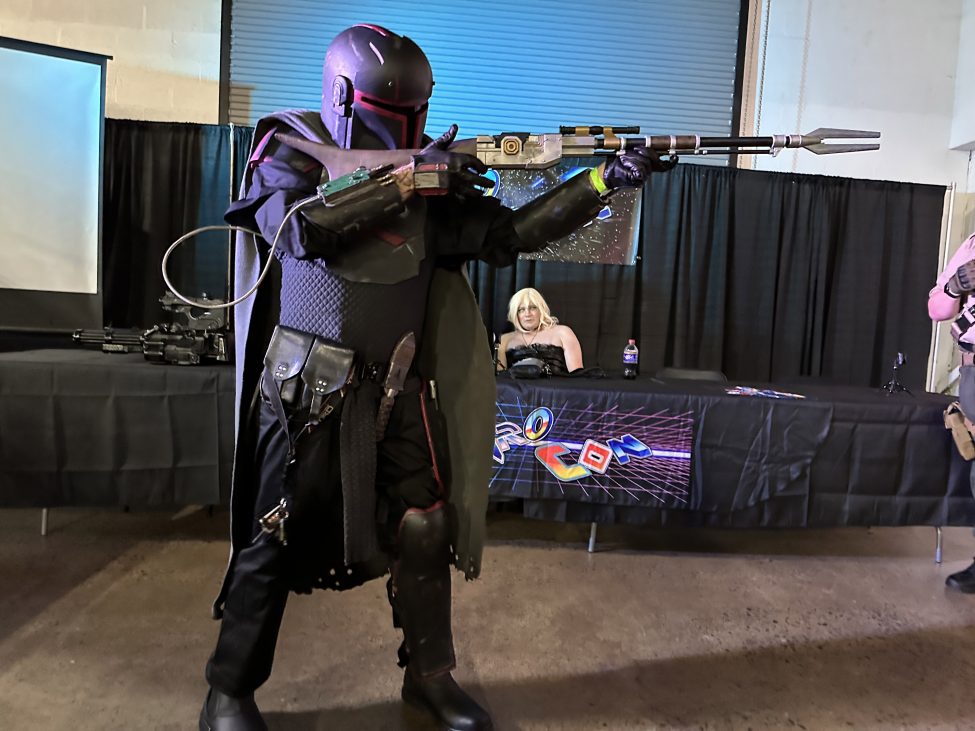 The level of detail and finish on this Mando's arms and armor from The Mandalorian were breathtaking.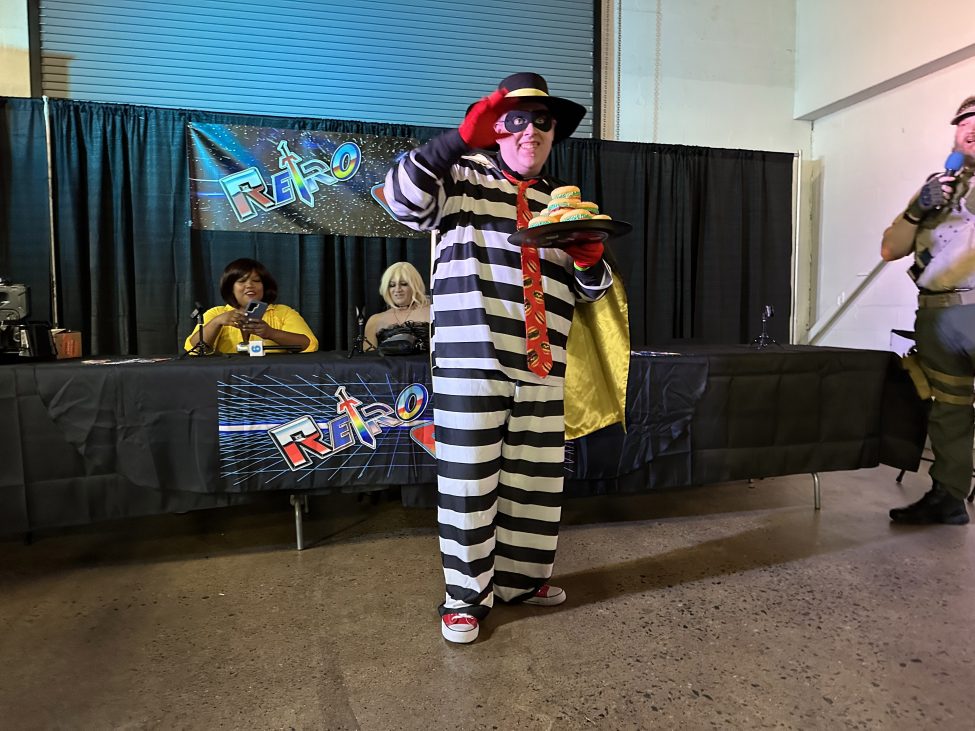 The Hamburglar of McDonalds fame was spotted at the costume contest, but quickly made his escape.
This Ghostbuster wasn't afraid of no ghosts — he asked the audience if anyone had spotted a ghost.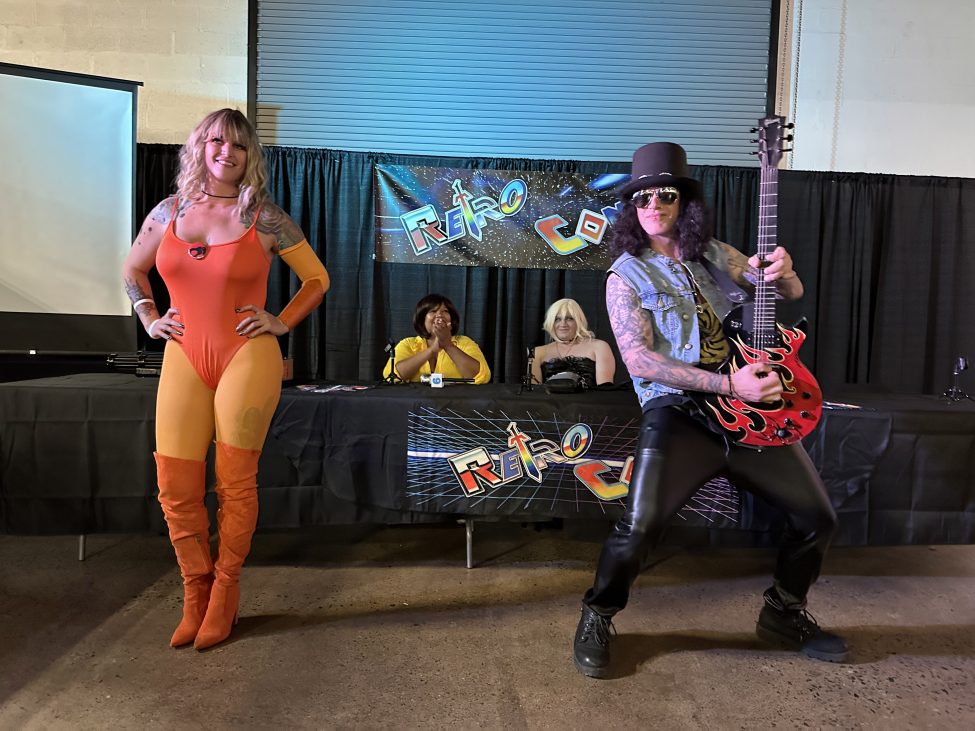 Talk about a power couple. Cheetara from Thundercats and Slash from Guns N' Roses brought fire in their own ways.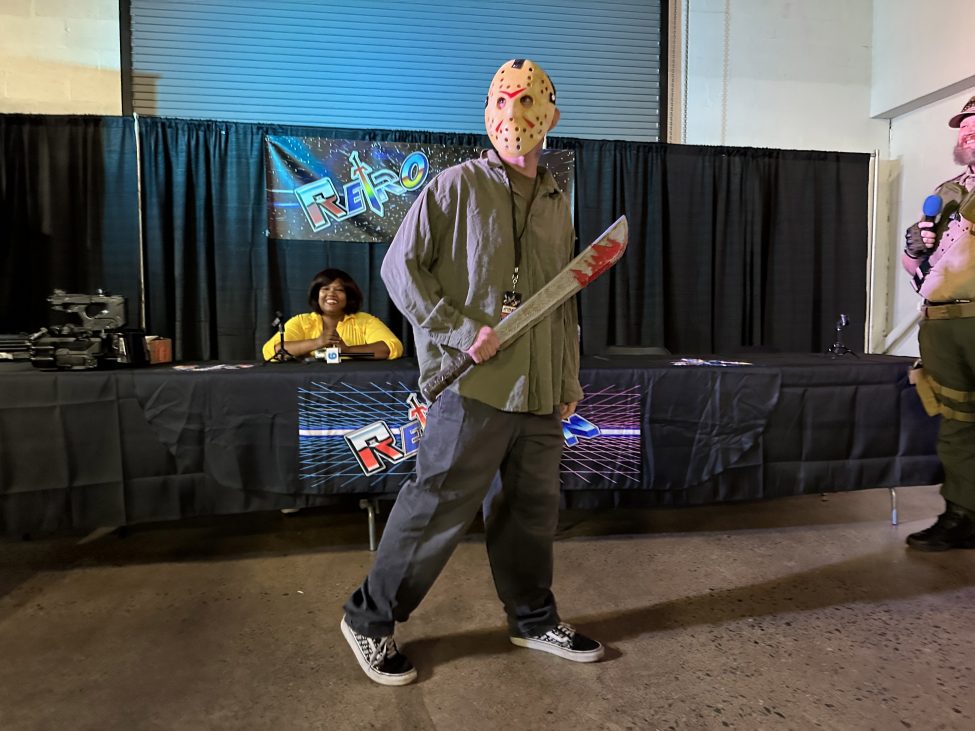 This Jason cosplayer from Friday the 13th slowly made his way across the stage. Slowly, but relentlessly and murderously.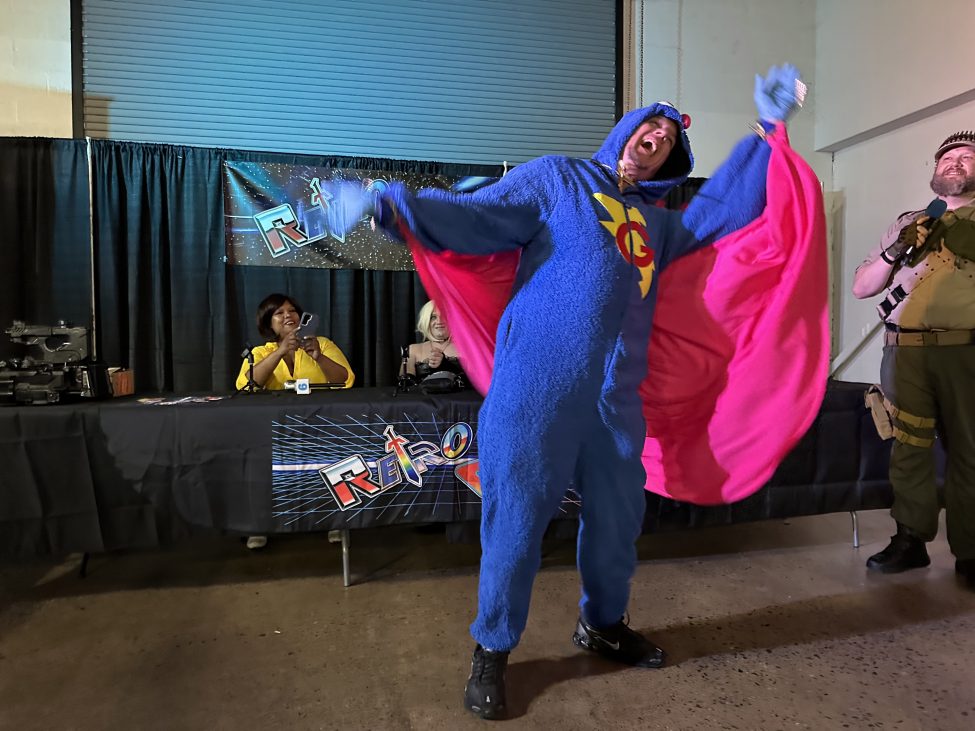 We're a long ways from Sesame Street, but Super Grover still came to the rescue… after he bounced off a few walls.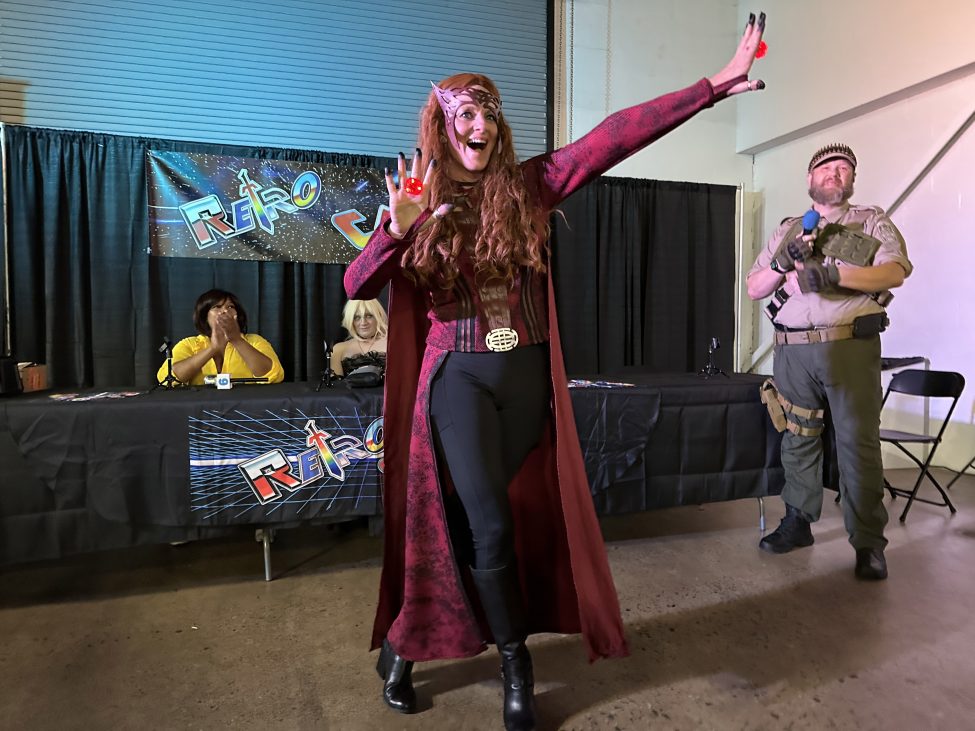 Scarlet Witch flashes a smile, much to the relief of everyone in attendance at Retro Con.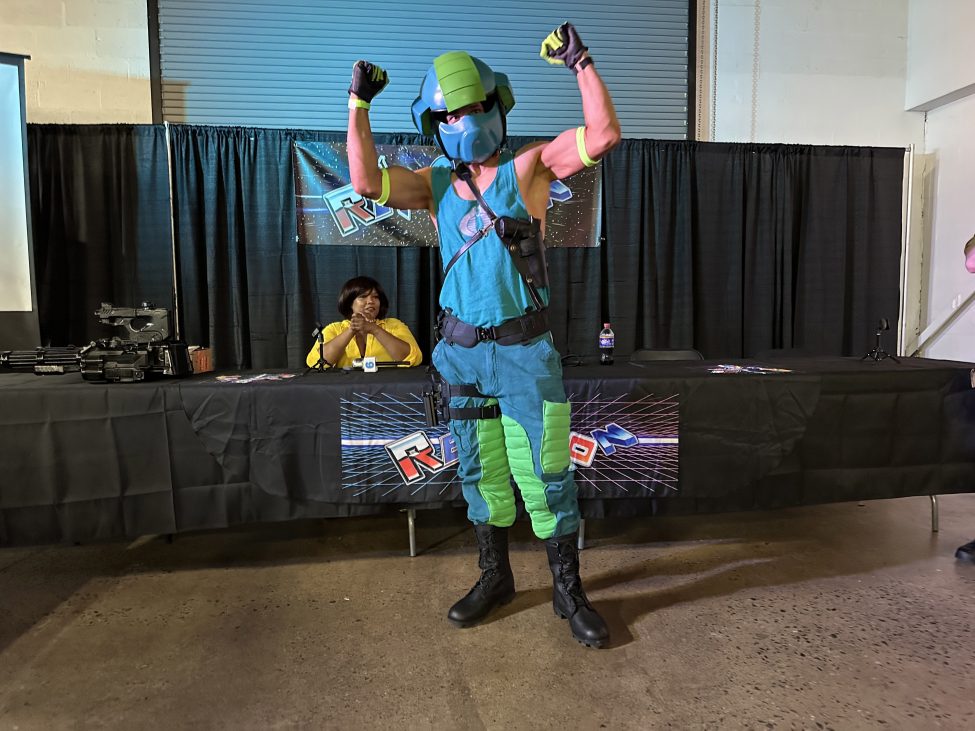 Copperhead from the Cobra faction stood tall, even in the face of GI Joe.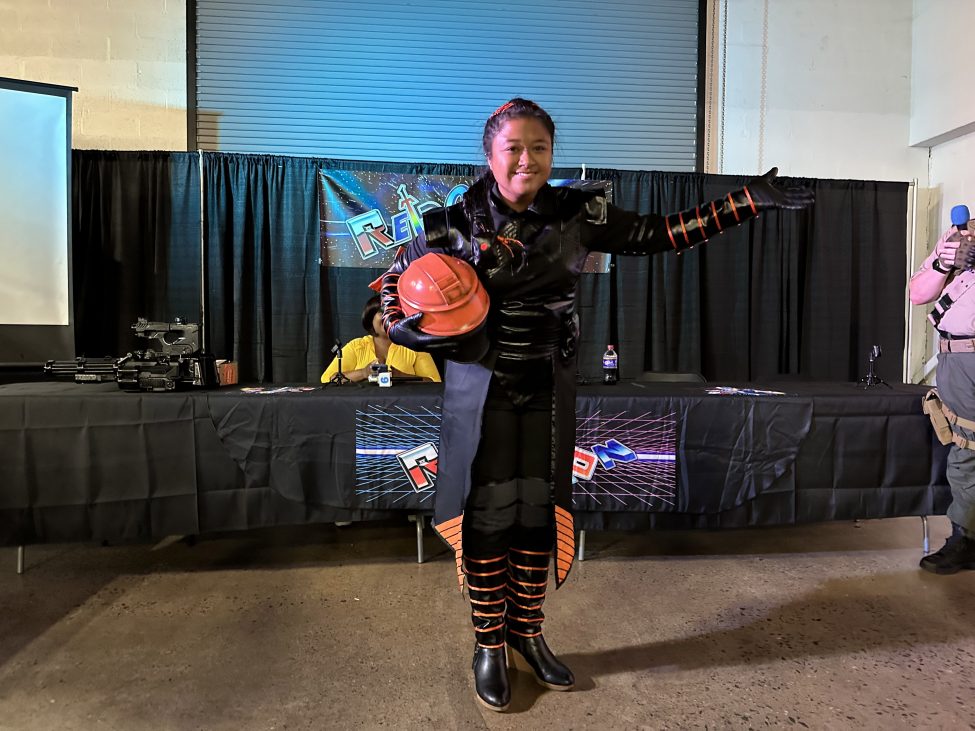 Fennec Shand (@mckenzieraver) from The Book of Boba Fett is geared for battle with her helmet in hand.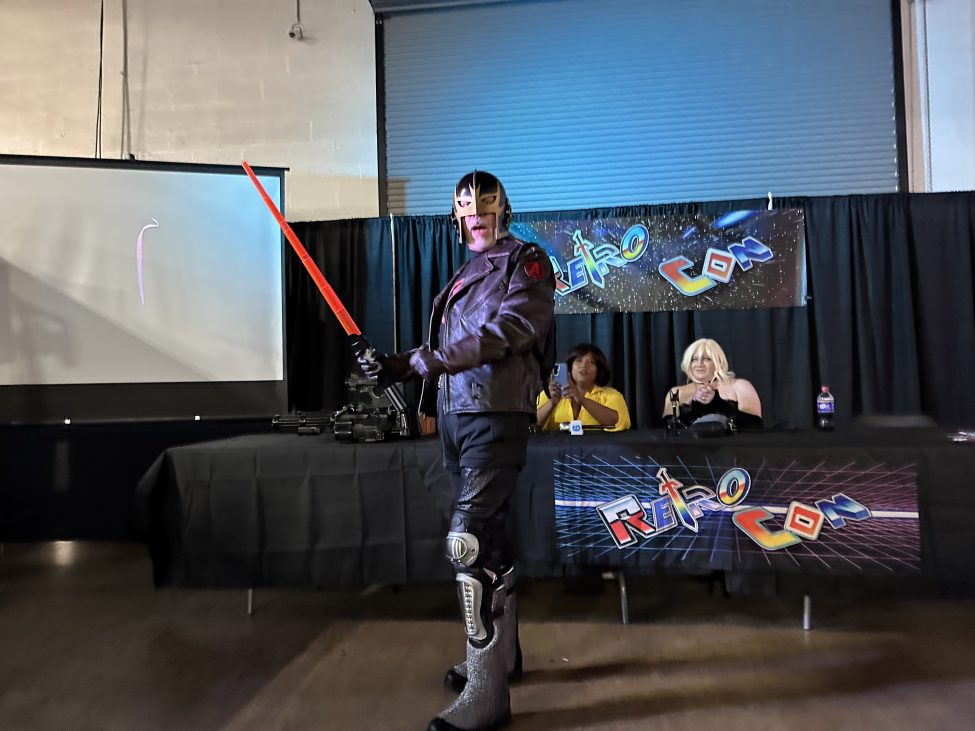 The next hero to make a splash in the Marvel Cinematic Universe is none other than Black Knight.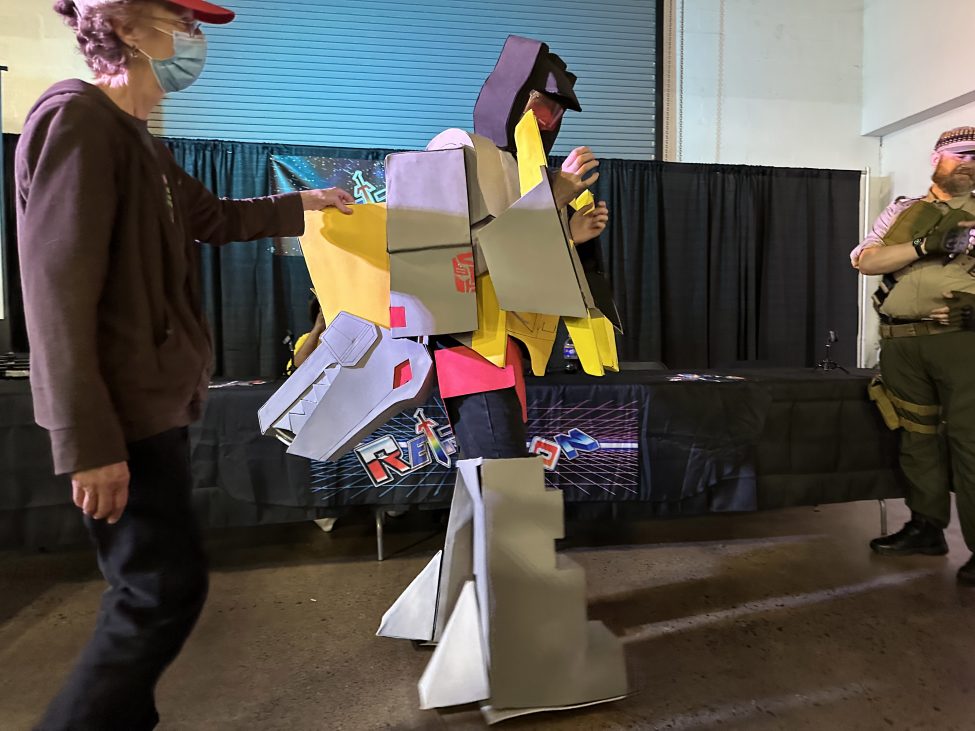 This Grimlock cosplay from Transformers could actually transform! Me Grimlock good cosplay.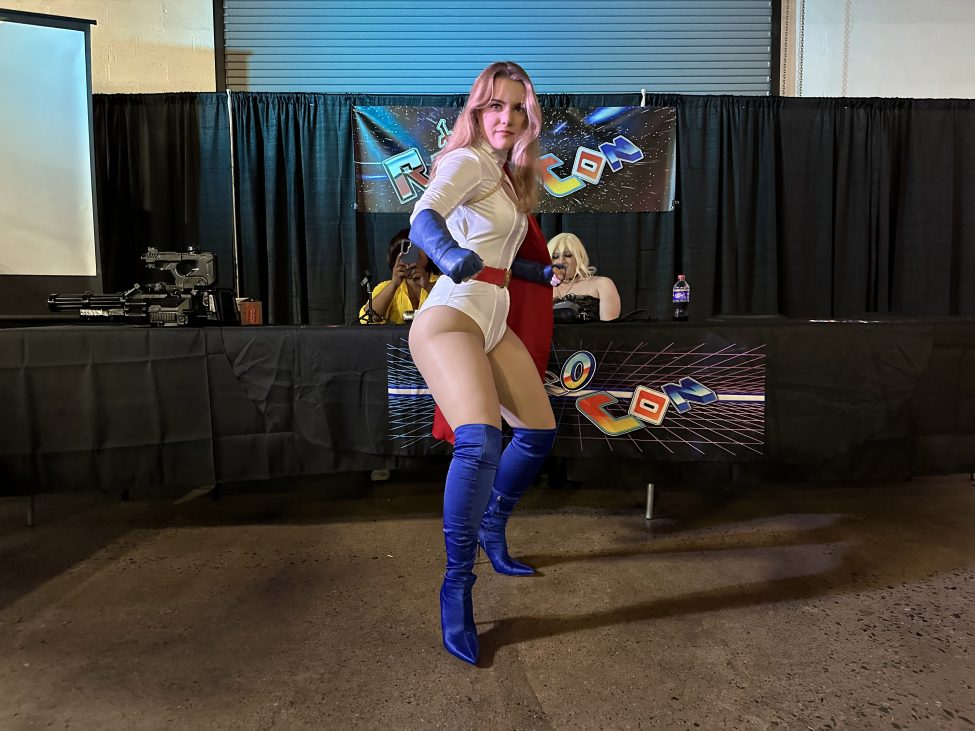 Power Girl from the DC Universe strikes a powerful pose.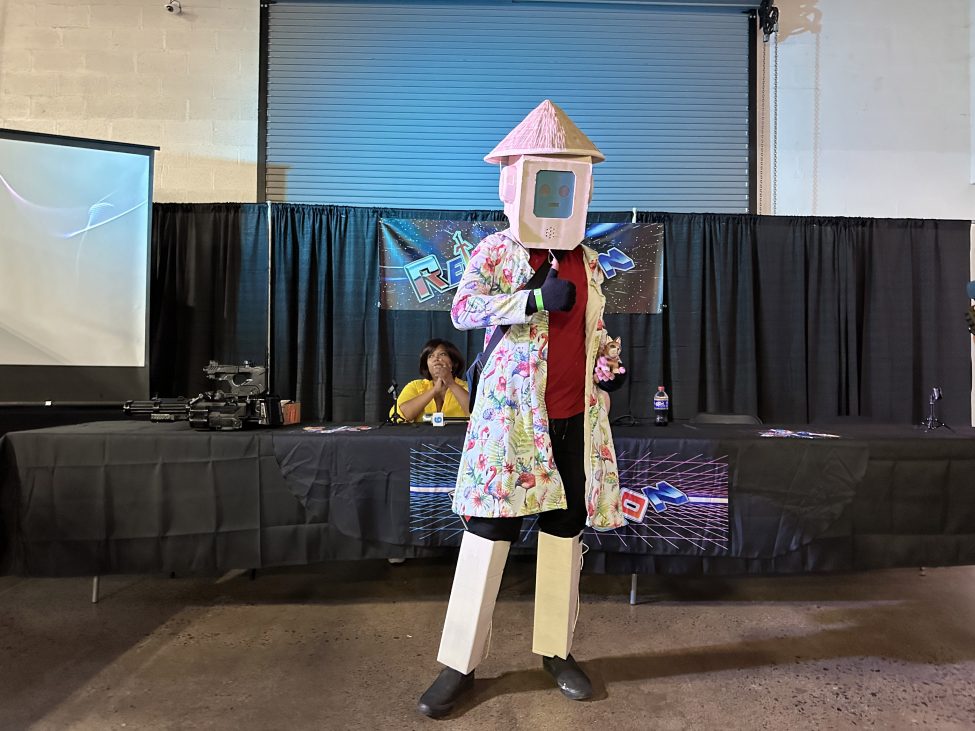 Who's the companion and who's the cosplayer here? From Stray, we've got our stray cat and the friendly companion robot Momo.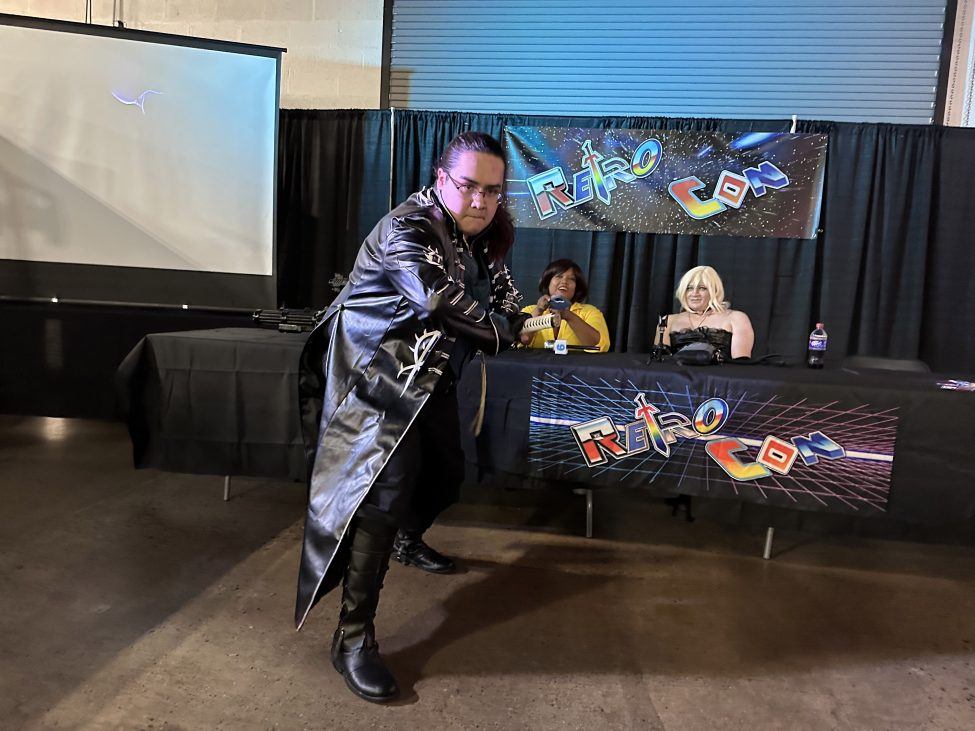 You would't like it if Vergil from Devil May Cry unsheathed his blade.
---
Though all the cosplays were entertaining in their own way, at the end of the day, this is a contest. And that means a winner has to be crowed.
After much deliberation, the panel of judges selected three finalists: the Masters of the Universe crew, Beast Man, and Fennec Shand. The audience cheered loudest for their favorite finalist. It was close call. But the winner of the golden robot statue was… Beast Man!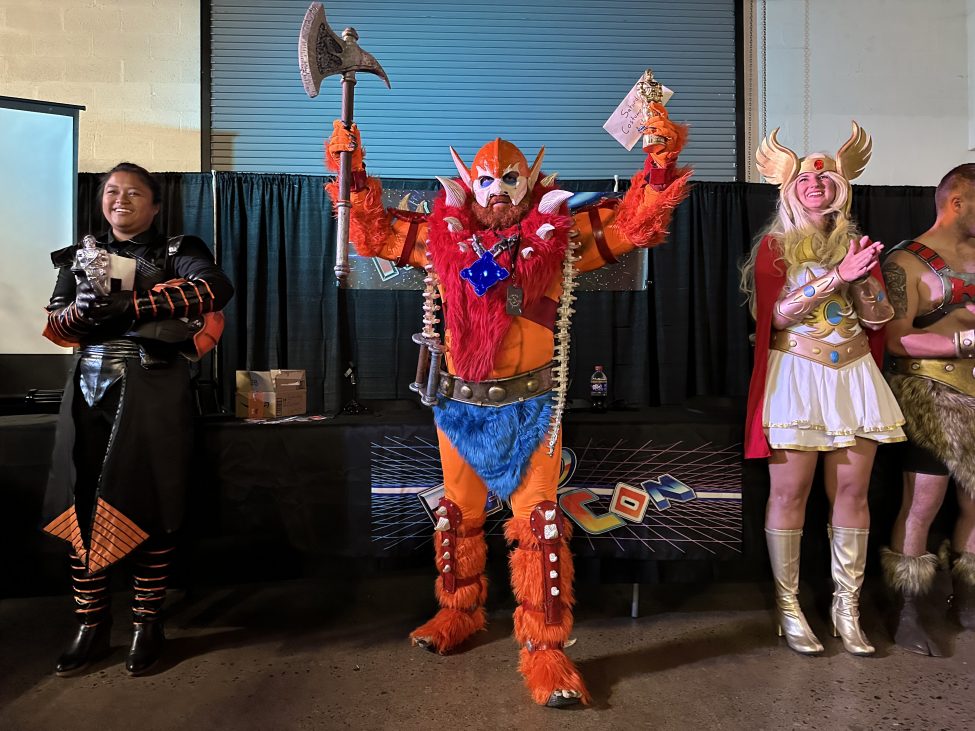 Congratulations to all the participants. See you at the next Retro Con!
There are no comments yet, add one below.
Stay connected. Don't miss out!
Get new costume guides in your inbox once a month.
And don't worry, we hate spam too! You can unsubscribe at any time.