Cosplay Central & Mehron Presents Cosplay Makeup 101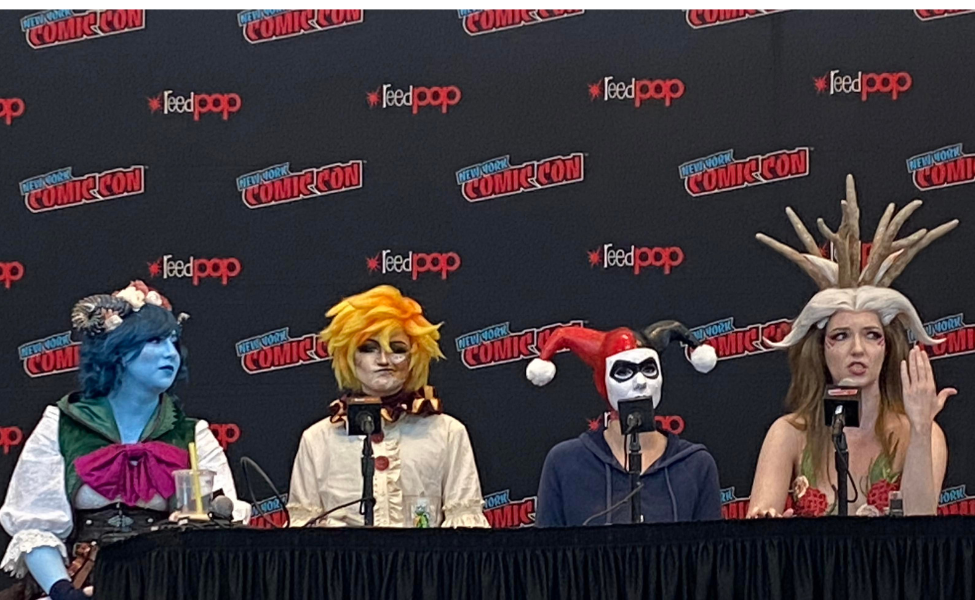 This year, New York Comic Con was all about the cosplay. The Cosplay Central was a designated area presented by Mehron makeup for cosplayers and cosplay content, from photo opportunities to a cosplay repair booth. On Saturday night, The Cosplay Central Crown Championships crowned its winners for outstanding cosplay craftsmanship.
Cosplay panels were hosted there as well. Mehron presented its very own panel titled "Cosplay Makeup 101." This panel covered the best cosplay makeup products, tips, and tricks, as well as the do's and don'ts of cosplay makeup, framed by frequently asked questions. A product developer from Mehron was also present to suggest products relevant to panel topics.
---
Featured speakers included Cheesecake Panda (@cheesecakepanda), M Blackburn (@nonbinate), Michelle Foard (@michellefoard), and Cowbutt Crunchies Cosplay (@cowbuttcrunchies).
Award-winning makeup, body paint, and SFX artist Nix Herrera joined the panel as well. He worked on Stranger Things 4 as a part of "Team Vecna," aka the talented group of makeup artists who transformed Jamie Campbell-Bower into the villian. He was accompanied by a product developer from Mehron, a renowned brand that's been providing makeup for theater and special effects since 1927.
Michelle joined the panel in Harley Quinn makeup and a latex cowl applied by Nix himself at the Mehron booth. The company had a display booth in the Cosplay Central area, plus a larger booth on the Show Floor where attendees could buy the products. A noted offering was a cosplay body paint palette exclusively for New York Comic Con.
A main point of discussion was makeup longevity. The trick to making your makeup stay all day is before and after prep. Another key component involves the type of makeup you're using. There are two types of body paint: water-based and cream. For water based body paint, a setting spray works best, and for cream body paint, a setting powder works best. Michelle advised to use a powder puff to set body paint, and press the powder into your skin, since cream is more prone to sweat and oils.
Nix advised proper cleanliness prior to application, saying: "Having a clean canvas is the first step." Make sure your face is completely clean of dirt and oils before wearing makeup. He advocated for using the right products, brushes, and sealers. His tip is to "triple spray" your completed makeup so it lasts all day! Mehron offers both Skin Prep Spray and Barrier Spray. 
Application matters as well. Cheesecake Panda advised using round brushes and beauty blenders for water-based paint. But the same doesn't apply to cream – in that case, sponges are ideal.
Furthermore, the panelists were asked about the right order of application. What comes first? They mostly agreed makeup first, costume second, and wig last. If colored contacts are involved, those are best saved for last. Read our guide about colored contacts to learn all about them!
As for removal, a shower is the best way to remove your makeup after the con — it should wash away water-based makeup pretty easily. Cream requires more effort in removal, so have a washcloth handy.
The panelists talked about common mistakes with cosplay makeup. One common mistake is putting makeup on the palms of your hands. No one wants smudges of body paint on their phone screen or new print! A good solution is using body socks, such as We Love Colors and K Socks Shop. Water-based paint tends to transfer less, so that can work for the backs of your hands.
Michelle and CowButtCrunchies noted putting one color on your face washes out your natural features. How the light hits your face is crucial! Consider highlights and shadows in your makeup to make it three-dimensional. Cheesecake Panda recommended using a rainbow eyeshadow palette for highlights and contour. She talked about how characters with abnormal skin colors have abnormal undertones — a green skinned character, such as Gamora or She-Hulk, might have more of a yellow blush.
During the Q&A portion of the panel, two attendees asked about makeup and skin sensitivity. The panel concluded water-based makeup is better for sensitive skin. The product developer recommended a "patch test," which she demonstrated as applying a bit of makeup to the back of your arm and on your neck. After an hour, wash the makeup off, and examine your skin. "If the patch is red, your skin doesn't like it," she explained.
When asked for his best tips, Nix encouraged cosplayers think outside the box. For example, you can customize a color to your costume by mixing colors to achieve the right shade: "Finding the right professional makeup will elevate your game."
Check out more makeup and SFX products at Mehron's website, and stay up to date with cosplay news, advice columns, interviews, tutorials, and more at Cosplay Central's website.
There are no comments yet, add one below.
Stay connected. Don't miss out!
Get new costume guides in your inbox once a month.
And don't worry, we hate spam too! You can unsubscribe at any time.