Cosplay Cribs: Costume-Makers Give Us a Virtual Tour of Their Workshops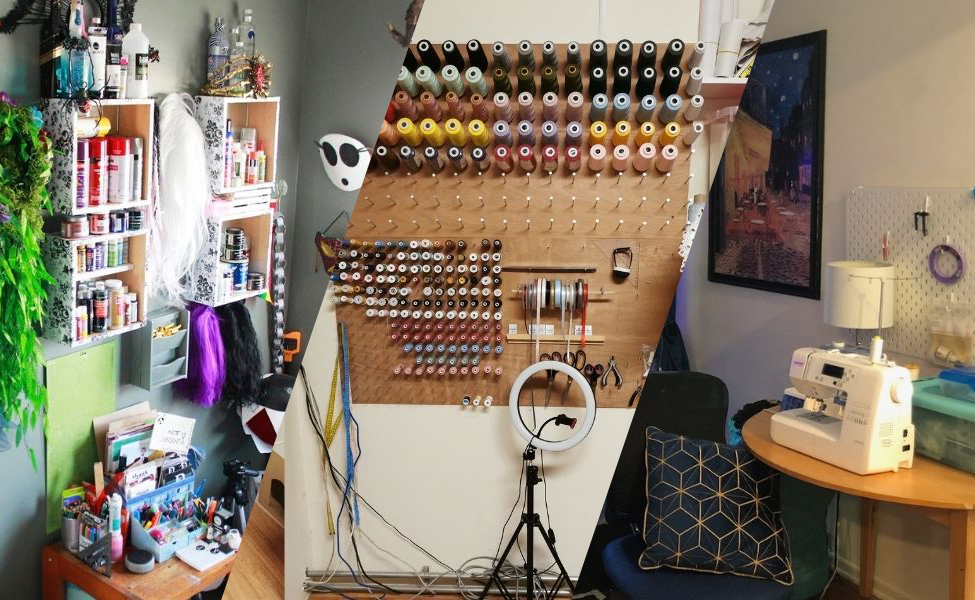 Cosplayers are some of the most fun, talented, and creative people out there. One quality to admire in particular is craftsmanship. From needlework to armor, these people spend days, months, even years to make their cosplay look spectacular. We've all been there — on the show floor, a cosplay contest, or just scrolling through Instagram — when a cosplay takes your breath away. You can't help but wonder: "How did they make that?"  When I came across Eelkje's Snow White and Parker's Warrior Ariel, I had that exact thought.
From quality craftsmanship comes innovation, which is how I found KSocks Shop. Gone are the days of patchy paint on my arms and legs with their colorful socks and tights. They have a hidden zipper for quick, accessible removal, and they even have nails to add realness! Given their success on Kickstarter, with now over 7 times the amount of their goal, I wondered how they came up with the idea.
I reached out to these three creatives to get a glimpse inside their unique, magic-making craft spaces.
---
Poppy's Emporium
Eelkje Postmus is a Dutch seamstress, cosplayer, and model who specializes in creating beautiful dresses inspired by Disney characters. Here's what she has to share about her workspace:
"I have 2 places I work mostly, the one is for most of my large cosplay stuff the other for my small business and for all the computer work/designing."
"I have been cosplaying for about 5 years now, and sewing for 6 my cosplays are mostly gowns or other sewing project with the occasional crafting here and there. Most of the time I base my dresses of Disney characters, but I do give my own twist to the gowns as you can see in the photo of Snow White. I also love to make original characters as well, mostly fantasy gowns."
"My favorite material to work with it lace, I love everything lace, and sparkle. It's my trade mark to add a lot of sparkle to the gowns and make them super royal and extra. I mean every princess deserves some sparkle right!"
Eeljke's favorite cosplay is her Snow White. How long does it take her to make such elaborate gowns? "On average I work on my gowns from 1 to 3 months. About 100 to 250 hours of work goes in every gown and I spend about 350 to 700 euros per costume. This is why I can't do a lot of bigger projects every year, so I try and change them up with some smaller projects, at the start of the year I made Alice from Alice in Wonderland."
Her favorite tools include "my iron and ironing board, ironing makes your projects look clean and crisp, it makes your work go from nice to great, so I use it a lot! My boyfriend made my thread board for me; it's made from a wood bird with large nails, and I just love the aesthetic of all the thread hahaha. My pink heat press is used for pressing and heat transfer iron on. And of course my sewing machine — I can't live without it, I use it almost every day! I have a Pfaff performance 5.2."
---
Parker Projects
Parker, who we featured in our Katsucon recap, wrote a piece called "I Think I Need Some Space" specifically for this feature. Here are some excepts about how they got their start in crafting, and what their workshop means to them:
"For Heroescon 2017, I thought it would be fun to try to put my shop to work and build my first cosplay for my very first convention with friends. As I moved through the crowded junk heap, it was apparent how dysfunctional the room was as a whole. I found myself going out to buy supplies, only to find them a day later in a box I had tucked into a corner of the room. After my fourth can of gold spray paint, and one teeny tiny temper tantrum, I resolved to do something about my workspace."
"With some support and guidance from my husband, Alex, I took matters into my own hands and used the tools we had to hack an old bookshelf into pieces. From the remains I assembled six smaller shelves that Alex installed at eye level on my shop wall. This made it easier for me to gather all my paints in one place and take visual inventory."
"I prioritized the importance of clear sight lines to the products I used frequently, while storing more specialized tools inside of boxes or cupboards slightly more out of the way. Because I could easily find my supplies, I was much more inclined to use them. Increased productivity yielded additional improvements in the space."
Parker continues: "As I found cost effective ways to reshape my workshop, the same practices became easier to implement in my cosplay. Things I used to discard became potential storage containers, which meant I could keep scraps to use for other builds. As my need for storage evolved I was more inclined to find other items already in my home, rather than going to the store or an online retailer."
"Having a workshop in which to create has made a real and fundamental change in my life I cannot adequately explain. My workshop is the one place where I control everything, I get to make all the decisions. It provides me a place to make real all the things I see inside of my head while challenging the way that I think about life and consumption. It allows me a moment to explore how I feel about something that's not rooted in its ability to 'improve' my status or finances. It's the space wherein I exist as my most authentic self, whoever that is, on whatever day it happens to be."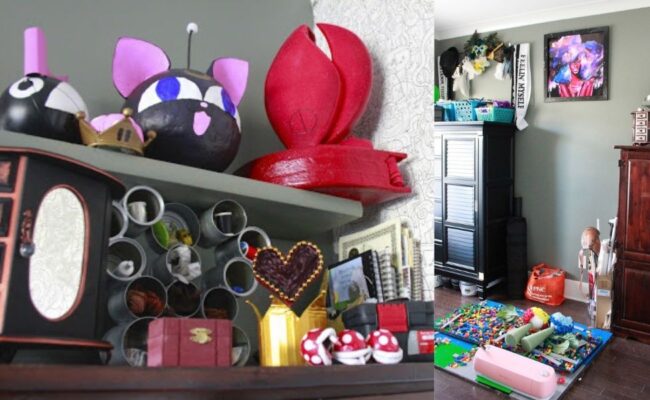 The above photo features Parker's shelf and WIP of their new desk. Parker explains: "This shelf is a real world example of assessing my needs and addressing them in the space accordingly. It's made from an old scrap piece of wood and some tin cans because I needed more space for my sewing notions. The structure will live on until such time it can be upgraded or it no longer serves a purpose, and it didn't cost me a dime."
Concerning the adjacent image, Parker plans to make it a "handmade desk, custom fitted to go between these two armoires I acquired from friends who were moving. The black armoire is where I store supplies. The brown armoire is my cosplay closet. Once the desk is constructed the facades across all three items will get matched up for a more cohesive look. Be on the lookout for that one!"
"My workshop, not unlike myself, is in a constant state of evolution. I always imagined it would look more like a spread in Home & Garden, but it more accurately resembles the prop closet of a local playhouse. It's full of a lot of random, brightly colored things that make you tilt your head and smile. Or furrow your brow. Probably both."
---
K Socks Shop
K Socks Shop is an LGBTQIA+ and POC owned shop that offers colorful arm socks and tights for cosplay, looking to provide for and feature members of our respective communities. According to their Kickstarter campaign, their goal is "to establish a brand built on inclusivity and body-positivity made for cosplayers who want to save time and money on body paint, and fashionistas of all sizes looking for more color options."
How did this project come into existence? "Mari has been making armsocks since 2015, and always sold them through Etsy. They had to stop when they moved to LA, but due to COVID-19, they began working towards starting them up again. Amber started making armsocks more recently, doing a few one off commissions here and there in the last couple of years.
It was when the two of them posted in their stories on Instagram that they both had "Big Announcements" coming that Mari reached out to Amber and asked if she was planning on making armsocks. Amber then revealed that she had figured out how to put a zipper in the wrist to make cosplaying while wearing armsocks just that much easier and sparked this journey that they are on now. Mari helped refine the technique and pattern used to put the armsocks together with the zippers and one successful Kickstarter later, the two are working tirelessly to fulfill orders and prepare the shop for opening early next year!"
Here is what the owners, best known as Koala & Kinetic, have to say about their workspaces:
Mari says: "I am set up in a multipurpose space so it requires a lot of clean up to switch between steps. I have 2 sewing machines and 1 serger, as well as a small ironing set up. When it comes to my favorite tools, I use a lot of friction highlighters because I can mark the armsocks and the markings will go away completely once they are hit with the heat from an iron! I also love my Fiskars 9″ featherweight scissors, and my little seam ripper necklace I was gifted."
Amber says: "My setup is actually in my bedroom, across from my bed! I have a small collapsible table that I use to keep my sewing machine on as well as my laptop so I can stay up to date with any customer service issues we have. I would have to say my favorite tool is my tiny 4″ thread snips as I use it to cut away part of the tights in small areas like the valley in between fingers!"
---
A special thank you to Eelkje, Parker, Mari, and Amber for participating and sharing their personal anecdotes about their workspaces.
Follow and support them on Instagram at these handles: @poppys.emporium, @parker.projects, @ksocksshop.
There are no comments yet, add one below.
Stay connected. Don't miss out!
Get new costume guides in your inbox once a month.
And don't worry, we hate spam too! You can unsubscribe at any time.