Cosplay at New York Comic Con 2023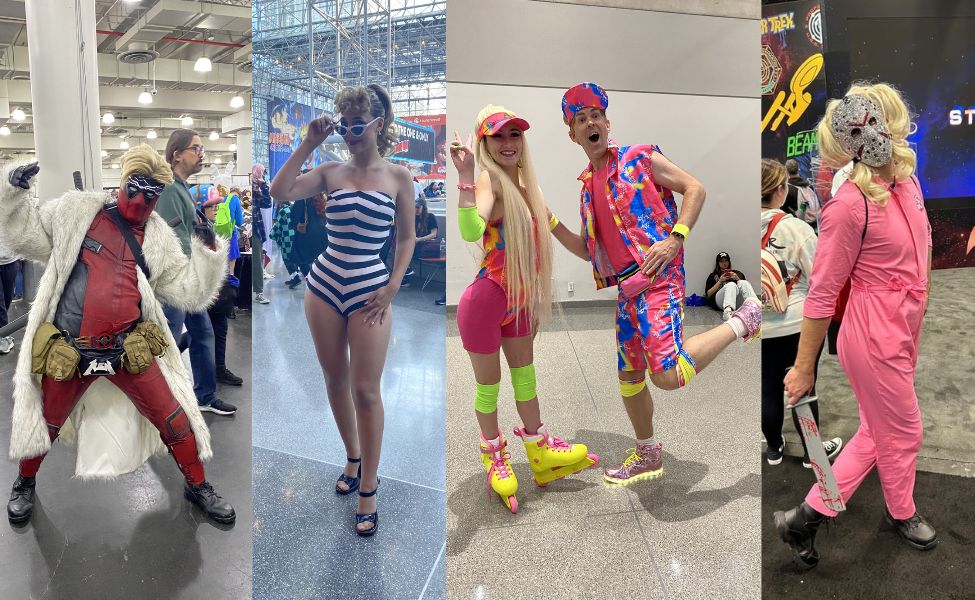 The biggest comic convention on the East Coast just keeps getting bigger – and better!
Indeed, thousands upon thousands of attendees descended onto the Javits Center for the highly anticipated New York Comic Con (NYCC). Estimates are saying that 2023 attendance surpassed last year's record – which was 200,000!
Over the span of four days, the con programming featured exclusive panels, must-read books, and interactive booths. Not to mention the opportunity to meet adored celebrities, authors, and comic book artists. The most popular fandoms for cosplay included Barbie, Spiderverse, Super Mario Bros, and Critical Role.
Without further ado, let's take a look at the cosplay at this year's New York Comic Con.
---
First, let's congratulate the winners of the NYCC Cosplay Central Championships! These cosplayers are the best of the best.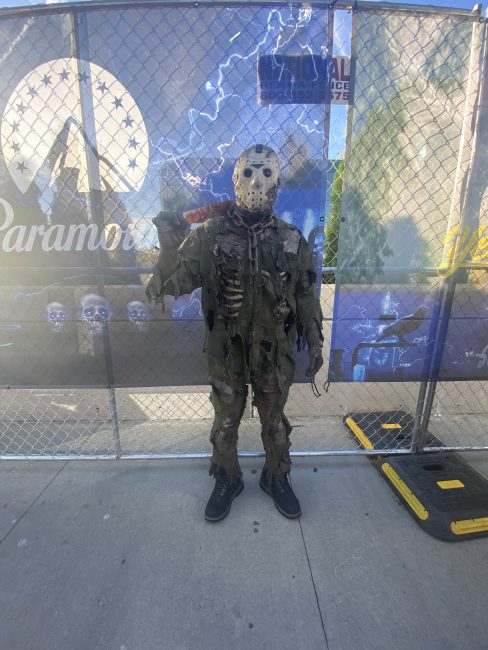 A very fitting Jason cosplay for NYCC weekend, as the Friday programming took place on Friday the 13th.
---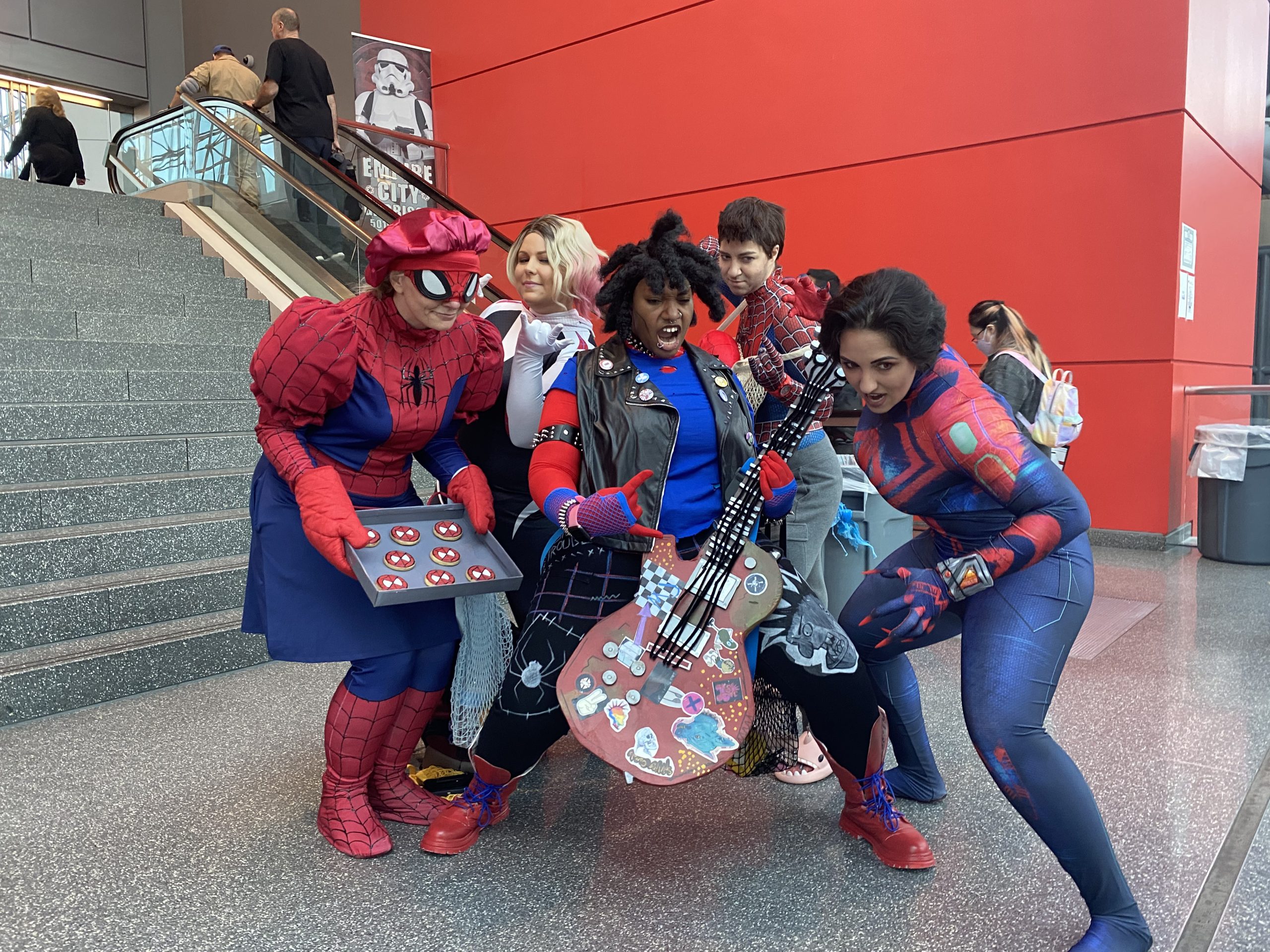 The amount of Spiderverse cosplays had our spidey senses tingling!
---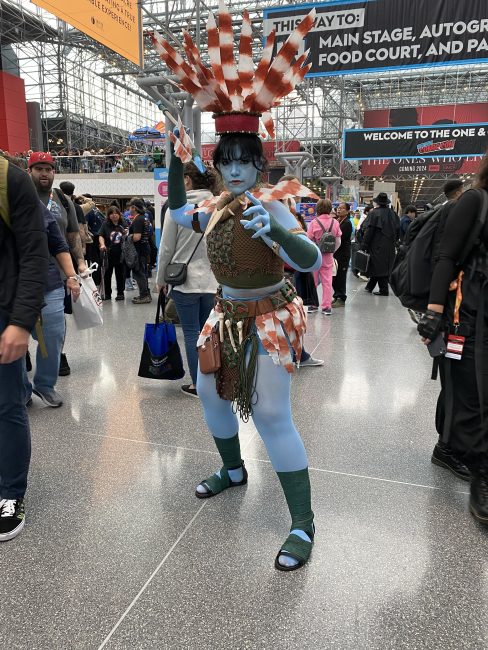 Both Marvel comics and movies are always a hit at NYCC, such as with this fantastic cosplay of Namora, a Talokanil warrior from Black Panther: Wakanda Forever.
---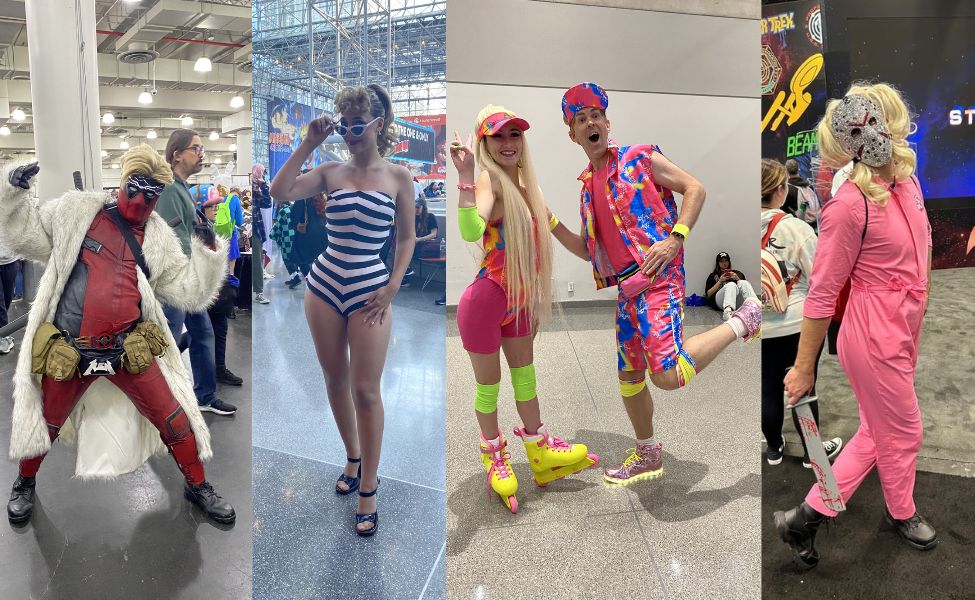 Hi Barbie! As predicted, Barbie was all the rage at NYCC – from movie inspired to creative mashups (as seen with Kenpool and Jason Barbie).
---
This cosplayer turned the iconic blue box – known as the TARDIS in the Doctor Universe – into a ballgown!
---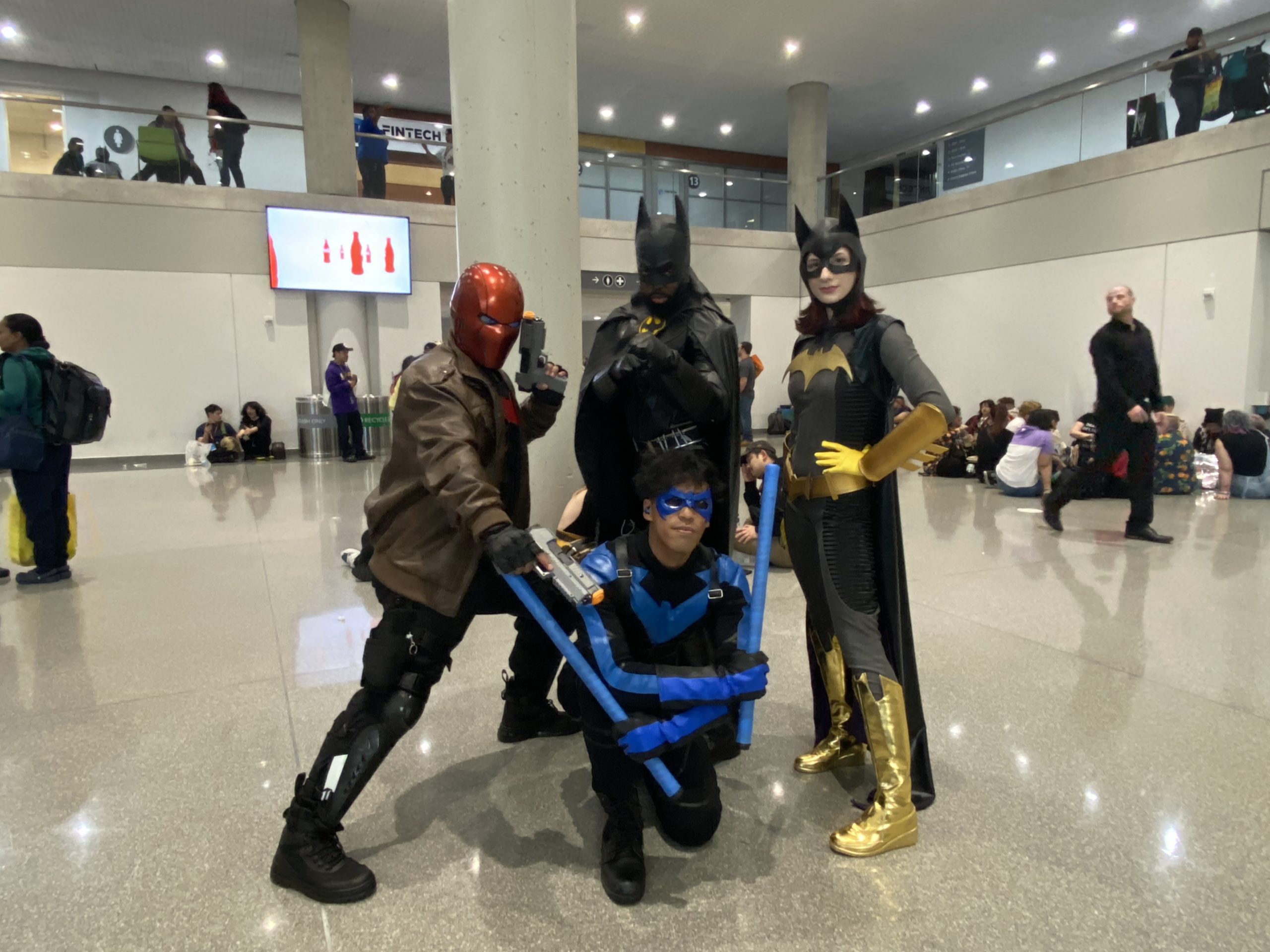 This crew of cosplayers – featuring Red Hood, Batman, Batgirl, and Nightwing – will ensure the safety of Gotham.
---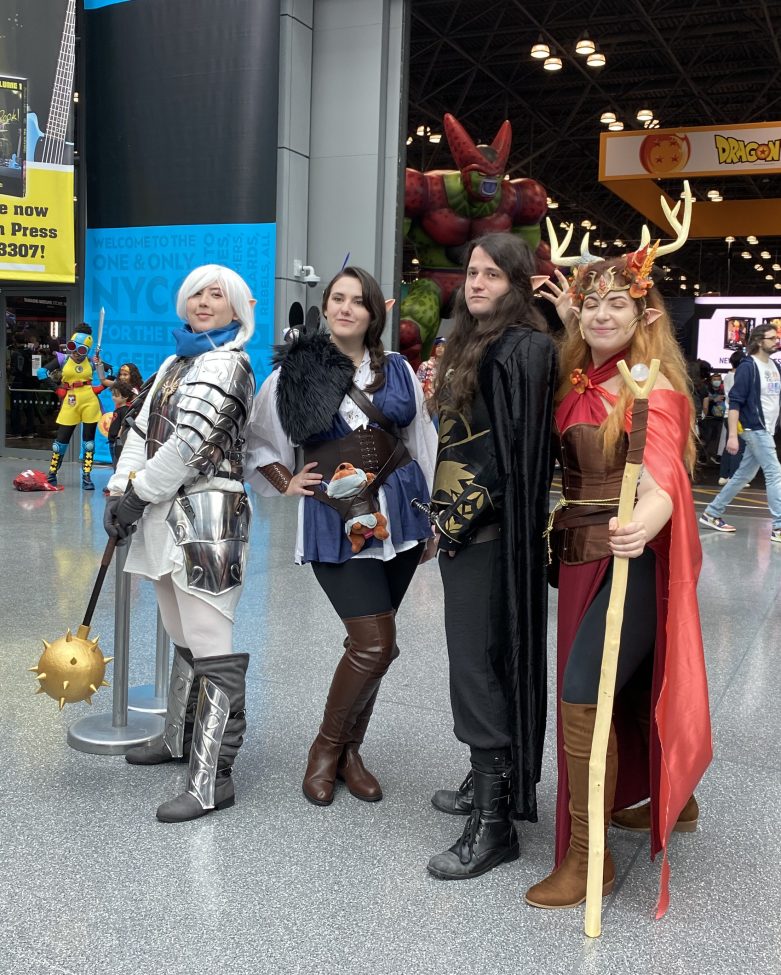 The cast of Critical Role hosted a panel on Thursday, alongside offering photo ops and autographs. As displayed by these cosplays of Pike, Vex'halia, Vax'ildan, and Keyleth, their appearance drew in huge droves of fans.
See all Critical Role costumes…
---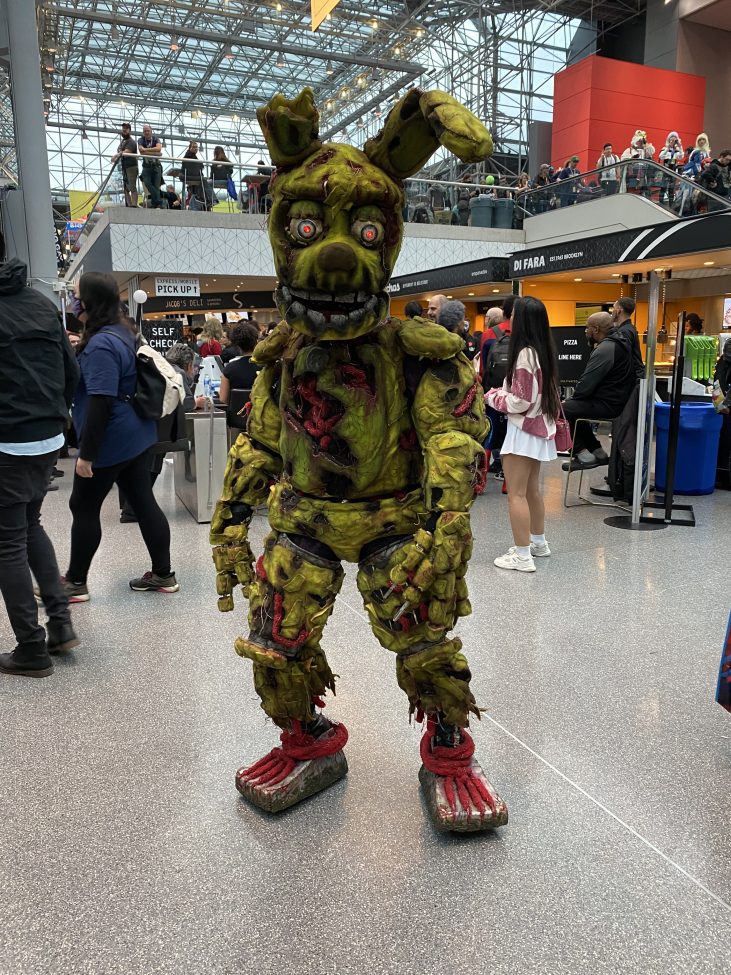 Another NYCC Thursday panel was Blumfest, highlighting upcoming horror movies from Blumhouse Productions, including Five Nights at Freddys. Don't turn your back on these frighteningly good cosplays of Springtrap (above) and Freddy Fazbear (below).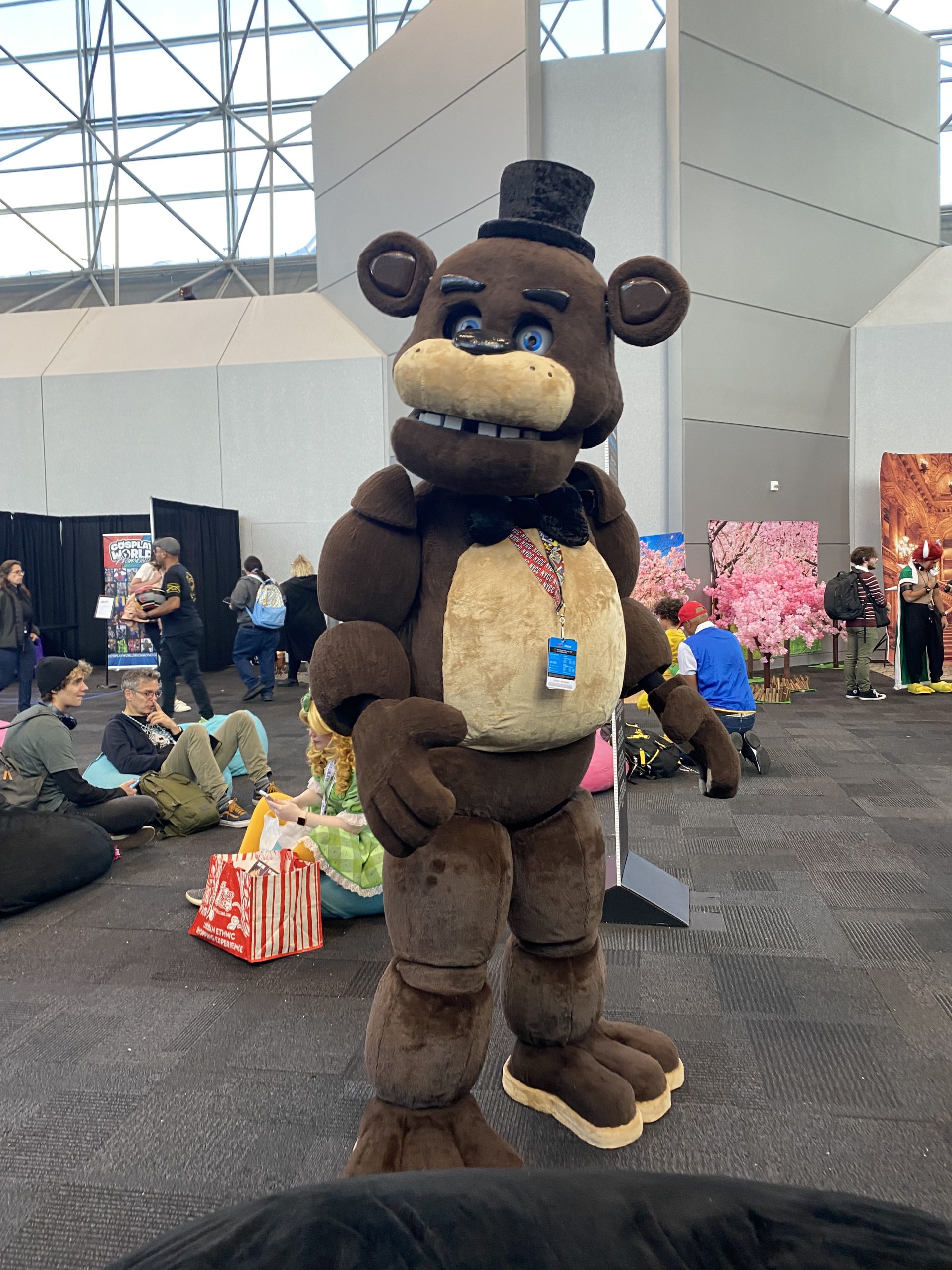 See all Five Nights at Freddy's costumes…
---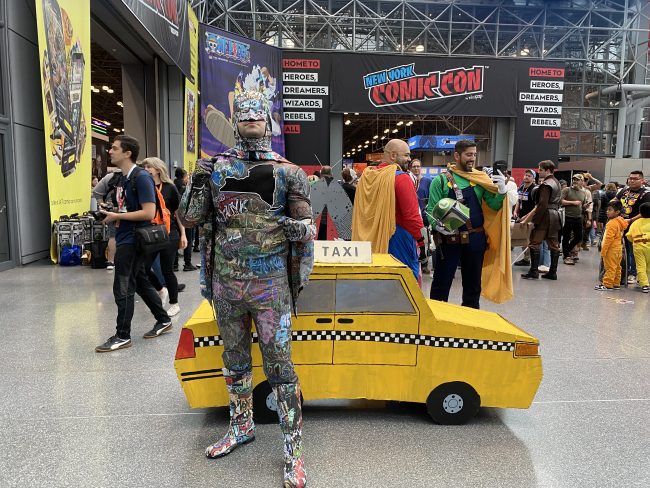 Did somebody call for a taxi? This original design of Batman is inspired by New York and its colorful graffiti.
---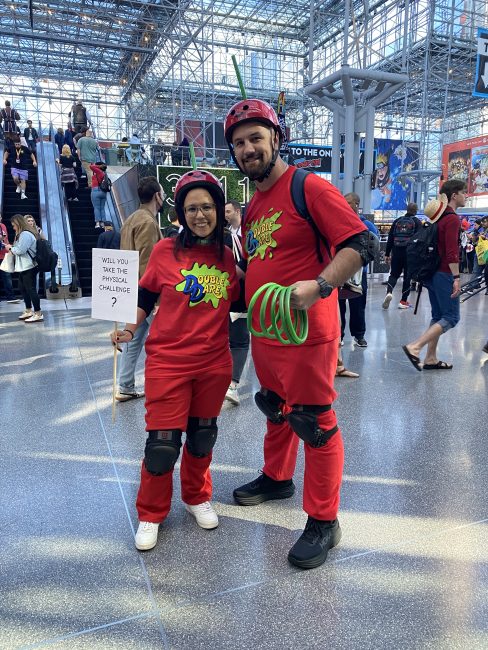 We'll take the physical challenge! These Double Dare cosplays, plus the promotion and programming Good Burger 2, proves that the Nickelodeon nostalgia is real.
---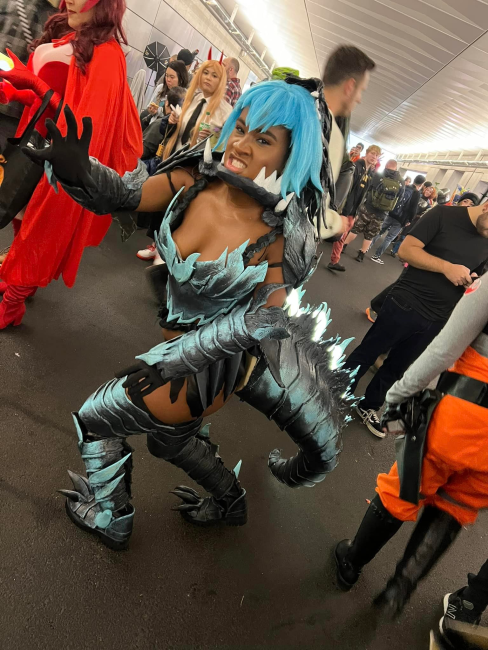 This foam build of dragon-like armor was very impressive! Interested in building your own cosplay out of EVA foam? Learn how from our recap of The Masked Dad Workshop!
---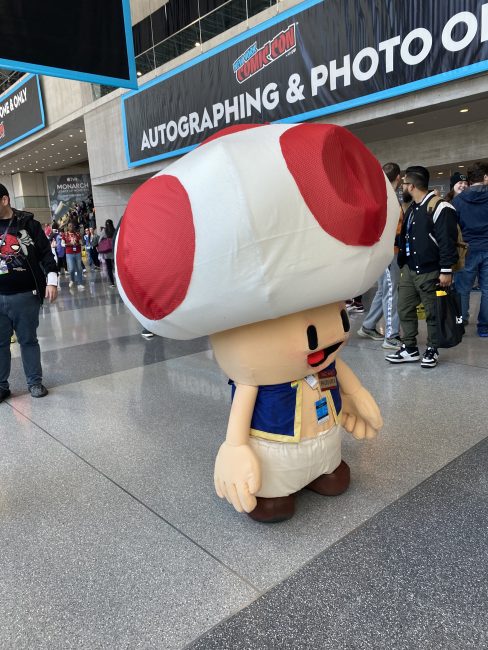 Super Mario Bros was a hit at NYCC, given the massive success of the 2023 movie combined with a universal adoration of the classic video game. Check out this impeccable, to-scale cosplay of Toad.
---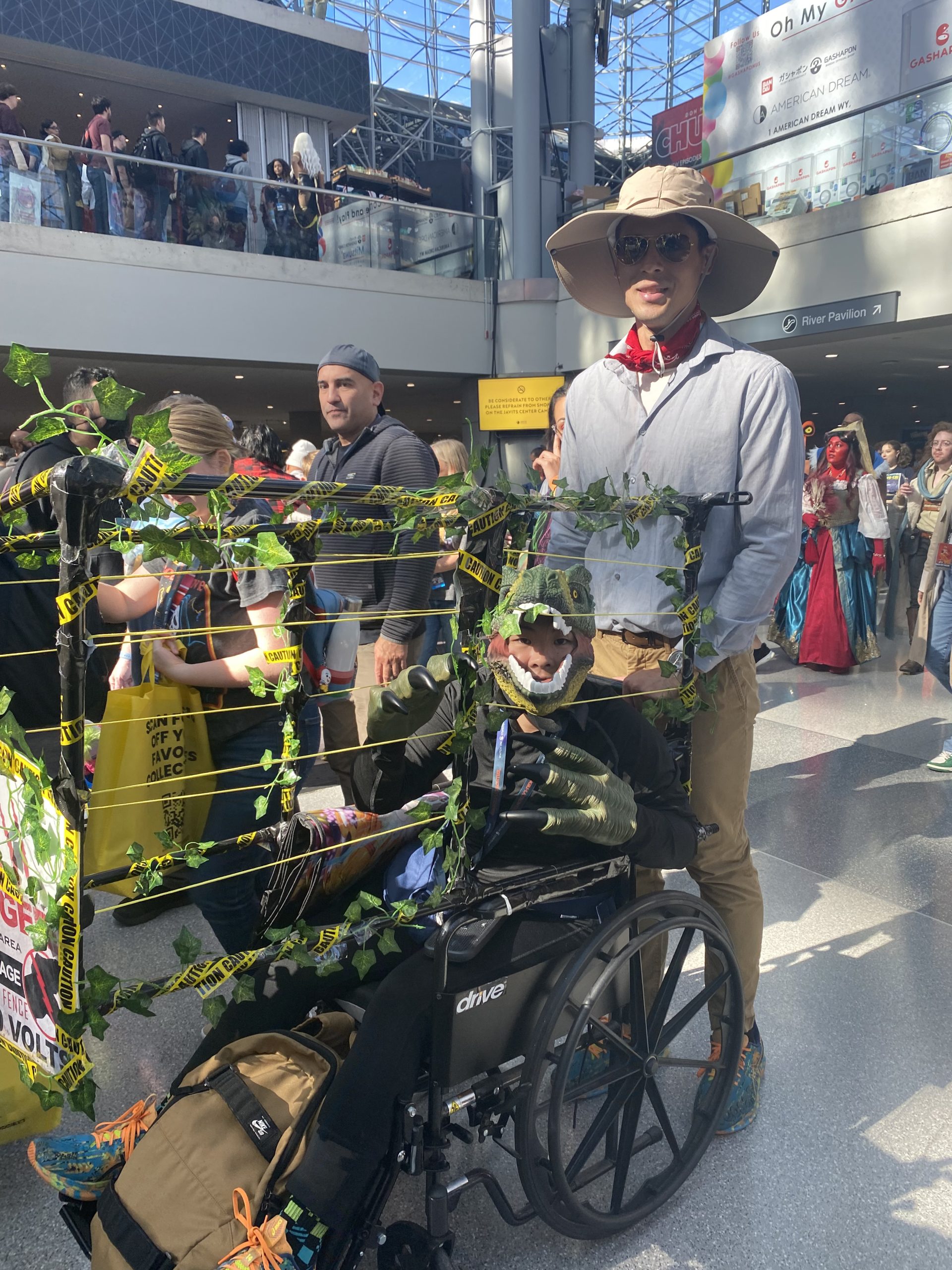 Comic con finds a way to astound us with creative cosplays, such as this Dr. Grant and caged dinosaur from Jurassic Park.
See all Jurassic Park costumes…
---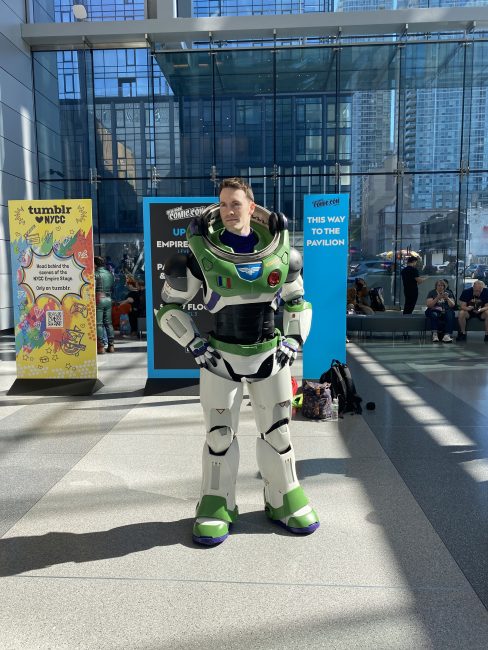 This incredible Buzz Lightyear cosplay takes us to infinity and beyond!
---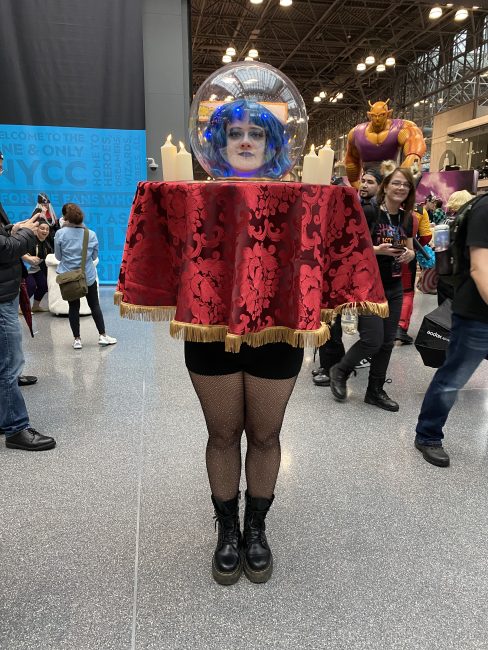 A creative Madame Leota cosplay from The Haunted Mansion. A remake of the 2003 movie came out this year.
See all Haunted Mansion costumes…
---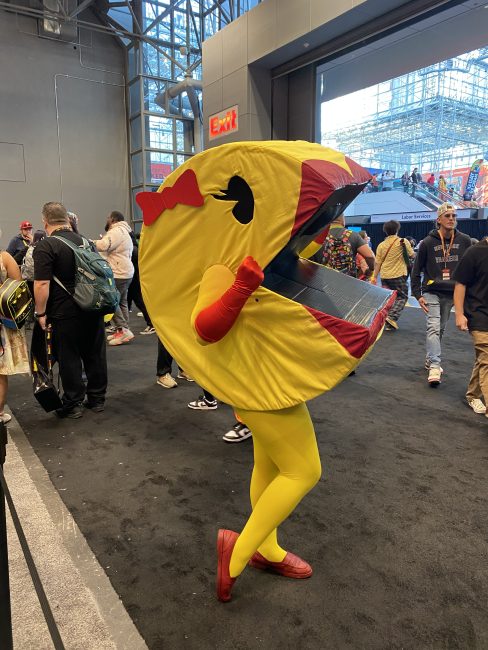 Chase after those power pellets, Ms. Pac-Man!
---
Presented by Neopets, the fairies of Neopia fluttered into New York Comic Con! (Performed by Fantasy First Entertainment)
---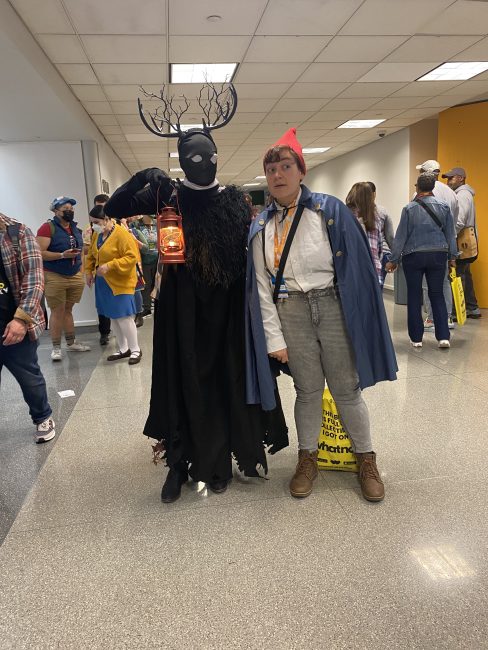 A good amount of Over the Garden Wall cosplay at NYCC was a pleasant surprise, since the animated miniseries fits the fall season.  Beware of the Beast in the Unknown!
See all Over the Garden Wall costumes…
---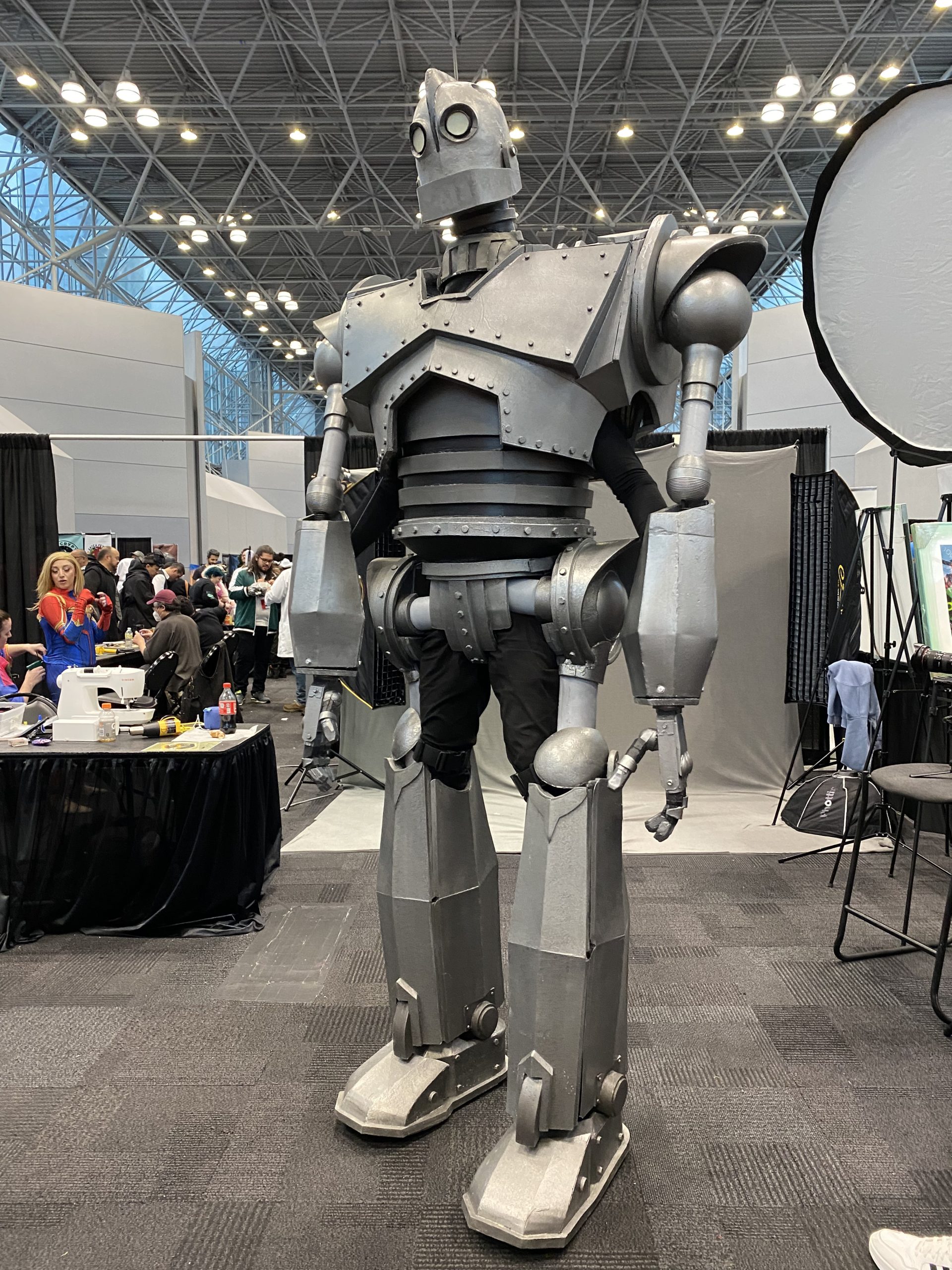 This Iron Giant cosplay looks like it stepped out of the screen and into the convention! Built by Masked Dad Workshop.
---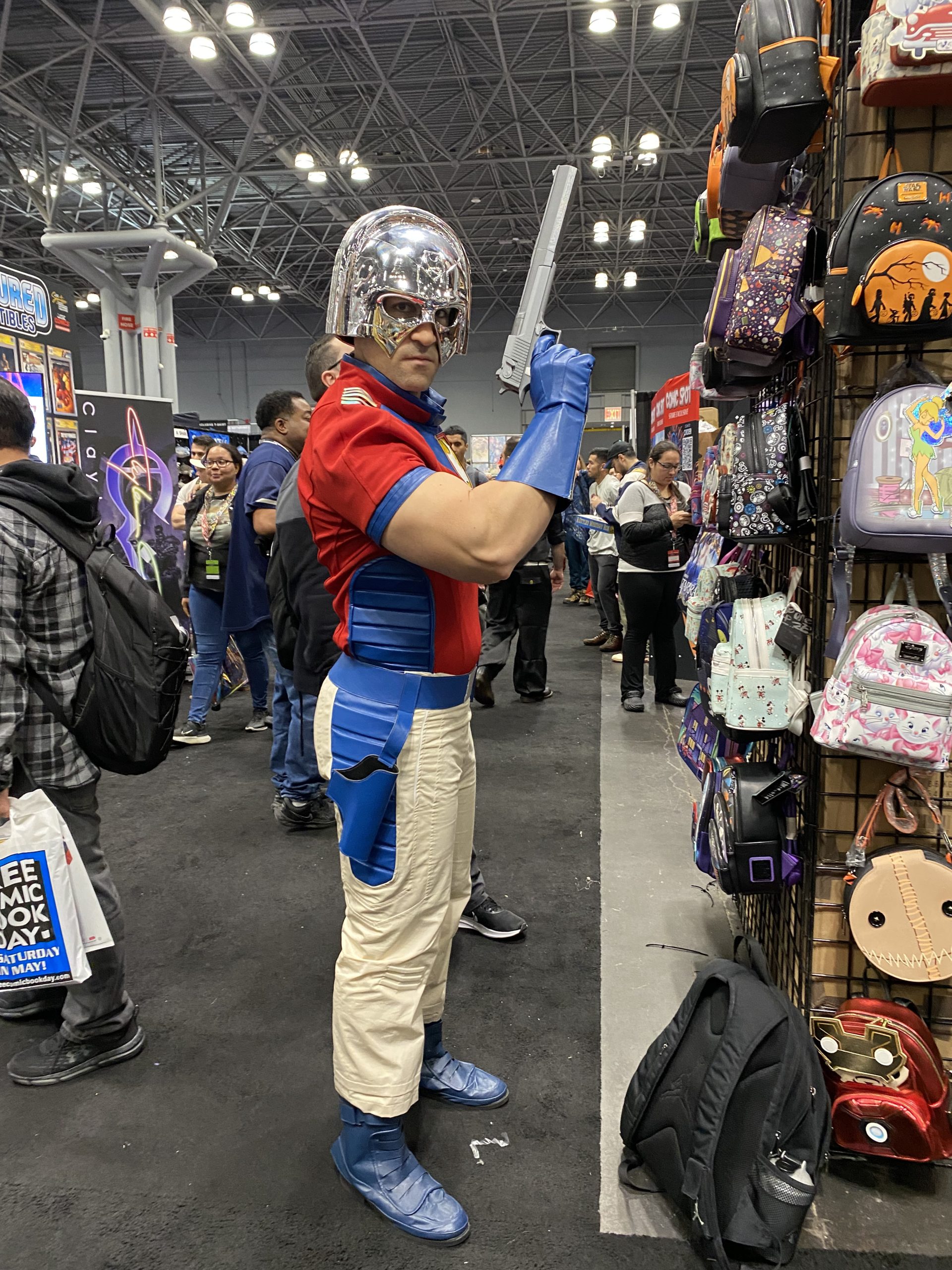 He makes a vow of peace…no matter how many people he has to kill to get it. Peacemaker was a hit in DC's Suicide Squad, as well as in his spin-off TV series.
---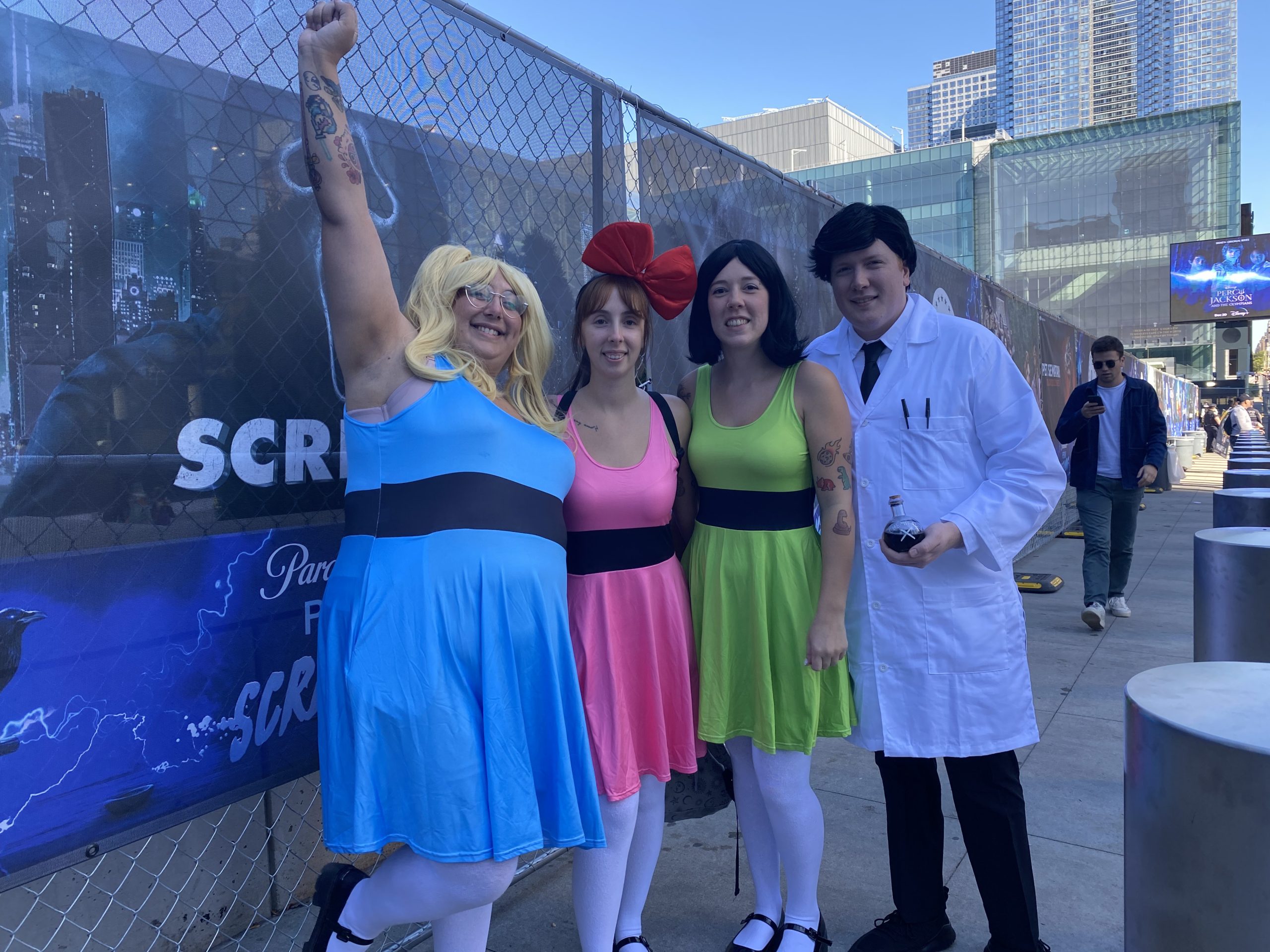 Sugar, spice, and everything nice, the Powerpuff girls is an easy cosplay for you and your friends (plus Professor Utonium).
See all Powerpuff Girls costumes…
---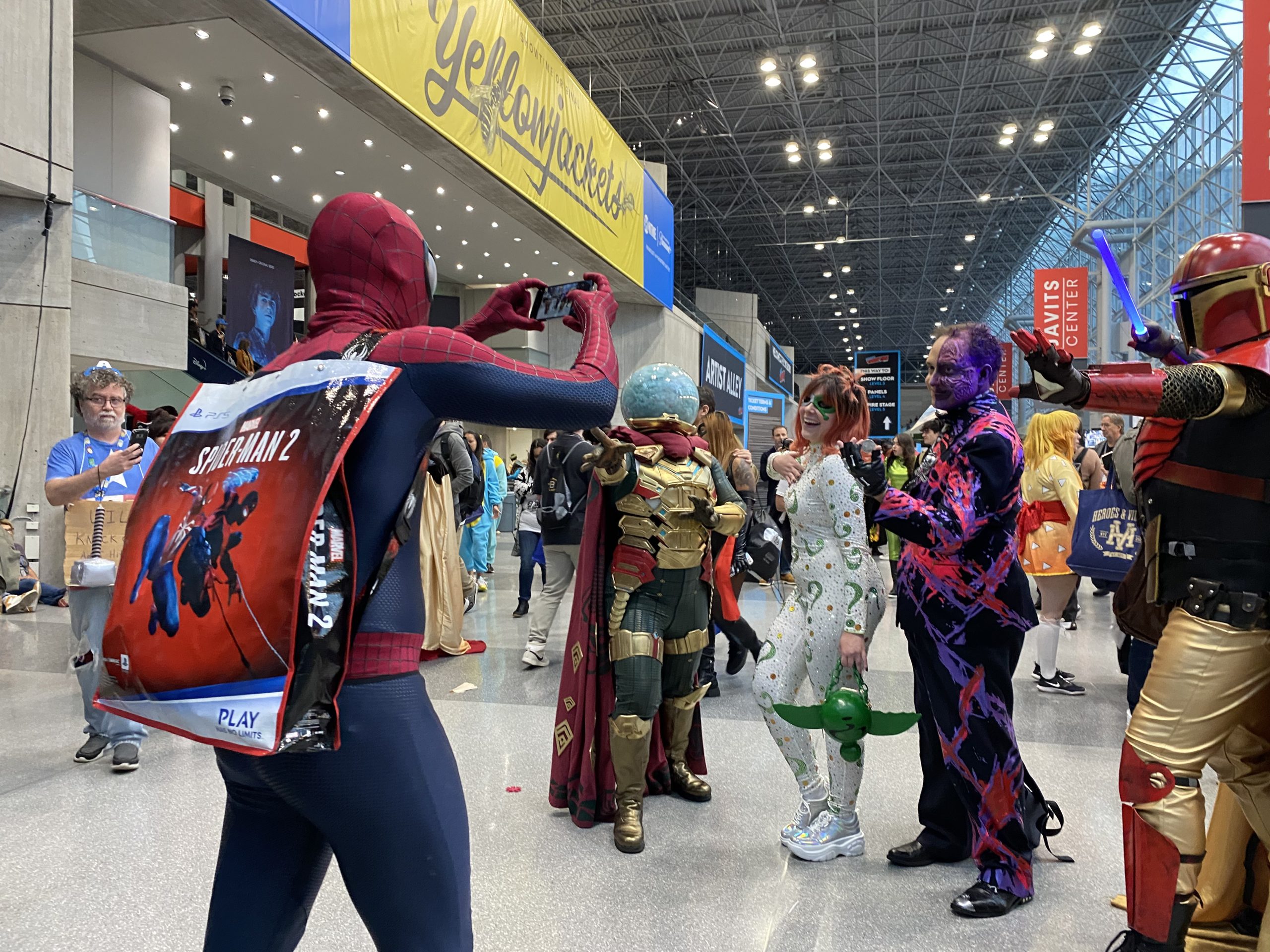 Call this photo inception, but it's quite fitting that Peter Parker is taking a picture – perhaps the Daily Bugle is also covering NYCC.
---
Don't forget to check out our NYCC coverage from last year! 
Note: Carbon Costume is in full support of SAG-AFTRA, as without actors, there would be no characters to dress up as! All cosplay featured here falls under appropriate conditions, as none of attendees were paid by studios to replace an actor. Read more about the strike and cosplay guidelines here.
There are no comments yet, add one below.
Stay connected. Don't miss out!
Get new costume guides in your inbox once a month.
And don't worry, we hate spam too! You can unsubscribe at any time.