Cosplay at New York Comic Con 2022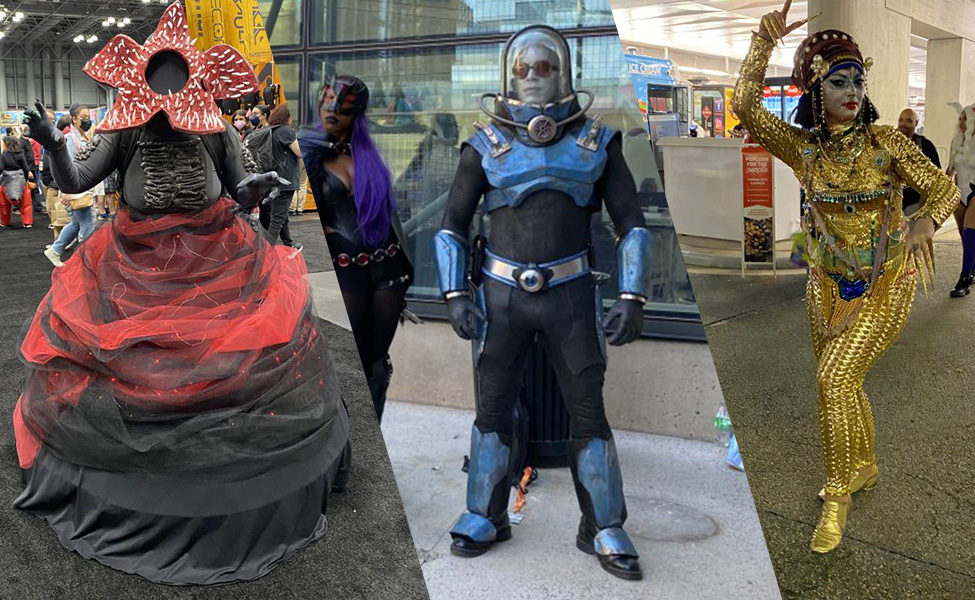 October means Halloween, pumpkin spice, and New York Comic Con! Over the weekend, pop culture fans swarmed the Jacob K. Javits Center to celebrate their favorite comics, anime, and video games. This year's show floor was the largest yet, with the completion of the center's expansion building. Notable guests included Sebastian Stan, Oscar Isaac, Brendan Fraser, Christopher Lloyd, and Michael J. Fox (the latter two reunited for an exclusive Back to the Future panel).
The most popular fandom for cosplay was Stranger Things, with dozens of Eddie Munsons carrying guitars and putting up devil horns. Other popular fandoms included Marvel (namely Moon Knight & She-Hulk), Star Wars, and Critical Role.
New York Comic Con went all in on anime this year. Viz Media and Crunchyroll had booths on the show floor, and THREE whole booths promoted the new One Piece movie, Red. Many panels centered around anime as well, such as the US premiere of Chainsaw Man to the premiere of the Bleach movie. The majority of anime cosplays pertained to Chainsaw Man, Genshin Impact, and Spy x Family.
While masks were required, please note that some cosplayers took off their masks for photographs.
Here are our some of our favorite cosplays from the convention. If you see yourself or someone you know, contact us!
---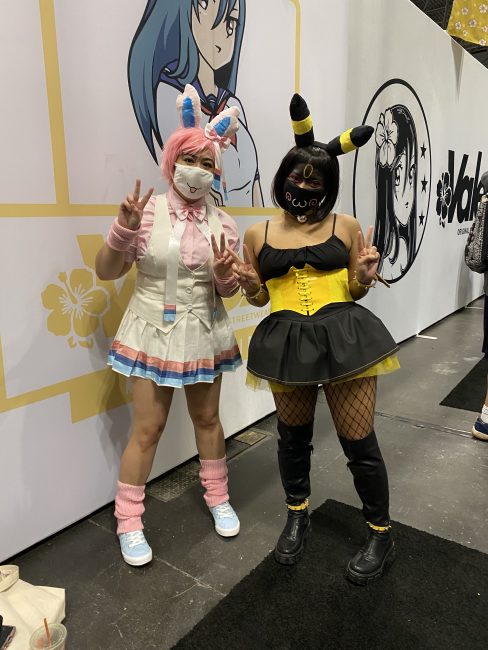 We love Eeveelutions! Check out these adorable Sylveon and Umbreon cosplays from Pokemon.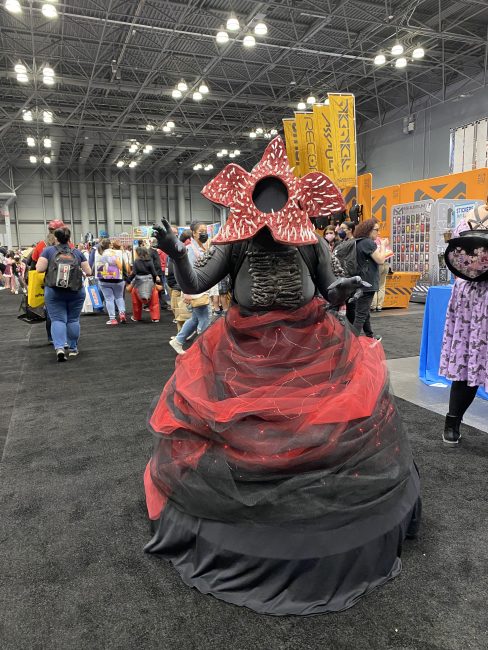 This Demogorgon from Stranger Things looks demo-glamourous! The lights and wires in hoop skirt resemble the Upside Down.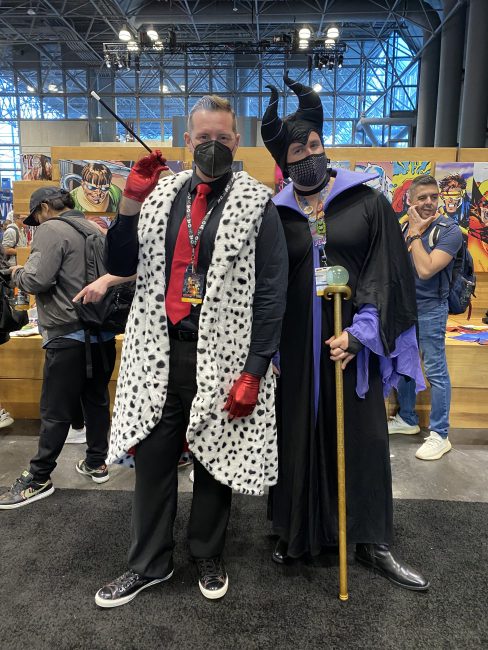 It's good to be bad with these Cruella de Vil and Maleficent cosplays.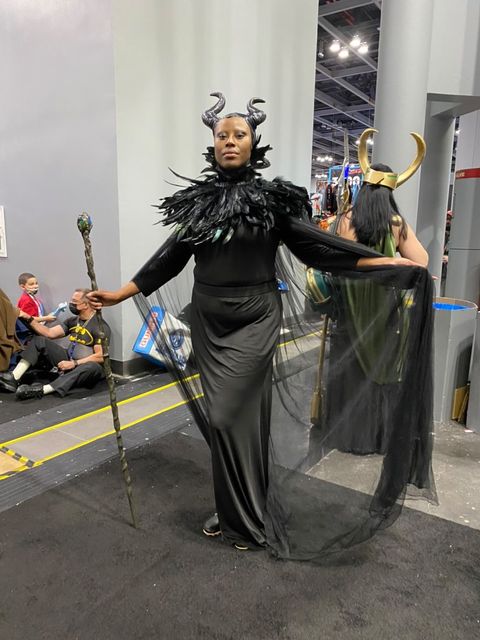 Another wonderful Maleficent cosplay, with a more elegant touch. We don't want to mess with this mistress of evil.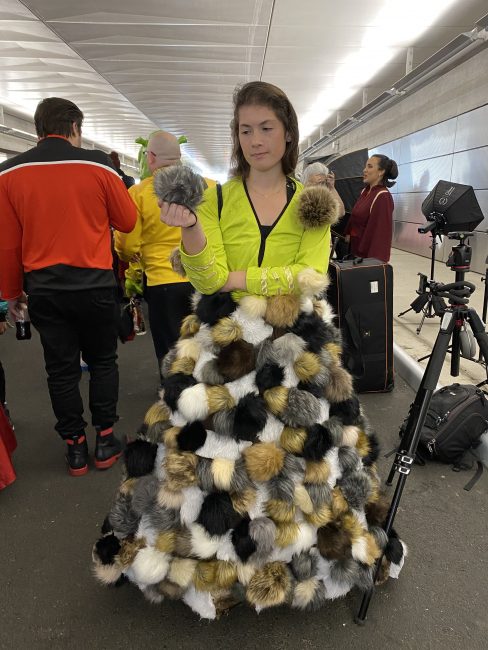 Those pesky Tribbles! This Captain Kirk cosplayer made a skirt full of Tribbles to replicate the iconic Star Trek scene.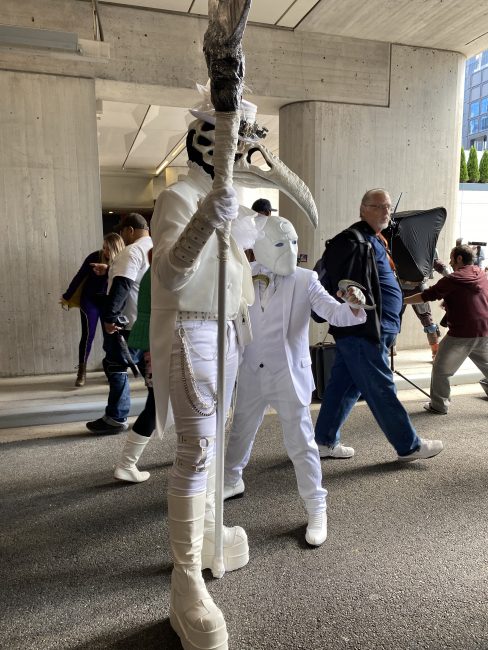 Summon the suit! Moon Knight reigned at NYCC, as seen with these Khonshu and Mr. Knight cosplays.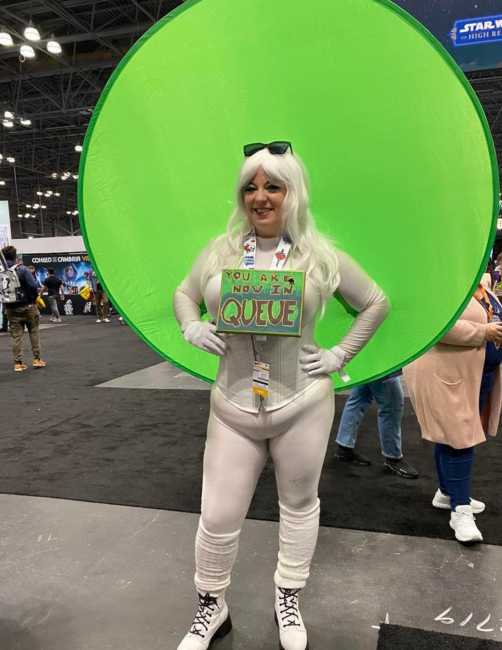 This clever cosplayer dressed as the figure in the virtual Queue line. How many hours until we can reserve our panels, again?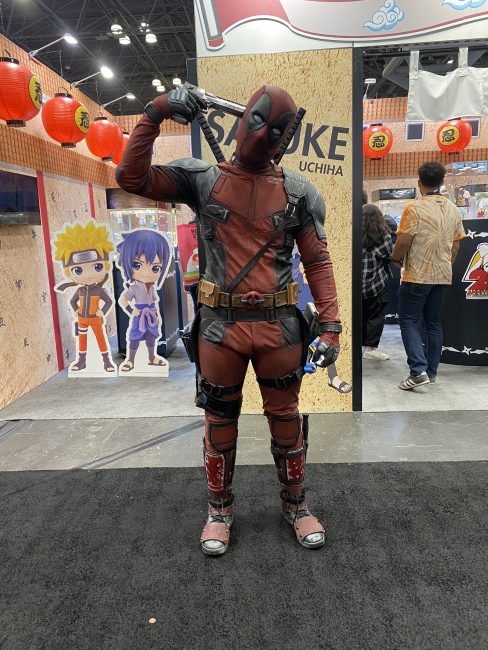 No convention is complete without a Deadpool. This cosplayer looks spot on!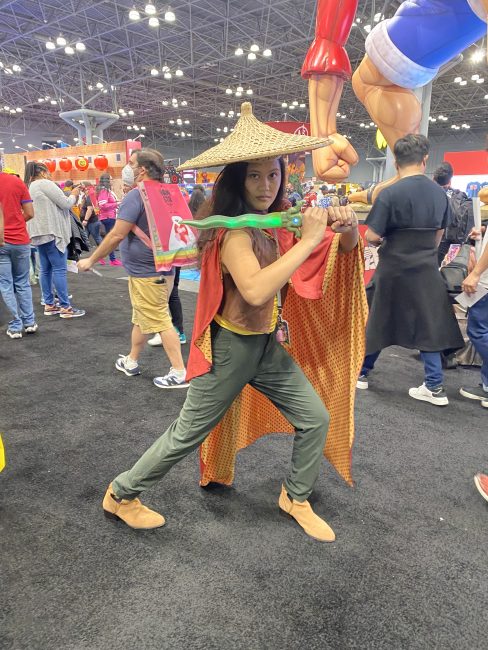 This Raya cosplayer looks determined to find the last dragon.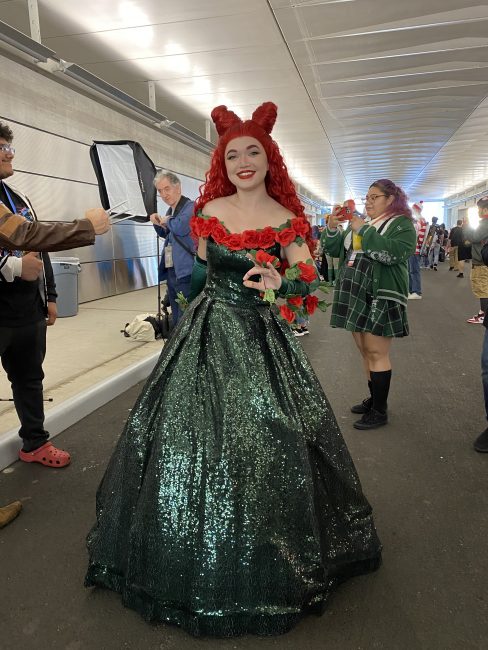 This cosplayer makes an elegant Poison Ivy, with nods to Uma Thurman's portrayal in Batman & Robin.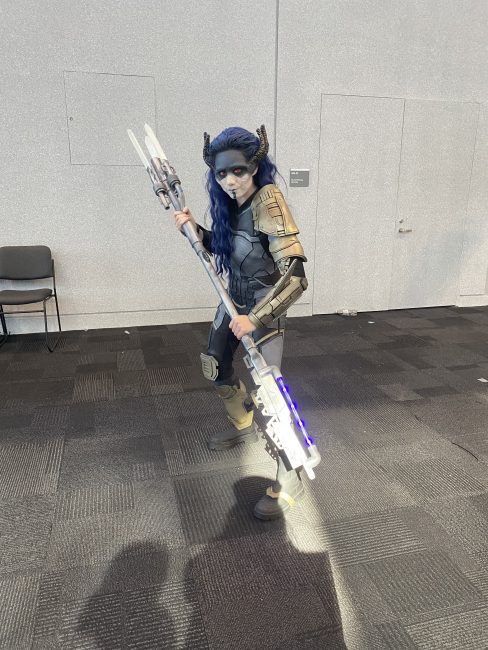 This Proxima Midnight cosplay from Avengers: Infinity War is awesome with its impressive armor and weapon build.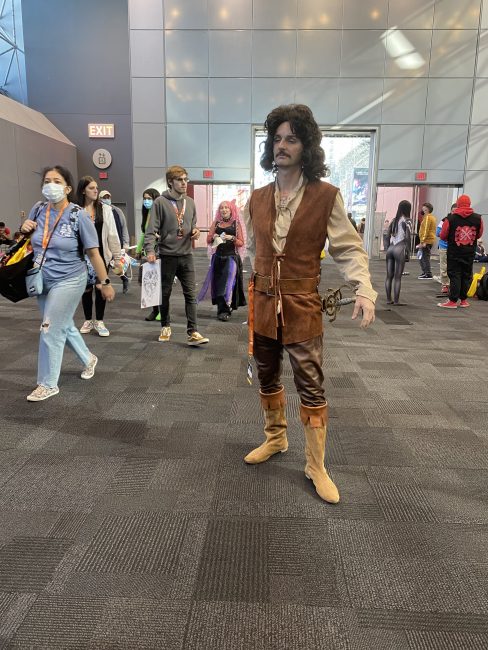 Hello, my name is Inigo Montoya. You killed my father. Prepare to die. Or see more costumes from The Princess Bride.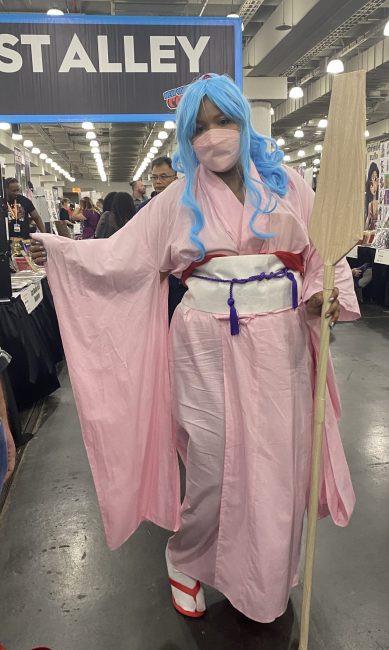 Need a guide to the Spirit World? Look no further than this Botan cosplay from YuYu Hakusho, complete with her flying oar!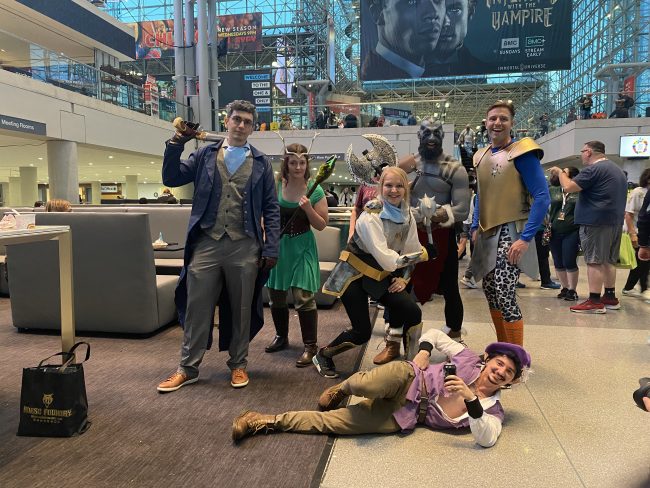 This group cosplay of Critical Role/The Legends of Vox Machina is a critical hit!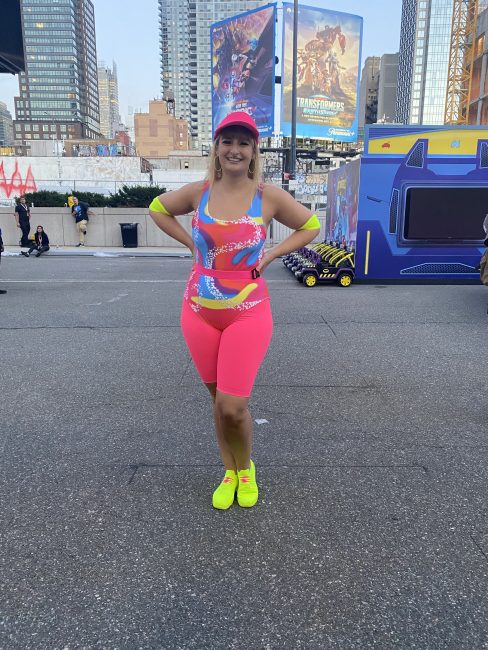 This cosplayer is a Barbie girl in a Barbie world. Who else is excited for the new Barbie movie?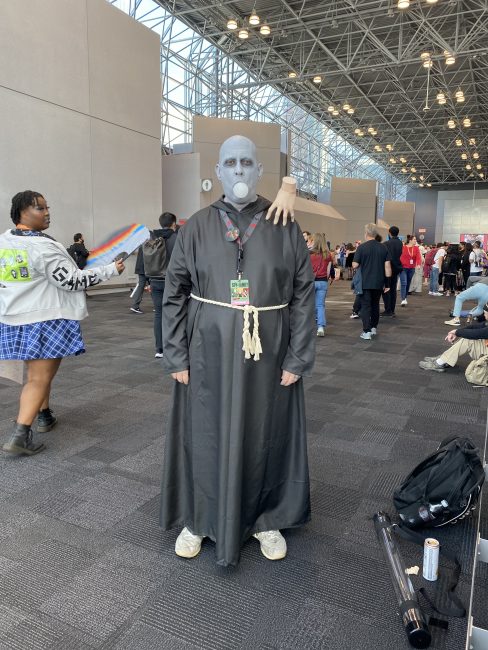 A creepy and kooky Uncle Fester cosplay from The Addams Family, complete with Thing on his shoulder. NYCC presented a panel on the upcoming Netflix series, Wednesday, which revealed Fred Armisen in the role of Uncle Fester.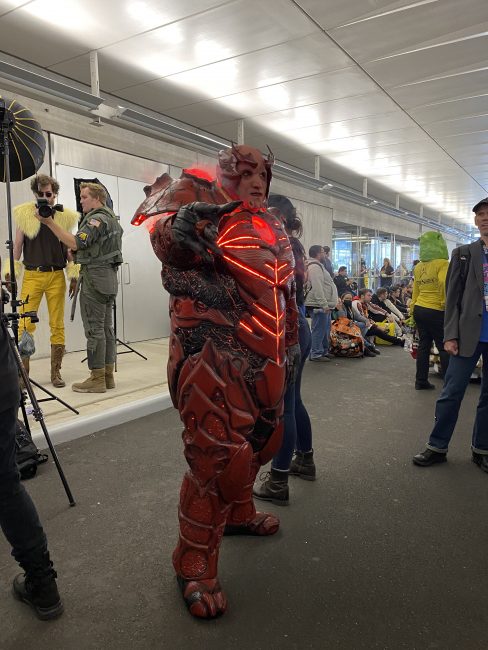 This Atrocitus cosplay from DC Comics is beyond impressive. This cosplay won 1st place in the Armor category of the Eastern Cosplay Championships!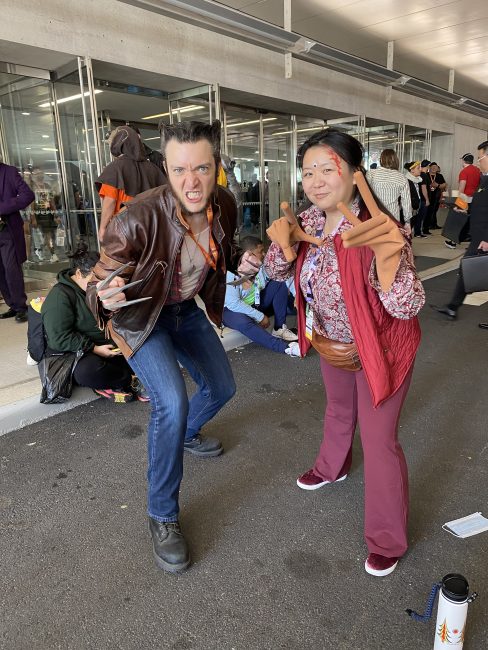 An unlikely duo, but an awesome one! On the left, a Wolverine/Logan cosplay from X-Men, and on the right, an Evelyn cosplay from Everything Everywhere All At Once, complete with the sausage fingers.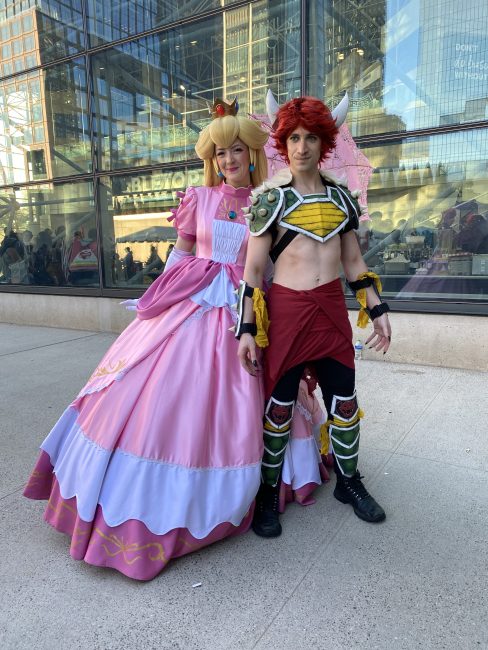 Check out these Princess Peach and Bowser cosplays. The new Super Mario Bros. movie trailer premiered on Thursday of New York Comic Con, with a surprise appearance from Jack Black.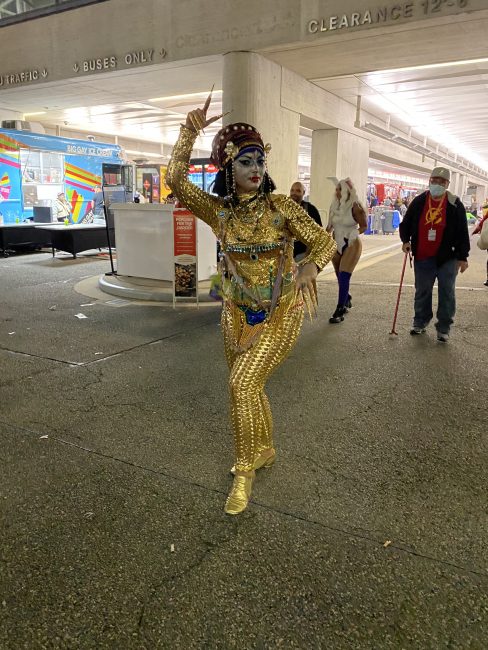 This Jibaro cosplay from the latest season of Love, Death, and Robots is stunning!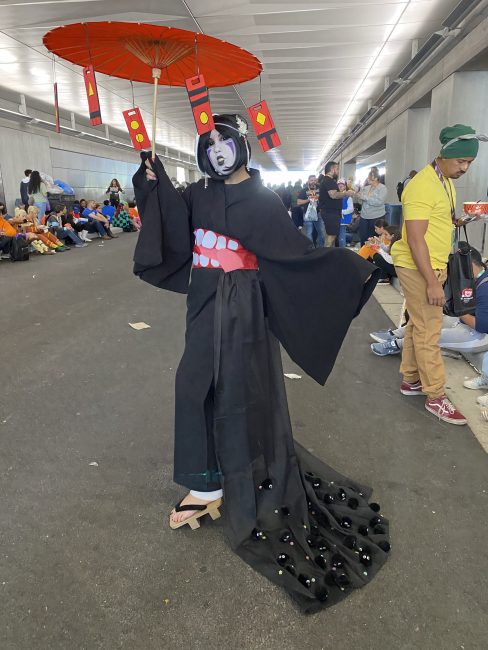 A cosplayer offers a traditional Japanese stylization of No-Face from Spirited Away, complete with soot sprites on the kimono's train.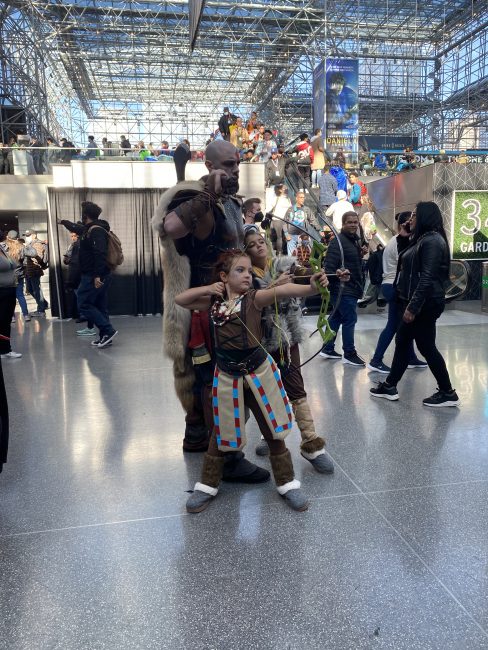 Behold this family cosplay as characters from God of War. The newest game, Ragnarok, is set to release on November 9.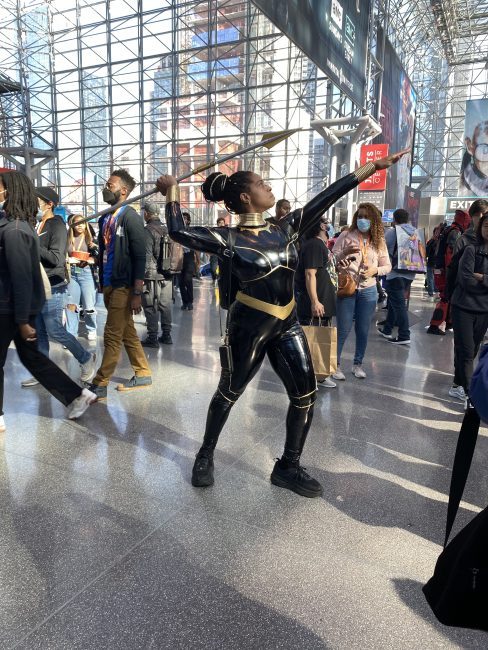 This Shuri cosplay brings the hype for Wakanda Forever, coming out in theaters on November 11.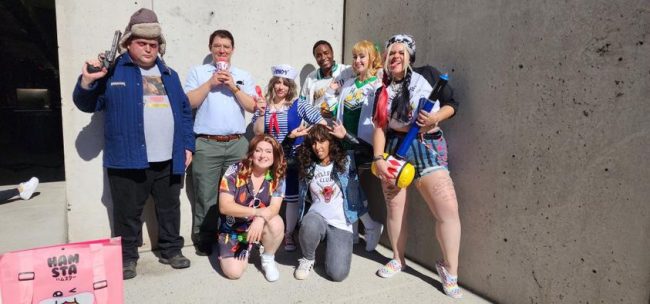 Following the release of season four, Stranger Things dominated NYCC this year. From left to right: Hopper, Alexei, Robin, Lucas, Chrissy, Hellfire Harley (a neat crossover!), Eleven, and Eddie.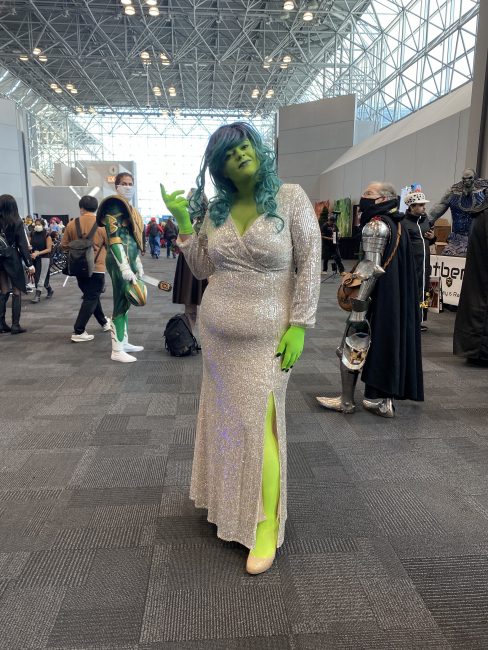 We're seeing green in a good way with this She-Hulk cosplay! This is her dress she wears to the lawyer awards gala.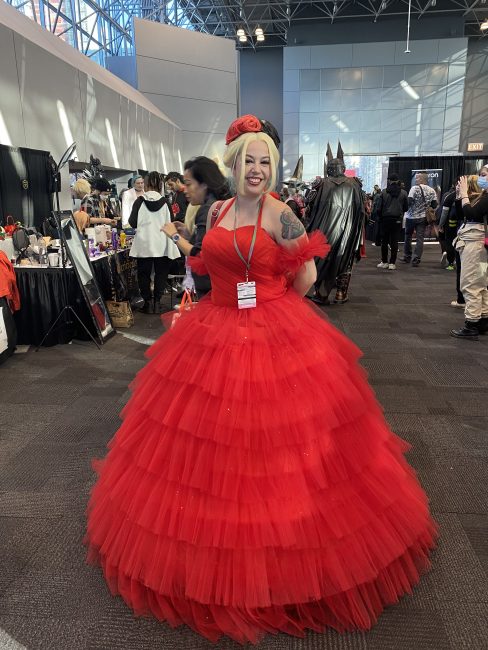 Harley Quinn is always a popular cosplay at conventions, but this dress from The Suicide Squad is a standout look!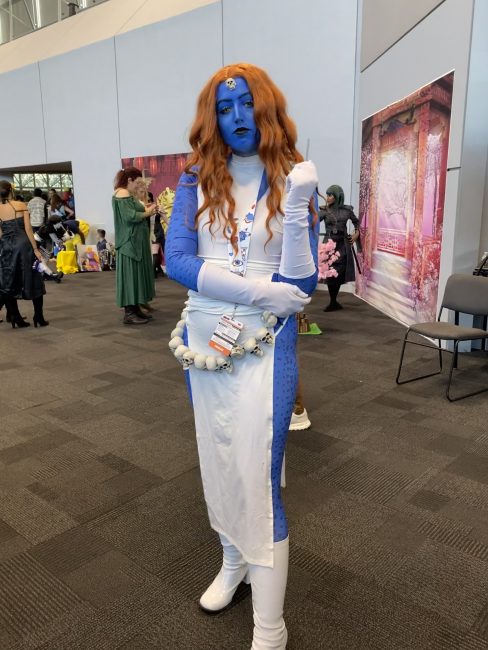 This comic-book style Mystique wowed us!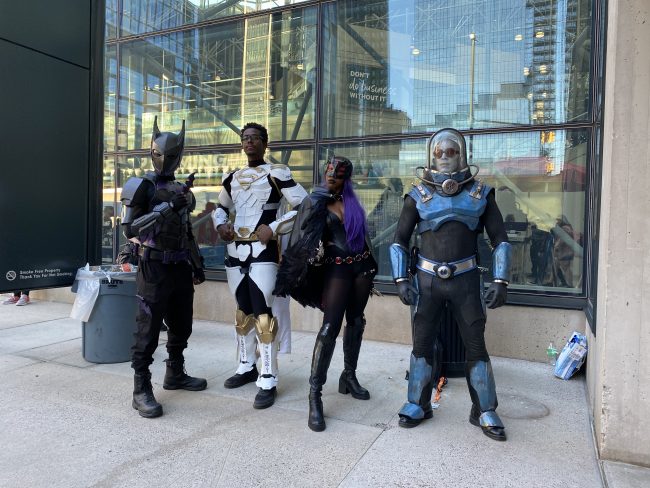 These cosplayers belong in the next DC Universe movie! From left to right: Batman Beyond, Future Superman, Raven, and Mr. Freeze.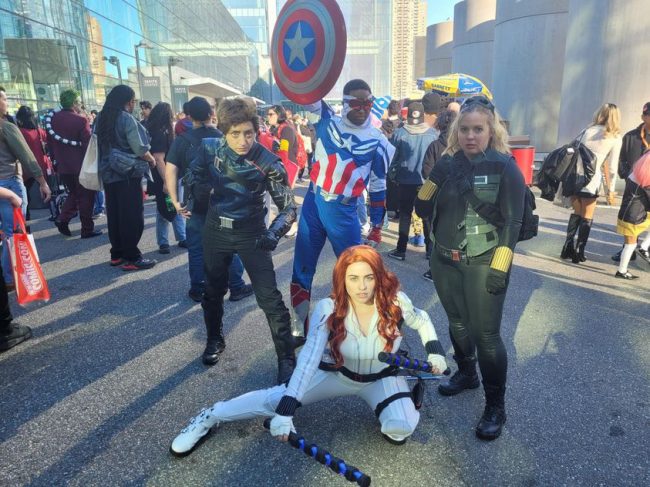 Phase 4 Marvel, assemble! Left to right: Bucky from Thunderbolts, Captain America (Sam Wilson), Yelena from Thunderbolts, and Black Widow (snow suit).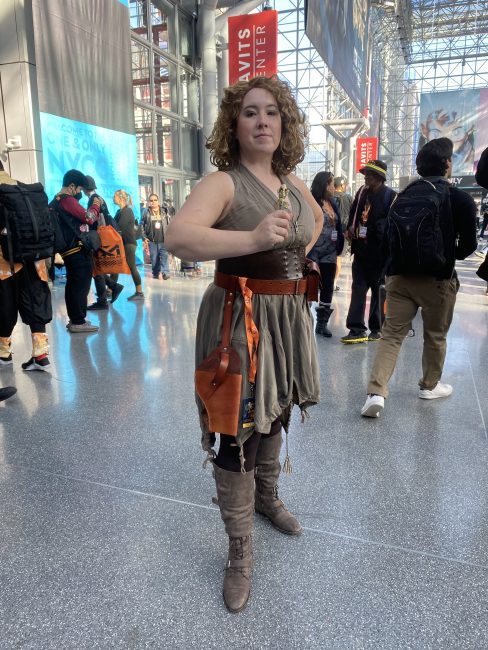 This Whovian cosplayed as Riversong on Saturday. Do we think Riversong will meet the 14th doctor next season? Spoilers!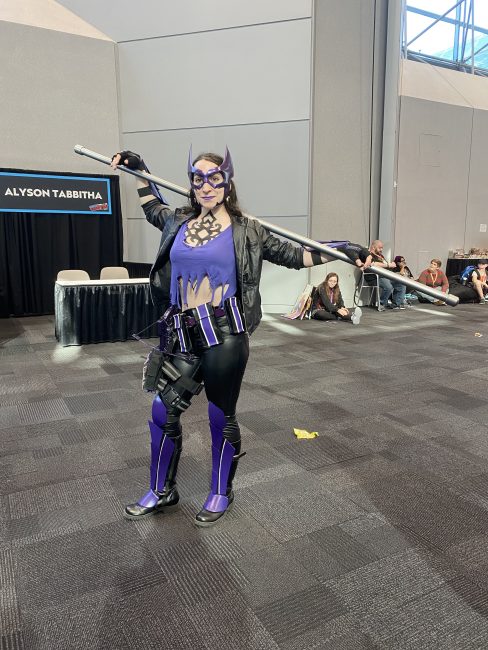 We don't want to mess with this Huntress cosplay!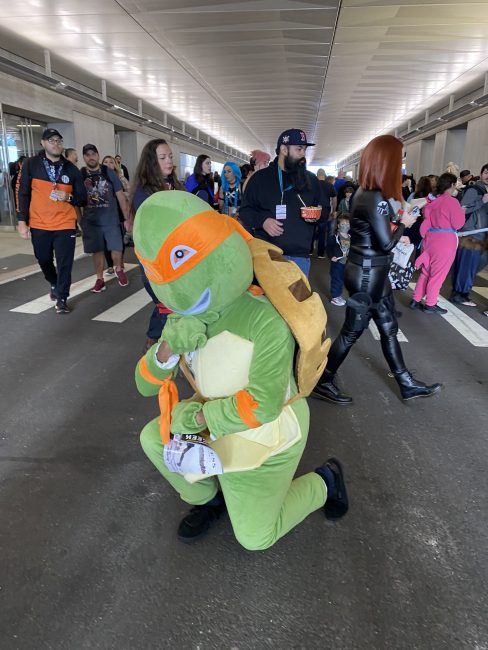 This cosplayer brings the turtle power as Michaelangelo from Teenage Mutant Ninja Turtles!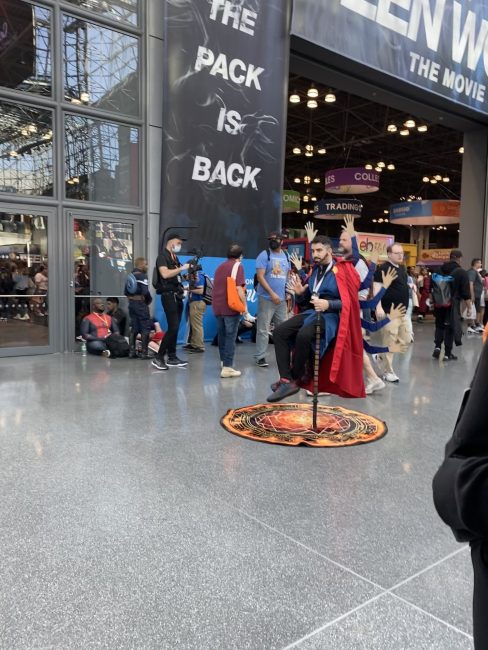 This Doctor Strange cosplay is the work of supreme sorcery! Seriously, how is he floating like that?
---
Craving more New York Comic Con content? Check out last year's cosplay roundup as well as our panel coverage for Jamie Lee Curtis and Halloween Ends!
There are no comments yet, add one below.
Stay connected. Don't miss out!
Get new costume guides in your inbox once a month.
And don't worry, we hate spam too! You can unsubscribe at any time.