A Guide to Hosting Cosplay Meetups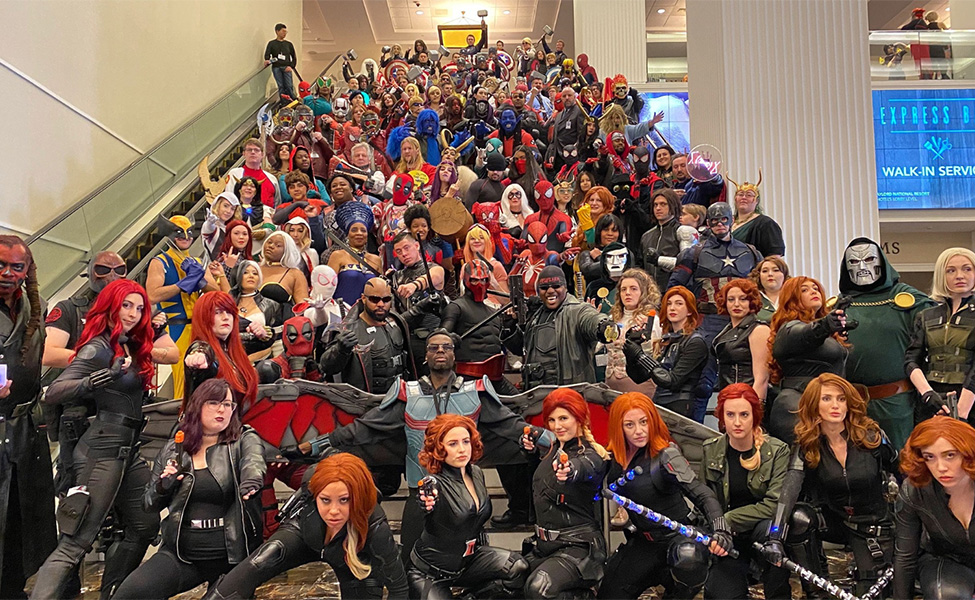 What is a Cosplay Meetup?
A cosplay meetup is a gathering of cosplayers at a particular location, meant to inspire fandom and encourage socializing with others. These get-togethers revolve around a particular fandom, genre, or theme.
Sometimes meetups combine both fandom and style, such as the Marvel Sockhop Meetup at Katsucon 2023, which fused 50s fashion with Marvel characters. Another meetup was solely for the Eeveelution designs by Sunset Dragon.
Usually meetups are hosted at conventions, but meetups can be most anywhere! Other popular locations include parks or studios. Meetups can be as small as a few people or as large a hundred people.
---
What are the Rules of a Cosplay Meetup?
Rules vary depending on the convention or event, but often times follow the general policies. Basically, if you wouldn't do it at the convention, don't do it at the meetup. Unless you're at a strictly adults only event, it's best to keep things as family-friendly as possible, since parents may bring their kids to a con.
And of course the most important rule is to have fun!
---
How to Organize a Cosplay Meetup
Choose a Fandom
You can pick a title from an anime, television, movies, video game, or book series. You can be as specific or as broad as you like. You can host a meetup for a category of media or a meetup for particular character designs.
If you plan to take photos, think about different categories (characters, pairings, etc) to segment out your shots.
Choose a Con
Most cons offer and encourage cosplay/fan meetups. While unofficial meetups pop up, it's best to try and make your meetup official to guarantee a space and time slot. You're also able to attract more attendees, since cons often feature official cosplay meetups in their scheduled programming
Visit the convention website to see how you can submit a meetup request. Usually it's through e-mail or a specific form. Be sure to submit your meetups on time! There will be a certain deadline for requests as the organizers need to create and arrange the schedule.
Choose a Date, Time, and Location
Most conventions span across a weekend. Consider the rest of your schedule, and try to give yourself at least 30 minutes after your last activity. Allot even more time if it's a photo op or autograph, as those lines tend to be longer. You don't want to have to sprint to your meetup!
Also host your meetup at a reasonable time. First thing in the morning or last thing in the evening are not ideal. Late morning or afternoon are the best bets for natural lighting and turnout. Be mindful of the programming too – you probably will lose the crowd if you schedule your meetup at the same time as big panels.
Ideally, host your meetup in a wide, open space to accomodate people. Accessibility is another important factors for cosplayers with wheelchairs or mobility aids. Try to host indoors so you don't have to worry about the weather. Though if you expect a high turnout, outdoors might be a better option. Tune in to the weather forecast and update members as needed.
---
My Cosplay Meetup is Official – Now What?
Get the word out! Tell your friends who are attending the convention – even if they're not cosplaying, they can show up to support you! Announce the meetup across social media too.
Create a Facebook event page so people can respond yes or no, which can give you a better idea of the turnout. Join Facebook groups about the convention and interact with potential attendees. For example, if you're hosting a Naruto meetup and you see someone is cosplaying Hinata – let them know about the event!
Here are some things to bring to a cosplay meetup:
A megaphone so people can hear you
A list to go off of – i.e. structure, any extra guidelines or announcements, different shots
Your phone or camera to communicate with others and take plenty of pictures
A friend to help you or take photos
A positive, friendly attitude!
*Have a backup plan too. Keep a different location and time in mind in case of any last minute changes!
---
During the Meetup
Ask for Assistance
Don't be afraid to ask a friend or attendee for help calling out names or gathering everyone around. Some conventions provide a staff member to help run the meetup – share your gameplan with them and have them help as needed.
Pose for Photos
Many cosplay meetups involve taking photos. Categorize shots by specific characters, titles, and more. This ensures everyone gets a photo. Try to have cosplayers do two or three poses to get a variety of shots.
You can ask a professional photographer or videographer attend as well. While cosplay meetups are free, it would probably cost a fee to receive professional media.
Strike Up Conversation
Meetups are the best way to chat with others and make new friends. Plus you already have things in common, such as shared attendance and fandom!
As the host, you want all of your attendees feel welcome – and there will be time in between to make conversation. Here are some questions you can ask to break the ice:
"Who is your favorite character?"
"What is your favorite season/episode?"
"How are you enjoying the convention/day so far?"
"Are you attending any panels?"
"Did you buy anything in the dealer's room or artist alley?"
"Did you get any photo ops or autographs? Which celebrities did you meet?"
"I love your cosplay! How did you make it?"
"Can we take a photo together?"
Be Respectful
Be respectful of personal space – things can easily get crowded, so encourage attendees to move as needed, especially if you're in a busy area. And be respectful of others. Remember: Cosplay is not consent.
Furthermore, be respectful of the time, since other meetups or events may occur after yours. Try to keep the area tidy, and make sure everyone cleans up after themselves.
---
After the Meetup
As the host, attendees will ask questions about where to see the photos or connect with people. Direct them to the event page or your own profile. Be sure to post your own photos from the meetup and share the content of others. And of course thank everyone who attended.
Congratulations! You hosted your first cosplay meetup and hopefully not the last!
Interested in conventions? Check out our press coverage of cons all across the US.
There are no comments yet, add one below.
Stay connected. Don't miss out!
Get new costume guides in your inbox once a month.
And don't worry, we hate spam too! You can unsubscribe at any time.