Anime Ink Con Brings Anime Fans and Tattoo Enthusiasts Together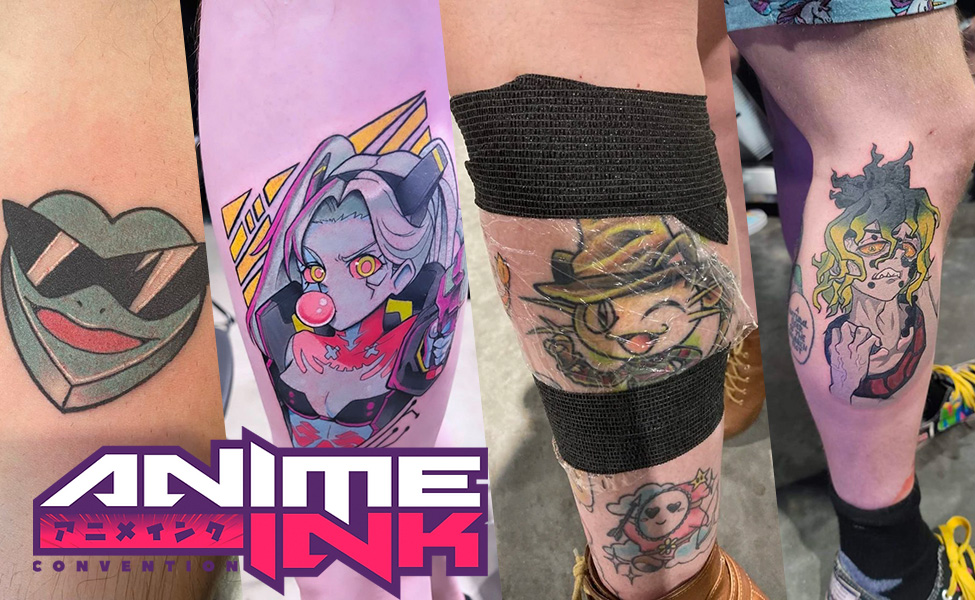 Since 2019, Anime Ink Con has descended on Richmond, Virginia with only one goal in mind: bringing fans of anime and tattoos together under one roof to celebrate all things ink and animation.
In what may be its most popular event yet, Anime Ink Con returned in full force with hundreds of vendors and artists as well as plenty of attendees who flocked to the Richmond Convention Center in costume in 2022.
This was the second year Anime Ink Con offered prizes not only for tattoo contests, but also cosplay. Competitions run every day of the con, providing plenty of opportunities for everyone to try and snag a prize. On Saturday night alone, there were 64 entrants in the cosplay competition—a new record—and a whopping 90 entrants for a single tattoo category.
---
The top three cosplays each night were chosen by three judges, with honorable mentions for each judge's favorite in addition. The tattoo competitions were a little more specific, with awards for Best Color (large and small), Best Blackwork, Best Watercolor, Best Anime Trad, Best Demon Slayer, and Best Pokémon. Awards were also doled out for Best of Day for Friday, Saturday, and Sunday, as well as Best of Show.
Danni Butler took home bronze for Best Demon Slayer tat on Saturday night, with the blessing of none other than Bryce Papenbrook, who stepped in as a judge for the competition. In a fun twist, Danni was cosplaying as Inosuke while she worked on the tattoo.
With hundreds of tattoo artists in attendance, anyone interested in scoring some ink had plenty of opportunity to find someone with the style they wanted, whether something small and cute or bold and eye-catching. Many artists accepted walk-up clients, though at least as many were fully booked. One thing to keep in mind if you attend Anime Ink Con in the future is it's best to contact any of the artists you'd prefer to work with ahead of time, as their appointment slots often get snatched up quickly.
As for the cosplay on display, Demon Slayer was probably the most popular franchise, including several Tengen cosplayers with various wives (or sometimes husbands) in tow. One Piece, Jujutsu Kaisen, and Spy x Family saw plenty of homage as well. Some of the best cosplay moments came when families or children participated, even prompting Saturday night's judging panel to add an additional winner for some of the youngest cosplayers in attendance.
Anime Ink Con also played host to several voice actors this year, with Michelle Ruff, Erica Schroeder, David Lodge, Keith Silverstein, and Bryce Papenbrook all providing fans the chance for meet and greets as well as signed merch. Several even lent their opinions to judge the cosplay and tattoo competitions throughout the weekend.
Studio Ghibli wasn't only represented in the cosplay competition, where No-Face, Kiki, and other characters made an appearance. Nods to the iconic movie studio could also be seen on full display in plenty of tattoos, both fresh and old.
Many attendees sported plenty of ink, with lots of folks looking to expand their tattoo collections during the con. Several cosplayers even adorned their bodies with fresh pieces dedicated to the very characters they cosplayed as.
This Makima cosplayer also got the character's eyes tattooed on their upper arm while at the convention before participating in the cosplay competition.
Izuku and Shinsou were headed out for a break before returning so Deku's cosplayer could get the Green Hero tattooed.
Other cosplayers made appointments for unrelated ink.
Misty and Ash make for a simple and fun couple's costume. Ash had plans to add to a '90s cartoon dog-themed half sleeve with Zero from The Nightmare Before Christmas.
This Charmander tattoo by Miss Kelly makes a cute addition to one con-goer's growing collection.
This Sailor Mars had no plans to get tattooed at the convention, but made a group outing of the con with her anime club, which is based in Richmond, where Anime Ink Con has been held since its inception.
Mila Sasieta offered attendees plenty of Sailor Moon-inspired flash to choose from, including this Crisis Moon Compact piece. She was easy to spot with her Miam-inspired neon sign and also had merch, including trippy prints available for purchase.
My Hero Academia had plenty of fans in attendance including this Hawks who truly committed to the part, not afraid to fight their way through the crowds with wide-spanned wings which created a truly eye-catching look. In a twist, they were scheduled to get inked with a Kirishima tattoo instead of the character they cosplayed as.
Though the Heroes of BNHA were overwhelmingly represented, Overhaul appeared in several forms as well, proving there's always room for interpretation. While this cosplayer stayed fairly true to the source material, Kai Chisaki costumes ran the gamut from terrifying to a little sexy, depending on each player's preference.
Cosplayers went new and old school during the con. This Lucy cosplayer leaned hard into the zeitgeist by choosing a character from a brand-new Netflix release.
In the same vein, artist Logan Mara from Norfolk, VA offered up this stunning Rebecca tattoo from Cyberpunk: Edgerunners.This piece by @sadknivestattoo wraps around the leg, making it difficult to capture in a single photo. Even with so many tattoos on display, this one certainly turned heads with its eye-catching colors and bold design.
Not every cosplay was based on anime. This attendee proved that the devil–or in this case, the Scarecrow–may be in the details, using a small spray bottle to help bring the maniacal Dr. Crane from Batman Begins to life. Though less often cosplayed than some other Batman villains, this Scarecrow truly pulled off the psychologically terrifying look.
Classic anime were well-represented as well, including this Faye Valentine cosplay, which was based on the character's original anime design, though far less revealing.
Inuyasha's older half-brother Sesshomaru made an appearance at Anime Ink Con sans his mystical sword, but with a long white wig and face paint to compliment the dog demon's robes.
With a category specifically for Pokémon-inspired tattoos, it's no surprise there were so many spotted around the convention, including this heart-shaped Squirtle with sunglasses by Deanna Cipollone.
While belovedLuffy got plenty of love in many forms, this duo dressed as Zoro and Yamato made a statement with their detailed cosplays, even striking the perfect pose when asked for a photo.
This cosplayer put their own spin on Sasaki fromSasaki to Miyano, proving there are endless ways to interpret your favorite characters and have fun by creating your own twist on the original. This attendee also had aHaikyu!! manga panel tattooed on their arm Friday night at the convention, though it was too buried under their cosplay layers to be quite camera ready.
And of course, when it comes to an event like Anime Ink Con, which is still relatively new, it's always possible to find some folks who have been attending since the beginning.
This cosplayer got a little self-referential by cosplaying as the tattoo they got at last year's convention, a Meowth-Freddy Kreuger hybrid! When you've been showing up since the beginning, and had the opportunity to watch an event you enjoy so much grow over time, there's no reason not to expect you'd like to commemorate the experience in more ways than one.
---
Anime Ink Con may still be a lot smaller than some other fandom events, but its following has only increased since its first run in 2019, and is sure to continue to grow. Touting itself as the only anime tattoo convention in the world, there are few experiences quite like it. If you're a fan of tattoos and anime, make sure to keep an eye out for Anime Ink Con in 2023!
There are no comments yet, add one below.
Stay connected. Don't miss out!
Get new costume guides in your inbox once a month.
And don't worry, we hate spam too! You can unsubscribe at any time.