Cosplay at Fan Expo Philadelphia 2023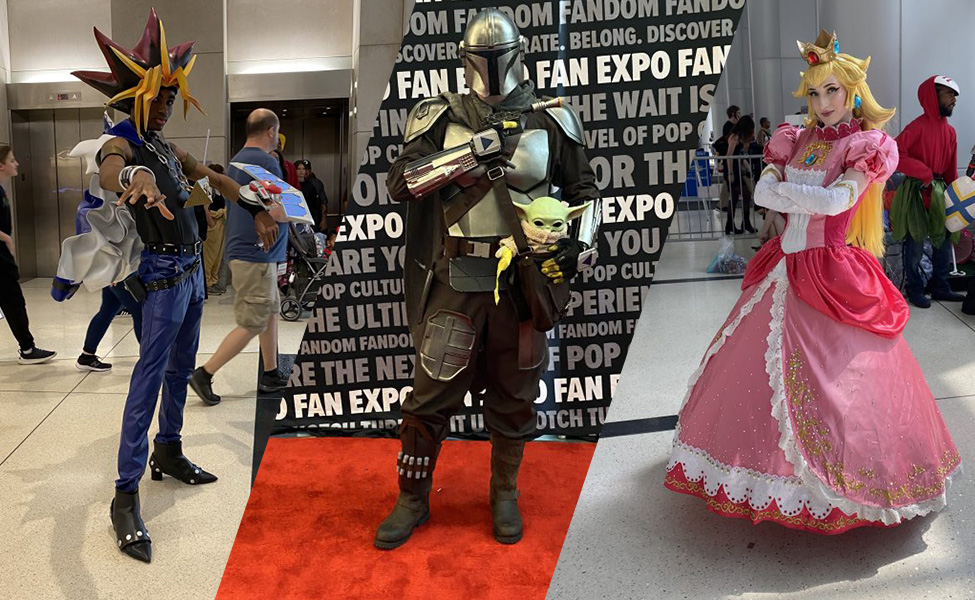 According to its official site, Fan Expo HQ presents the ultimate fan experience with "over 16 huge annual events across North America that brings in hundreds of thousands of passionate fans from all across the globe." Fan Expo Philly took place during the first weekend in June at the Pennsylvania Convention Center. The most popular fandom for cosplays largely correlated with the featured guests.
Fan Expo was studded with Stranger Things stars, including Joseph Quinn (Eddie Munson), Grace Van Dien (Chrissy Cunningham), and Sean Astin (Bob Newby). As a result, many attendees cosplayed various residents of Hawkins – mostly as Eddie, or simply wearing a "Hellfire Club" shirt. The 80s inspired outfits didn't stop there, as attendees were eager to see Back to the Future stars Michael J. Fox, Christopher Lloyd, and Tom Wilson. Multiple puffer vests over denim and lab coats were spotted.
As shown above, a top guest at the con was Hayden Christensen, who portrayed Anakin Skywalker in Star Wars. From Jedis to Mandalorians, Star Wars definitely dominated the cosplay scene too. Read on to see the Star Wars happenings on the Cosplay Red Carpet.
Regarding anime, Demon Slayer took the cake. Demon Slayer: Swordsmith Village is currently premiering on CrunchyRoll, plus Zach Aguilar – the voice actor for protagonist Tanjiro –  was in attendance with his very own panel.
---
Cosplay Alley
Fan Expo carved out its very own space for featured cosplay guests, fittingly called Cosplay Alley. Each guest had their own table and signage, and some even brought along costumes and props to display.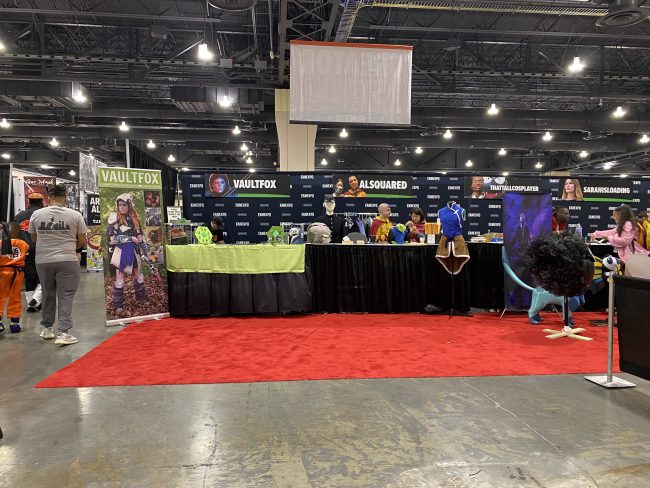 The convention brought out a diverse group of cosplayers, varying in skillsets, backgrounds, and fandoms. Featured cosplay guests included  Vault Fox, AlSquared, That Tall Cosplayer, Sarah is Loading, Cobalt Cosplay, and Alison "AlisonBirbz" Jeffery.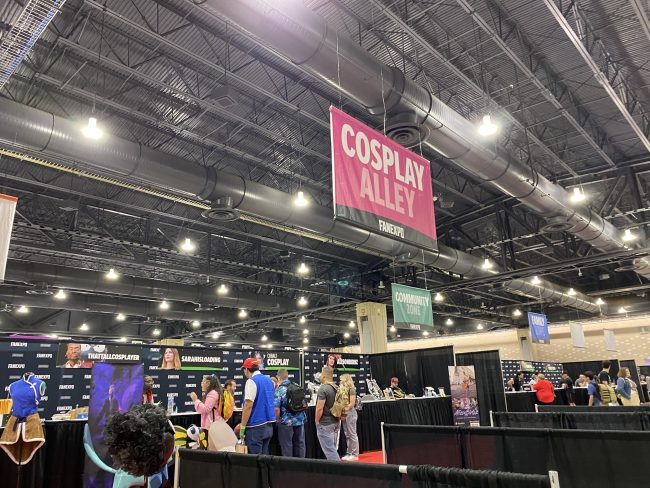 Attendees could approach the featured cosplay guests to chat or compliment their work. Seen below, That Tall Cosplayer, aka Randall Stackss, shows off his team of life-sized Pokemon. According to his Instagram, these Pokemon are to scale, crafted from materials ranging from Eva Foam to 3D printing.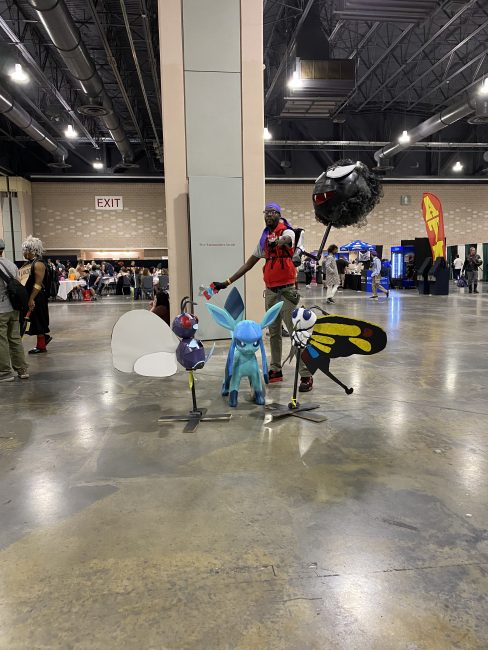 ---
The HSPPA
The HSPPA – which stands for Horror and Sci-Fi Prop Preservation Association – display at Fan Expo Philly was a horror and sci-fi cosplayer's wonderland. Founded and curated by James Azrael, the organization "champions the collections and restoration of some of the most incredible screen used props, costumes, and film relics in cinema history." Its niche genres are horror and science fiction, but some pieces branch into superhero/comic book, fantasy, thriller, and action.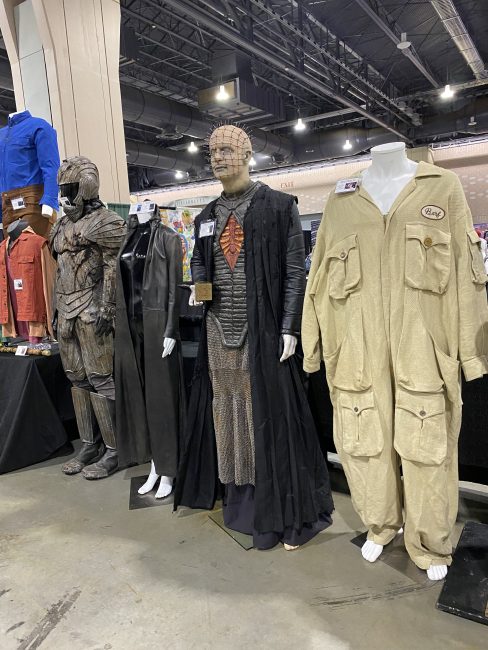 These displays provide awesome references for detail-oriented cosplayers. Featured above are Barf's coveralls from Spaceballs, Pinhead's outfit from Hellraiser: Judgement, and Selene's catsuit and trench coat from Underworld – and these were just a few complete costume sets!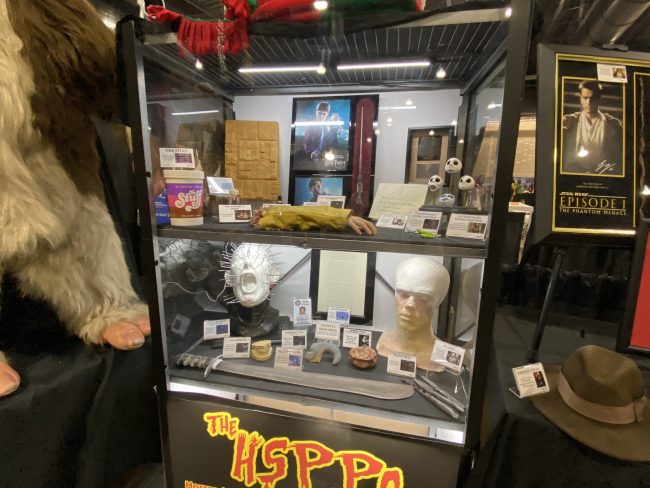 Display cases featured props and makeup pieces – peep the Pennywise forehead prosthetic worn by Bill Skarsgard in the 2017 reboot of IT. Learn more about HSPPA on their website, and see where they're taking their convention collection next!
---
Cosplay Red Carpet
Perhaps what made Fan Expo stand out from any other convention is the Cosplay Red Carpet, a designated spot for cosplay meetups, photos, skits, and more. A DJ was at the booth to provide appropriate backing soundtracks.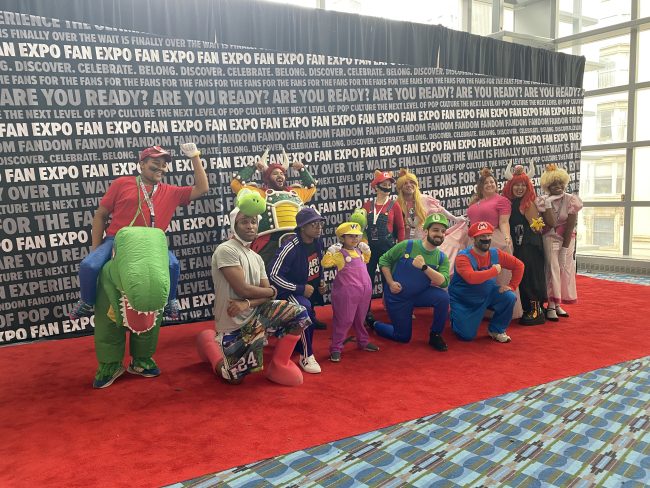 Above is a photo from the official Super Mario meetup. The 2023 movie sparked a resurgence of cosplays of the beloved video game franchise.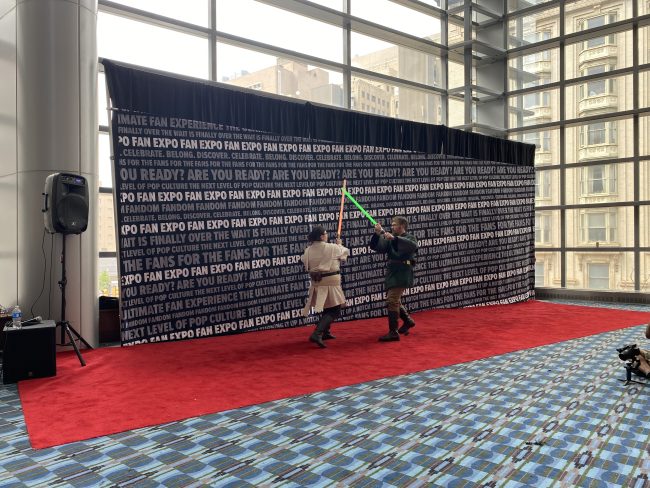 The cosplay red carpet also featured choreographed Jedi battles from a Star Wars acting and fan troupe.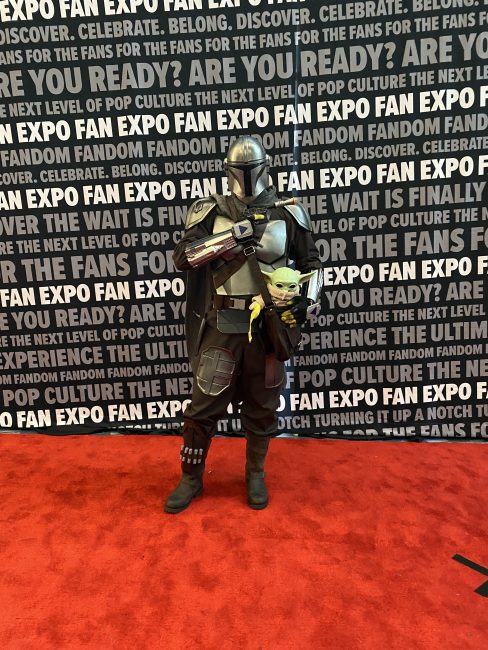 Keeping in theme with Star Wars, this Mandalorian cosplayer wowed us – he made everything himself! (IG: @mosakra.cosplay)
---
Cosplay Craftsmanship Cup
The Cosplay Craftsmanship Cup was the most anticipated cosplay event at Fan Expo Philly. Cosplayers showed off their elite craftsmanship skills to compete for the grand prize.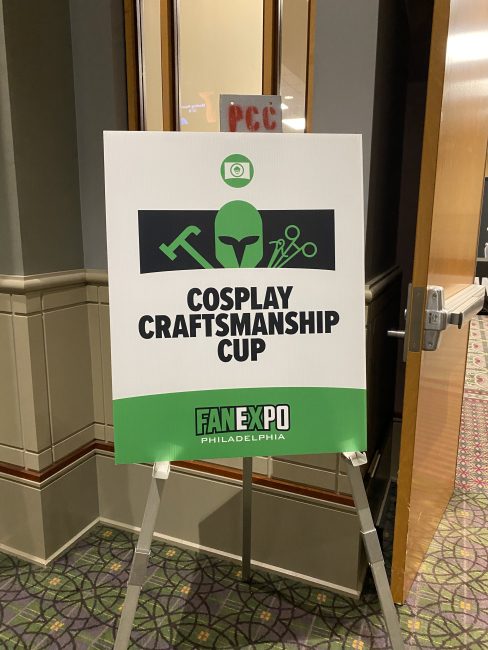 See Fan Expo's post featuring the winners of the competition below. From massive armor builds to spot-on recreations, the judges must've had a hard time narrowing down the champions!
---
Standout Cosplays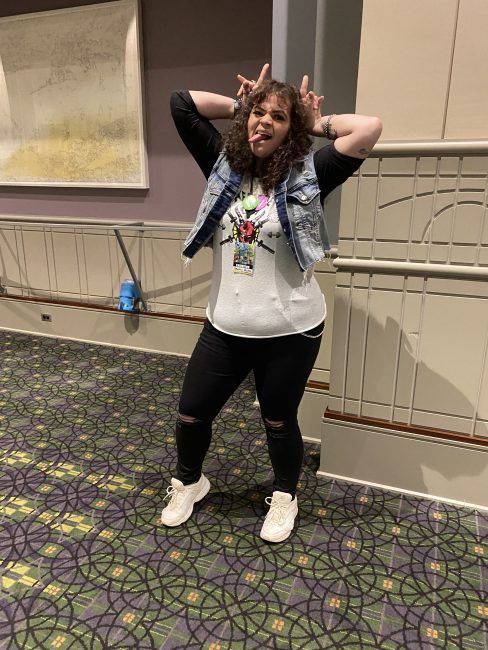 Heather Boddy presented the Cospositivity panel on Sunday of Fan Expo dressed as Eddie Munson. See our coverage of NYCC's Cosposivity panel and exclusive interview with Heather.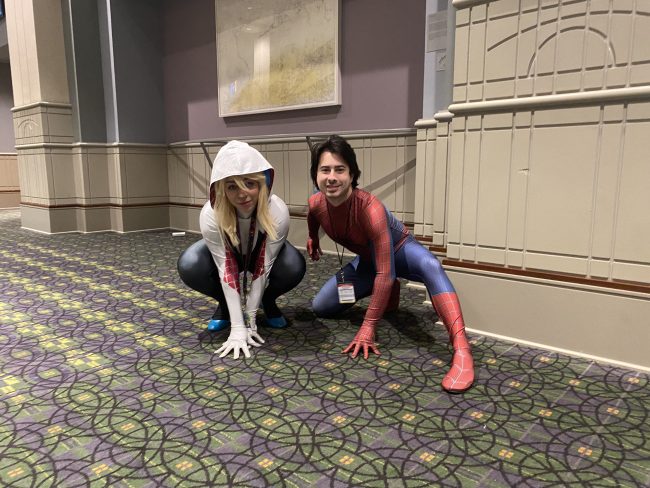 Venture across the Spiderverse with Ani (IG: @legendofanakin) and AJ (IG: @ajncosplay). Shameik Moore, the voice actor for Miles Morales, attended the con all three days, among other notable voice actors in movies, anime, and video games.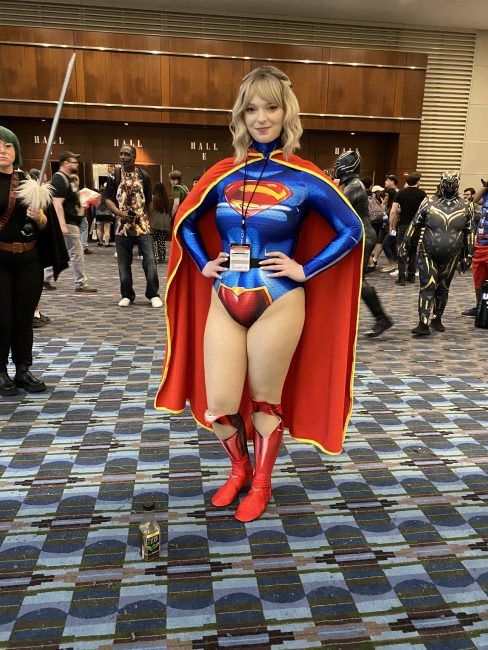 Check out this fantastic Supergirl cosplay. Tom Welling, Michael Rosenbaum, and Kristin Kreuk all attended the convention for a Smallville reunion.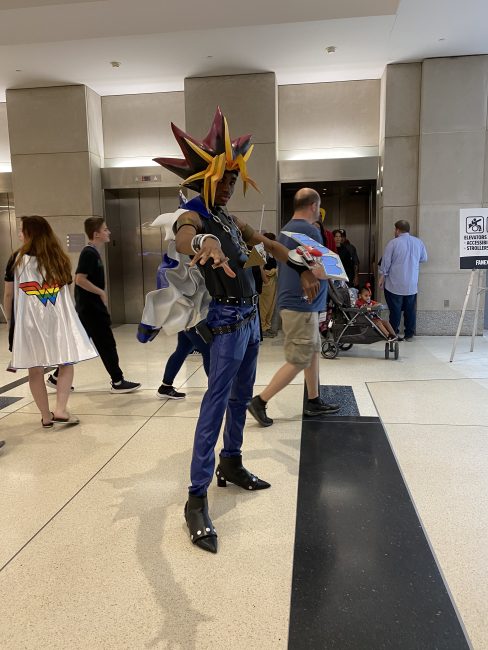 Check out this spot on Yugi Mutoh cosplay from Yu-Gi-Oh!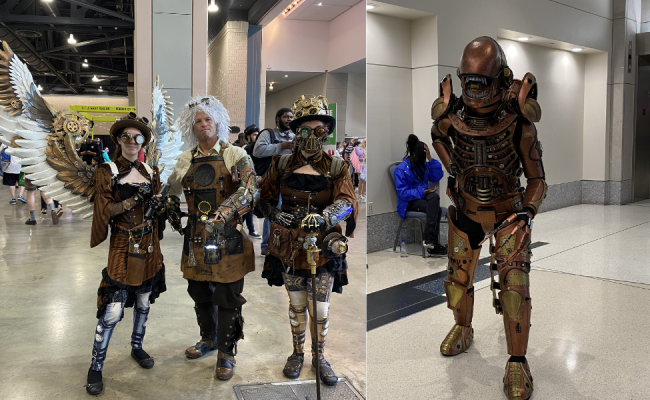 Steampunk was a popular genre at Fan Expo Philadelphia, as shown with a trio of original steampunk characters (left) and a steampunk rendition of a xenomorph (right).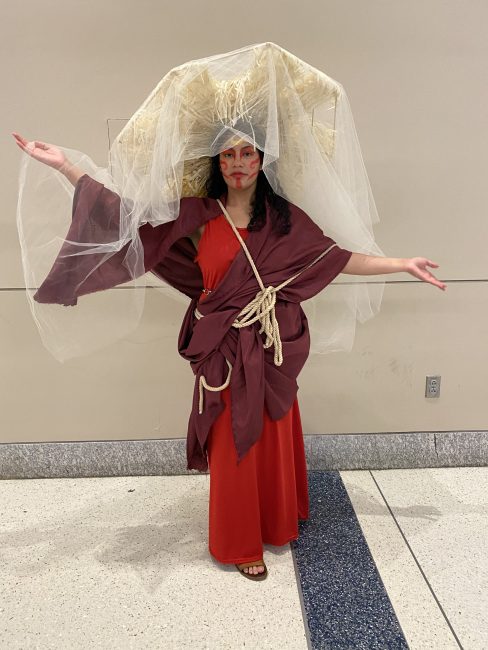 True Avatar: The Last Airbender will recognize this beautiful cosplay as Katara as the Painted Lady.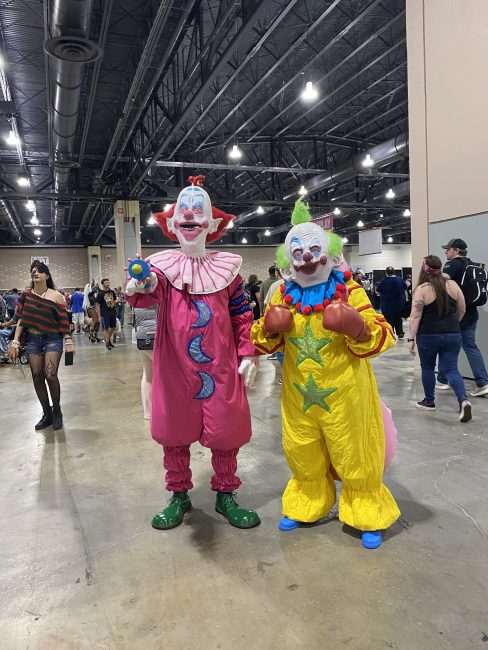 These Killer Clowns from Outer Space cosplays don't look too friendly!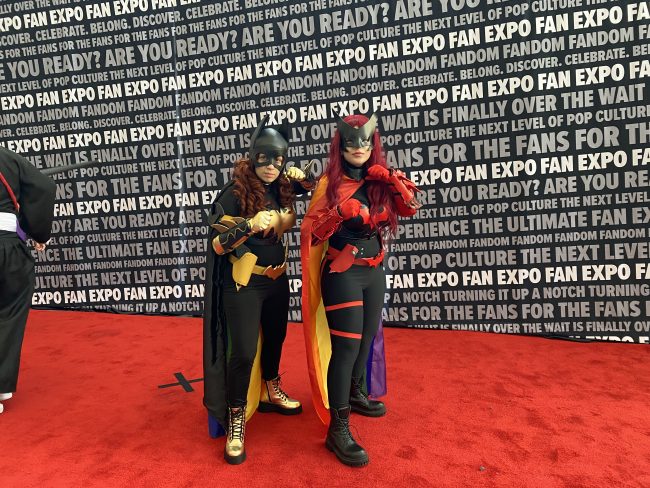 This Batgirl and Batwoman are ready to fight crime at Fan Expo. Note their pride flags as capes – June is LGBTQ pride month, and the Philadelphia Pride parade occured on the same Sunday of the convention.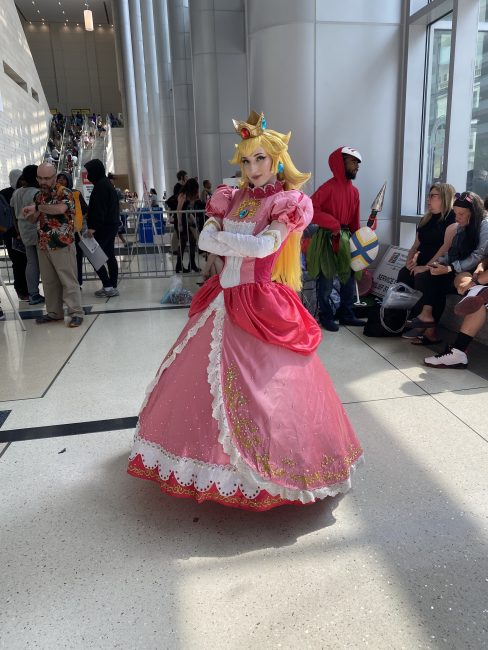 And to round out our favorite cosplays – Peaches, peaches, peaches peaches peaches! (IG: @laurenalenia)
---
Fan Expo Philly will return May 3 to 5, 2024.
Did you attend Fan Expo Philly, or any other Fan Expo across the globe? Feel free to leave a comment telling us about your fan experience, or request what convention Carbon Costume should cover next!
Interested in more convention coverage? Take a look at all our event articles here!
There are no comments yet, add one below.
Stay connected. Don't miss out!
Get new costume guides in your inbox once a month.
And don't worry, we hate spam too! You can unsubscribe at any time.