Cospositivity Panel and Interview with Heather Boddy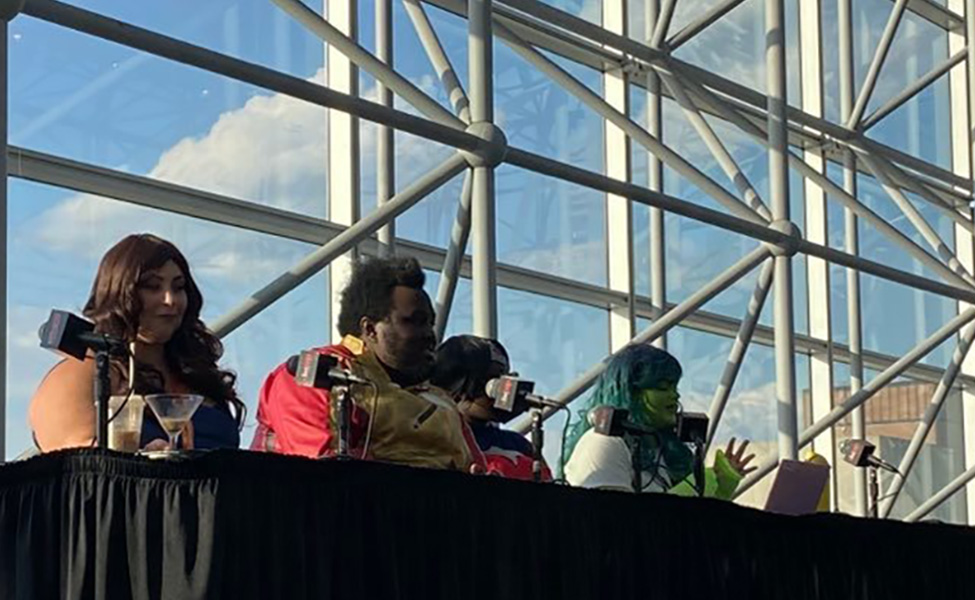 Like how cosplay is a combination of the words "costume" and "play," cosposivity is a combination of the words "cosplay and positivity." A fairly new term, cospositivity focuses on cultivating a safe space for cosplayers. Another term, body positivity, overlaps from the fitness world. From the godly muscles of Thor (and Mighty Thor) to the intense training regimen of Goku, it makes sense for cosplay, fitness, and body image to intertwine.
The New York Comic Con 2022 panel "Cosposivity: Fitness and Body Image in the Cosplay Community" engages in a discussion about fitness, body image, and self worth. This is the third iteration of the panel, following NYCC 2021 and C2E2 2022. I actually got to speak on this panel in 2021, and I was thrilled to see it return!
---
The 2022 panelists included NYC award winning cosplayer Stardust Megu (@stardust_megu), NJ/NY cosplayer and photographer Patrick Diamond (@diamondqualitycosplay), and founder of Believe to Achieve Fitness, Rachel Lauria (@rachelcizeitup).
The panel was created and hosted by NYC cosplayer Heather Boddy (@heatherboddy), founder of Geeknasium, a geek-inspired workout program, and Love Your Bodd, a podcast about body images that celebrates all body types. She spoke on the panel dressed as casual She-Hulk from the Disney+ series.
You can listen to the full podcast LIVE from New York Comic Con here.
---
Panel Summary
First, the panel introduced the topic of discussion: cosposivity. Each panelist talked about how they define cos positivity and why it's important to them. Their answers had a common theme of inclusivity and confidence.
On the subject of inclusivity, there was a great attitude of promoting and supporting a diverse group of people in fitness and cosplay. Embracing diversity and inclusivity fosters a positive environment in fitness, cosplay, or any space.
The panel blended the similar goals of fitness and cosplay, and connecting these hobbies to the "why." Cosplay and fitness is about having fun and feeling good about yourself and your body!
Heather shared her personal story of how she started in a negative place with fitness. Although upon reading the She-Hulk comics, she became inspired. In her own words, it "changed the way she looked at her body" and "now cared about getting stronger." You can read more about Heather's journey in the interview below!
---
Brushing off the Haters
A frequent problem in the cosplay community is the "haters." And not just in person at conventions – people take to social media to leave mean comments on cosplayers' posts. This translates to the fitness community as well. Because people incorrectly assume larger bodies are "unfit", they try to diminish plus-sized fitness professionals. Some people are even afraid to cosplay or go to a gym because of the judgement.
Heather and Rachel, the two fitness coaches in the panel, say that fitness is for everybody – meaning every body. The true is same of cosplay – cosplay is for everybody, regardless of background, identity, or body type. The panel touched upon modifying cosplay for you, whether that means changing the hairstyle or purchasing a ready-made prop online.
Regarding bullying and harassment, the panelists advised to not engage with the haters. They stated that cosplay should be for you and no one else. You don't need to be a copy of the character or consider cosplay a "lookalike contest" either – both which reference the pressure of perfectionism and obsession over details when it comes to cosplay.
And when it comes to haters, it's best not to engage with them. Instead, set boundaries for yourself, and surround yourself with people who support you.
---
Interview with Heather Boddy
What inspired you to host a panel about cospositivity? Like how did the idea come to be, how the panel was formed, etc.
Heather: "To be honest, I discovered the term "cospositivity" when I was interviewing a cosplayer named @jadevalkyrie for my podcast Love Your Bodd at SDCC way back in 2018. We were discussing body image and safe spaces for cosplayers, and she explained that cosplayers had coined a term for that called "cospositive." It blew my mind that there was a term for exactly what I was trying to do within the cosplay community. I added the word to my vocabulary and began using it to describe the type of cosplayer I was: A cospositive one."
When I was thinking about ideas for panels I wanted to host, I knew I wanted to discuss body image and fitness as it relates to cosplay, but in a positive way. Fitness and body image discussions can be so negative and shaming – like, "you aren't doing enough, change everything about yourself." So I wanted to use cospositivity to help promote an environment of "you are enough just as you are!" As well as "how you can be kind to yourself while reaching your goals?"
How has embracing cospositivity — and cosplay and fitness in general if you want to speak to that too — made an impact in your life?
Heather: Embracing cospositivity has impacted the way I view myself and society. Embracing size inclusion and diversity in fitness and in cosplay has played a major role in how I show up in the world. Diet Culture (or society valuing thinness and attractiveness over physical health and emotional well-being) has you thinking that YOU are the problem, like there is something wrong with you because you don't look a certain way. YOU are NOT the problem. Valuing thinness over mental and physical wellbeing is the problem.
The more I embrace and value inclusion, the better I feel about myself and about others. I've adopted a mindset that everyone is beautiful, unique, and has worth, regardless of what they look like. This is what I strive to teach whether talking about cosplay or fitness. 
How does cosplay empower you? always associate your cosplay with empowerment with the characters you portray and the message you send!
Heather: "Cosplay empowers me by allowing me to channel characters who have strong personalities with characteristics I either wish I had, or that I already see in myself.
For example, when I first started cosplaying as She-Hulk, I definitely wasn't as confident as I am now. She-Hulk helped bring out the confidence in me. Something I already saw in myself that I also saw in She-Hulk was her strength, her tenacity, and her 'other-ness.' I thought, "I NEED to cosplay her! We are THE SAME." And it empowered me to embrace those same characteristics in my everyday life – even the 'other-ness.'
She-Hulk taught me that it's not only okay to be different, but that it's okay to be CONFIDENT in what makes me different. That was huge in helping me feel more empowered in and out of cosplay. I also started channeling her in my workouts, which empowered me to push outside of my comfort zone in fitness – I don't think I'd be a fitness instructor if I hadn't started reading the She-Hulk comics."
What advice do you have for people who want to get into cosplay?
Heather: "My advice for anyone who wants to get into cosplay is to just do it! I am a cosplayer who buys most of my cosplays. I'm not particularly skilled at crafting and any skills I do have developed over time. So don't be afraid to do that, although it can be expensive.
Thrift what you can, borrow or buy from your friends, have crafting parties with other cosplayers, do whatever you can to keep it FUN! Remember, it's called Cos-PLAY!"
There are no comments yet, add one below.
Stay connected. Don't miss out!
Get new costume guides in your inbox once a month.
And don't worry, we hate spam too! You can unsubscribe at any time.