Lisina and Alcina: Olympian Ekaterina Lisina Brings Resident Evil 8's Lady Dimitrescu to Life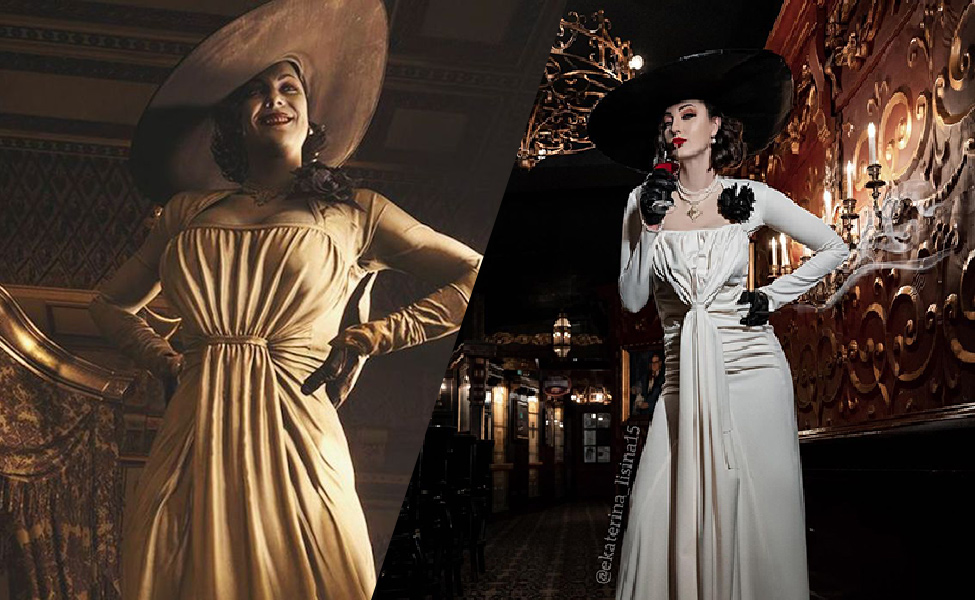 2021 has already brought us some amazing characters. But few have swept through the internet – and our collective interest – like Resident Evil's Alcina Dimitrescu. Capcom dropped Maiden in January as a preview for Resident Evil: Village and they seemed to know the character would be popular. The game's art director, Tomonori Takano, described Alcina as a "bewitching vampire". And whether through witchcraft or vampiric thrall, she's already gained a following waiting to greet her when Village drops in May.
Enter Ekaterina Lisina
Some of those fans didn't want to wait that long to meet Lady Dimitrescu however. Sure they had the Maiden demo, but that wasn't quite enough. So a few of them got creative and started reaching out to a model they felt could do justice to the stunning, statuesque vampire. They reached out to Ekaterina Lisina.
Lisina is a former Olympian who currently holds not one but two Guinness World Records. She is the tallest professional model in the world, standing at 6'9″ without heels, and she has the longest legs of any woman in the world. But the records aren't the only thing that set Ekaterina apart. She's also beautiful, talented, and completely dedicated to her work.
Interview with Ekaterina
As soon as we found out about Ekaterina's Dimitrescu cosplay, Carbon Costume reached out. And though her schedule is packed with shoots, we were fortunate enough to sit down with Ekaterina and ask her a few questions about her work, cosplay, and what magic brought together her to Dimitrescu. Ekaterina was in LA working on another project and she was so energetic when talking about her work that you'd never know she was just in from a day-long shoot.
"I have to go 100% on my projects," she said. "It is better to go all in than to go small."
Ekaterina brings that energy into everything she does. From her time on Russia's Olympic basketball team to her transition into a modeling career, Ekaterina gives it her all. It's the kind of dedication that turned a barrage of fan requests into a live action remake of Village's trailer.
Of course this is only a small taste of what Ekaterina has planned. A longer trailer is in the works, she told us. It's still in the editing process but she hopes to release it soon. And for fans that want more, she and her team are working on a storefront though the details are still being kept hush at the moment.
"When the trailer first came out I was looking at it and I was thinking it could be a nice cosplay," she said. "Then people started commenting on my Instagram, asking me to do the cosplay. It was, like, every other comment at one point."
Once Ekaterina decided to go through with the cosplay. she went all in. Lady Dimitrescu's dress alone took more than five fittings, each fitting lasting about an hour and a half. Every detail had to be as screen accurate as possible. Including, Ekaterina noted with a laugh, the Lady's chest size.
"I'm a very big perfectionist so if I do something I want to get as close as possible," she told us. "So I had to buy fake boobs off Amazon and hire a tailor."
Still some people weren't impressed. Though negative comments were rare, they were almost always focused on the size of her chest.
"It's like, come on guys. Some things from video games just aren't going to work in real life."
And Ekaterina would know. Though she is best known for a broad range of modeling work, Lady Dimitrescu is not Ekaterina's first cosplay. It's not even her first foray into the realm of creepy antagonists. She's cosplayed as the Other Mother from Coraline and taken a trip through Wonderland as Alice. And, she told us, there was more to come. The details on that project are under wraps as well because she wants to surprise her fans. But Ekaterina also said that won't be her last cosplay project.
And, she hopes, her current project won't be her only turn as Lady Dimitrescu. If Capcom ever had a public event and needed Lady Dimitrescu to make an appearance, Ekaterina would be happily answer their call.
Lady Dimitrescu's Cosplay Appeal
Takano's "bewitching vampire" didn't just cast her spell of Ekaterina's fans. Cosplayers all over the internet have taken up the Lady's look and the results are always stunning.
@Stellar.teddy has several videos of her Dimitrescu cosplay. They highlight different parts of the costume, the character, and the cosplayer herself who has several other fantastic cosplays on her channel.
@GodofNightvale took a different approach to the thirst that Dimitrescu tends to cause in people. She too has several videos of her Dimitrescu cosplay and in one she encourages the viewer to handle their literal thirst. Always a good reminder!
@Art.theclown even went so far as to recreate Dimitrescu's claws. They look eerily realistic and for good reason. Art is an experienced cosplayer with tons of looks on her channel.
@Nerdymixedpan took another unique approach. While she loves the character's current design, she feels that a southern belle accent would fit Dimitrescu perfectly. And we have to say, she has a point!
We're still months away from the release of Resident Evil: Village. And there's no doubt the interest in Lady Dimitrescu is going to keep building until we finally get the full game. But Ekaterina Lisina and the other amazing artists in the cosplay community are making the wait fun, filling it with the kind of fandom excitement that is contagious. And, who knows? Maybe you'll find yourself inspired to create a Lady Dimitrescu cosplay of your own.
There are no comments yet, add one below.
Stay connected. Don't miss out!
Get new costume guides in your inbox once a month.
And don't worry, we hate spam too! You can unsubscribe at any time.