Jamie Lee Curtis on "Halloween Ends" and How Much Laurie Strode Means To Her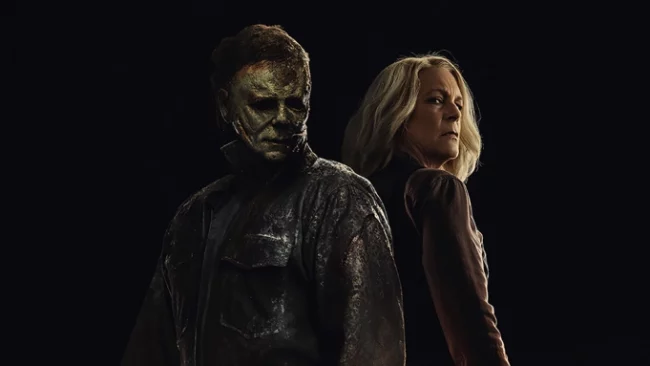 Halloween Ends — the night Jamie came to New York Comic Con!
The legendary Jamie Lee Curtis was the center of an exclusive panel for Halloween Ends, the conclusion of the iconic slasher movie series. She discussed Laurie Strode's journey from 1978 to 2022, anticipating her last appearance to finish Michael Myers once and for all. The panel was moderated by fellow horror actress and talk-show host, Drew Barrymore.
---
Upon walking on stage, holding up a mask of her face given to attendees, Jamie received a standing ovation. She was simply overwhelmed by the support.
Saying goodbye to the Halloween franchise will be hard for both the actress and the fans. "Endings are a bitch," she said. "I'm ready to end it, but I'm gonna miss you so much." She became choked up, to which she received an uproar of support from the crowd, full of applause and shouts of "We love you Jamie!"
At the start, Jamie claimed she treated Laurie like an acting role, calling it an incredible opportunity. After all, the part launched her acting career. She even joked she would've been more suited for a promiscuous character like Lynda.
John Carpenter had expressed she wanted Laurie to "vulnerable," which Jamie initially associated with "weak." She revealed the pivotal moment of understanding what that meant. She had attended a screening of the movie, and during the long shot where Laurie crosses the street to the Wallace house, where all is silent, a woman stood up and shouted what we all shout during a horror movie – Don't go in there! He's in the house! The rest of the audience joined in, and that made it click – to be vulnerable in a sense that you cheer Laurie on, and that you care about her.
It's clear that over time, the actress became invested in the character. "I wanted her to be believable," Jamie stated. "Laurie Strode is everybody's friend, daughter, sister — she represents innocence and kindness."
As the most notable final girl in all horror history, Drew asked about how Jamie prepared for intense scenes. Jamie seemed pretty indifferent — she saw no need to unwind from being chased by Michael Myers. Though she did prepare, saying "I numbered the scripts using a terror meter from 0-10." When speaking on the demands and hardships of the role, she cracked a joke: "The hardest part is getting the blood off…Dawn dishes; who knew?"
Another insider secret? Jamie wanted Halloween: H20 to be the original ending of the series, but the writers wanted the twist ending. Which as we know, involved Michael switching clothes with a paramedic, meaning Laurie decapitated an innocent man. Jamie expressed how she returned to the franchise because she wasn't satisfied with Laurie's ending.
"I said, 'OK if you're going to do that and it looks like Laurie has ended it and my audience feels like it's ended, OK I'll do it," she stated. "But, you have to pay me a lot of money in the next movie, and you have to kill me in the first ten minutes of the movie because I've now killed an innocent man and I can't live with that."
The final portrayal shows Laurie learning to live aside her grief, liberating herself from the fear and rage caused by Michael's brutal actions. Jamie cited inspiration from feminism, namely the #MeToo movement, and civil uprisings. "Haddonfield has turned against Laurie Strode, [who is] a victim," she said. The movie depicts "what violence does to people."
Following the events of Halloween Kills, the upcoming finale shows Laurie living with her granddaughter, Allyson, and writing her memoir. But when a young man gets accused of murder, the violence and terror returns. Now Laurie must confront the evil and put to an end.
Attesting to how much Laurie means to her, she said: "Jamie and Laurie have become woven together." The star meant that in a sense of herself, but also with the knowledge that she will forever be remembered for her role. "I wouldn't have a life without Laurie Strode," she confessed, expressing immense gratitude towards the fans. "It is the permanent ink in my life…because of you."
Perhaps our favorite quote from Jamie is in reference to Laurie's motto. "Don't give up is the motto of Laurie Strode." Indeed she hasn't given up, and neither have the fans in rooting for her victory. Halloween Ends comes out in theaters on October 14th, also available to stream on Peacock.
There are no comments yet, add one below.
Stay connected. Don't miss out!
Get new costume guides in your inbox once a month.
And don't worry, we hate spam too! You can unsubscribe at any time.