The Ugliest Holiday Sweater in the World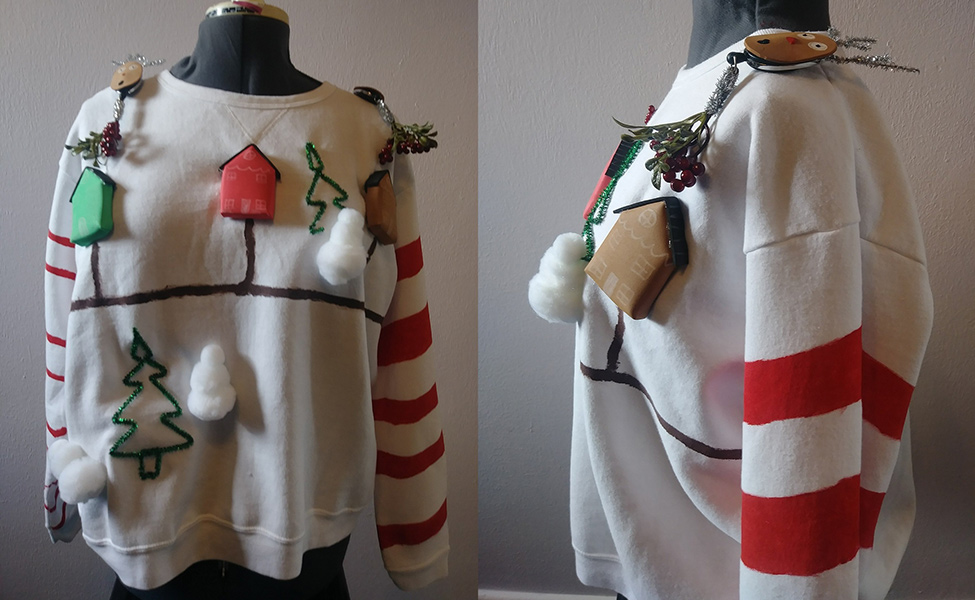 Almost everyone celebrates a holiday over the winter months. And each holiday has its own set of traditions. But there is one tradition – in America at least – that is starting to pop up all over the place: the Ugly Holiday Sweater. It started as the Ugly Christmas Sweater you wear to a holiday party or office contest. Some say the trend started in the '80s when graphic sweaters and busy patterns were all the rage. And that definitely seems to fit!
But today's sweaters have come a long way from the fashion of the '80s. And they aren't limited to Christmas. A quick Etsy search turns up a ton of Ugly Kwanzaa Sweaters and Ugly Hanukah Sweaters. Some sellers even have Ugly Yule Sweaters!
Of course if you want an Ugly Holiday Sweater, you don't have to buy one. You can make it! And chances are good any sweater you make yourself is going to be even better (or worse) than anything you can buy. That was my thought when I started making my Ugly Christmas Sweater. And though your sweater might be very different, you can use the same planning process and some of the same techniques found below!
---
Step One: Sketch It Out
Ugly Holiday Sweaters might look like pure chaos. But that kind of controlled chaos takes some planning. And with this project that all starts with your concept sketch.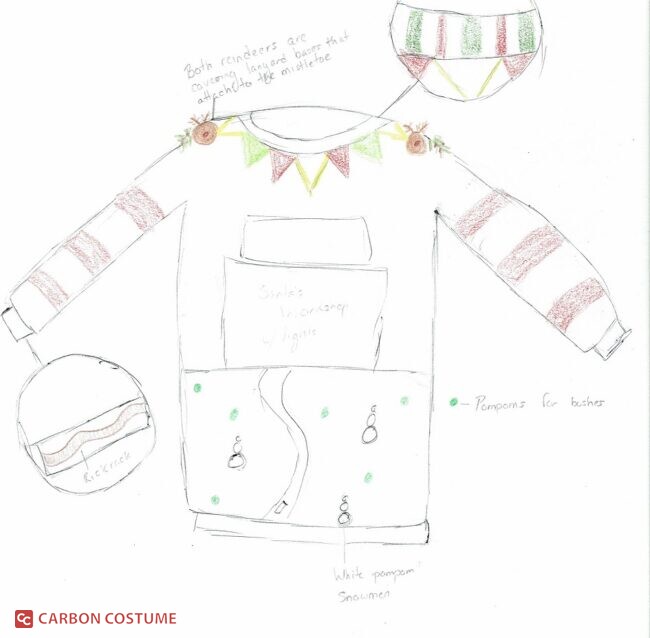 As you'll see later on, my sweater ended up differing a little from my concept sketch. This happens when your materials or capabilities change. Or if, like in my case, you find something you think will work better!
Concept sketches are more than just rough images, of course. You can note materials you want to use, ideas that might be hard to draw (like the retractable mistletoe clips on the shoulders), or alterations you need to make to your base sweater. This will come in handy for the next part of your planning process: collecting your materials.
---
Step Two: Gather Your Materials
If you've done any past DIY then you know how important it is to have a list in hand when you go to the craft store. Otherwise you end up finding everything you need for projects you didn't even know you wanted to do before you walked in! And, as I was reminded by the PAX 2020 cosplay panels this year, you never want to walk into a craft store without coupons either. Whether you're shopping online or in person, make sure you have your coupons ready to go. They can be a lifesaver on projects like this where you end up buying a ton of small, odd items.
Your supply list is going to differ from mine because it will depend on your design. My supply lists are spread throughout the article so the supplies for each part of the sweater are listed along with the associated projects.
---
Step Three: Prepare Your Sweater
After designing my sweater I decided that a basic white sports pullover was my best bet. One like this: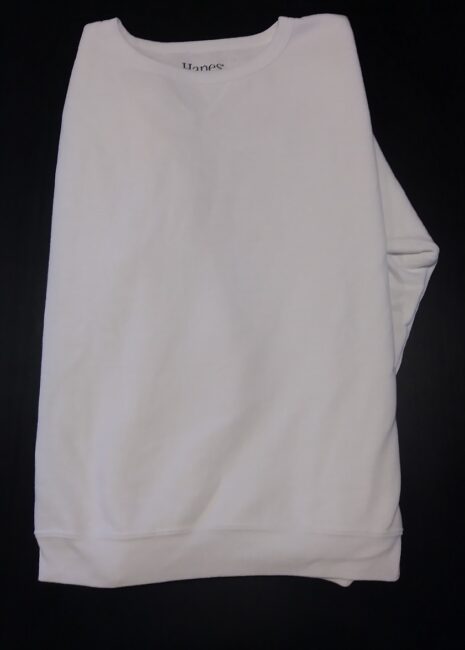 To get my sweater ready I cut down pieces of cardboard to fit inside the sleeves. I'll be repeating this technique while painting or gluing anything onto my sweater. This keeps the paint from bleeding from the front of the sleeve to the back. It also keeps the sleeves rigid, making it easier to paint or glue.
---
Step Four: Decorate Your Sweater
Paint Your Sleeves
Supplies:
You can start your decoration anywhere. I decided to start with the sleeves. Sticking with my design I chose to paint them in red bands like candy canes. Because it's an Ugly Holiday Sweater I wasn't worried about matching the stripes on one side with the stripes on the other. If they were different sizes are in different places that would just add to the Ugly Sweater vibe!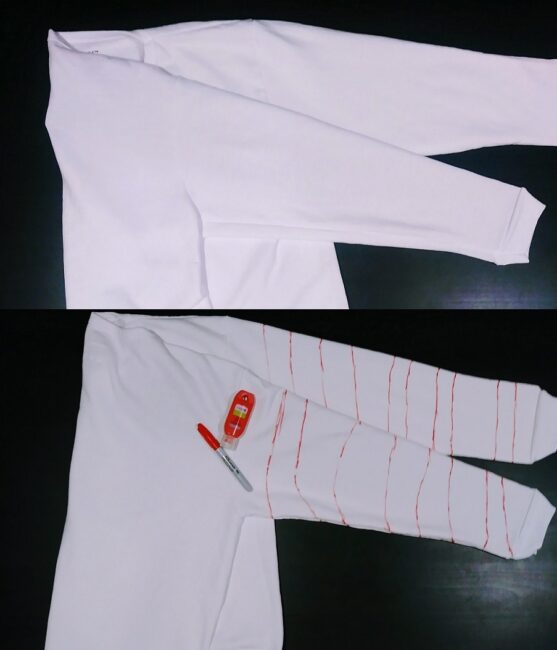 Once I had the lines drawn out, I went to work with the paint. I filled in the bands entirely. For the spirals, however, I just loaded up my brush and went over the drawn lines to make them thicker and a little more uniform.
This is where my sweater differed from the initial plan. Originally I planned on painting triangles around the neck and stripes on the collar. But after starting my 3-D foam village I had a change of heart. I wanted to leave space for other additions that I'll get to in the last part of the walkthrough.
---
Make Your Own 3-D Foam Village
Nothing says "Ugly Christmas Sweater" like 3-D houses sticking out the front of your sweater!
Supplies:
Every year Michaels puts out a ton of foam crafts that the whole family can enjoy. And every year I refuse to buy them. Between my cat and my kid, they'll break down before the holidays are over. But when I saw them on display this year I was hit with an idea: what if I put them on the front of a sweater?!
The finished houses were too big for my sweater but I took the idea and scaled it down. From there it was easy to mock up the sketch below and trace it onto crafting foam. Then I cut the shapes out with an X-Acto knife and glued them together using my Chandler glue gun.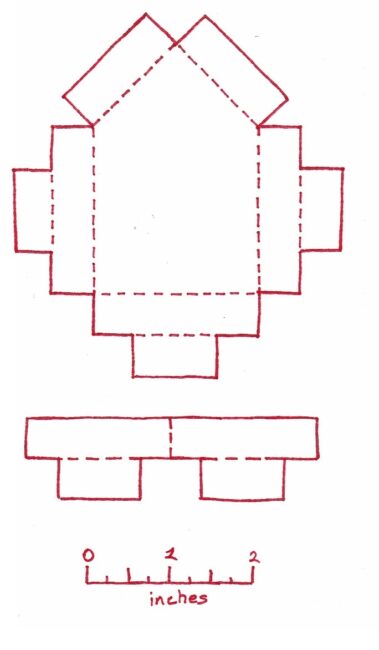 If you use the same template, cut out the whole thing and then fold along the dotted lines. This will create an A-frame house when folded along the inner line. The outer set of lines, when folded, will create tabs that you can glue to the sweater.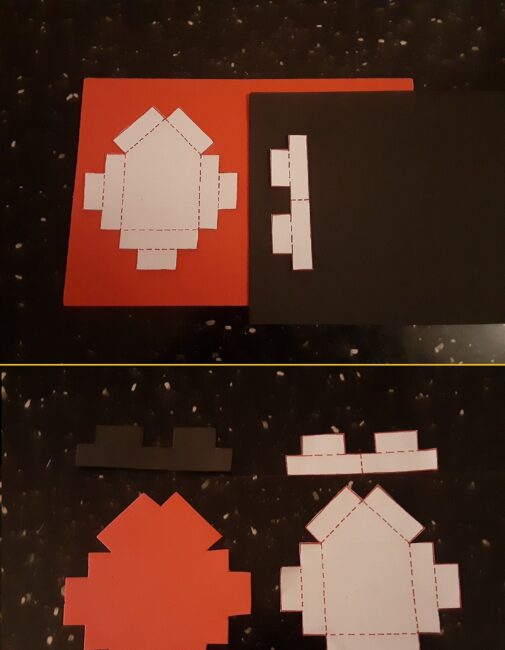 I wanted my houses to look like gingerbread houses or little elf houses so I took a white paint pen and drew in the details. A door, windows, some frills and snow drifts around the front doors.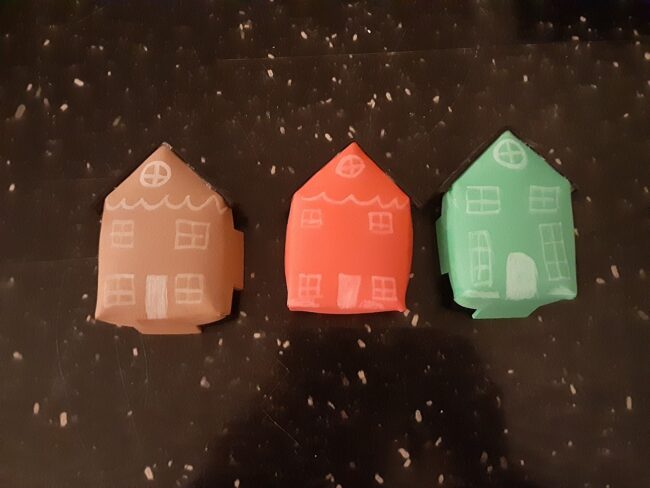 Once they were decorated I glued them to the sweater in a line, like a little neighborhood. Then I drew paths down to a road that runs across the chest of the sweater. Then I used white pompoms and leftover foam to make snow men. Pipe cleaners made for some rather gaudy Christmas trees as well. And with that my little village was complete! As you'll see in the completed pictures at the end of the article, the village isn't exactly to scale. That is all part of the Ugly Christmas Sweater charm!
---
Attach Some Mistletoe
This part was my favorite part to make: Retractable Reindeer Mistletoe Clips
Supplies:
Mistletoe is either the favorite part of a Christmas party or it's the party's worst nightmare. With these clips, you can take that magic with you everywhere! The clips not only add to the ugly factor of the sweater but they up the overlal "cringe" impact it has too. They're an absolute win-win.
The first step is to cut out the foam faces for the reindeer. So I laid down the lanyard clips and traced around them so I had circles slightly larger than the faces of the lanyards.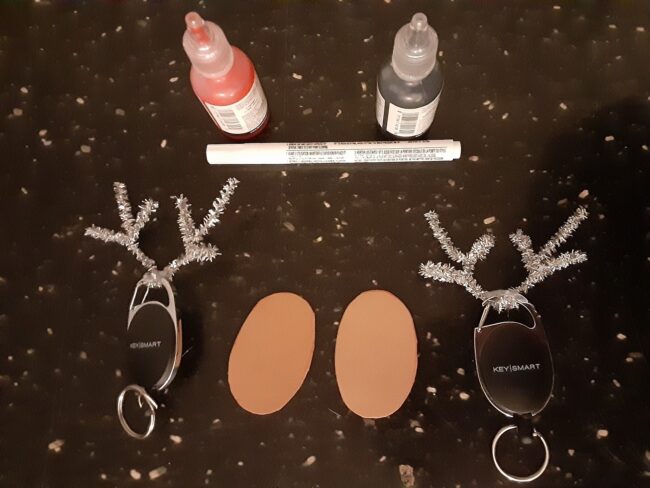 Next I painted on the faces. Rudolph has always been my favorite so I gave my reindeers red noses to go with their surprised expressions. While those dried I fashioned some antlers by twister together silver pipe cleaners that I glued to the lanyard bases. I glued the faces on once they were dry, they attached the mistletoe to the ends of the lanyards using glue and more pipe cleaners.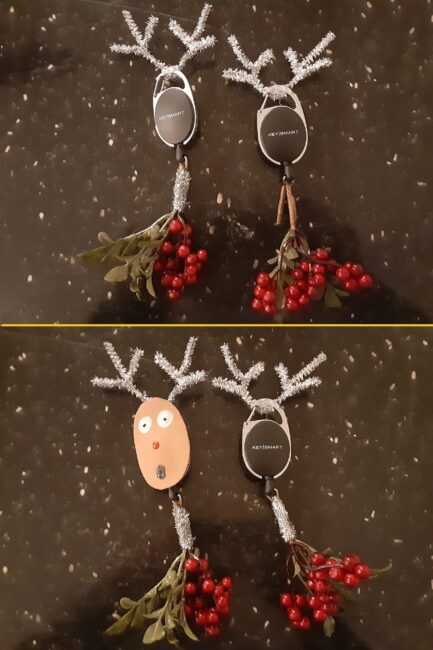 Finally I cut a small incision in each shoulder and painted on some fabric glue to keep the tear from getting worse. Then I clipped the reindeers in place. I'm sure they'll be a hit at my next holiday party!
---
Step Five: Accessorize
Ugly sweaters are – in their own way – glorious things. They can be the life of a party. But they can't carry that all on their own! If you're wearing an ugly sweater to a party, I suggest you accessorize to match! Try some candy cane striped leggings or add one some elf shoes and a headband of fabric reindeer antlers. You can even paint your face like a reindeer or with a starry night pattern with Santa's sleigh. Go wild and have fun with it!
---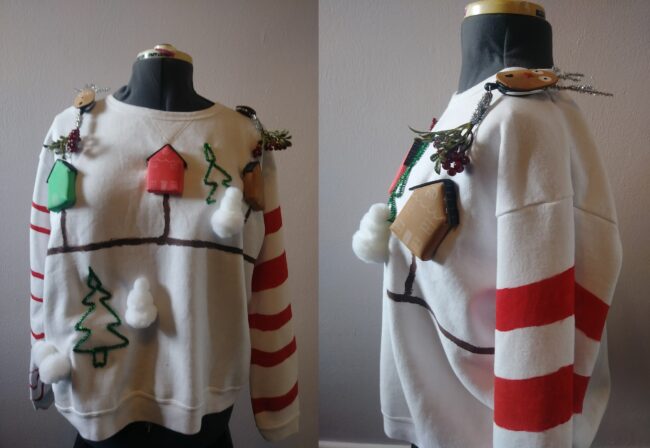 All of this comes together to make a horrendous Ugly Christmas Sweater. But there's always room for more. And that's the beauty of it! You can add on something new for each year. In my case I might add a lake toward the bottom of the sweater with a sled trail going down to it. Or maybe I'll include a miniature Santa flying over the village. And of course I can make the village bigger whenever I want to add to the sweater. One day I might even include lights!
---
Like I said before, it's all about having fun and expressing yourself. There's just about no limit to what you can put on your ugly holiday sweater!
Stay connected. Don't miss out!
Get new costume guides in your inbox once a month.
And don't worry, we hate spam too! You can unsubscribe at any time.