Cricut and Cosplay: A Bad Policy Breaks Down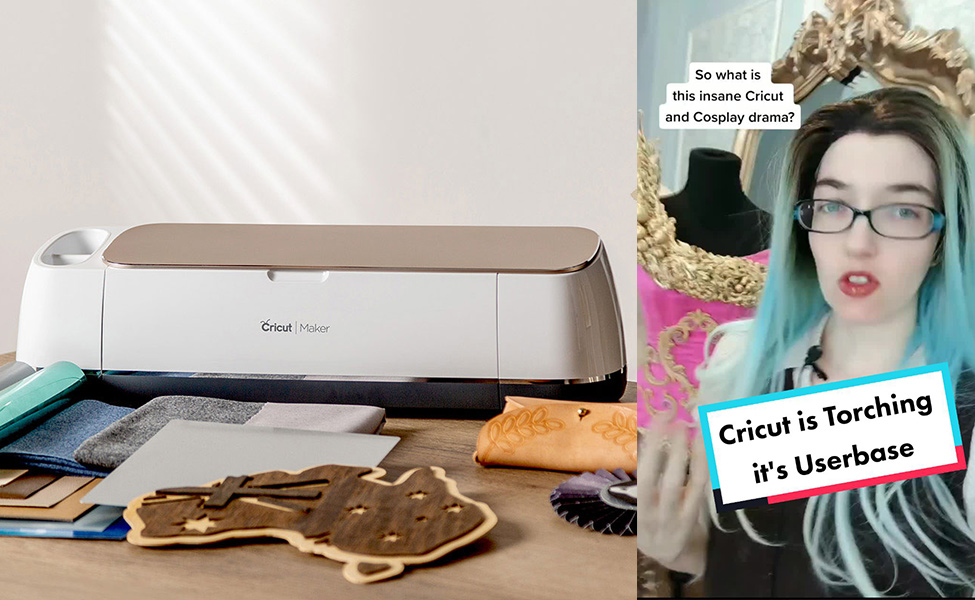 Cricut's New Subscription Plan
The last twenty years has brought a whole fleet of maker machines, some of them straight out of a cosplayer's dreams. One of these is, of course, the Cricut. From customized mugs to precision etching on costumes, the Cricut line is a favorite of the cosplay community, excelling for precise, programmable cuts in fabric, felt, vinyl, leather, and wood.
That changed earlier this month, when the company announced their plans to limit the number of designs users could upload in a given month to their Design Space app.
Uploading to Design Space is necessary to fully utilize Cricut devices. What's more, this change would affect existing owners, who had purchased their Cricuts with the knowledge that no paid subscription was necessary to make use of them.
Where unlimited uploads were once allowed, free users would be limited to uploading 20 designs and, potentially, printing even fewer. These limits would be easily exhausted in a single cosplay project. To upload more would require a paid subscription ranging from $95 to $118 per year.
Backlash from the Cosplay Community
Reactions from the cosplay community were swift. Cosplayers felt this move was an underhanded bait-and-switch.
TikTok user CowButtCrunchies posted a video on March 15th explaining why the company made the move: stock prices. She explains that three weeks before announcing the change in their business plans, Cricut filed to take their company public and that they planned to increase the value of their stocks "through more machine sales and subscription fees."
Another user, StarsOfCassiopeia, posted videos recommending alternate machines such as the Brother ScanNCut and Silhouette Cameo in the event Cricut went through with their plans.
Twitter users also had a few things to say. One user, @UncleJordan, shared a petition started by Jig Street Crafts.
Please sign the petition! I bought maker bundle, it has 13 materials to test on. I'm now limited to 7 designs after doing tests unless I pay a shady fee!? I just want to play with the #cricut I already payed for! #cosplay #etsy https://t.co/6zzjZqF3Wz

— Uncle Jordan (@UncleJordan) March 14, 2021
In only a week the petition gained over 63,000 signatures. Crafters of all kinds added their names in the hopes that it would change Cricut's mind. And in the end it seemed to work!
Cricut Backs Down… For Now
Thankfully, after massive backlash from the crafting community and an unsuccessful attempt at a walk-back, Cricut has canned the idea completely. Ashish Arora, Cricut's CEO, issued a statement early on March 18th, 2021 cementing the company's decision to set aside subscription-based access:
"Right now, every member can upload an unlimited number of images and patterns to Design Space for free, and we have no intention to change this policy. This is true whether you're a current Cricut member or are thinking about joining the Cricut family before or after December 31, 2021."
Arora stated that her team "spent the week listening, learning, and taking in a lot of feedback" in order to reach the decision. And while the feedback comes from the wider crafting community, there is no denying that cosplayers were incredibly vocal.  As Twitter user @so_scripturient said "Cosplayers Rejoice"!
Cosplayers rejoice! https://t.co/kcGMxLGPfo #Cricut #cosplay

— Sam 💖💜💙 (@so_scripturient) March 16, 2021
Cricut might have abandoned their plans for a subscription service. But with the idea in the air, there is a chance they will pick it up again down the road. And as 3D printers and other production machines make their way into cosplayers' homes, there's a chance Cricut won't be the only ones. It will be interesting to see what the future holds for makers in cosplay spaces.
There are no comments yet, add one below.
Stay connected. Don't miss out!
Get new costume guides in your inbox once a month.
And don't worry, we hate spam too! You can unsubscribe at any time.