Jason Voorhees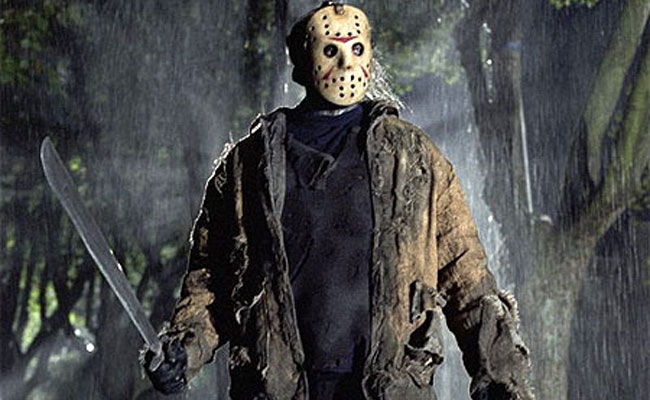 In the Friday the 13th series, Jason Voorhees is a killer on the loose, mostly in camp sites but sometimes in outer space. That iconic hockey mask is worn to hide his disfigured face. Just don't confuse him with Michael Myers, he really hates when that happens.
About the Author
Tom
On television, film, music, and all the rest.
Related Posts
In Friday the 13th Part VI: Jason Lives, Tommy Jarvis (Thom Mathews) has finally stabilized after killing Jason Voorhees as a boy and being institutionalized over the trauma causing him to assume Jason's hockey mask. When Tommy goes to view Jason's corpses to get closure, lightning accidentally strikes the body, re-animating him as a zombie with supernatural powers.

Jason Voorhees is one of the most iconic figures in horror history, but people forget the first killer of the Friday the 13th series, his loving mother Pamela Voorhees. Seen appears in the first Friday the 13th as the true Camp Crystal Lake killer, acting out in wrath over her son being supposedly killed years before. With a variety of weapons to choose from, this makes an excellent mother/son costume couple.

After finally being defeated and put to rest by Tommy Jarvis, Jason Voorhees is a threat no longer. That is, until Tommy and his friend exhume the corpse just to make sure the Crystal Lake killer is dead – inadvertently reanimating him during an electrical storm. Now Jason lives again and Tommy races to warn the local residents. When no one believes him, it is up to Tommy once again to put an end to Jason's wanton destruction.

Jason Voorhees is the main antagonist of the Friday the 13th franchise and one of the 2 main antagonists of the crossover film Freddy vs. Jason, along with Freddy Krueger. He was a silent, undead and unstoppable killing machine. Jason was an iconic madman who haunts Camp Crystal Lake and the surrounding area, driven to slaughter anyone he encounters by a burning need to avenge the death of his beloved mother, Pamela Voorhees. Here he wears the burlap bag instead of his iconic hockey mask.

Following Friday the 13th Part 2's events, the next day on Saturday the 14th, 1984, Jason Voorhees having survived Ginny's machete attack escaped from his makeshift shack. Nearby, he found a lakeside store with owned by a man named Harold and his wife Edna, and entered looking for new clothing. While inside, he murdered the old couple by slamming a meat cleaver into Harold's chest, and stabbing a sewing needle into the back of Edna's neck. With the couple dead, Jason stole a dark-green worker shirt with a white under-shirt, silvery-grey cargo work pants, and black boots. A short time after Jason fled the scene, he found the uninhabited lakefront property Higgins Haven where he would take refuge inside the nearby barn to nurse his wounds. Some time later, the owner Chris Higgins had returned to the property with her boyfriend Rick, and her friends, Vera, Shelly, two stoners named Chuck and Chili, and Debbie who is pregnant with her boyfriend Andy, to spend the weekend. Following them was a frightening homeless, religious zealot named Abel who showed them a severed eyeball and warns them to turn back. The group arrives at the ranch not knowing that Jason had holed up in the barn.

The Red Devil is the masked killer preying on the sorority members of Kappa Kappa Tau in Scream Queens. Their identity is unknown but some are starting to point their fingers at Chanel Oberlin.
There are no comments yet, add one below.