Interview with Maggie from Costumer's Guide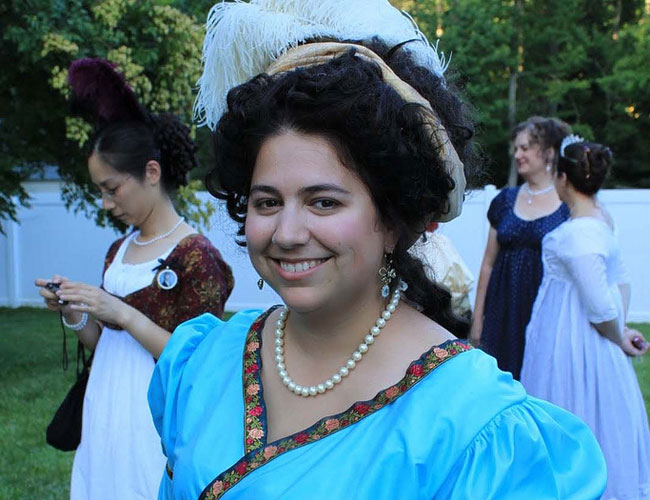 Meet Maggie. She's the force behind two amazing resources for costume enthusiasts, the Star Wars-themed Padawan's Guide and the all-inclusive Costumer's Guide. Maggie was kind enough to sit down with us and reflect on her extensive experiences in the online costuming world.
Can you tell us about why you created your sites?
It all started with a not terribly well-regarded movie, Star Wars, Episode I: The Phantom Menace. My friend Gail and I were very taken with the Jedi costumes and decided we had to make them for Halloween. We watched the movie way too many times, noting seam placements – and then we turned to the internet. It was much younger and less well-developed in 1999 — we found one website on the new Jedi costumes, Amber's Jedi Meditation Chamber. People had contributed to her site and it truly was a shared knowledge base. And we made awesome Jedi costumes using the tips and hints on Amber's site.
Speaking of "found items" we also made our own lightsabers by going to a hardware store and just fitting parts together. I remember people at the story trying to "help" us, because they were confused as to why we had random pieces from different departments in the store.
The tantalizing hints of what Episode II might provide costume-wise were just being revealed and I thought it would be fine to do my own website focusing on Episode II costumes. Which is what I did. When I sort of expanded to Episode III and Episode I, I actually wrote Amber to make sure I wasn't stepping on any toes. With her blessing, I eventually made my site about all Star Wars costumes. The main focus was on the idea of research — collecting images, dissecting how
the costumes were put together, and providing hints on how to make them. Obviously this is not something I did on my own. Though I did write extensively about my own costuming efforts, by this time there was a community of people who was also interested in studying these costumes. One of the main places they hung out was on the forums on theforce.net — the costume and props forum members contributed a great deal to my site and I tried to capture and distill the discussions that took place there.
Capturing all this info was nearly a full time job and I spent a lot of evening hours working on the site!
Once the Star Wars Prequel costume excitement died down a bit, I was taken by the costumes in another movie — Ever After. Which spawned another website, everaftercostumes.com. Ever After proved the gateway "drug" into other movie costumes — at which point I started yet another site that was meant to cover, well, any movie I was interested in researching. This grew and grew and I learned a ton about sewing, and about historical costumes, in particular.
In the last few years I've become a bit burned out at spending so much time on the websites, especially because the internet itself has grown in leaps and bounds. It used to be rare to find exhibit photos and promo images of any movie — but now studios put out high res stills for everything that comes out and costume exhibits are much more common. With things like Flickr and Facebook, people can share this info in a way that didn't exist when I started out. Which is pretty exciting — to see the costume community grow so much and have access to more resources.
What do your visitors use your sites for?
I have a pretty sizeable image archive, which lots of people use in researching the costumes they want to make. And I also have a number of tutorials written by myself, and other costumers that are really popular. Two of the costumes I get a lot of email follow-up questions about are Princess Leia's embroidered Bespin costume from Empire Strikes Back (mine took me 9 months to embroider), and the beaded "Jump" dress from Titanic.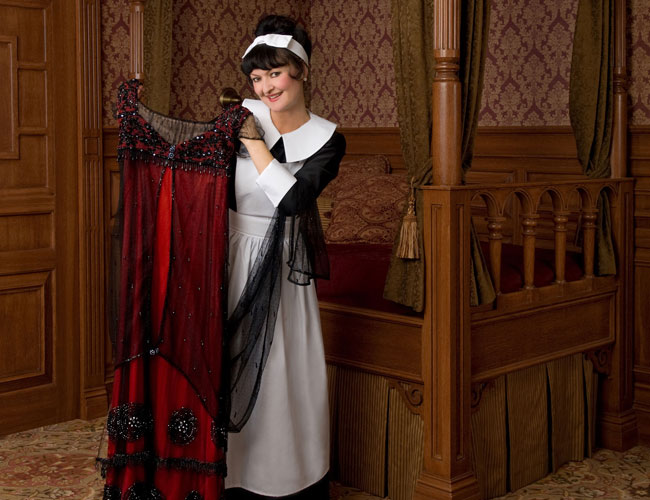 In addition to all the others sites, I have a site where I have pages about every costume I've made — and I also have a blogspot that meshes with that costume site, but is easier to update.
What does it mean for a movie to have great costuming?
It can mean a lot of different things. For myself and a lot of other costumers, sometimes a costume or a character just catches you. Sometimes it's a particular designer's aesthetic, ie, Colleen Atwood has a certain aesthetic that appeals to me (and I know I'm not alone here). I also particularly like period costumes. I look at a movie like Marie Antoinette or Titanic, and I want every piece in it.
That said, for a movie to have great costuming, the costumes have to help clue the audience into who characters are — they help tell the story. And there are many wonderful movies and designers that do just that — but aren't necessarily something I'd want to wear myself.
What's a recent movie or TV show that has impressed you?
I adore the costume design (by Janie Bryant) in Mad Men. A blog I read, Tom and Lorenzo, does an analysis of every episode and it's actually been really educational. Once you start thinking about the costumes as giving you information about the characters and the story, you can really get an appreciation for just how good some of these designers are. And how subtle but influential things like color and print can be. As someone interested in costume design, it gives you a whole new level of appreciation for the story being told.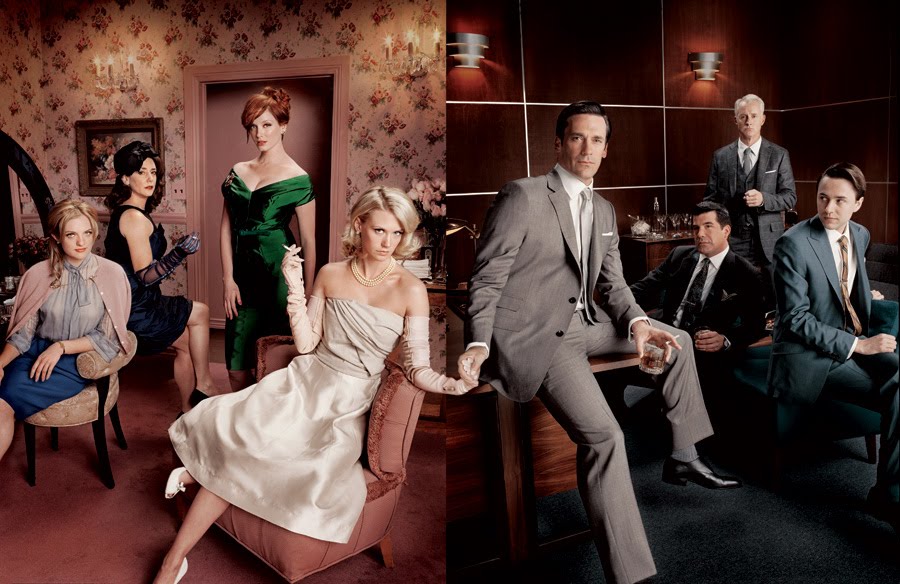 But that for me is more cerebral, and not totally related to which costumes I want to make. I don't really want to research and replicate the Mad Men costumes. And I don't know many people that have — but has Mad Men brought back vintage and are more people wearing mod styles? Absolutely. It's just more inspiration than recreation.
Movie-wise, I thought all the Oscar nominees were amazing this year (but they usually are!) — I wished there had been more love for both Mirror, Mirror and Snow White and the Huntsman. Fantasy doesn't often do very well, but the costumes for both those movies (regardless of the quality of the films themselves) were amazing. Eiko did Mirror, Mirror — she may be best known for Bram Stoker's Dracula — and she's a true artist. Mirror, Mirror was also her last film — she was fighting cancer while working on it, so I would have loved to have seen her get a posthumous Oscar. And Colleen Atwood did Snow White and the Huntsman and her designs for the evil Queen were inspired — they were so unusual in their design and in the materials that were used. Talk about found objects again — the queen's costumes used motifs like bird skulls and beetle wings.
What do you think about characters getting the Carbon Costume treatment?
This is where I actually started — long before I was into Star Wars and costuming, I went to a friend's Star Wars (original trilogy) viewing party. She was a big fan and wanted us all to wear costumes. We were all college kids with no budget, so all of our costumes were made from found things. Our Darth Vader was a short girl who wore a black cape, and a painted-black hockey mask. Our Ewok was wearing her grandmother's fur coat and hat. Luke wore a bathrobe and had a paper-towel tube light saber. My princess Leia costume was a piece of white fabric folded in half with a neckhole. Yeah, really budget. But Star Wars is so iconic that you could still tell who we were supposed to be. And we had a great time. So I am all in favor in starting with what you have available.
And one more story just to show you how it is the idea of a costume and not necessarily the complexity that makes something recognizeable…
My friend and I… actually, funnily enough it was Gail, who I mentioned earlier… were at Balticon. This was many years after our first foray into Jedi costumes. I was wearing my Leia Bespin costume that I'd spent 9 months embroidering and was about as screen accurate as you could get. Gail (for fun) was wearing a Princess Leia costume her mom had made her in high school. The white dress was not screen accurate and never would have passed the Rebel Legion's costume standards. Her own hair was in two small buns, no hairpieces. And she'd made herself a belt out of cardboard that she'd drawn the belt details onto.
And as we stood there together, people kept coming up to use and saying "Hey, Princess Leia!" and asking for a picture with Gail. :-) My poor Bespin costume — I love it so much, but it's not the most recognizeable. At another Star Wars museum event, I had a woman insist that I wasn't Princess Leia because I wasn't wearing buns. "You don't have the buns to be Princess Leia," has since become a catch phrase with my friends.
Bottom line is, make costumes for yourself — do what makes you happy and what is fun for you, and if that means doing something with a budget or a beginner skill level, that's perfectly ok!
Stay connected. Don't miss out!
Get new costume guides in your inbox once a month.
And don't worry, we hate spam too! You can unsubscribe at any time.