gregg araki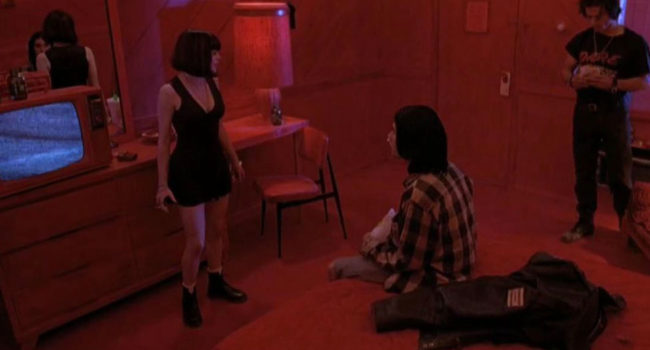 Amy Blue is the femme fatale 17 year old cynical chick from Gregg Araki's 1995 indie film The Doom Generation. Which was the start of Rose McGowan's career and has recently gained a cult status in the past few years.
Amy's style definitely resonated with her personality and scenes, as well as the rest of the plot. There are a number of outfits that mirrors teen angst and teenage innocence, but the one that stands out to say the least is her signature black mini dress (which is featured on about every poster regarding the movie.)
To pull off this look, You'll need: a simple black mini dress, a pair of rough combat boots and white socks, a heavy but bulky leather jacket (Amy's has a Chicago Police patch on the arm sleeve), a pair of ivory pearls and/or pearl chain with a single silver ring attached, silver band rings, along with some geometrical plastic ones, black lace bra and panties, and of course: a sleek dark brown/black bob with a piercing skull ring along with the word 'kill' either written or carved into your knuckle.