Search Results for Marvel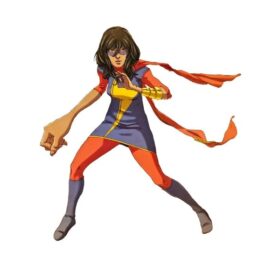 …lated activated by a similar mist. Young and enthusiastic, Kamala is a huge fan of superheroes, especially Carol Danvers. She goes onto take the mantle as the newest Ms. Marvel. Iman Vellani will portray Ms. Marvel in her self-titled, live-action show coming later this year on Disney+….

…Captain Marvel (Brie Larson) is the superhero identity of Carol Danvers, a former U.S. Air Force pilot whose DNA was accidentally fused with a Kree, which imbued her with superhuman strength, energy projection, and flight. When Earth is caught in the middle of an intergalactic conflict between two alien factions, it's Captain Marvel to the rescue….

…Carol Danvers (Brie Larson) is the human-Kree hybrid superhero known as Captain Marvel. She was a US Air Force test pilot before exposure to alien technology changed her DNA. Now she is a powerful superhero with a strong will, a confident personality, and a great sense of fashion. This movie-inspired look taps into '90s grunge with a white Nine Inch Nails t-shirt, high waited jeans, and some great leather accessories….

…n? Then the "I'm Just a Civilian" starter pack is for you! In almost every Marvel movie, one of our cherished Avengers dons a baseball cap, a hoodie, and a pair of sunglasses to blend in with their surroundings. Depending on whether you are trying to emulate Tony Stark's Iron Man, Steve Rogers' Captain America, or another member of the team, you can play around with the color of your hat, your glasses, and what you wear beneath your hoodie or jack…

Monica Rambeau (Teyonah Parris) is a character in the hit Marvel Disney+ series, WandaVision. We first met Monica as a child in Captain Marvel as the daughter of former pilot Maria Rambeau and goddaughter of Carol Danvers. As an adult, she joined S.W.O.R.D., an extra-governmental intelligence agency founded by her mother. In WandaVision, we discover Monica was one of many who disappeared in the snap. She reappears in the hospital, as she accompan…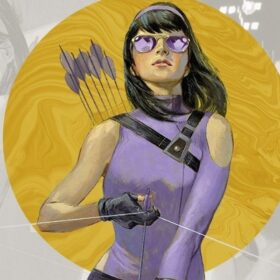 Kate Bishop is a character in the Marvel comics. She fights Russian mobsters alongside her best friend, Clint Barton, where the two of them are both Hawkeye. Not to mention they share the same sarcasm and ownership of Lucky the Pizza Dog. Like Clint, she is a master archer and melee fighter. She is a member of the Young Avengers as Hawkeye in the shared Marvel Universe, where she becomes the third character, yet the first female character, to tak…

Namor, also known as Namor the Sub-Mariner, is a character from the Marvel comics. His first official appearance was in Marvel Comics #1 published in 1939. As the son of a human sea captain and the princess of Atlantis, he is a mutant from a race of mermen. His abilities include super strength, flight, and aquatic abilities. He's either portrayed as an antihero or a villain seeking revenge on land dwellers. While mostly associated with the X-Men,…

Miss America, or America Chavez, is a superhero in the Marvel comics. Raised by her parents in the Utopian Parallel, she absorbed her powers from Demiurge's magic. Her abilities include super strength, super speed, and flight. Another one of her abilities, star blast, projects a star with an incredible energy blast that was capable of wounding Captain Marvel! Miss America is on the current roster of the Young Avengers. Additionally, she makes his…

James "Jimmy" Woo (Randall Park) is a character in the hit Marvel Disney+ series, WandaVision. He is an intrepid FBI agent who first starred in the Ant-Man and the Wasp, tasked with monitoring Scott Lang's house arrest. He actually appeared in the comics before his screen debut in Yellow Claw #1 by Atlas Comics, the predecessor to Marvel. His latest case is the missing town of Westview, New Jersey, which he is currently investigating with Monica…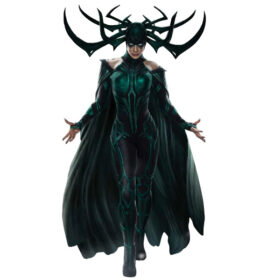 Not to be confused for the Norse Hel, Marvel's Hela is a woman all her own. Played by Cate Blanchett she is the goddess of death, Odin's former executioner and the oldest child he kept secret from both Thor and Loki. His death released her from her exile and triggered Ragnarok, the destruction of Asgard. Her arrival costs Thor his hammer, the Asgardians their home, and Hela her own life. Despite her end, she is still considered one of Marvel's mo…