Neo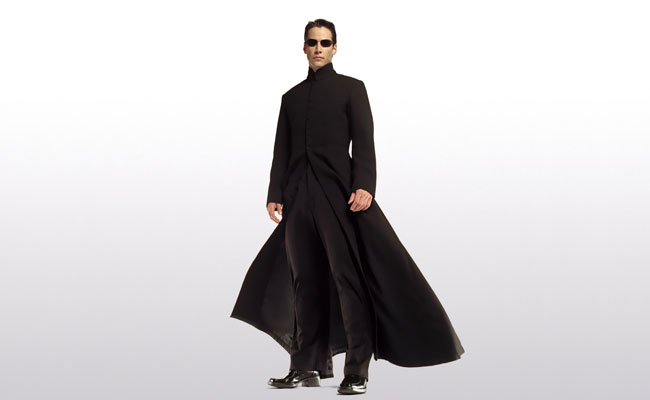 In The Matrix, Neo (Keanu Reeves) is a computer programmer by day and a hacker by night. After he encounters another hacker named Trinity, he soon goes down the rabbit hole, with Agent Smith in hot pursuit.
About the Author
Tom
On television, film, music, and all the rest.
Related Posts
In the first episode of the animated scifi anthology series Love, Death, and Robots, called Sonnie's Edge, Wes (voiced by Omid Abtahi) along with Ivrina are friends of Sonnie. After they find Sonnie brutally assaulted by a gang, Wes uses his hacking skills to transfer her consciousness into a bio-beast named Khanivore which battles in underground "beastie" deathmatches and seeks to exact revenge.

In Overwatch, Sombra is a notorious hacker who worked for Talon, and before that, the Los Muertos gang. Sombra uses her stealth and hacking abilities in-game to frustrate her opponents. Her unique style includes a purple and black ombre color scheme outfit, highlighted undercut, and toe shoes. To complete Sombra's mysterious look, you should also follow this Sombra makeup tutorial.

"V" is the name given to the player character in the upcoming CD Projekt Red RPG video game Cyberpunk 2077. It is based on the Cyberpunk 2020 tabletop game created by Mike Pondsmith. V is a mercenary living in Night City, a dystopian American megacity in the Free State of California. This guide is based off of the default V who appears in the E3 2019 trailer and cover art.

Johnny Silverhand is a central character throughout the tabletop game series Cyberpunk and a core character in the CD Projekt Red game Cyberpunk 2077, where he is portrayed by Keanu Reeves. Throughout the game, the player character V will be haunted by the "digital ghost" of Silverhand, and he will prove to be an important part of the game's narrative.

Itaru Hashida, also known as Daru, is an experienced hacker in both software and hardware technologies from the Steins;Gate visual novel and anime series. He is also well-versed in things pertaining to otaku culture. He is a good friend of Rintaro Okabe and helps him with his Future Gadget Lab projects. His design is touched up in Steins;Gate 0, now sporting a more professional attire. Steins;Gate 0 is a sequel series set in an alternate future to the original's ending where Kurisu remains dead and the threat of World War 3 looms closer and closer.

In the third episode of LOVE DEATH + ROBOTS called "The Witness", a woman who just gets off her shift at a strip club witnesses a brutal murder across from the hotel she's staying at. When the murderer spots her, a game of cat-and-mouse begins through the streets of a surreal city. For the Witness's makeup, apply makeup messily on your face and sparkly purple paint liberally on your arms.
There are no comments yet, add one below.