Search Results for Medieval

…In Watchmen, Hooded Justice, real identity Will Reeves, is the first ever masked vigilante, a charter member of the Minutemen, and the inspiration for many of the earliest superheroes. He wears a black hood and noose around his neck, evocative of both a medieval executioner and the Ku Klux Klan members he fights against. He deals his own brand of justice with great brutality….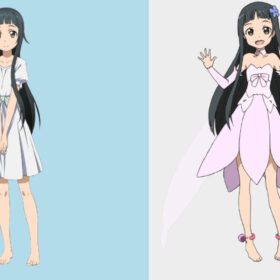 …e, and a more complicated pixie-inspired outfit when she is fulfilling navigation duties in ALfheim Online. Purchasing the pink cosplay dress can be pricey, and doesn't come with the necessary accessories, so altering a medieval-inspired dress with an asymmetrical hem by removing the sleeves can help evoke the same look, if you're willing to be a little crafty. Similarly, stretchy pink bracelets can be worn to mimic Yui's anklets….

…e, and vest; and one that incorporates a more adventurous sheer lace top that reminds me of one of Katie McGrath's more medieval roles….

…ir. To recreate this look without trekking deep into a cave of your own, start with a black shroud costume. Use black "creepy cloth" wrapped around your shoulders as a shawl to add to the shroud's tattered look. Black medieval pants and boots go under the shroud while temporary white hair dye gives you the look of an ages-old mystic. Add some branches to your shroud and perch a raven on your shoulder to complete your costume!…

…a fox tail, and fox ears to mimic Robin's look. In both cases you'll want medieval-style shoes, a green tunic, a broad leather belt, and a yellow Robin Hood hat. The hat's color is key because in most versions with a similar hat it is green. The yellow sets this aside as Disney's classic Robin as much as the fox tail does. Finally you'll want a bow and arrow as well as a quiver. As with all weapons, however, make sure the they're allowed at the c…

…amount of wrapping. After putting on the White Gothic Dress fold the Black Medieval Cowl around your waist so that the fabric goes a bit above your waist and falls down to your lower thigh. The cowl has a pin but if you want extra security I suggest using safety/dress pins where you feel is necessary. The you will wrap the Wine Red Sash over the black cowl. Use the sash to cover up the cowls pin if it is very visible. The sash should go a bit abov…

…Breach. It is humanoid and appears dressed as a surgeon from the European medieval era. Unfortunately this is not a doctor that heals. Any human it touches becomes a reanimated corpse that is bound to do the will of SCP-049. Although SCP-049 is itself largely unknowable – since getting too close can turn you into an undead puppet – dressing up as SCP-049 is relatively easy. All you need is a black hooded cloak or robe, a grey plague doctor mask,…

…c The Simpsons and beloved Futurama with this new animated series set in a medieval fantasy realm. You've got the central trio in Princess Bean, Elfo, and Luci, supported by the likes of King Zog, Queen Oona, and Sorcerio. We're looking forward to the second season, which has already been confirmed by Netflix. See all Disenchantment costume guides… Overwatch Overwatch adds to to its eclectic lineup of murderous heroes, in the past year adding Brig…

…your own props. But it'll be well worth it. Especially if you're a fan of medieval or fantasy cosplays! Most video games make for great group costumes, of course. But Inkulinati is unique even in that regard. Are you going to be a knight? How about the snail he's fighting? Maybe you'd prefer to be the nun or monk who illustrates the manuscripts. Or any one of the fantastical creatures that fill up the margins of ancient texts. And it doesn't matt…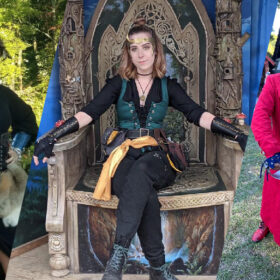 …thic elf ensemble. Meg (@megarahopecosplay) and Nick (@nickwolfphoto) as a medieval Rogue and Gambit. Photo: Megara Hope. Allie (@regalreigncosplay) put together a Black Widow themed pirate costume for Pirate Weekend. Was this part of the Snyder cut? Walter (@kidkryptonite89) wears a pirate cosplay inspired by Superman. Patrick shows off his hand-made cape for his original DnD character. Ahoy, we caught the Red Pirate (@the.redpirate) hanging by t…