Bungo Stray Dogs
Akutagawa (voiced in Japanese by Kenshō Ono and in English by Brian Beacock) is one of the semi-antagonists turned reluctant part time good guy in the anime/manga Bungo Stray Dogs.
Raised to fend for himself and his sister Gin on the streets, Akutagawa grew up with a great distrust for people, but also the need to be seen as worthwhile in the eyes of people he looked to for advice. The downside is this person was Dazai, so it left him with a rather large complex for constant approval after a while.
While mainly a part of the Port Mafia, through Dazai's connections and in response to a larger growing threat concerning both them and the Armed Detective Agency, Akutagawa has been assigned to work with Atsushi under the title of Shin Soukoku (New Double Black). Neither of them are very happy with this, but they're figuring it out.
Much like Atsushi, Akutagawa has rough, choppy hair, though his is pure black with white tips at the ends of the front bits. His eyes are a cool grey.
The outfit that he has is a bit special in terms of composition. While the base layer is a simple fancy ruffled shirt, black pants, and black shoes, the high collar black jacket he wears overtop acts as a conduit for his ability, Rashoumon. While it is not bound to that coat in particular, it is the one we generally see him use it with.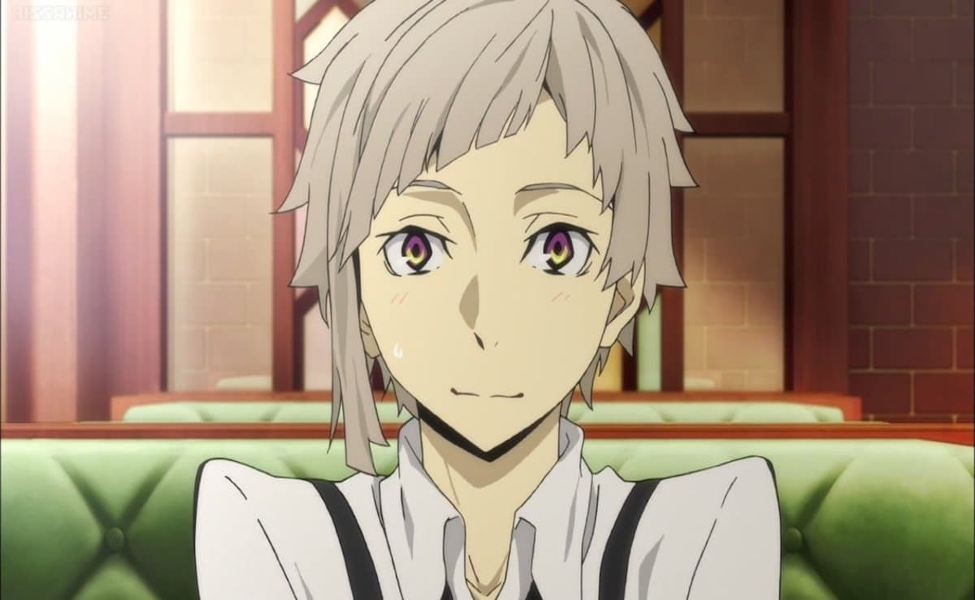 Atsushi (voiced in Japanese by Yūto Uemura and in English by Max Mittelman) is the main character of the anime/manga series Bungo Stray Dogs.
Coming from a difficult and painful past in an orphanage, Atsushi is now a member of the Armed Detective Agency, able to use the power that he used to fear, when he was unaware of it. He is able to fully form-shift into a white tiger, which comes with superhuman healing, as well as the ability to semi-morph parts of his body, such as his limbs into clawed tiger paws while attacking.
He is one half of the Shin Soukoku (New Double Black) duo, assigned as such by Dazai, and works (reluctantly on both parts) in tandem with Akutagawa.
When he arrived from the orphanage, Atsushi was practically in rags, so the agency cobbled together an outfit for him. It consists of a white button up shirt, black mid-length pants, loose boots, and black suspenders, a tie, a belt with an extra long end to mimic a tail, and fingerless gloves. He has choppy greyish blonde hair with an occasionally visible black streak along the longer side, and purple-gold eyes.