Denise Richards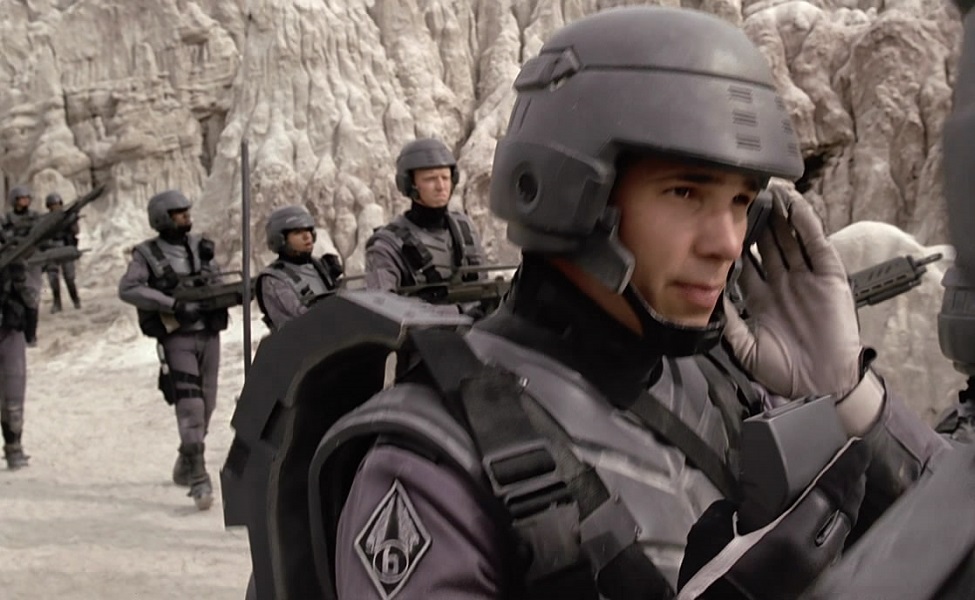 Originally written by Robert Heinlein in 1959, Sony adapted the novel Starship Troopers into a 1997 film that tanked in the box office only to gain a cult following. The film follows Johnny Rico (played by Casper Van Dien who later went on to make several cameos in other Starship Trooper films) as he graduates high school and enlists in the army. Unlike military service in America today, however, military service is required to gain full rights as a citizen, prompting Rico to join despite his parents' protests. Rico and his friends go on to fight Bugs and Arachnids, members of an insect-like species that have been fighting humans for control of new planets since the beginning of off-Earth human colonies.
The most unique piece of the Starship Trooper uniform is the helmet. It's modeled on just about any other military helmet of course. But the specific styling is what really sets aside a Starship Trooper. Unfortunately a premade unit is pretty pricy. There are a few other options though. You can get a 3-D printer file for it here. Or you can find craft foam tutorials like this one on YouTube.
From there, the rest of the costume is fairly easy. Grey tactical pants and, a black t-shirt and a chest protector The chest protector listed above is very close to the version the Troopers wear but it has white detailing. Black acrylic paint will cover that up since the protector is made of nylon. And of course you'll need your trusty laser rifle.