Teela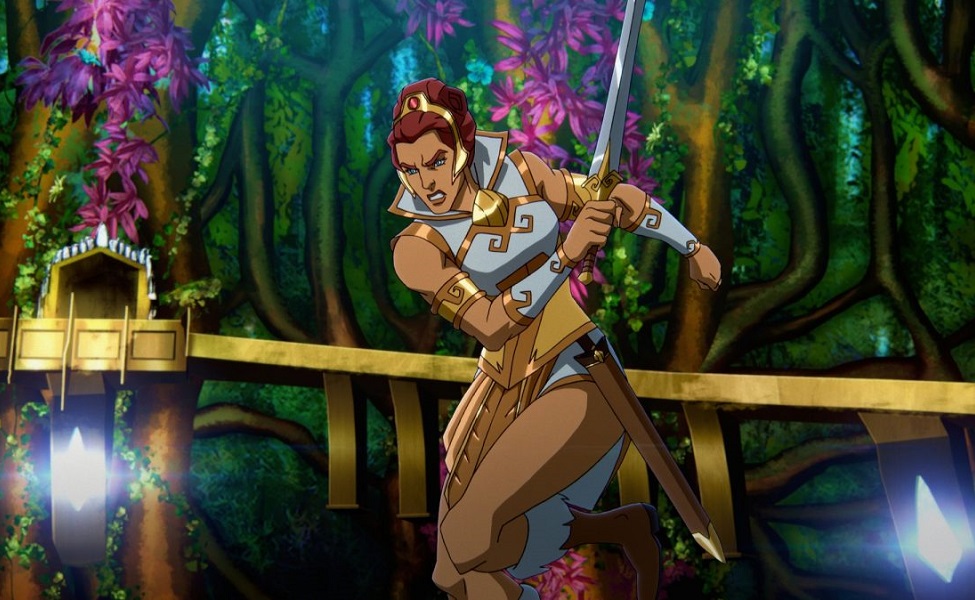 Voiced by Sarah Michelle Gellar, the newest version of Teela has all the strength and courage of previous versions with a modern take on what it takes to go up against Grayskull. She also has two costumes in the show – the classic and the modern – but for this cosplay write-up we're going with the current version of her classic costume. It requires a fair bit of DIY but can be done with fabric paint and liquid stitch for those who aren't ready to go all-in on sewing their own.
Starting with the skirt, cut the one listed above into the right shape, leaving enough room to fold the edges in for a hem, then seal them using Liquid Stitch. Next edge the skirt in gold ribbon, gluing it in place with Liquid Stitch. The best method is to fold the ribbon in half and glue one half inside the skirt so the hem is smooth ribbon. Finally, cut out the golden decoration for the front of her skirt using the satin. Use fabric paint to recreate the design, then glue it in place using Liquid Stitch.
Next take the shirt and edge the arms with ribbon the same as the skirt was edged. Using the gold paint pens, recreate the designs on her top. You can then add the designs to the corset using either the pain pens of the ribbon, whichever works best. Testing both methods on satin craps can find out which gets the look you want.
A little white faux fur trim and a pair of brown boots finishes off the main part of Teela's. From there you'll want to get an auburn wig and a pair of golden upper arm cuffs. Teela's crown is hard to fine, but a blueprint is available on Etsy for those who are comfortable with EVA foam or want to give it a try. White gauntlets trimmed with gold acrylic paint mimic Teela's gauntlets. From there all you need is a scabbard and a sword and you're set! The sword pictured here is technically Wonder Woman's but it's a close fit to Teela's style from the available options.