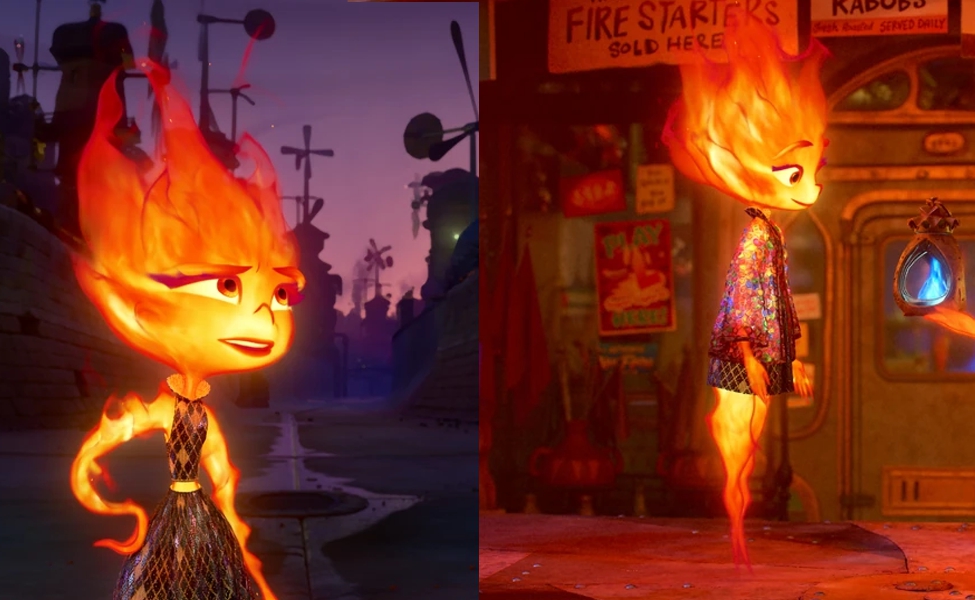 Ember Lumen (voiced by Leah Lewis) is the protagonist of the Disney and Pixar film Elemental.  Ember is made of fire and struggles to maintain her temper.  She loves her parents and helps them run their shop even though it isn't her dream.  After she meets Wade Ripple, Ember eventually learns to reel in her temper and go after what she really wants.  To recreate Ember's fiery look, you'll need to be a little creative.  Layering sheer red pieces beneath your dress and jacket will help you appear more flame-like.  Use a bodysuit, pants, and heels, as well as opera gloves. Ruched or fluttery pieces will evoke more of the rippling flame appearance Ember has in the movie.  You can tuck the pants into your heels to help them taper at the bottom.  Ember's dress is sleeveless and high-collared with a diamond-like pattern.  You can choose a longer-sleeved version or layer a beaded dress over a plain black one.  Finish the look with a flame wig, a colorful bomber jacket, and a gold belt.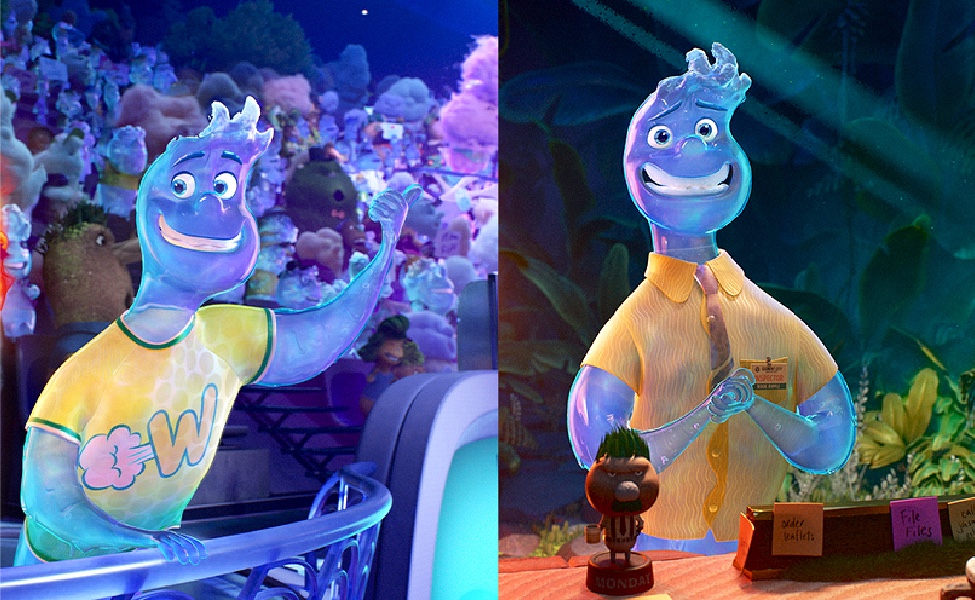 Wade is the watery character from the new Disney and Pixar animated film Elemental and is voiced by Mamoudou Athie. He is cool and collected, calm, and a rule follower. You can say he goes with the flow. Through his journey in this film, he meets Ember who is the fiery opposite of him, and they begin to learn from each other.
Wade is a character made up of water. He's made up of lots of teal, purple, and iridescent or clear colors, paired with yellow shirts like the button down and tie, or the yellow shirt with green details. To dress like this cool character, layer a blue shirt under a sheer iridescent shirt and layer a yellow shirt on top. Pair this with iridescent pants or light purple jeans with a sheer blue layer of pants on top to give the clear and color shifting watery effect.