Search Results for x-men

…mer NYPD officer as well as an Interpol agent. When Banshee works with the X-Men he is usually a full decade or more older than the other members of his team and is usually places in a mentor role. Although the character appears in X-Men: First Class he is best known from his portrayal in the comics. And though the specifics of his costume have changed there are a few things that stay constant. His suit is always green with yellow markings on the…

…wenty-two failed attempts. Her first-ever appearance in X-Men lore was the X-Men: Evolution TV series, but was welcomed into the comic book universe with the NYX comics, which explained her origin story in a grittier fashion than the children's cartoon before it. X-23 then entered the Marvel-Fox cinematic universe in the form of a young Mexican child in James Mangold's Logan, but her teenage/young adult persona from the comics can be just as fun t…

…but I've included some additional garments which draw inspiration from my personal favorite Mystique look from the retro X-Men arcade game….

…In X-Men Origins: Wolverine, Sabretooth (Liev Schreiber), real name Victor Creed, is a mutant with animal-like abilities like retractable claws, regenerative healing, and enhanced senses… much like his younger half-brother Wolverine….

Beast, or Dr. Hank McCoy, is a founding member of the X-Men. His powers as a mutant include super strength and heightened senses. Despite his animalistic appearance, Beast possesses brilliant intelligence, and can communicate eloquently. He is a professor at the Xavier Institute as well as an activist for the acceptance of mutants in society. This guide follows his comic book iteration. Use the blue paint to cover your entire face as well as to p…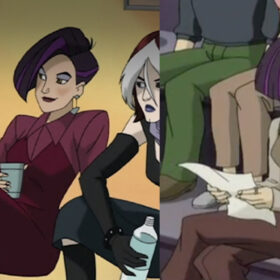 …ilde (voiced by Nicole Oliver) drove fans wild when she first showed up in X-Men: Evolution. With her British accent and punk hair, fans were sure Risty would eventually become Psylocke or was at least fashioned after her. They were shocked to find out she was actually Mystique trying to stay close to Rogue using a fake identity the way only Mystique can. Unlike Mystique's usual blue appearance, Risty's look will rely less on body paint and more i…

…In X-Men: Days of Future Past, speed is the name of the game for Quicksilver (Evan Peters). With the ability to move faster than sound, he's spent a good part of his teen years as a petty thief. That is until he's called to a greater cause – one to help the X-Men….


…Before she was Mystique she was Raven Darkhölme (Jennifer Lawrence). A girl with a hidden past and shape-shifting abilities, she eventually evolves into a super-villain. She has such a traumatic impact on the future of mutants, that Professor Xavier and the rest of the X-Men must go back to the past to try to change her destructive actions….

…Before becoming super-villain Magneto, he was known as Erik Lehnsherr (Michael Fassbender). One of the most powerful mutants on the planet, Erik has the ability to manipulate metallic objects. With mutant extinction as a real possibility, he'll put animosity aside to team up with Charles Xavier to help save their future in X-Men: Days of Future Past….