Sights and Cosplay from New York Renaissance Faire 2021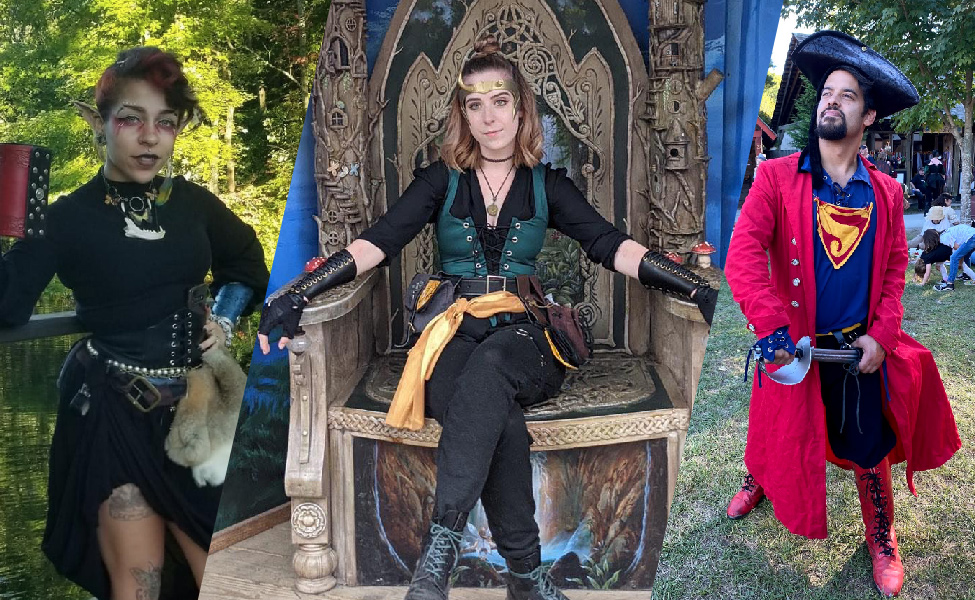 Huzzah! The New York Renaissance Faire is back for 2021.
Located in Tuxedo Park in Orange county, the faire occurs every weekend from late August until early October. From live music to live jousting — and of course, turkey legs and mead — merriment reigns supreme in the Shire. And with face-painting and kiddie rides, it's an event for the whole family. Feast your eyes on the many sights, treasures, and costumes of this year's festivities.
---
Photo Ops
While the camera wasn't invented until 1816, the faire provides are plenty of prime photo opportunities. Themed decorations, structures, stages, and signage immerse the attendees in the time period. The park has gorgeous scenery within itself, surrounded by trees and rock formations.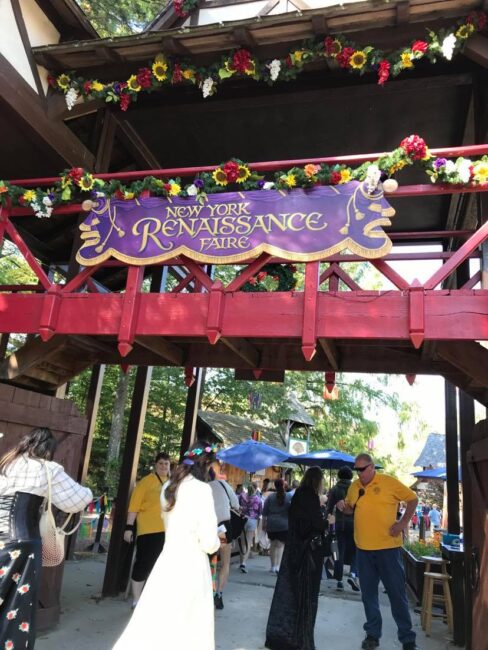 The sign and the overpass greet you as you enter the shire.

The Queen's Landing sign overlooks the river and trees. It's right along the path as soon as you enter the gates.

Think you're the next rightful king or queen? Snap a photo of you trying to pull the sword from the stone.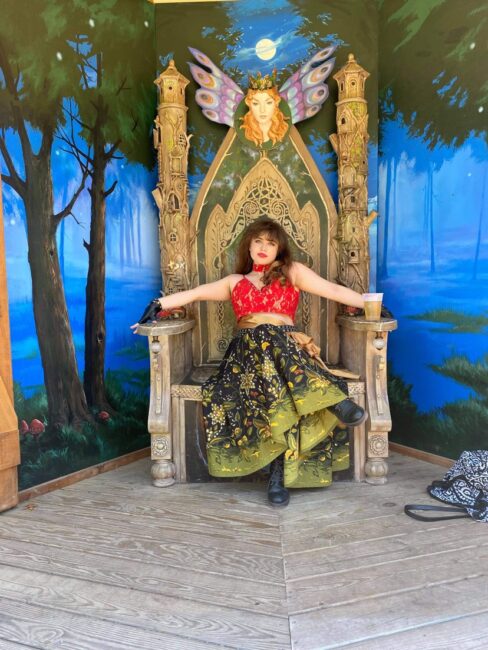 The throne circle near the human chess field are great for photos. Here's Mandy sitting on a fairy themed throne!
Entertainment:
When you grab a map at the New York Renaissance Faire, flip to the other side to see the various entertainment and shows. From magic to puppets, to fire whips (yes, those are whips on fire) , there's something for everyone.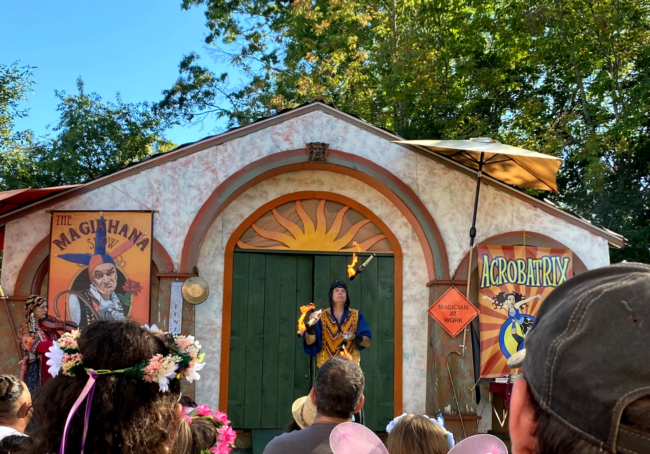 Silent magician Arsene Dupin juggles in the Magikhana Show.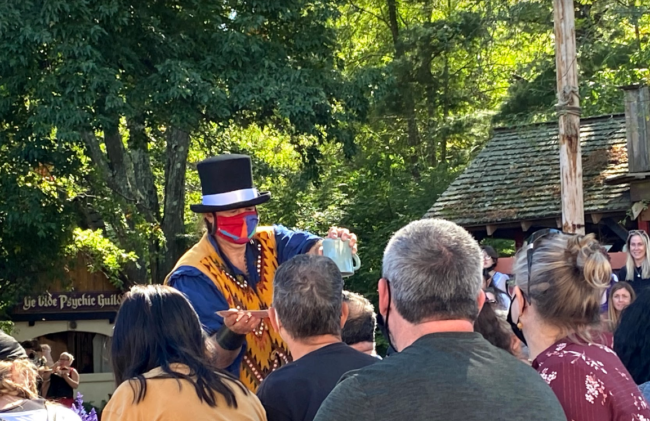 It seemed as if the water would spill onto his head, but magically, it didn't! He later revealed a sponge was inside the mug, and taunted everyone who fell for his trick.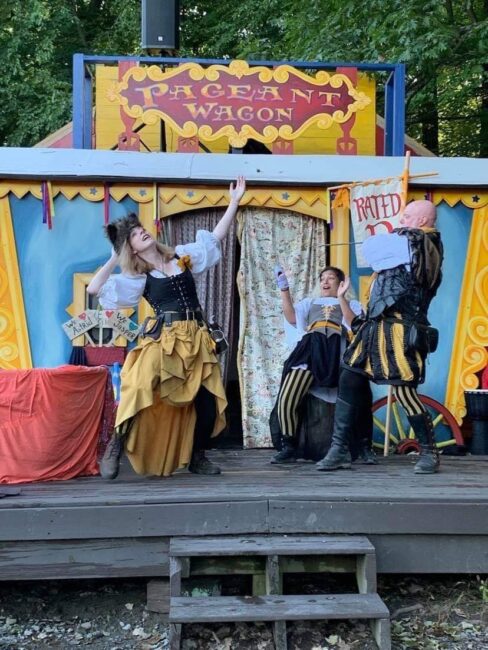 Join the pub crawl and their ridiculous pageant show afterwards.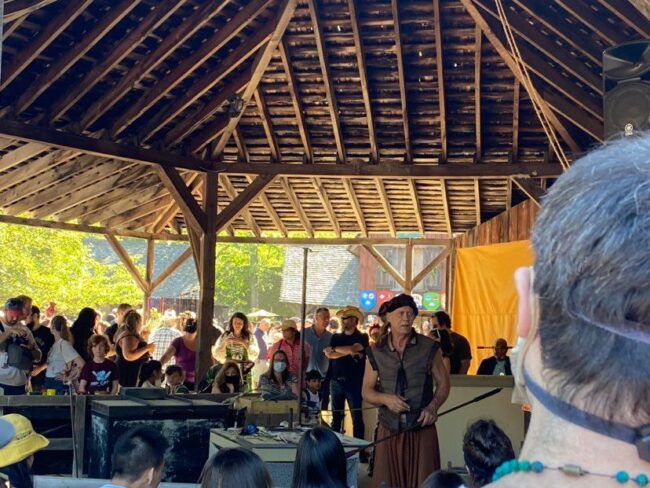 The glassblowing demonstration both educates and entertains about the process of perfecting hand-blown glass.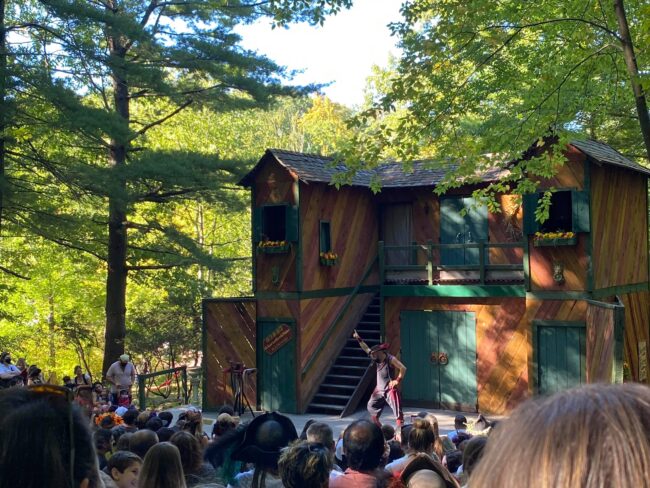 Stuntman Aaron Bonk strikes a pose after displaying his impressive whip skills.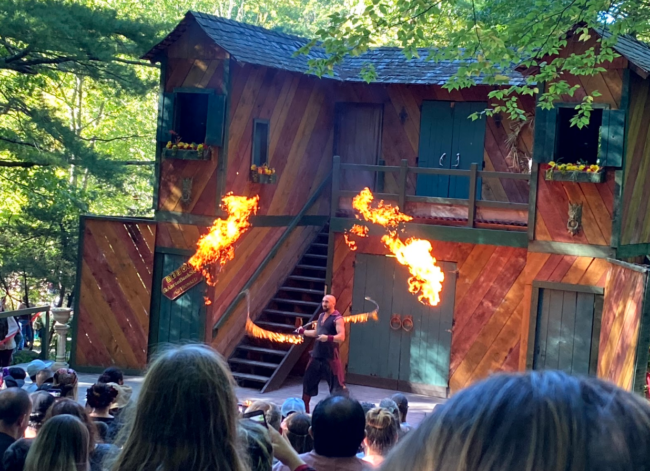 For his final act, Aaron Bonk showcases his fire whips. It's truly a sight to behold, and the crowd goes wild!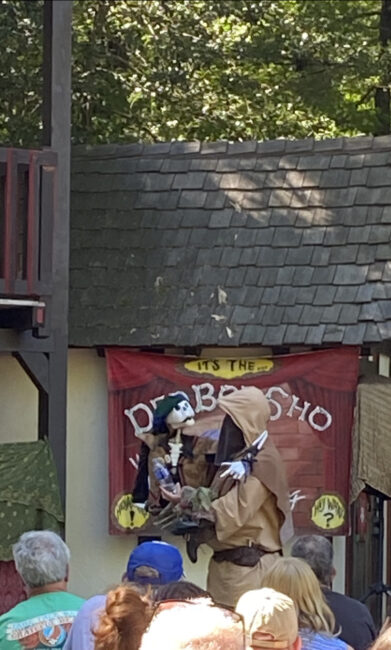 The Ded Bob Sho features the talking skeleton, Ded Bob, and his puppeteer, the masked Smuj.
---
Costumes, Accessories, and Props
According to their website, the New York Renaissance Faire features over 125 artisans in their marketplace. From pottery to swords, you're sure to find a  one-of-a-kind, handmade crafts for your outfit, home, or enjoyment.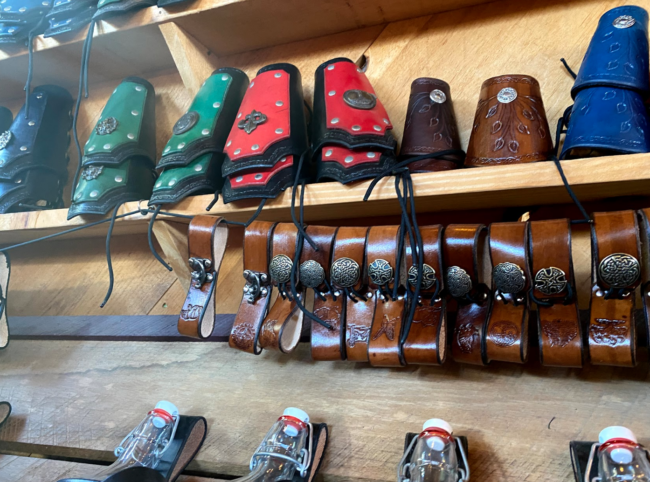 Hawk Studio makes and sells leather belts, bags, and pouches. Other products include gauntlets and drink vessels.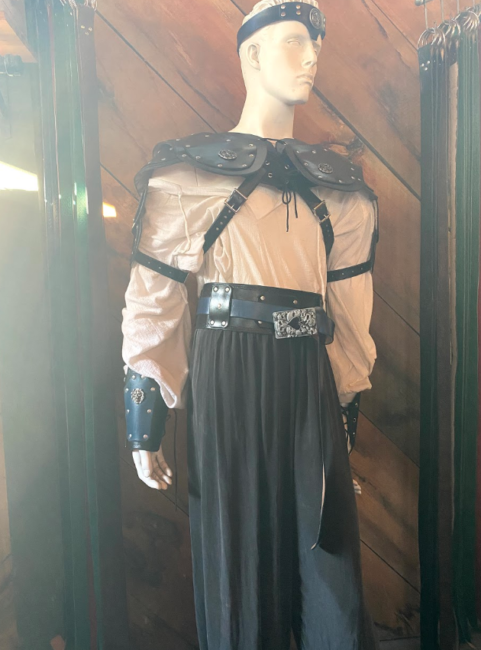 A mannequin flaunts renaissance garb featuring Hawk's leather accessories.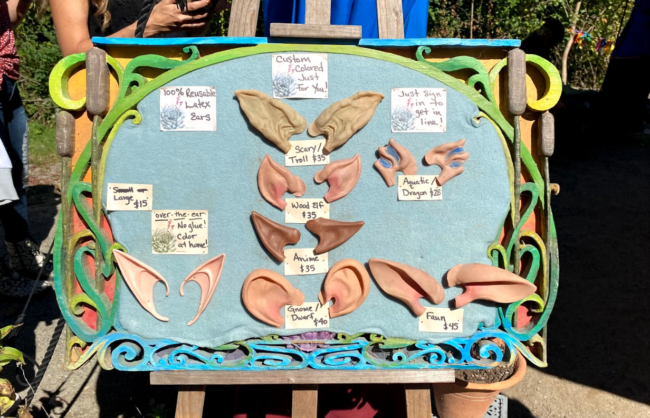 Makeup artists will apply a pair of fantasy ears to transform you into an elf, a faun, or even a dragon.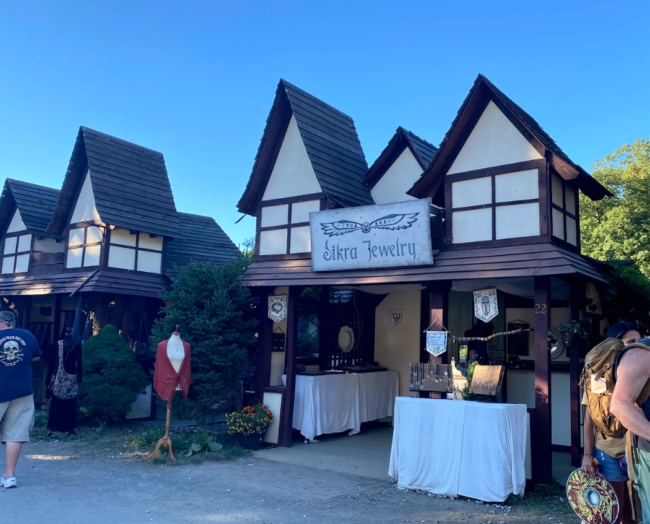 Various artisan booths line the walking path, such as Sikra Jewelry.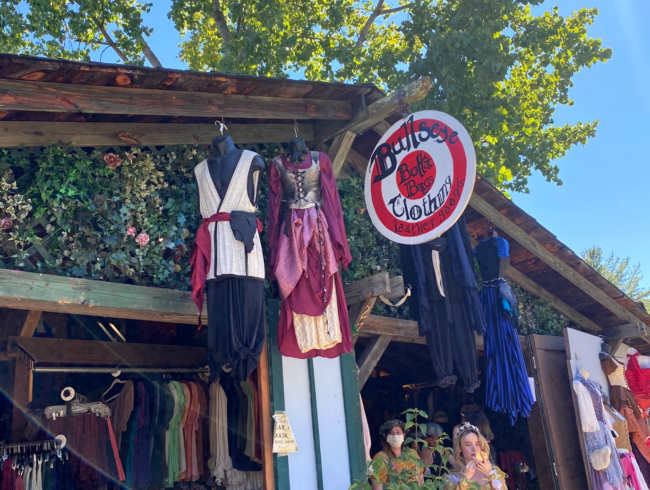 Bullseye features leather bota bags, pouches, and clothing.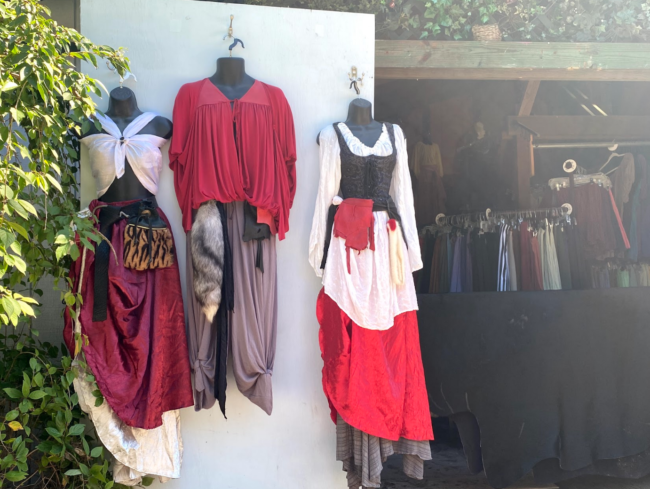 Some outfit arrangements perched on the door of the Bullseye booth.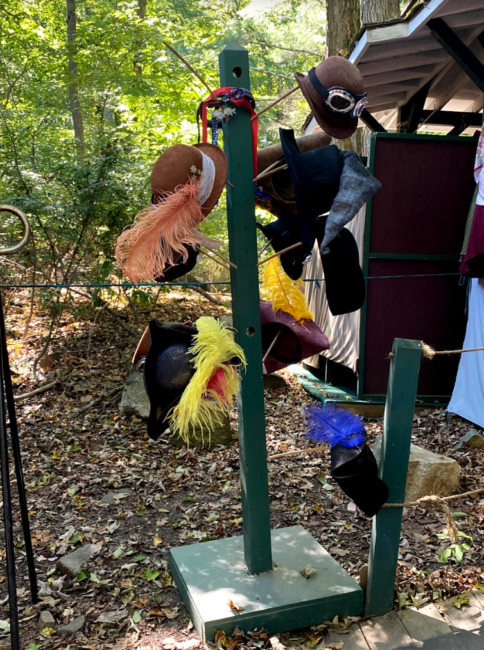 Fancy a fancy hat from this rack?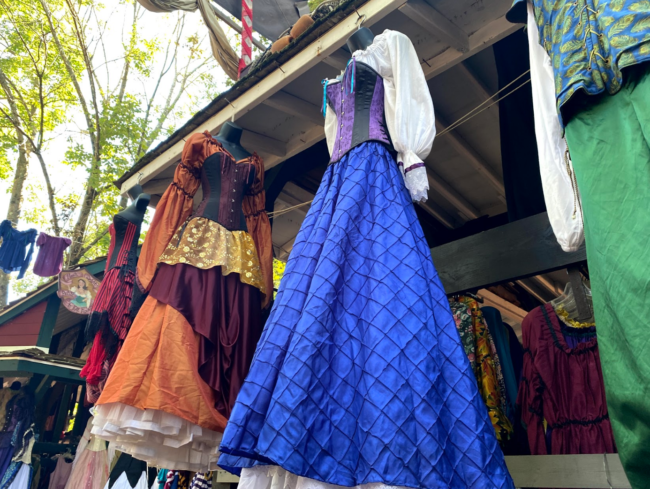 Some more Renaissance garments, fashioned into outfits. The one on the left reminds us of Mary Sanderson from Hocus Pocus.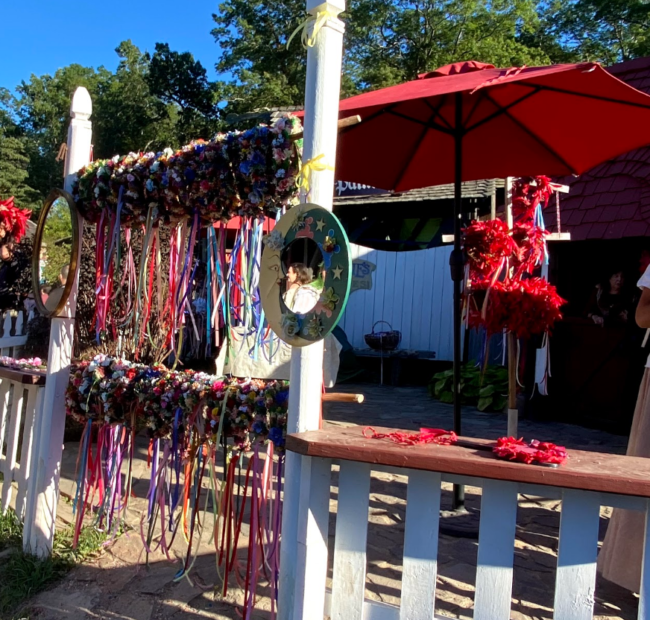 Flower crowns, embellished with colorful flowers and ribbons, are a best-seller each season.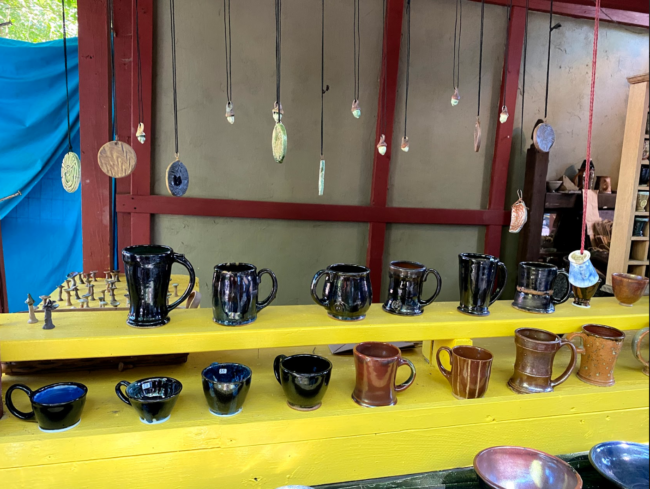 Elan Pottery offers handmade pottery, underglaze transfer sheets, enamel pins, and fresh roasted coffee.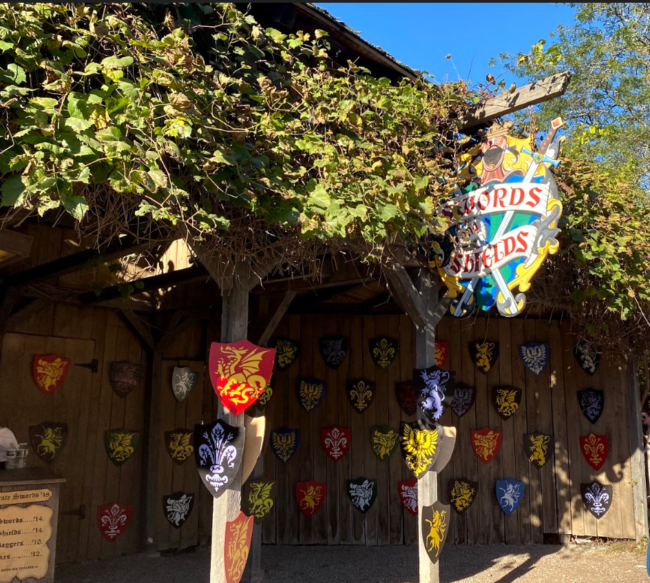 Unleash your inner knight with wooden swords and shields, decorated in various colors and emblems.
---
Cosplay
At faire, cosplay comes in many forms. Some people arrive in the garb of the era, while others dress as characters from their own imagination. And some, in the true spirit of cosplay, fuse the Renaissance with their favorite comic book characters. Most of these costumes featured here highlight Pirate weekend, one of the several themed weekends during the event.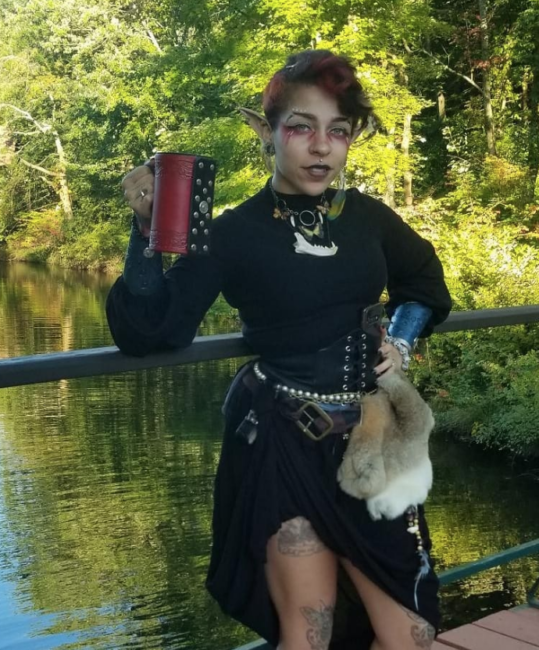 Legend of Anakin raises a toast with in their gothic elf ensemble.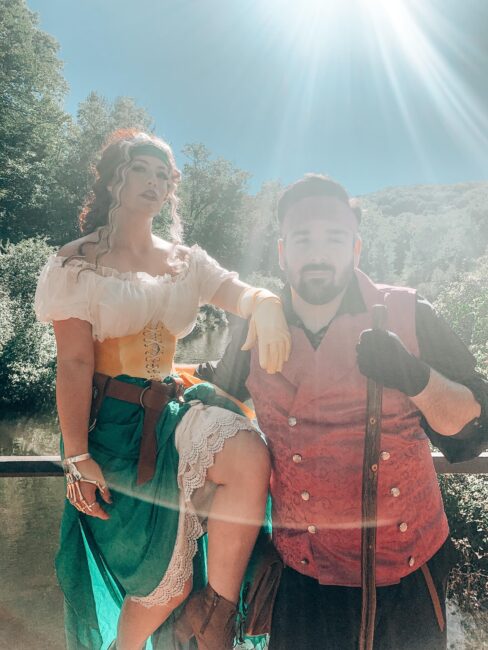 Meg (@megarahopecosplay) and Nick (@nickwolfphoto) as a medieval Rogue and Gambit.
Allie (@regalreigncosplay) put together a Black Widow themed pirate costume for Pirate Weekend.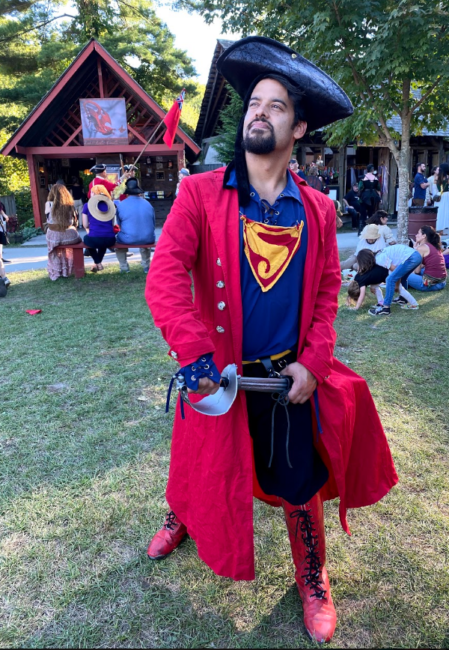 Was this part of the Snyder cut? Walter (@kidkryptonite89) wears a pirate cosplay inspired by Superman.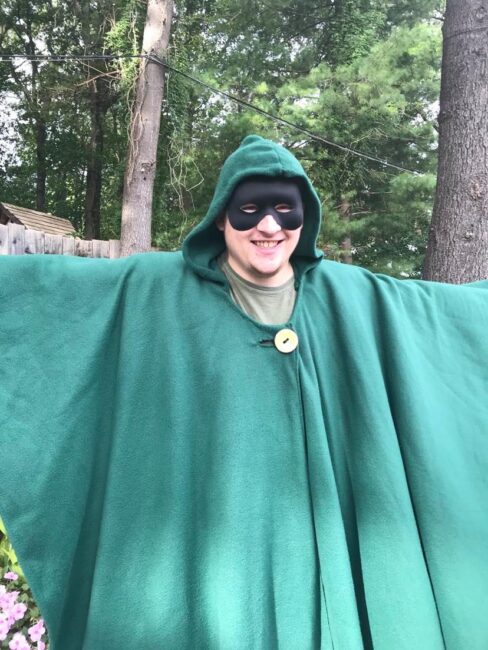 Patrick shows off his hand-made cape for his original DnD character.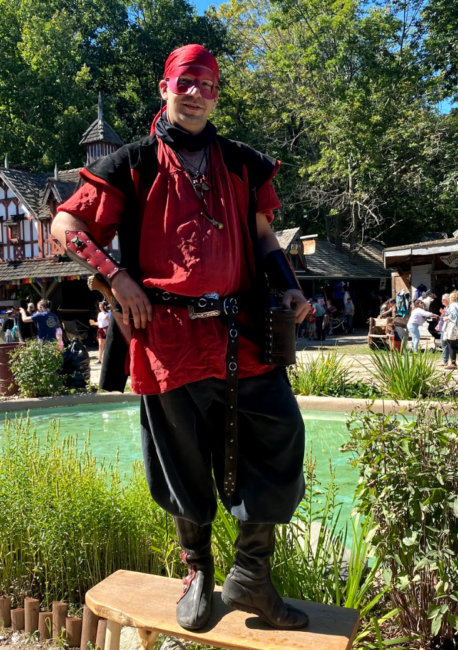 Ahoy, we caught the Red Pirate (@the.redpirate) hanging by the lake.
Someone call the TVA — a Loki variant is on the loose! Kacie (@jelliclekacie) rocks a Sylvie inspired Renaissance look.
There are no comments yet, add one below.
Stay connected. Don't miss out!
Get new costume guides in your inbox once a month.
And don't worry, we hate spam too! You can unsubscribe at any time.