Garth Algar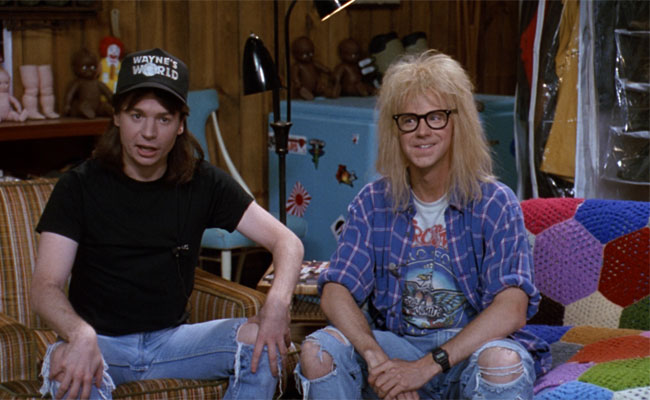 Garth Algar, played by Dana Carvey, is a timid, high-strung heavy metal fan. He's sidekick to Wayne Campbell and co-host of public-access television show Wayne's World. He's been rocking plastic glasses and flannels since before it was cool. Party on, Garth.
About the Author
Tom
On television, film, music, and all the rest.
Related Posts
On Kroll Show and the Oh, Hello Show, George St. Geegland (Nick Mulaney) and Gil Faizon (Nick Kroll) are the hosts of a public access television prank show called "Too Much Tuna". On "Too Much Tuna", these two elderly New Yorkers serve unsuspecting victims an extra large serving of tuna in their tuna fish sandwiches. For this costume, you'll need an abundance of turtlenecks, corduroy, and tuna salad.

Ghost is a Swedish rock band that was formed in Linköping, Sweden in 2006. The lead singer, Tobias Forge, is known for his various imaginative stage personas. One of his most iconic is Papa Emeritus II, the second of Ghost's supposed lead singers.

D'arcy Wretzky is the bass player of the alternative band The Smashing Pumpkins. Next to Courtney Love, she was a inspiration for alternative teenage girls of the 1990's. If you want to pull off a grungy chic look, you've come to the right place.

There's two outfits of hers that really stand out, worn during Lollapalooza in the '90s. Fashion pieces that are certainly mainstream again: The first, a silver sleek silk camisole, a sheer black cardigan, some mom jeans, black sunglasses, and black boots. The second, the infamous orange & red striped long-sleeved shirt, black leggings, and another pair of black shades.

In Bill & Ted's Excellent Adventure, William "Bill" Preston Esquire (Alex Winter) and Theodore "Ted" Logan (Keanu Reeves) are two metalhead slackers trying to write a history report when they encounter a traveler from the future who gives them access to a time travel machine.

On Saturday Night Live, Enid Strict (Dana Carvey), better known as The Church Lady, hosted the talk show Church Chat where she would interview celebrities. And by interviews, I mean she would chastise them for their sins and admonish them for following the desires of their naughty parts. If you're going to dress up as The Church Lady, make sure you have her catchphrases, like "Could it be… SATAN?" down pat as well as the moves for the "Superior Dance".

On Saturday Night Live, Hans and Franz (Dana Carvey and Kevin Nealon) are a pair of Austrian bodybuilders who flex their muscles for skinny "girlie men" and teach how to "pump you up". Any resemblance to Arnold Schwarzenegger is strictly coincidental.
There are no comments yet, add one below.