Wayne Campbell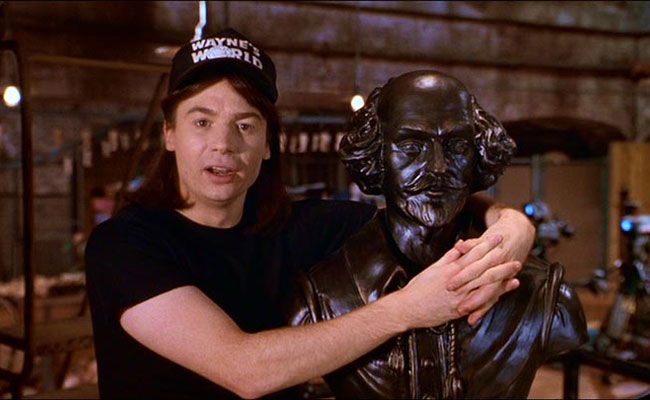 Wayne Campbell, played by Mike Myers, co-hosts public access cable show Wayne's World out of his parent's basement in Aurora, Illinois. He likes to play air guitar, accompanied by best friend Garth Algar's air drums. Schwing!
About the Author
Tom
On television, film, music, and all the rest.
Related Posts
In Bill & Ted's Excellent Adventure, William "Bill" Preston Esquire (Alex Winter) and Theodore "Ted" Logan (Keanu Reeves) are two metalhead slackers trying to write a history report when they encounter a traveler from the future who gives them access to a time travel machine.

January 17, 2013

by

Jaime

Not the brightest crayon in the box, Beavis spends most of his time watching TV and doing whatever Butt-head tells him to do. Although, if you put enough caffeine in him he becomes an entirely different person known as "Cornholio." Don't worry, this look is easy to achieve as well. You just have to pull your Metallica shirt over your head. It's almost like two costumes in one.

Shrek (voiced by Mike Myers) is an ogre who prides himself on being big, green, and terrifying. He embarks on a quest to save Princess Fiona, and they fall in love despite their differences. For this costume, the vest will need tweaking to get the same cropped look.

D'arcy Wretzky is the bass player of the alternative band The Smashing Pumpkins. Next to Courtney Love, she was a inspiration for alternative teenage girls of the 1990's. If you want to pull off a grungy chic look, you've come to the right place.

There's two outfits of hers that really stand out, worn during Lollapalooza in the '90s. Fashion pieces that are certainly mainstream again: The first, a silver sleek silk camisole, a sheer black cardigan, some mom jeans, black sunglasses, and black boots. The second, the infamous orange & red striped long-sleeved shirt, black leggings, and another pair of black shades.

Dr. Evil (Mike Myers) is the main villain of the Austin Powers trilogy. He is a parody of James Bond villain Blofeld and notorious for his nonsensical plans and pinky pose. He's often accompanied by his miniature clone, Mini-Me.

Ghost is a Swedish rock band that was formed in Linköping, Sweden in 2006. The lead singer, Tobias Forge, is known for his various imaginative stage personas. One of his most iconic is Papa Emeritus II, the second of Ghost's supposed lead singers.
There are no comments yet, add one below.
Stay connected. Don't miss out!
Get new costume guides in your inbox once a month.
And don't worry, we hate spam too! You can unsubscribe at any time.