Human!Paige from DHMIS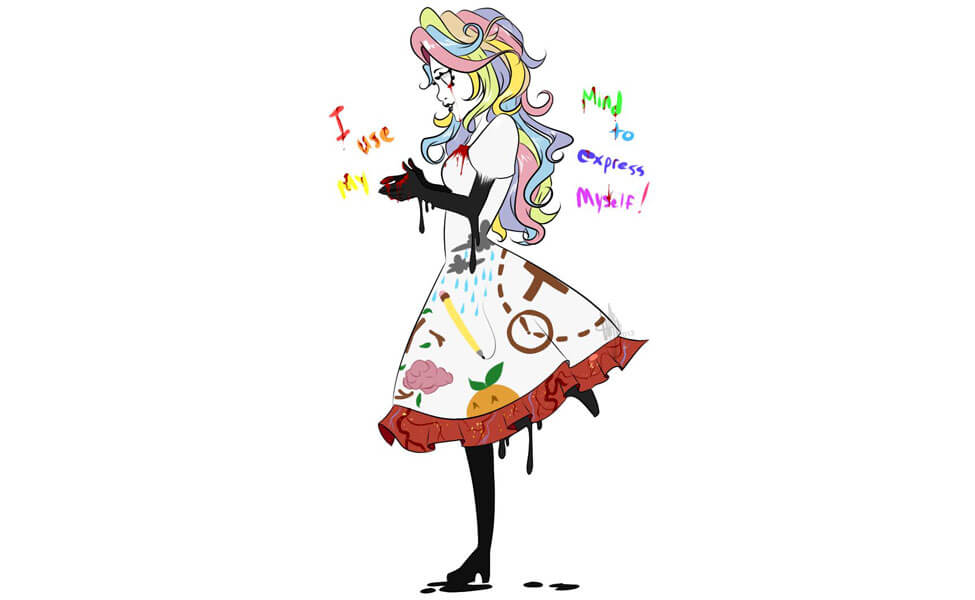 In the web series Don't Hug Me I'm Scared, Paige is the notepad that teaches the three main character about creativity. Closer to the end, the episode take a dark twist, and the characters begin using organs instead of crayons and whatnot. In this guide, I found a humanized version of the character to make it easier to portray her. I have no idea who created the first work of art that I placed as the first picture, but the second one was created by VanessaGiratina on DeviantArt.

For this, there are no pre-made skirts for the design. You'd have to buy a white skirt and red fabric, along with fabric paints or fabric markers. For the top, a white dress shirt with puffy sleeves would suffice. Due to her pale completion in most designs, you might just want to paint your face white. For her arms, long black gloves, and for her legs, black tights and black pumps with a very small heel. Her hair is actually multiple pastel colors. I'll be using this as a guide for myself as well, so, even though almost all amazon wigs are crappy, all items will be in the Amazon store. To give the skirt that puffy appearance, a petty coat would be a bright idea. As for the face, to make sure the paint won't look shiny, applying white powder would be desirable.
There are no comments yet, add one below.
Stay connected. Don't miss out!
Get new costume guides in your inbox once a month.
And don't worry, we hate spam too! You can unsubscribe at any time.