Search Results for ������������ ���������������� Human Design �������������������� �������������� �������������� �� ���������������������� ���������������������������� ���������������������� ����������������, ������ ���������������������� �������� ������������ �������������������� http://instagram.com/batmanapollo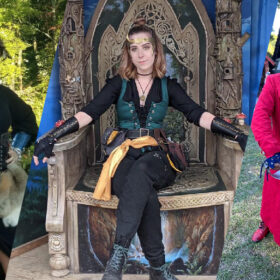 …hields, decorated in various colors and emblems. Cosplay At faire, cosplay comes in many forms. Some people arrive in the garb of the era, while others dress as characters from their own imagination. And some, in the true spirit of cosplay, fuse the Renaissance with their favorite comic book characters. Most of these costumes featured here highlight Pirate weekend, one of the several themed weekends during the event. Legend of Anakin raises a toas…

…ide whether to convince her to stop slaying drug dealers or train her to become an even more effective killer. 6. Hannibal Will Graham (see costume) and Hannibal (see costume) have an uneasy relationship. At any moment, you're not quite sure if they're patient and doctor, informant and suspect, or dinner and diner. 5. Game of Thrones From their first moment on screen, the chemistry between Oberyn Martell (see costume) and Ellaria Sand (see costume…

…lker, Finn chooses this new responsibility, not out of service, but out of human compassion and empathy. This display of humanity makes us relate to him, and root for him alongside Poe and Rey. Finn is a fantastic companion to them both, always having their backs and on the lookout in dangerous situations. Storm from X-Men Storm aka Ororo Munroe is often regarded as Marvel's most important superhero, for she makes as the first black female superhe…

…Jack Horseman is a new animated series from Netflix that features a mix of human and anthropomorphic characters, including the washed-up television star BoJack (see costume), his girlfriend Princess Carolyn (see costume), his lazy roommate Todd Chavez (see costume), and man-about-town Vincent Adultman (see costume). Trailer Park Boys The Trailer Park Boys returned for an 8th season this year, and this group of Canadian trailer park denizens starri…

In Luc Besson's The Fifth Element, Jean-Baptiste Emanuel Zorg (played by Gary Oldman) is a weapons dealer who falls in league with Mr. Shadow, also known as the Ultimate Evil intent on destroying Earth. Zorg attacks Leeloo while looking for the four elemental stones, though his plans are eventually thwarted by Korben Dallas and others. Recreating Zorg's futuristic look may take some time if you want to get the pieces just right, but you can alway…

Catherine Parr is a historical figure and character in SIX the Musical. She is the sixth and final wife of Henry VIII who survived. Her song "I Don't Need Your Love" is a R&B ballad about having to abandon her feelings for Thomas Seymour to dutifully accept Henry's proposal. It turns into an anthem for how she doesn't need either of their love. In the show's plot, Parr is the one who found the other queens and formed a pop band. Maiya Quansah-Bre…

…and wrote and directed the movie alongside Takia Waititi, who plays Viago. This is his outfit from the party fight scene, when the other vampires try to eat their human friend, Stu. To make the jacket pop, use silver puff paint to draw the design along the sides….


…Gary King (Simon Pegg) is the protagonist of the 2014 action comedy sci-fi film The World's End, the conclusion to the Cornetto Trilogy. He reunites his high school friends in order to partake in the "Golden Mile", a challenge to travel to every pub in their hometown and drink at each stop leading up to The World's End….

…Audrey Horne is a major character from the ABC television series Twin Peaks, played by Sherilyn Fenn. She is one of the teenagers living in Twin Peaks during Laura Palmer's death and quickly becomes very interested in Special Agent Dale Cooper Due to her many costume changes as the series progresses, this guide will focus on arguably her most iconic outfit….