Patch Adams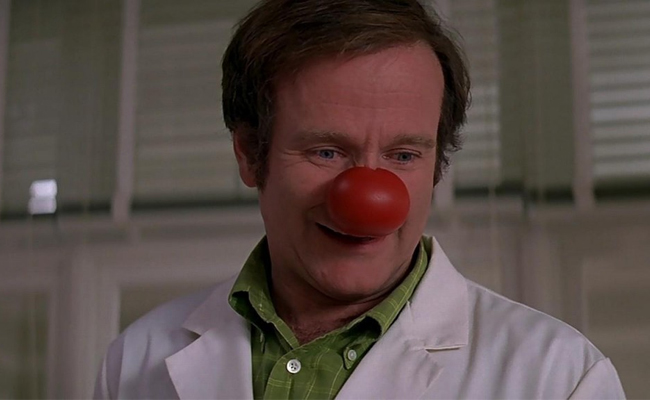 Patch Adams (Robin Williams) is an unorthodox physician, who took a more personal approach to his patients by using humor as part of his medical care, which sometimes included dressing up as a clown.
About the Author
Kristina
Kristina Johnson is a freelance writer based in the Midwest. A self-proclaimed TV junkie, she also enjoys checking out food trucks, road tripping, reading and spending time outside with her pets.
Related Posts
Philip Brainard is the protagonist of the 1997 Disney film Flubber. He was portrayed by the late Robin Williams. He is an eccentric but well-meaning scientist who creates Flubber, a living rubber-like super-bouncy substance.

Theodore "Teddy" Roosevelt was an American statesman, author, explorer, soldier, and naturalist, who served as the 26th President of the United States from 1901 to 1909. He was portrayed by the late Robin Williams in the 2006 American fantasy-comedy film Night at the Museum. This costume guide is aimed at recreating that look.

Alan Parrish is the main protagonist of the 1995 fantasy film, Jumanji. He was portrayed by the late Robin Williams. As a child, Parrish played the board game Jumanji and got trapped inside of it. Twenty-six years later, he was freed by two orphaned children named Judy and Peter Shepherd. This guide focuses on his iconic initial adult appearance after being freed from Jumanji. Just remember to roll a 5 or a 6.

Robin Williams plays a grown-up Peter Pan in the 1991 Steven Spielberg fantasy adventure film Hook. It acts as a sequel to the original Peter Pan play focusing on an adult Peter Pan who has forgotten all about his childhood. In his new life, he is known as Peter Banning. However, when Captain Hook, the enemy of his past, kidnaps his children, he returns to Neverland in order to save them. If you want to make his coconut hilt sword, get a regular sword, paint it gold, and attach one half of a coconut bra to the hilt. You can cut some material from the costume for his shoe covers.

September 30, 2017

by

Tom

Captain Spaulding (Sid Haig) is one of the main characters of Rob Zombie's House of 1000 Corpses and The Devil's Rejects. He's a vulgar clown who mans a gas station, where he tricks a group of young adults to run into his murderous Firefly family.

September 10, 2017

by

Tom

In the 2017 remake of It, Pennywise the Dancing Clown (Bill Skarsgard) is an ancient, trans-dimensional evil spirit that takes the scariest form of all — a creepy killer clown. Compared to the 1990 adaption of Pennywise, this one is lankier and childish but creepy as hell all the same. While wearing the clown costume, roll around in the dirt to give it the right weathered look.
There are no comments yet, add one below.