Rosie the Riveter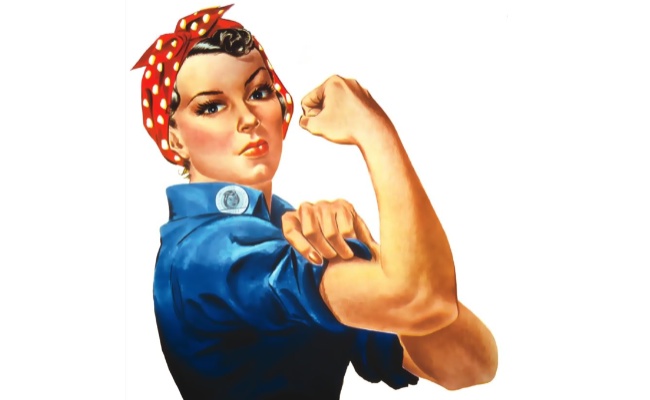 Rosie the Riveter was the original icon of girl power, symbolizing the contributions of women to manufacturing during WWII. Her badass likeness is captured in the famous "We Can Do It!" poster.
Amy
Dr. Mario addict and wannabe weight-lifter.
Related Posts
Frank Bartles & Ed Jaymes are the beloved mascots of Barltes & Jaymes, E&J Gallo's brand of wine cooler popular in the 80s. Bartles and Jaymes are based on the founders of the company, and are portrayed as two older folksy gentlemen who sit on a porch and chit chat.

Erin Esurance is the bubbly, pink-haired secret agent who was the mascot of the insurance company Esurance in the 2000s. She was inspired by Jennifer Garner's character Sydney Bristow from the popular TV show Alias.

Originally an ex-army nurse from the 1940's, Claire Randall (Caitriona Balfe) visits Scotland on a second honeymoon with her husband and accidentally walks through a time portal to the 1700's on the smash Starz series Outlander. When she stumbles through the portal, Scotland is in the midst of the Jacobite Uprising. She is promptly rescued by a dashing, handsome Highlander named Jamie Fraser. Claire must decide whether to stay with Jamie or return to her husband, all the while navigating personal and world dramas. This guide is for her iconic first episode outfit, a classic 1940's look.

Wearing a red bonnet and holding a tray overflowing with grapes with the sun to her back, Lorraine Collett became the face of Sun-Maid Raisins in 1915. The logo was updated in 1970.

In commercials for the Irritable Bowel Syndrome (IBS) medication Viberzi, Irritabelle (Ilana Becker) is the red-headed personification of a stomach ache with diarrhea, who always makes an entrance at the most unwelcome moments. She follows in the footsteps on weirdly chipper spokespersons like Flo the Progressive Girl and the Orbit Gum Girl.

The Spirit is a fictional masked crimefighter created by cartoonist Will Eisner. He's a masked vigilante who fights crime with the blessing of the city's police. I recommend finding a way to make your tie stick out to the side, probably by putting a wire into it.