sheep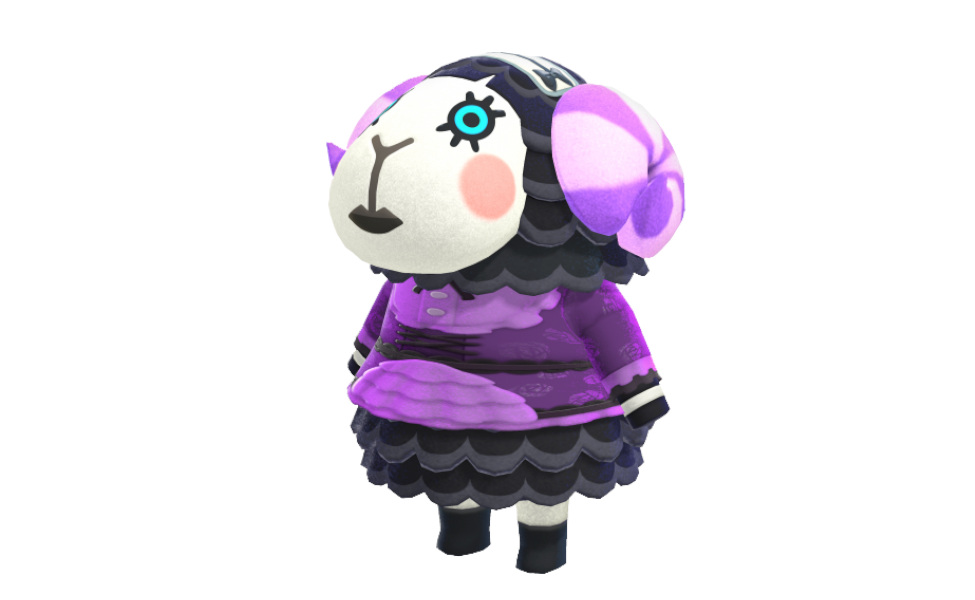 Muffy may not look like the friendliest islander. But look van be very deceiving. She is classified as a "sisterly" villager and she certainly lives up to the title. Her elegant style and welcoming personality make her a delight on just about any island. And with a little DIY you'll have a Muffy costume perfect for an island – or convention – of your own!
Using purple and light pink paint, add stripes to a set of basic ram horns. Then use the lace panels listed here as the decorative headband that Muffy wears between her horns. Once the horns are ready you only need a few pieces to complete your costume.
A black wig, purple top, black belt, and black skirt make up the bulk of Muffy's outfit. You can wear the skirt under the top and then add the belt. Or you can leave the belt off entire and tuck the shirt into the high waist of the skirt. Either option works for Muffy's style!
White leggings (with a pocket for convention convenience) and black ballet flats round out the rest of her look. And finally you can accessorize with some black nail polish to finish off the costume!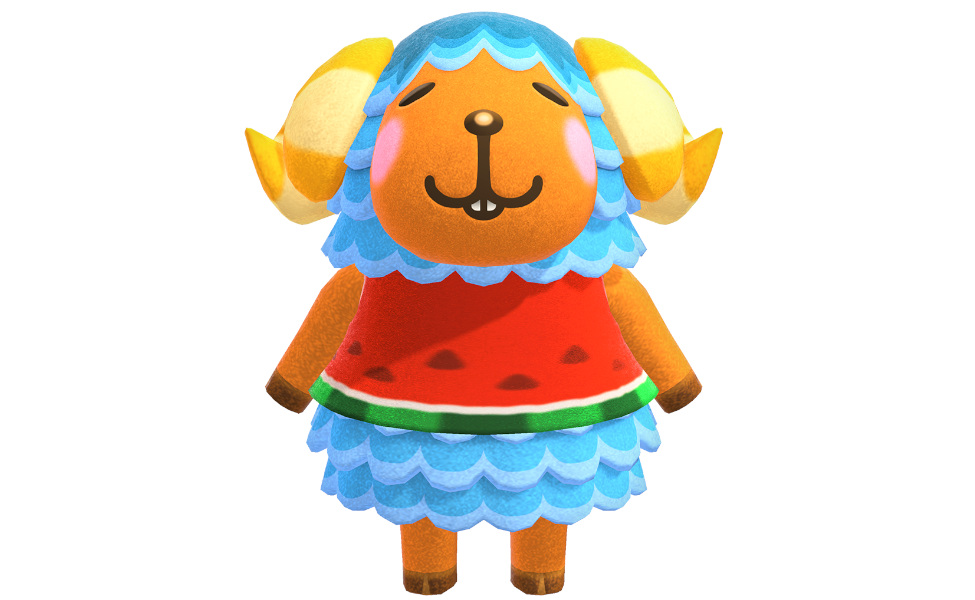 Some villagers like to work out. Others like to play music. Wendy likes four things: DIY, MagLev Mike, chasing her dreams of pop stardom, and – of course – her friends. She loves sharing good news with other people on the island and spends most of her time socializing with her neighbors. Her personality is as playful as her style and it shows!
Setting up a Wendy costume requires a little bit of DIY. You'll have to paint the horns in stripes of marigold yellow spaced out with pale yellow. Then you'll want to wrap the headband in blue ribbon so it blends in better with the blue wig that mimics the wool on top of Wendy's head.
A watermelon-print blouse, a blue ruffle skirt, brown leggings, and brown ballet flats finish the look. You can accessorize with a hammer from your DIY bench or – if you're feeling the urge to chance Wendy's dreams – a microphone so you're always ready for your big popstar-slash-fashion designer break!