Vampirella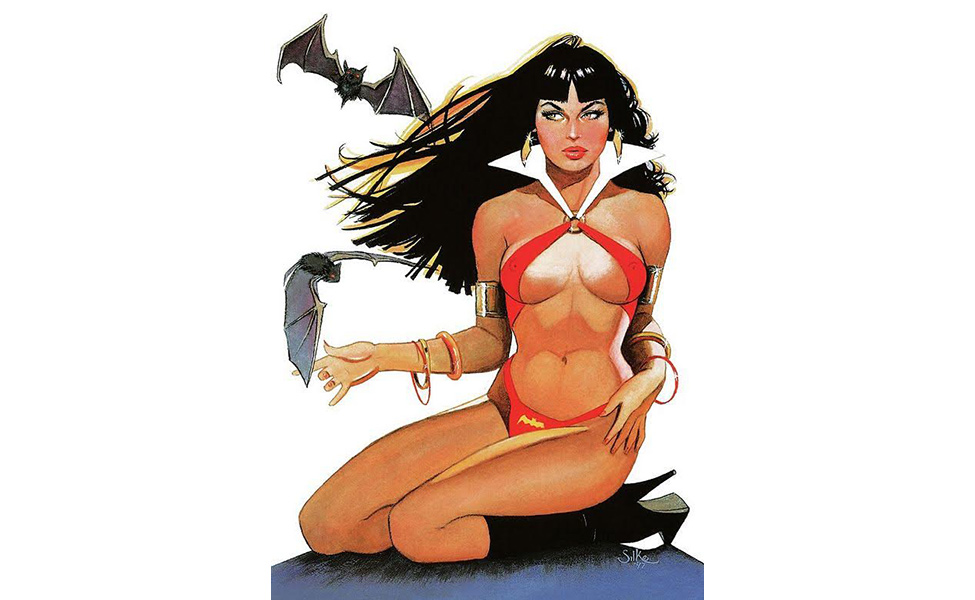 Vampirella is a comic book vampire superheroine created in 1969. She is a classic horror sex symbol who fends for herself against other supernatural creatures.
Samantha
Related Posts
In Mona the Vampire, Mona Parker is characterized as a young, extremely cute and tomboyish yet unbearably beautiful 10-year-old girl with a vivid imagination. She believes her hometown is overrun with supernatural monsters or other creatures or entities and, as Mona the Vampire, plans to stop all of them and save her town on a daily basis.

Mona has fair skin, rosy cheeks, big green eyes, short light brown hair with two red ribbons tied into bows and wears a white dress shirt, red sweater, black mini-skirt, cream-colored panties, a matching camisole, white calf-high socks and brown loafers. As a vampire, she wears a black braided wig with red and yellow ribbons, a purple flower-patterned cape, brown knee pads and a black bow-tie.

In Abraham Lincoln: Vampire Hunter, and alternate Civil War history, Adam (Rufus Sewell) is the leader of the 5000-year-old order of vampires. Since he turned Henry Sturges and killed his wife, Sturges makes it his life goal to eradicate vampires.

On The Strain, Quinlan (Rupert Penry-Jones) is a vampire/human hybrid who helps the humans fight the vampire outbreak. While his mother was pregnant, she was turned by the strigoi, an ancient line of vampires, and it resulted in him being half human and half strigoi. As a pariah, he resents the Master for his condition, and makes it his life's purpose to hunt him. The most distinctive aspects of Quinlan's appearance are his facial scars, gray skin, and pale blue eye color, which can be achieved with zombie makeup. Another unique feature of his character is his scrimshaw, bone-handle sword, which isn't available. With a little effort, a prop bone can be cut and fixed to the handle of a foam prop sword, and painted to look like an aged bone with scrimshaw markings.

In Abraham Lincoln: Vampire Hunter, Vadoma (Erin Wasson) is the sister and sidekick of Adam, the leader of a 5000-year-old order of vampires. Because they're actively at war, she is dressed in Victorian equestrian clothing, which make it easy for her to move and fight, as opposed to the traditional dresses of the era.

In Abraham Lincoln: Vampire Hunter, an alternate history of the Civil War era, Henry Sturges (Dominic Cooper) is the good vampire who teaches Abraham Lincoln how to hunt and kill vampires. After losing his wife and humanity to vampires, he uses his immortality to recruit hunters throughout time. Because of his human life experience, Henry's fashion is ornate and elaborate, drawing a little steampunk inspiration.

DC Bombshells is an alternate reality where female superheroes guard the homefront during WWII. In this reality, Vixen is reimagined as a jazzy lounge singer.
There are no comments yet, add one below.