Search Results for the hobbit

Elrond is a minor character in The Hobbit. He is the wise and noble half-elf who rules Rivendell, as its original founder. He is also the father of Arwen. He offers shelter to Bilbo Baggins and his company of dwarves. He befriends Bilbo and gives him advice for his quest. When Bilbo leaves The Shire for good, Elrond gives him permanent residence in Rivendell. In the film adaptation, Hugo Weaving plays this role. Elrond appears again with a more p…

Tauriel (played by Evangeline Lily) is a career soldier. She is loyal to her people and the Middle Earth as a whole. Her loyalty to good is so strong that it lands her at odds with her own leader but she still has to do what's right. Cosplaying Tauriel is much the same as cosplaying any Tolkien. A green tunic, brown braces, brown quiver, brown leather vest, and brown boots make up her clothing. An elven bow and blade are her weapons of choice. An…

…In The Hobbit, Bilbo Baggins (Martin Freeman) is a hobbit who's settled down comfortably in Hobbiton. That is until the wizard Gandalf and 13 Dwarves recruit the unlikely hero to help them on their quest to reclaim the Lonely Mountain from the dragon Smaug….

…ably want one too. With multiple character choices from Doctor Who and The Hobbit it'll be hard to just pick one. Magnets These mix and match magnets could inspire the next costume idea for your cosplayer by allowing you to replace one character's head with another's body. With several options from well known animes like Black Butler, Gurren Lagann, and Dragon Ball it'll be hard to not collect them all. Rolling Pin This gift is perfect for the cos…

…red to as having a wand, which is probably his staff, several times in The Hobbit. Besides, he is part of the Order of Wizards, and wizards often wield wands. Gandalf the Grey had a wooden wand throughout The Fellowship of the Ring, which he lost in his battle with the Balrog. After being revived at Lothlorien as Gandalf the White, he carried a new one made of white ash wood. Saruman the White bore a similar wand called the Staff of Power, which i…

…Sauron's Ring of Power changed many hands throughout the centuries, until one fateful day, it ended up in the grubby hands of Gollum (Andy Serkis). The Ring corrupted him, mind and body, but added years to his already miserable life, and Gollum grew addicted to the power it granted him until one day, a Hobbit named Bilbo Baggins made Gollum quit cold turkey. As a result, Gollum swore revenge against the Bagginses, including Bilbo's nephew Frodo….

…" Brandybuck is a main character in the Lord of the Rings trilogy. He is a Hobbit who joins the Fellowship of the Ring and its quest to destroy it and defeat Sauron. Although Merry is actually one of Frodo's cousins, Pippin is his constant companion. They like to adventure and pull pranks together, and while more silly than resourceful, they're the ones who form an alliance with Treebeard. Merry himself even fights in the Battle of Pelennor Fields…

…Frodo Baggins (Elijah Wood) is the protagonist and primary Ring Bearer in the Lord of the Rings book, video game, and film series. He is a meek Hobbit who is tasked with delivering the One Ring to Mount Doom, overcoming physical and mental struggle along the way. He eventually becomes one of Middle Earth's greatest heroes….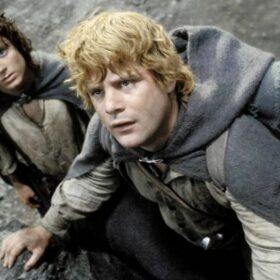 …"Sam" Gamgee is a main character in the Lord of the Rings trilogy. He is a Hobbit who joins the Fellowship of the Ring and its quest to destroy it and defeat Sauron. He is a gardener in the Shire. When Gandalf catches Sam eavesdropping on his conversation with Frodo, he demands he partake in the journey. He becomes Frodo's closest companion, and carries him up Mount Doom to cast the Ring into the fire. Sam is not affected by the Ring's persuasion…