Edmund Kemper from Mindhunter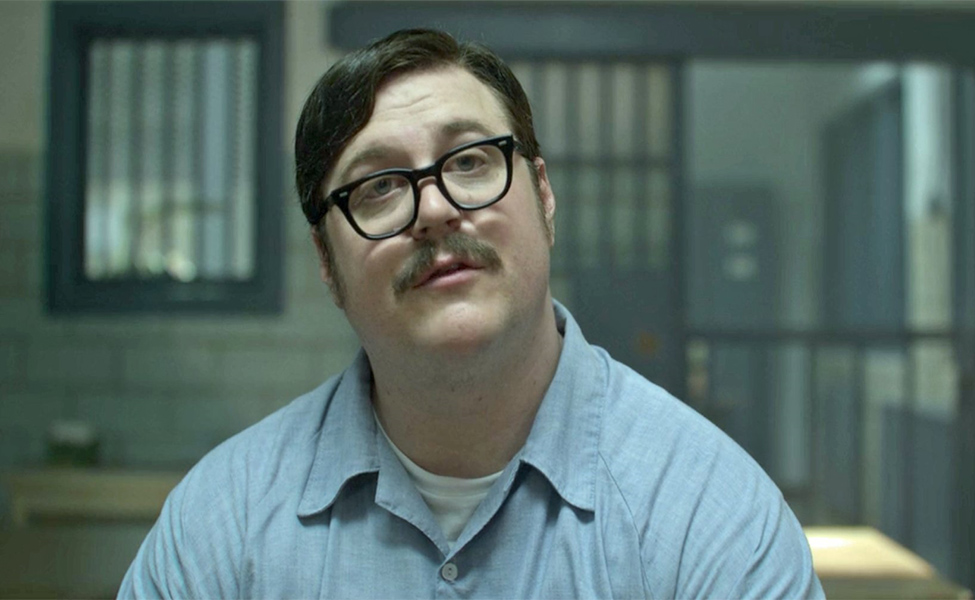 Edmund Emil Kemper III is an American serial killer who abducted and murdered several women in the early 1970s using his large stature and formidable intelligence. He was portrayed every so creepily by Cameron Britton in the 2017 Netflix series Mindhunter.
About the Author
Real Human Bean
Cosplayer, movie buff
Related Posts
Jeff the Killer is a classic meme originating from a creepypasta post in 2008. He is a young boy who, after being badly beaten and burnt, goes insane, cutting his eyelids and mouth and becoming a deranged serial killer. He tells his victims "Go to sleep" before murdering them.

September 3, 2017

by

Josh

In the Australian horror film Wolf Creek, Michael "Mick" Taylor (John Jarratt) is a cold, calculating, and sadistic man. His m.o. is to gain the trust of tourists traveling the outback before kidnapping, torturing, and murdering them. He's loosely based on a real life serial killer nicknamed the The Backpack Killer.

In American Horror Story Asylum, Bloody Face is a serial killer who started murdering in the early 1960s. His true identity is suspected to be a gas station worker named Kit, but it turns out to be respected psychiatrist Dr. Oliver Thredson (Zachary Quinto), and decades later, his son Johnny Morgan (Dylan McDermott).

Dr. Decker is the slasher villain of the cult classic fantasy/horror film Nightbreed (played by legendary horror director David Cronenberg) and the novel Cabal by Clive Barker of Hellraiser and Candyman fame. He is a serial killer psychologist who convinces his patients that they are serial killers before reporting them to the police and having them killed.

Leslie Vernon is the focus and antagonist of the cult classic mockumentary comedy-horror Behind the Mask: The Rise of Leslie Vernon. He is a wannabe serial killer inspired by the likes of Jason, Michael, and Freddy (who in this world really exist). What he lacks in physical power he makes up for in his cunning planning and setting up of traps for his would-be victims. Don't forget to wear and tear his clothes. Leslie Vernon walks barefoot, so it's recommended that you wear sandals when not posing for pictures. Black face paint for the black circles around his eyes.

The Invisible Man is the name given to the protagonists of H.G. Wells's sci-fi novel of the same name and the classic Universal Studios horror movie franchise that spawned from it. Besides that, similar characters have appeared in numerous other media, such as the League of Extraordinary Gentlemen comics and a stage play. Since there have been many people to take up the mantle, designs vary. Feel free to mix and match different articles of clothing. Personally, I like to use Solar Shields when I dress as him as opposed to Victorian sunglasses, because they look like goggles worn in more contemporary depictions, have side lenses like the 19th century sunglasses worn in the classic films, and are large enough to cover my eyeglasses.
There are no comments yet, add one below.