Search Results for Link

…The Legend of Zelda series, Tetra is a feisty pirate girl who first meets Link in The Wind Waker. As a child, her mother gave her a charm and was ordered to protect it at all costs. This charm, in actuality, is a piece of the Triforce of Wisdom and is tied to her identity as Wind Waker's incarnation of Princess Zelda. She's notable for her swashbuckling attire and cheeky attitude, and only appears in the traditional Princess Zelda dress for a sma…

…His full name is Jeffrey Dexter Boomhauer III (voiced by Mike Judge), but is almost exclusively called Boomhauer. Among the group, he's considered the voice of reason despite being his speech being nearly incomprehensible. If you want to practice your impression, check out this link….

…In the century prior to the main events of Breath of the Wild, Princess Zelda (Yu Shimamura / Patricia Summersett) and her allies fought against Calamity Ganon. Dressed in ceremonial garb, Zelda was ready to awaken the powers of Hylia within her when Ganon struck Hyrule in an unexpected place. When she was unable to harness her powers in time, she and Link were forced to flee…And so Breath of the Wild begins….

…In Spider-Man: Into the Spider-Verse, Peni Parker is a Japanese-American student who pilots a mech suit called SP//dr through a psychic link with a radioactive spider. For this costume, you'll have to be a bit crafty, attached the pink ribbon along the v-neck of the sweater. Add a cat face and yellow cat ears to your backpack for extra credit points….

…indhearted Rito (bird person) living on Dragon Roost Island. She befriends Link on his oft-sidetracked quest to rescue his little sister during the events of The Wind Waker, and assists him in her capacity as the apprentice caretaker of Valoo the dragon. When I first saw this character while playing The Wind Waker for the first time, I immediately fell in love with her cute aesthetic and kindhearted nature. Naturally, I had to recreate her costume…

…try in the Legend of Zelda series breathed (no pun intended) new life into Link (see costume) and Zelda, with the open world gameplay and beautiful art captivating Nintendo Switch owners everywhere. See all The Legend of Zelda costumes… 7. Star Wars: The Last Jedi The next installation of Star Wars will presumably have Rey (see costume) training under the tutelage of Jedi master Luke Skywalker (see costume) on that rock in the ocean, and we can't…

…e gifted craftsman. They even made Mjolnir, Thor's hammer. Many myths also link these elves to Odin and call them "Odin's Men". Odin himself was known for wandering the world and, if people abided by the laws of hospitality, giving out gifts. He almost always sported a long white beard, a staff, and a robe as well. Given enough time it's easy to see how Odin might have influenced the appearance of Father Christmas! La Befana in Italy We've pretty…

…gaining popularity again as people rediscover their love for the classic. Link has become popular while characters like Sonic and Mario are creeping their way to the foreground again. If this trend holds true outside of video games (and it seems to be) franchises like Xena, Star Trek, and other old school favorites might be seeing a resurgence in cosplay popularity. There might not be a whole lot of conventions on the calendar right now and for g…

…endo series gets a spot on this list. But it's Princess Zelda, rather than Link, who takes the spot with her practice, but still gorgeous, outfits. See Princess Zelda costume guide 19. Edward Elric In Fullmetal Alchemist, Edward Elric is the youngest State Alchemist in the history of the country. He's both too clever and too stubborn for his own good at times. See Edward Elric costume guide 20. Louise Belcher From Bob's Burgers, Louise Belcher mak…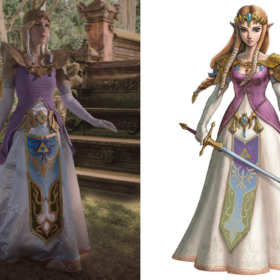 …mewhat dark in tone as compared to the other Zelda games, the plot follows Link as a young man as he battles Bokoblins, Bulblins, and Fire Bubbles. For this tutorial, we will be exploring Zelda's iconic white dress with its elegant purple overlay, intricate apron, and ornately bejeweled pauldrons. This tutorial is intended for intermediate to advanced cosplayers who have some experience with garment-making under their belts, particularly with usin…