Search Results for metahd.ru <<<

…who show their child forgiveness….

…Haru Kato works as a Detective for the Metropolitan Police Department as a member of the Modern Crime Prevention Task Force. Haru has strong values, and can have a temper when seeing things that are against his values. He is not afraid to sacrifice himself to solve a case or save civilians. Haru is very passionate about is detective work in Fugou Keiji Balance: Unlimited….

Ruth Langmore (played by Julia Garner) is a trusted employee and confidante of Marty Byrde on the Netflix show Ozark. Despite her young age, Ruth is a sharp and indispensable addition to Marty's operations. She also undergoes one of the more obvious character transformations on the show, beginning as part of an antagonistic small-time crime family who attempts to undermine Marty's business, to a powerful part of his global operation. Ruth's cloth…

…abbit kigurumi sweatshirt….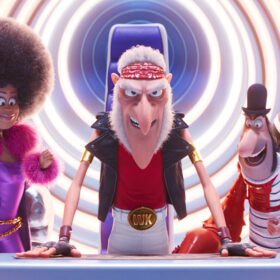 …In Minions: The Rise of Gru, Wild Knuckles (voiced by Alan Arkin) is the former leader of the supervillain group Vicious 6. After the group double-crosses him, he recruits a young Gru as his henchman. Despite his gruff and grizzled biker exterior, he has a soft spot for Gru and the Minions….

…mura is the protagonist of the classic anime/manga/live action film series Rurouni Kenshin. Kenshin has spent ten years traveling Japan as a rurouni in search of redemption, carrying a sakabatō with the vow to never kill again. Kenshin Himura voiced by Mayo Suzukaze in the original Japanese anime and Richard Cansino in the English dub is a kind-hearted traveler. He is secretly also the swordsman known as Samurai X. He fights for justice, and to pr…

…In Homestar Runner, Strong Sad is the brother of Strong Bad and Strong Mad. He has a large gray body that sounds like an inflated rubber ball when hit, and large elephantine feet that he calls soolnds, which would fetch a pretty penny from poachers….

…Stu Pickles is the wacky toy inventor father of "Rugrats" main protagonist Tommy Pickles. He is a loving and kind father, but like most of the parents in the Rugrats cast, including his wife Didi, he is oblivious and often outsmarted by the babies in the show….

…Greg Lestrade (Rupert Graves) is an Inspector with Scotland Yard who calls upon Sherlock Holmes when cases take a perplexing turn. He has worked with Sherlock long enough to not be bothered by the brusque, rather rude manner Sherlock has, and the two are as close to friends as Sherlock allows. Lestrade is cool, confident and always open to Sherlock's suggestions. He wears an unbuttoned black suit with no tie and a large overcoat….

…In the 1994 film Forrest Gump, the titular Forrest Gump embarks on a lengthy run across America with his trusty Nikes. This guide is for when his iconic running look featured in one of the most memorable scenes of American cinema….