Search Results for hamilton

Alexander Hamilton is the title character of the musical Hamilton. Based on the biography by Ron Chernow, the musical details his life from coming to the colonies up until his death in the duel against Aaron Burr. Self-described as "young, scrappy, and hungry," Alexander is set on helping shaping America gain its independence and lay its foundation, namely with the Constitution. He lets his voice be heard and refuses to throw away his shot. Lin-M…

…uyler sisters, Angelica, Eliza, and Peggy, are characters from the musical Hamilton. Angelica (Renee Elise Goldsberry) is the oldest sister who is reading "Common Sense" by Thomas Paine. She exhibits intellect and selflessness. Despite her romantic feelings towards Alexander Hamilton, she puts Eliza's happiness over her own, and comes to her defense upon the release of the Reynolds Pamphlet. Eliza (Phillipa Soo) is the middle sister who is "helple…

…King George III is the main antagonist of the musical Hamilton, opposite Alexander Hamilton. Neurotic and menacing, the monarch threatens the revolution. After the war, he teases the colonies, questioning their ability to lead and mocking John Adams as president. He sings "You'll Be Back," "What Comes Next," and "I Know Him." Jonathan Groff, who you may recognize as the voice of Kristoff from Frozen, originated the role on Broadway….

…reaction! See all Tiger King costumes… Hamilton From the Broadway musical Hamilton, you could pair up Alexander Hamilton with 2/3rds of the Schuyler Sisters. But for our money, the best pairing has to be the passionate Hamilton and the fiery King George III. See all Hamilton costumes… Frozen 2 Frozen was a pop culture hit in 2013. Frozen 2 didn't make quite the same splash in 2020 but that hasn't stopped fans from loving the story's continuation….

…od costumes are gorgeous as to be expected, with standouts being Alexander Hamilton himself, the fluffy King George III, and the luminous Schuyler Sisters. See all Hamilton costumes… The Witcher The Witcher has been around for a while but Netflix breathed a new kind of life into the series with its television adaptation. And part of that new life is the amazing costumes used in the show. You and your friends can wield your own kind of magic dresse…

…be the most romantic story out there but there's no denying the appeal of Hamilton. Gorgeous dresses and great music make it a perfect classic to draw some inspiration from, whether a Schuyler sister or the man himself, Alexander Hamilton. Pride and Prejudice Pride and Prejudice is one of Jane Austen's most beloved novels. And as its many film adaptations prove, that is in no small part because it is an enduring love story perfect for a Valentine…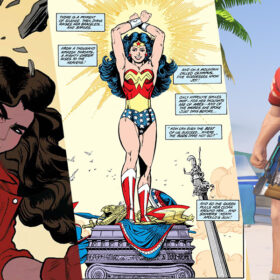 …endence Day dinner. You can find the write-up for this cosplay right here. Hamilton Founding fathers, stellar music, and gorgeous costumes. Hamilton is the prefect addition to your Fourth of July celebrations. And the party only gets better when your costumes are just as awesome! Captain America No matter which Cap is your favorite, it's hard to imagine a Fourth of July celebration where he wouldn't be welcome. He knows that carrying his shield me…

…In Stephen King's It (2017), Henry Bowers (Nicholas Hamilton) is the leader of the Bowers Gang who, along with Patrick Hockstetter, live to bully kids like Ben Hanscom and Richie Tozier from the Losers' Club. Roll up your shirt cuffs and wrap a bandana around your wrist to complete the Bowers look….

…In the Terminator series, Sarah Connor (Linda Hamilton) is a young woman who finds herself pursued by a relentless Terminator android sent from the future. Over the course of the movies, she develops from a damsel in distress to a hardened bad-ass who's prepared to take on all comers….

…istoff (voiced by Jonathan Groff, who you may know as King George III from Hamilton) is a character in Frozen. Rugged and broad shouldered, he works as an ice harvester with his reindeer companion, Sven. At first, he preferred being on his own, playing his guitar and mimicking the voice of his reindeer. Although Princess Anna convinces him to help find her sister, Elsa, in the North Mountain. On the journey, Anna and Kristoff develop feelings for…