Carrie Keranen
Elise (voiced in Japanese by Sora Amamiya and in English by Carrie Keranen) is a side character from the anime/manga Bungo Stray Dogs.
While appearing as a young girl, Elise is not actually human, and simply the manifestation of Mori's ability (concerningly). Despite being not human, she does act like a spoiled and bratty child more often than not, likely in response to being emulated how she is. She does have an alternate mode where she goes into full attack, with a different outfit, and lack of any emotion.
Elise looks very much like a small doll, with long wavy golden hair and blue eyes, and a red bow clip in her hair. She wears a red dress with a white peter pan collar tied by a pink ribbon, black and grey striped tights, and red Mary Janes to match the rest of her outfit.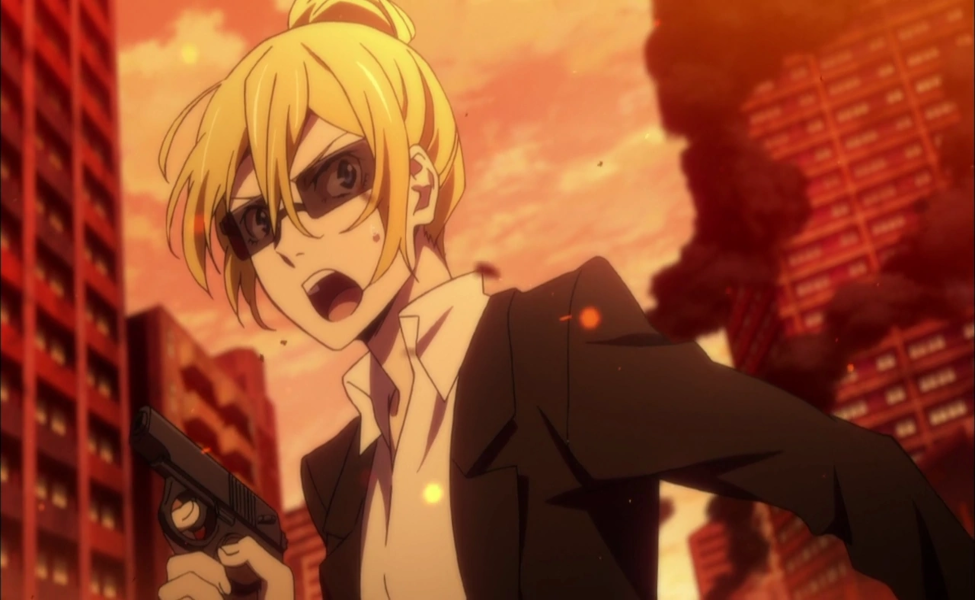 Ichiyō Higuchi (voiced in Japanese by Asami Seto and in English by Carrie Keranen) is from the anime/manga Bungo Stray Dogs.
She is a part of the Port Mafia, with her usual duties being Akutagawa's bodyguard and aid. While tending to get stressed out due to the strenuous nature of her job, Higuchi is also a dual-wielding sharp-shooter and rather good at holding her own in combat.
Higuchi has golden blonde hair that's usually tied up in a bun with loose bangs and side pieces, and her eyes are reddish-brown. She wears a semi-formal outfit to aid in movement while working, including a white button up-shirt, a pair of black slacks with a matching suit jacket, sheer socks, and black loafers, with a pair of sunglasses.