Valorant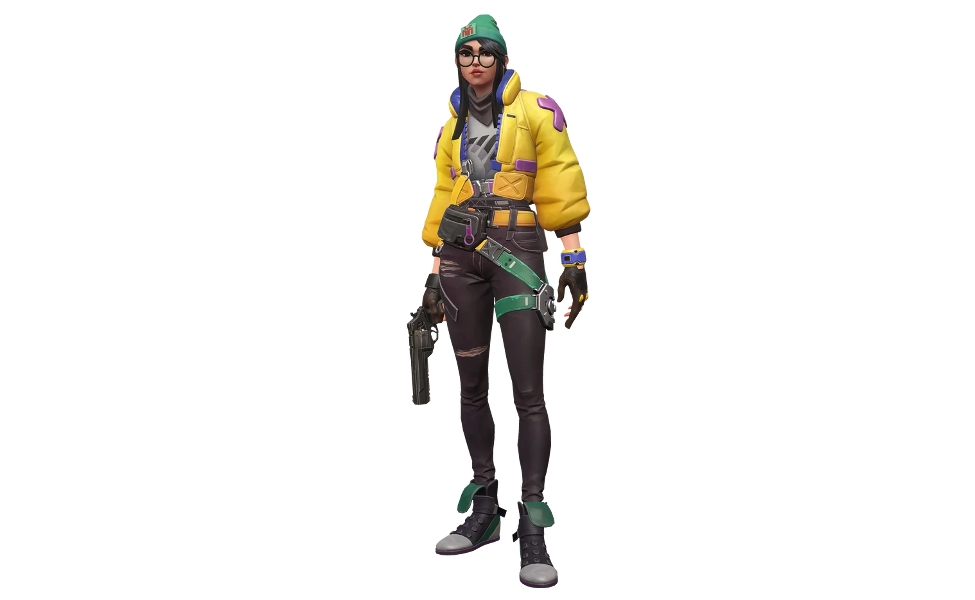 Killjoy (voiced by Eva Feiler) is an Agent in the Valorant video game.  Born Klara Böhringer, Killjoy is originally from Germany and a nominee for the Distinguished Inventor award.  She is the fourth person to join the VALORANT Protocol after Brimstone, Viper, and Omen.  Killjoy has medium-length dark hair and round-framed glasses.  She wears distressed skinny jeans, a cropped yellow coat, a green beanie, and grey t-shirt.  Her accessories include green high-top sneakers, a fanny pack with green thigh harness, and a grey bandana.  She also wears black gloves that are missing the pinkie and ring finger, which you can cut off a regular pair of gloves in order to make your costume.  If a replica jacket seems a bit steep in price, a plain puffer coat with do just as well.
Valorant has yet to hit PCs but that hasn't stopped people from enjoying the game's design and characters. And though we don't know much about the stories or personalities of the characters we do know a few things. Phoenix, for example is the type to dive into a fight and trust in his own strength to get him through it. He uses something called Star Power and it burns up the battlefield whenever he pulls on it.
He doesn't lack in style either. His white high-collared jacket, dark grey shirt, black pants, and grey boots are all business in a future-soldier kind of way. And the stark colors only make the brilliant fire of his powers shine brighter!