Wendy Powell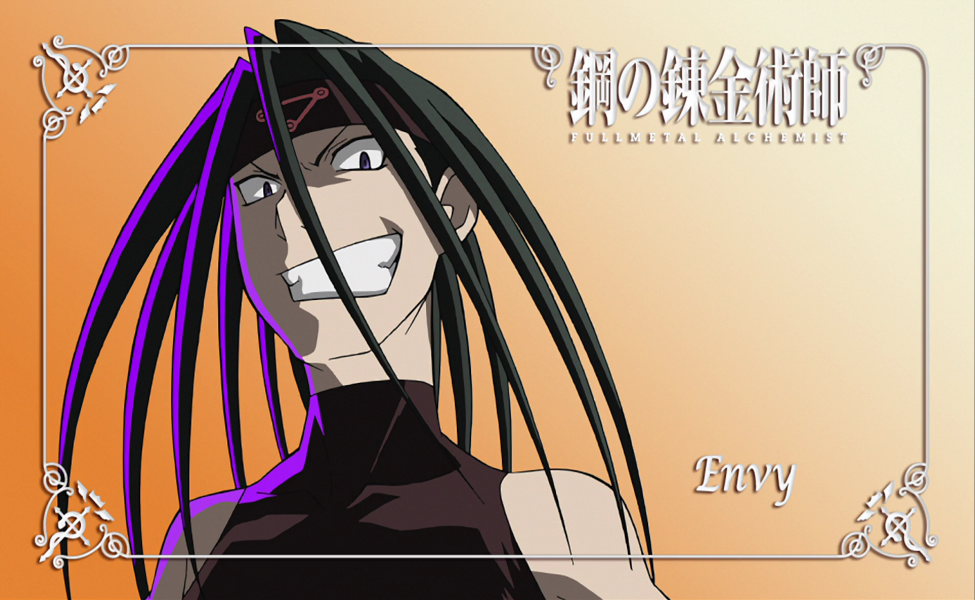 Envy (voiced in Japanese by Mayumi Yamaguchi [2003] and Minami Takayama [2009], and in English by Wendy Powell) is one of the major antagonists in the Fullmetal Alchemist series.
He (dependent on form) is one of the sin-named Homunculi in the series, is usually seen as a trio with Lust and Gluttony, and takes a large amount of delight in tormenting Ed. Envy is a shape-shifter and is able to take on the appearance of any character, down to vocal mimicry, even if the person exists or not. Envy's other two main (true) forms are akin to a large green dragon and a small green leech-like creature.
Depending on the series (03 vs Brotherhood) Envy has prominently green hair or green-tinted black hair (I went with a dark green to hit the middle), and purple eyes. His outfit consists of a cropped, sleeveless black top, black shorts with a skirt-like piece over top of it, black sleeveless gloves and matching black spats. Finish off the look with the Ouroboros tattoo on your leg, the homunculi markings are already on the back of the shirt piece so you won't have to worry about that.